Matt Williams
Every year in recent memory, 40-some international prospects file paper work with the NBA league office in mid-April declaring for the upcoming draft. Every year, 30 or more of those players subsequently withdraw in mid-June. Whether it is because they didn't get the guarantee they wanted or, like
Kristaps Porzingis
in 2014, believe they can go higher in the draft a year later, dozens of foreign players go through the draft process only to take themselves off the board a few weeks before draft day. Able to be eligible for the draft as many as three times——many prospects of varying legitimacy put their name in the draft multiple times before they become automatically eligible during the year in which they turn 22, in an effort to drum up interest not just in the NBA, but from the top international teams as well. This process has become something as a formality for many prospects.
When an unheralded player leaves their name in the draft, it raises the collective eyebrow of the NBA and international scouting community. In an age where the vast majority of teams have extensive internal scouting databases and video on nearly every key league in the world is readily available on Synergy Sports Technology, teams aren't often surprised by the names they see on the final eligibility list, as the majority of those players tend to be locks to get drafted.
When one of the lesser known players from the original early entry list still shows up on the final eligibility list, there's typically only two good reasons those players declared: in the hopes of going undrafted, so they can field multiple suitors as an unrestricted free agent if they end up becoming a real prospect, or because some NBA has promised them.
Leaving his name in the 2015 NBA Draft past the international withdrawal deadline, 19 year old Argentinian
Juan Vaulet
caught the NBA community by surprise to some degree. A 6'6 swingman with a terrific frame, big hands, long arms and strong athleticism, Vaulet has long been a staple of the Argentinian junior national teams. He competed at the U17 and U19 levels in 2013, averaging 9.5 points and 4 rebounds per game at the 2014 FIBA U19 World Championship against players nearly two years older than he was at that point, before dominating in two appearances averaging 21 points and 14 rebounds per game at the less competitive FIBA U17 South America Championship in Uruguay.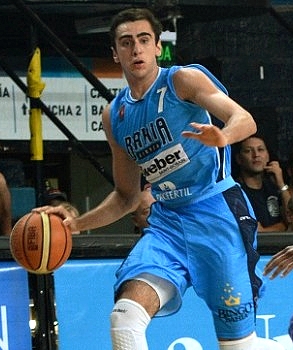 Unfortunately, Vaulet's summer with the U17 team was cut short when he suffered a serious left foot injury (a fractured bone) that kept him out of action for 15 months. Missing out on a season which was likely to include his debut in Argentina's 1st division and the subsequent summer of FIBA competition, Vaulet's rehabilitation process was a lengthy one, but appears to have paid off as he was named MVP of the Argentinean Developmental League Final Four, leading his team to a championship victory before flashing some more signs for Bahia Basket against senior competition down the stretch.
Considered one of the most promising talents in Argentina before he got hurt, it isn't difficult to see what makes Vaulet stand out among his peers. He has good size for a wing to go along with terrific speed in the open floor and good leaping ability. His frame has improved quite a bit over the last few years, leaving plenty of room for optimism considering he won't turn 20 until next March.
Averaging 7.2 points and 4.2 rebounds over 17.2 minutes per game at the senior level this year, Vaulet plays a fairly minor role for Bahia Basket, which was eliminated in the round of 16 of Liga A's postseason a few weeks ago. When he has been on the floor, he's managed to be fairly productive, finishing the season as one of only a dozen players to average 9+ rebounds, 1+ blocks, and 1+ steals per-40 minutes pace adjusted. An energetic small forward with good instincts on the whole and a knack for pulling down rebounds, Vaulet is a serviceable roleplayer at the relatively average level of competition he plays against.
Often finishing above the rim inside while flashing an intriguing blend of quickness and coordination in limited opportunities attacking the rim off the bounce, Vaulet seems to have some promise as a shot creator. While his ball-handling skills aren't overly refined, he can often blow by his opponents purely off his extremely quick first step, and is not afraid to take hits around the basket.
The biggest challenge for Vaulet from a NBA perspective, aside from the jump in quality of competition, will be developing the jump shooting ability necessary to exploit his other tools. Attempting only 1.4 3-pointers per 40 minutes pace adjusted, Vaulet looks comfortable at times shooting the ball from the perimeter, but his mechanics waver and aren't ideal to begin with, as he flings the ball violently from a low vantage point and very little touch, which resulted in his poor 2-20 shooting from beyond the international 3-point line this season, and his 67% free throw percentage. He'll absolutely have to improve significantly as a shooter if he wants to become a more reliable offensive threat, but has never been considered very effective from beyond the arc, hitting just 4/28 attempts in FIBA competition over the years, while hitting 62.5% of his free throw attempts. Needless to say, the list of 6-6 players who aren't threats from beyond the arc is dwindling by the day in today's NBA, so any potential Vaulet has revolves heavily around his ability to refine his stroke and become a reliable 3-point shooter.
Defensively, Vaulet's lateral quickness and competitiveness allow him to deny dribble penetration fairly effectively. He loses his balance and gets hung up on screens at times defending the perimeter, but seems to have the tools to improve on this end in time. Susceptible to stronger players in the post as his physical strength is a limiting factor as well, continuing to mature physically will be important for him in reaching his full potential as a defender.
Should Vaulet indeed get drafted, he'll be the first Argentine to hear his name called since
Carlos Delfino
in 2003 and the first player picked directly from the Argentinian League since 7'7 400+ pound center Jorge "Giant" Gonzalez. Gonzalez was drafted by the Hawks before then owner Ted Turner offered him a position with his other sports venture the World Championship Wrestling. Fellow countryman Hernan Montenegro was also picked in that 1988 Draft, just three spots later. Aside from
Bruno Caboclo
a year ago, few players in recent memory have faced as steep of a rise in quality of competition as the one Vaulet would face making the leap to the NBA from Liga A. Despite that, Vaulet's tools are intriguing, even if he's a long ways away from being a contributor.
With this year's crop of international prospects being more shallow than usual, it would not be surprising if Vaulet did indeed have a promise from a patient team interested in investing in his upside. Many have speculated that that team is the San Antonio Spurs, who enjoy a close relationship with Vaulet's team in Bahia Blanca,
Manu Ginobili
's hometown. Ginobili's older brother Sebastian coaches Vaulet there at the club level, and is also the head coach of the Argentinean U19 National Team (where he's currently shut down to an "ankle injury" but will reportedly start playing right after the draft). Vaulet's youth, combined with his physical tools, activity level and feel for the game could make him a decent bet for a team drafting in the 50s, as the track record of those picks is so poor there is really nothing to lose on rolling the dice on his future development.