Jonathan Givony
The #73 recruit in his high school class, Phil Booth arrived to a Villanova team that was fairly loaded in the backcourt, and as expected, did not play a huge role for the Big East championship squad as a freshman, only averaging 14 minutes per game.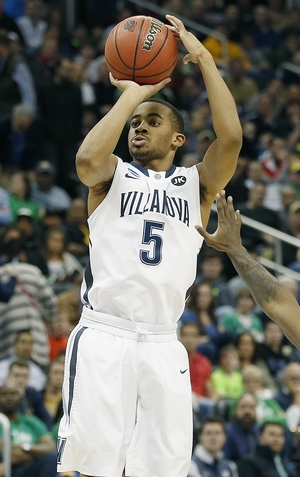 One of the most efficient scorers in college basketball, Booth posted an outrageous 71% true shooting percentage, ranking #1 in that category among all draft prospects. He got better and better as the year moved on, finishing the season shooting 19/31 (61%) for 3 in the months of February and March. Watching him on film, very few of his looks were "easy shots," with many coming off the dribble, from well beyond the arc, and with a hand in his face.
Booth took more off the dribble jumpers than shots with his feet set last year in fact, spectacularly hitting over 50% of his looks in both situations. Synergy Sports Technology ranks him as one of the best shooters in the NCAA, but the fairly small sample size (14 minutes per game, using 18% of his team's possessions while on the floor) makes it difficult to surmise exactly what to make of that, besides the obvious fact that we need to keep watching him moving forward.
What's clear is that Booth has unlimited confidence in his jump-shot and only needs an inch of daylight to get it off. He's near-automatic shooting the ball with his feet set, and has the unique ability to absolutely shred the defense when they elect to go underneath the screen on the pick and roll.
While he has the size to play either guard position at the college level, Booth was regularly tasked with bringing the ball up the court and getting Villanova into their offense in his small minutes on the floor. He shows the ability to make simple passes and distribute the ball unselfishly, even if his playmaking ability and especially his ball-handling still has a lot of room to improve.
Not blessed with blazing speed or overwhelming explosiveness, Booth struggles to turn the corner at times against better defenders, even if he shows some crafty ability to change speeds and get to the rim in a deliberate manner, showing nice touch on his finishes. Opposing teams are often so concerned with his deadly pull-up jumper that they have no choice but to get right into him, leaving him the option to drive to the rim more easily.
Defensively, Booth struggled at times as a freshman, which may partially help explain why his minutes were as limited as they were even when he was on such a shooting tear in the months of February and March. He lacks a degree of lateral quickness, getting blown by off the dribble, struggling to get through screens, and biting on fakes. While he has a nice frame, he needs to get stronger. He only forced 10 steals last season in 521 minutes, which is a very low rate for a guard.
With the arrival of McDonald's All-American point guard Jalen Brunson, and senior Ryan Arcidiacono still in the fold, it remains to be seen just how much Booth's role will increase as a sophomore. Starting shooting guard Dylan Ennis did elect to transfer, though, and with head coach Jay Wright's propensity for playing multiple ball-handlers at the same time, it's not out of the question that Booth continues to build on his promising debut campaign, particularly if he continues to shoot the ball as effectively as he did to close the year.
Microwave scorers with solid size and unlimited shooting range in Booth's mold are definitely intriguing prospects with the style of play we're seeing in today's NBA. We'll have to see what kind of role he can carve out as a sophomore and whether he can continue to improve his defense, ball-handling and playmaking ability to round out his already impressive scoring prowess.