Three games into the ACB league season, it's safe to say that
Rasmus Larsen
has established himself as an important player in Spain thus far, averaging 27 minutes per game for La Bruixa d'or Manresa, who are off to a strong 2-1 start.
Larsen virtually spent all of last season on the sidelines after moving to Spain from his home country of Denmark, unable to play due to a pesky shoulder injury that eventually required surgery in March.
In the meantime, his frame has matured substantially since the first time we saw him in June of 2011 at the adidas EuroCamp in Treviso, as well as
the last time
, at the Nike International Junior Tournament in Kaunas in February of 2012, while his skill-level has continued to evolve.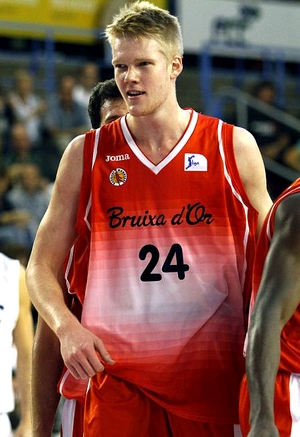 Despite seeing his first taste of action at the professional level, and despite still being 18 years old (he turns 19 next month), Larsen got off to a dream start for Manresa, scoring 21 points and pulling down 13 rebounds in just 25 minutes of action in his first game of the season against Joventut Badalona. His production has been more modest since, which has given us a better opportunity to explore his strengths and weaknesses at this stage of his development in this video scouting report by Mike Schmitz:
It remains to be seen how many more games Larsen will have this season like he did against Joventut a few weeks ago, but that's not really a realistic expectation anyway. Seeing steady playing time in the ACB at his age is a huge accomplishment as is, and Larsen will surely draw a good number of NBA scouts to evaluate him every time he steps on the court until he decides to enter the draft, as his unique combination of size, skill, mobility and upside is extremely difficult to come by.