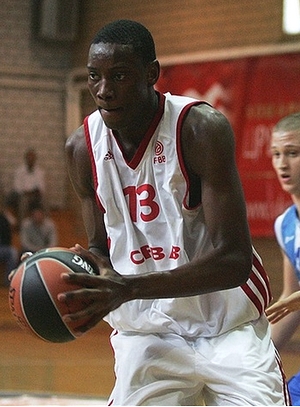 Jonathan Givony
Strengths:
-Long wingspan and gigantic hands
-Very good athlete. Quick and explosive
-Terrific transition scorer and all-around finisher around the basket. 59% 2P%
-Can attack opposing power forwards from the elbow or short corner with a quick first step
-Draws fouls in bunches thanks to activity level and quickness around the basket. 10 free throw attempts per-40 minutes
-Excellent rebounder on both ends of the floor
-Has the potential to defend multiple positions. Gets in the passing lanes frequently
-Just turned 17. Extremely young
Weaknesses:
-Body looks virtually the same as it did last year. Hasn't grown or filled out
-Still more of an inside player at 6-8, which raises some question marks about his tweener status
-Skill-level is fairly limited. Poor ball-handler in half-court court. Looks out of control whenever he needs to dribble more than once or twice
-Cannot shoot at all seemingly. 0/5 from beyond the arc. 61% FT%
-Size of hands and grip on basketball could make it difficult to develop his outside shot
Outlook:
Young, athletic forward who was one of the most productive scorers at the NIJT at 26 points per-40 (5th best in competition). Too long, quick and aggresive for most European big men his age inside the paint at this level of competition. Missed a significant part of the year with a hand injury and hasn't done much to improve his body or skill-level from the perimeter. Will he continue to be as effective inside the arc as other players catch up physically?