For the second straight season the World Select Team defeated the USA Junior National Select Team at the 2013 Nike Hoop Summit in Portland, Oregon.
---
2013 Nike Hoop Summit Coverage
-
USA and World Select Team Practice Wrap
-
World Select Team Mid-week Practice Recaps
-
USA Team Measurements
-
World Select Team Coaches Interview
-
World Select Team Early Practice Storylines
-
World Select Team Measurements
-
World Select Team Roster Preview Podcast
-
World Select Team Roster Preview
---
2013 Nike Hoop Summit Game Recap
In the highest level game we've seen in our years covering this event, the World Select Team set a Nike Hoop Summit record for scoring with a 112-98 win over the USA Junior Select Team. Led by
Livio Jean-Charles
's 27-point, 13-rebound performance, the World Team got a number of strong performances to take control of the game in the second quarter. The US Team made a run midway through the third quarter to cut the score to 64-62, but never led in the second half. Based on what we saw from the World Select Team over the course of the week, this wasn't a surprising outcome, although last year's World Team played noticeably better during the game than it had throughout the week.
Getting significant contributions from most of the players on its roster, this World Select Team will likely go down as one of the best the event has ever had when we look back at it a few years from now. Roy Rana had them practicing well from the jump and they carried that momentum into a convincing victory. Despite the strength of the 2013 high school class, this group of international talent was a special one, featuring star power and depth that simply isn't easily assembled and earning the World Select Team its sixth win in sixteen tries.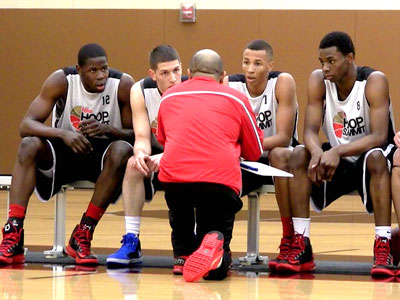 The US Team, which had a number of its players turn in quality performances as well, struggled to keep the World Team off the glass. Lacking a dominant interior presence at the center position, they lost the rebounding battle 50 to 35, having a particularly hard time keeping the 6'9
Livio Jean-Charles
off the glass.
Finishing the game with 13 rebounds, just one shy of the event record held by
Dirk Nowitzki
among two other past participants, Jean-Charles had a game to remember. The long, athletic power forward finished the game with 27 points in 27 minutes, one of the top-5 totals for an international player in the events' history and the most by a French player since
Nicolas Batum
scored 23 points in 2007.
After bruising his leg and missing some time mid-week, Jean-Charles found success doing the same things he did all week in practice, playing hard, being aggressive at the rim, and using his length on both ends of the floor. Getting his hands on everything on the glass, Jean-Charles scored on a number of tip-ins and rolls to the rim en route to shooting 10 of 13, got to the line for 10 free throws mostly thanks to his activity level, and made a couple of mid-to-short range jumpers. Defensively, he blocked a pair of dunks and challenged a number of finishers. Playing 14.3 minutes per-game for ASVEL in France, the 19 year old had a strong week of practice, and though he need to keep working on the range on his jump shot and getting stronger, he made a strong impression all week with his roleplayer potential and backed it up and then some on game day.
Starting point guard Dennis Schroder also backed up the buzz he generated in practice, handling the US Team's athleticism with ease and dominating the game for stretches with his explosive speed. Finishing with 18 points and 6 assists while fouling out both of the US Team's point guards who spent time defending him, the German point guard was able to get to where he wanted on the floor at will with his excellent first step, ran the pick and roll effectively, and swiftly navigated through the US full-court press on a number of occasions. The 19 year old is a capable shooter and decision-maker, and was as aggressive breaking down his man one-on-one and getting into the paint and drawing contact as we'd seen all week. Declaring for the draft early this week, Schroeder capped what has been a big week for his draft outlook.
Dante Exum
had a phenomenal game as well, showcasing his ball-handling ability, speed, and skill level en route to 16 points. Making a number of impressive moves attacking the rim, Exum demonstrated just how dynamic he can be with the ball in his hands, even if he didn't get to run the point as frequently as he has in FIBA competition. His college decision in one to keep a close eye on, as it will determine when he can become eligible for the NBA draft. He is draft eligible next year as an international prospect, but would have to wait until the 2015 draft to enter should he attend college.
Andrew Wiggins
was solid, scoring 17 points and pulling down 9 rebounds. Despite going 6-16 from the field, he didn't force too much on the offensive end, mixing in plenty of flashes of the talent that one would expect from the potential 1st overall selection in the 2014 draft, including some great defensive possessions. Content to spread the wealth on a very talented team, the fact that Wiggins didn't try to take over the game was a positive here and a testament to his unselfishness.
Sergey Karasev
only scored 7 points, but made a couple jumpers, fired a number of impressive passes to teammates, and once again reinforced that he's seasoned beyond his years.
On the whole, the World Select Team received quality contributions across the board.
Nikola Ivanovic
handled the pressure from the more athletic guards on US Team like the professional player here is to give Schroder a rest,
Tomas Dimsa
made his shots in limited minutes,
Joel Embiid
threw in a lefty hook and played with some fire inside, and
Karl Towns
had a performance that he'll hopefully be able to build upon at the 2014 Hoop Summit.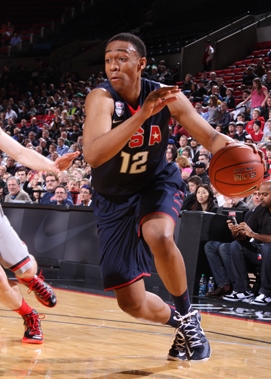 For the USA Junior Select Team,
Jabari Parker
turned in a solid performance. He struggled to get going from the perimeter after shooting well for stretches in practice early on, but found ways to score inside as the game went on, displaying a high basketball IQ and terrific competitiveness. This was not Parker's best performance, but he did a little bit of everything. It will be interesting to see how Parker's body looks once he has some time to get back into optimal shape now that he appears fully recovered from the injuries that limited him earlier in the high school season.
Julius Randle
continued doing many of the same things he did in the Jordan Brand Classic where he earned MVP honors. The 6'9 power forward was phenomenal on the offensive end, finishing with 19 points and some material for his highlight reel. Physically imposing, explosive, and aggressive, Randle has the makings of an excellent finisher who can also face up and beat his man off the dribble from 15 feet with quickness or power. He has a bit of an AAU feel to his game at this point, and it will be interesting to see what kind of defender and passer he turns into playing for John Calipari, who has helped his players make significant strides in those areas in the past.
Andrew Harrison
also had a strong showing among other players who will spend next season in Lexington. He was as aggressive taking the ball to the rim as we've seen him in some time and that paid significant dividends for him as he got to the line for 12 free throws. He has a nice burst, good strength for a young guard, and wasn't shy about initiated contact when he attacked gaps in the World Select Team zone. He hit a couple shots away from the rim and moved the ball well, but had a few lapses in judgment against pressure. Considered the top point guard in this class, it will be interesting to see what Harrison is asked to do as a freshman. Given the talent he'll have around him at Kentucky, the balance he strikes between scoring and passing will be a storyline to follow and a truly rare case study of the dynamics of being the playmaker on a team with so many mouths to feed.
Among wings on the US Team,
Rondae Hollis-Jefferson
had some nice stretches. Despite fouling out, he earned his 17 points with hustle and energy, coming up with a handful of put backs crashing the boards from the perimeter. He also had some impressive defensive possessions defending much smaller players thanks to his combination of length and athleticism. We didn't get to see too much of him defending
Andrew Wiggins
one-on-one because of the press-heavy nature of this year's game, but it will be worth seeing what kind of minutes the 6'6 small forward's ability on that end of floor earns him early in his career as he aims to develop his offensive skill level.
Outplayed in nearly every facet of the game, it is worth noting that the US Team didn't get a chance to run through all of their four schedules practices due to some weather-related travel issues. Nonetheless, they competed well, but didn't have the shooting or dominant interior presence to overcome what a stacked World Select Team brought to the table.