The measurements from the 2014 adidas EuroCamp were released earlier today.
You can find all the results from this year's testing in our
historic measurements database
.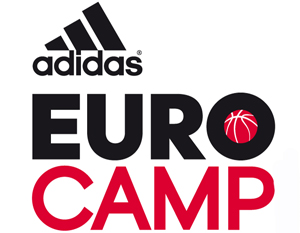 Notable Players
-
Nemanja Dangubic
was the clear winner here. Measuring 6'4.5 without shoes at this event last year, the 1993-born wing measured 6'7.25 without shoes this year. Dangubic's 6'8 wingspan isn't anything special, and he needs to continue improving his 193-pound frame he's added 10 pounds over the last 12 months, but growing almost 3 full inches at age 20 is certainly a surprising development.
-Dangubic's teammate,
Vasilije Micic
measured in at 6'4.75 without shoes with a 6'7 wingspan and 202-pound frame. Always lauded for his size at the point guard position, Micic's official measurements quantify what we already knew.
-French center
Moustapha Fall
measured a massive 7'1.5 in shoes with a 235-pound frame and tremendous 7'6.75 wingspan—one of the 15 longest in our database all-time. It is no surprise Fall ranks as the top per-minute shot blocker in the French 2nd division.
-High school to overseas pro
Boubacar Moungoro
stands just 6'4.75 without shoes on, but has a comparably huge 7'0.25 wingspan.
-The youngest player in attendance among campers,
Dragan Bender
, measured 6'10 without shoes with a 202-pound frame and a 7'1 wingspan. The 1997-born prospect needs to get stronger, but has terrific size for either forward position.
-Ukrainian center
Artem Pustovyi
is an intriguing prospect standing 7'1.5 without shoes to go along with very good mobility. Unfortunately, he's added just 2 pounds to his 224-pound frame since last year, and his ability to add weight to his frame to help himself hold position on the block is a concern. Similarly, Spanish League shooter
Marcus Eriksson
stands 6'6.25 without shoes, but weighs only 178 pounds. Both players have intriguing tools, but their lack of strength gives scouts pause.