Vasilije Micic
Recent Tweets
All Tweets
DraftExpress: At #52 Philadelphia selects Vasilije Micic from Mega Vizura. One of the best passers in this draft.
2014-06-26 23:48:07
DraftExpress: Interviews from the FIBA U19 World Championship with Marcus Smart Jonah Bolden Vasilije Micic and Billy Donovan http://t.co/0uQyIy9FyI
2013-07-08 19:10:59
DraftExpress: Uploaded to the DX Youtube Channel Interviews with Marcus Smart Billy Donovan Jonah Bolden and Vasilije Micic http://t.co/Kitgw5YUzF
2013-07-08 07:20:40
DraftExpress: U-19 World Championship official All-Tournament team Vasilije Micic Dante Exum Dario Saric Aaron Gordon Jahlil Okafor #fibau19
2013-07-07 16:15:23
DraftExpress: Vasilije Micic was the boss for Serbia when they were struggling and needed someone to create something. 13 points 8 ass 5 TO 5-14 FG
2013-07-06 14:05:20
Team: Bayern Muenchen
Physicals
Positions
Salary
Misc
H: 6' 6"
W: 202 lbs
Bday: 01/13/1994
(21 Years Old)

Current: PG
NBA: PG
Possible: PG

Agent: Misko Raznatovic

High School:
Hometown: Kraljevo, Serbia
Drafted: Pick 52 in 2014 by 76ers

Predraft Measurements
| Year | Source | Height w/o Shoes | Height w/shoes | Weight | Wingspan | Standing Reach | Body Fat | No Step Vert | Max Vert |
| --- | --- | --- | --- | --- | --- | --- | --- | --- | --- |
| 2014 | Eurocamp | 6' 4.75" | 6' 5.75" | 202 | 6' 7" | 8' 6" | NA | NA | NA |



Basic Per Game Statistics

- Comprehensive Stats - Statistical Top 25s
| Year | League | Name | GP | Min | Pts | FG | FGA | FG% | 2Pt | 2PtA | 2P% | 3Pt | 3PtA | 3P% | FTM | FTA | FT% | Off | Def | TOT | Asts | Stls | Blks | TOs | PFs |
| --- | --- | --- | --- | --- | --- | --- | --- | --- | --- | --- | --- | --- | --- | --- | --- | --- | --- | --- | --- | --- | --- | --- | --- | --- | --- |
| 2015/16 | EURO | Vasilije Micic | 1 | 15.0 | 2.0 | 0.0 | 6.0 | 0.0 | 0.0 | 2.0 | 0.0 | 0.0 | 4.0 | 0.0 | 2.0 | 2.0 | 100.0 | 0.0 | 2.0 | 2.0 | 2.0 | 1.0 | 0.0 | 2.0 | 4.0 |

Player Page&nbsp&nbsp| Player Stats | Mock Draft History | Related Articles&nbsp&nbsp| Add to My Draft Express&nbsp
&nbsp
2014 adidas EuroCamp Highlight Videos
June 22, 2014
[Read Full Article]

---
Situational Statistics: the 2014 Point Guard Crop
June 18, 2014
Vasilije Micic is a fascinating case. He leads this sample turning the ball over on 23.6% of his possessions overall, but operated on the pick and roll more frequently than any point guard in this draft, flashing the ability to make plays for others at a very high level. Despite lacking great athleticism, Micic ranks third scoring 1.276 points per-possession as a finisher, taking a lower proportion of floaters than any of his peers, and scored a slightly above average .935 points per jump shot.

While most international point guards simply look out of place here, Micic, for his limitations in some areas, stands out significantly in others. His experience running the pick and roll is a plus, as is his opportunistic scoring ability. Questions remain about his ability to handle pressure from more athletic guards and make jump shots at a better than average rate, but he has some unique tools that will certainly be enough to get a team to take a chance on his development in those areas.

[Read Full Article]

---
2014 adidas EuroCamp: Day Two
June 8, 2014
This is also likely the last day of the EuroCamp for Vasilije Micic, who will rejoin Mega Vizura for the second leg of the Serbian League semi-finals, which only begin tonight as they were pushed back to conflict with the EuroCamp after floods ravaged the region. Micic struggled defensively at times with the speed of the American guards today, but played very well overall, making some shots from the perimeter en route to 14 points while dishing out 10 assists in 25 minutes against the adidas USA Select Team. He was the maestro of the team, delivering crisp passes all over the floor with superb creativity. He's clearly a step above any of the guards here and a real candidate to get drafted in the late first round. We spoke with Micic about how he approaches a camp like this as a point guard, his season in Serbia, and his plans for the 2014 NBA Draft.




[Read Full Article]

---
Micic Distributing for Mega
November 15, 2013
Seven games into the season, 19-year old Serbian Vasilije Micic has already established himself as one of the best point guards in the highly competitive Adriatic League.

Playing 31 minutes per game for one of the youngest squads in European basketball history--10 of the 13 players on their roster were born in 1993 or later--Micic has helped his team stay surprisingly competitive, winning three of their last four games, dishing out 36 assists in that span.

This shouldn't come as a huge surprise, as he's already one of the most experienced players in his generation, having represented Serbia at the U16, U18, U19 and even the senior national level team as a member of their Eurobasket squad this summer.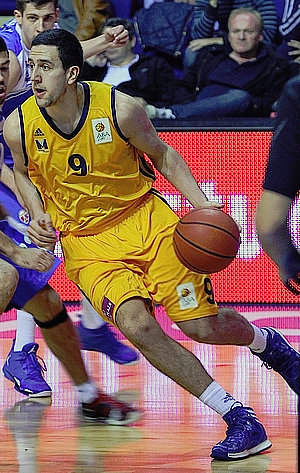 Nenad Zivanovic/ABA



Micic already started seeing serious minutes at the senior level as a 17-year old in the Serbian League in 2011-2012. He tore his ACL early on in the season, which forced him to sit out the rest of the year, but came back strong in 2012-2013, helping his Mega Vizura squad surprisingly earn a spot in the Adriatic League by finishing in third place in the Serbian league.

Micic had an outstanding summer, leading Serbia to a second place finish at the U19 World Championship (highlights), where he more than held his own against Marcus Smart and USA Basketball, and then earned a place on the senior national team. Serbia finished in seventh place, good enough to qualify for the 2014 World Championship in Spain, with Micic seeing solid playing time as the team's backup point guard.

Micic's visibility thus far has given us a chance to take a detailed look at his strengths and weaknesses at this stage of his development in this video scouting report by Mike Schmitz:



We'll continue to monitor his progress, and will likely head to Serbia at some point to watch him in person this season.

[Read Full Article]

---
2013 FIBA U19 World Championship Interviews: Smart, Donovan, Bolden
July 8, 2013
[Read Full Article]

---
2013 FIBA U19 World Championship Interviews: Ennis, Milutinov, Exum
July 5, 2013
[Read Full Article]

---
2013 adidas Eurocamp: Day Three
June 10, 2013
Having only joined the team on Friday, Micic was well behind his peers on Serbia's U19 squad in terms of knowing the plays and having developed chemistry. For that reason he didn't see much action over the first two games even though he's one of the team's top players. Micic still managed to provide some flashes of brilliance in his limited minutes on the floor before being fully unleashed today. Starting, being handed the keys to the offense, and responding with 15 points, 8 rebounds, and 5 assists in just 21 minutes of action, Micic certainly settled in quickly.

A 6-4 pure point guard with as much creativity and flair as any player you'll find his age on either side of the ocean, Micic took over the game against Team USA. While, not a freakish athlete, he's one of those players who gets anywhere he wants on the floor thanks to a unique combination of terrific ball-handling skills, the ability to play at different speeds and excellent footwork. He utilizes hesitation moves extremely well, playing at his own pace and slicing apart defenses on the pick and roll in particular.

Micic shows excellent court vision, utilizing both sides of the court in the set offense and making pinpoint decisions in transition, passing the ball ahead beautifully, sometimes even going the length of the floor. Having seen considerable playing time in the Serbian League for Mega Vizura for the better part of 3 seasons, one of which he missed a portion of with an injury, Micic's considerable experience for a player his age certainly shows in the way he distributes the ball.

As a scorer, Micic's jumper doesn't look all that pretty--he sports a long, flat-footed release and even tossed up an airball in the game today. Even if it isn't pretty, his shot goes in at a decent rate--he made 38.4% of his 3-point attempts this season and hit three of his four attempts from beyond the arc today.

Defensively, Micic is competitive and shows excellent awareness and anticipation skills, but could very well struggle against higher level players due to his average lateral quickness. He needs to continue to get stronger, which will also help him as a finisher around the basket too, an area he certainly needs to improve in.

Having surprisingly led Mega Vizura to a berth in the Adriatic League next season, Micic will be a prospect to keep an eye on next year as one of the top international prospects in the 1994 class.

[Read Full Article]

---