Sergey Karasev, 6-7, Small Forward, Triumph Moscow, 1993
European Roundup: Dennis Schroeder Shredding German Defenses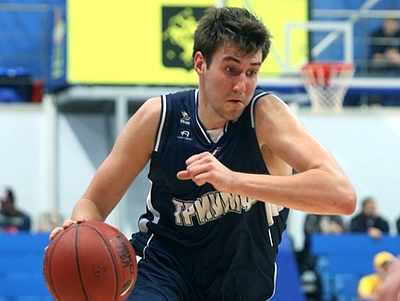 Scouting report by Jonathan Givony. Video analysis by Mike Schmitz
Despite turning 19 just one month ago,
Sergey Karasev
is playing arguably the biggest role of any serious draft prospect in European basketball right now. Seeing 30 minutes per game for Triumph in the extremely competitive EuroCup, VTB and Russian Leagues, Karasev is blossoming into a star in his third season of professional basketball, averaging 16 points per game thus far.
The buildup to this point has been steady, as we've documented on
a number of occasions
throughout the past few years. Karasev was already seeing consistent rotation minutes as a 16 and then 17-year old during the 2010-2011 season, exploding for 34 points in a game against Dynamo Moscow in the Russian league in one game even. He then helped his Russian National team
knock off a talented USA Basketball squad
at the U-19 World Championship in Latvia with a 17-point outing, eventually finishing in 3rd place.
He continued to progress last season, playing 30 minutes per game for Triumph in the Russian league, and surprisingly earning a spot on the men's Russian National team, coached by David Blatt, which won the bronze medal at the London Olympics.
Karasev has become a go-to guy this season despite his tender age and the level of competition he's facing, and is doing so on a winning team, as Triumph is 10-5 on the season and already qualified for the next stage of the EuroCup.
Video Analysis:Scouting report:
Karasev shows good size for a small forward at 6-7 with decent length and a frame that should continue to fill out in time. Although he's not a great athlete, he appears to have expanded his game this season, doing a much better job of attacking the rim and getting to the free throw line, averaging nearly 8 attempts per-40 minutes on the year.
He is an extremely confident and aggressive player who can attack the basket with either hand and does an excellent job of playing at different speeds to keep defenses off-balance, relying more on timing and smarts than on sheer quickness. While not terribly explosive, Karasev is pretty crafty with the way he finishes around the basket, doing a good job of mixing in Eurostep moves and reverse layups to compensate for his lack of verticality.
Always driving with his head up, and usually very under control, Karasev sees the floor extremely well and is his highly adept at reading the defense and finding open teammates as plays develop. He passes ahead in transition unselfishly, and finds teammates off the dribble in a variety of creative ways, showing maturity and poise that is extremely uncommon for a player his age.
Just like last season, Karasev is shooting 37% from 3-point range, on six attempts per game thus far, which is a decent clip that he can likely continue to improve on with age. With his typical lefty shooting mechanics, he's a bit on the streaky side, but can get very hot at times, as he did for example in a huge
road win in Le Mans
earlier this month where he knocked down 6/7 attempts from beyond the arc. Continuing to progress in this area will be a major key for him to make an impact in the NBA, as he'll likely have a difficult time getting to the free throw line at the same rate he does in Europe.
Inside the arc is where Karasev has struggled a lot more this season, only converting 39% of his 2-pointers thus far, a very poor figure which he only manages to compensate for with how often he gets to the free throw line. He struggles to finish with his right hand inside the paint, often switching the ball awkwardly to his left hand despite being on the right side of the basket, which opposing defenses have caught onto. He's also been taking too many long off the dribble 2-pointers, which is partially a product of the extremely heavy offensive load he's shouldering, but also due to his fearless nature and the extreme confidence he has in his abilities, which can often lead to poor shot-selection.
Beyond his shooting and slashing, Karasev brings a lot to the table with the versatility he displays. He moves off the ball intelligently and with great timing, and is starting to develop a bit of a post-game that he's utilizing more and more of when Triumph plays him at the shooting guard position. He also does a nice job fighting for rebounds (6.2 per-40 minutes) and getting his teammates easy baskets as mentioned thanks to his high basketball IQ.
The biggest concerns NBA scouts might have about Karasev revolve around his defensive potential. While he shows solid toughness and anticipation skills, his lateral quickness is below average and he often looks very upright in his stance. He doesn't cover ground very well on the perimeter and gets beaten off the dribble a fair amount, so there are plenty of question marks about his ability to stay in front of quicker small forwards in the NBA. Adding strength should help here, as will more experience and coaching, but he'll need to continue to put the effort in to get better on this end of the floor.
To Karasev's credit, he gets very good reviews about his character and work ethic, which is very important considering his background and the reputation of Russian players that precede him.
The head coach of the Russian national team, David Blatt, surprised many by making Karasev one of the 12 players he took to the Olympics, despite being only 18 years old at the time. He raved about him when speaking to us about him via Skype.
"He speaks English. He's an outstanding worker and is highly intelligent. He's a special talent. A three position player. He has a great feel. Very creative. He can shoot and score. He plays with no fear. He doesn't look athletic, but he does athletic things. He still hasn't grown into his frame. He will improve his strength. He's a quick and attentive learner. He held his own on defense better than I thought he would."
Karasev's father Vassily, the head coach of Triumph, had a distinguished career playing for CSKA Moscow and the Russian national team, even leading the Euroleague in assists one season. It's unknown how his father's position on the team will affect Karasev's NBA status moving forward, or even how much interest his son has in declaring for the draft and going through the process.
Born in October of 1993, Karasev was already eligible for the draft last year, and considering how he's playing this season, would likely draw serious interest from NBA teams should he decide to put his name in this upcoming June. While his upside might not be off the charts due to his average physical tools, there's little doubt that he's going to develop into a quality all-around player thanks to his combination of size, creativity, aggressiveness, intelligence and versatile skills, especially considering how well he's playing at such a young age.