When the European basketball season started on Sept. 30,
Nikola Mirotic
was no more than an afterthought on the roster of Real Madrid. Buried behind two former Spanish national team starting power forwards in
Jorge Garbajosa
and
Felipe Reyes
, as well as Serbia's starting power forward at the World Championships in Turkey,
Novica Velickovic
, Mirotic's role this season appeared to be competing hard in practice and cheering enthusiastically from the bench.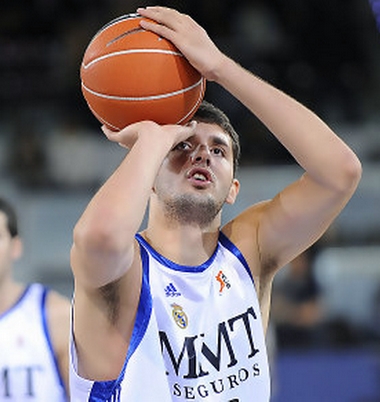 Apparently, he didn't receive the memo. Despite playing just 91 minutes in the first 21 games of Real Madrid's season, Mirotic (a player who struggled to get off the bench at times last year on a bad team in the Spanish second division) has been the most productive player on arguably the best team in Europe
Well, since he started getting some burn that is. Real Madrid has steam-rolled its way through the Euroleague Top 16, with six wins and no losses, and Mirotic continues to excel in the playing time he's earned -- roughly 19 minutes per game since the New Year.
He now ranks third in the ACB and sixth in the Euroleague in PER, thanks to his prolific scoring (21 points per 40 minutes), solid work on the glass (9.4 rebounds per 40), defensive playmaking (1.4 blocks, 1.6 steals per 40) and terrific efficiency (61% 2P, 43% 3P, 86% FT).
When you're 6-10, with a great frame, a 7-1 wingspan and good mobility, and you just turned 20 years old, scouts tend to take notice; especially when you're putting those numbers up against the best competition in the world outside the NBA.
Mirotic, for his part, doesn't look particularly surprised by his success. He plays with unbelievable confidence and poise for a player his age, always looking to make things happen. He's not afraid to take big shots in clutch situations (as he proved
at Siena
, in
the Copa del Rey
) and is clearly earning the respect of his veteran teammates with his stellar play.
Offensively, Mirotic acts mostly as a floor spacer for Real Madrid. He sees most of his possessions spotting up on the wing, cutting to the basket and finishing off of pick and rolls. He's converted 42% (22-of-53) of his jumpers on the season and is extremely reliable with his feet set. He has also shown consistent range out to the 3-point line.
With his excellent size and quick release, Mirotic is a tough matchup for most big men, especially since he's very adept at using shot-fakes and taking the ball to the basket. He has a nice first step and solid ball-handling skills. He's generally a very fundamentally sound player. He has an excellent feel for the game and plays relatively mistake-free (compared to his usage).
Mirotic is not a prolific threat with his back to the basket, but he can finish in a variety of ways around the hoop – be it a jump hook, a pretty floater or an elegant scoop-shot off the glass. He's a very skilled big man with terrific touch, which makes him a dangerous weapon to have considering the many different ways he can score in the half-court.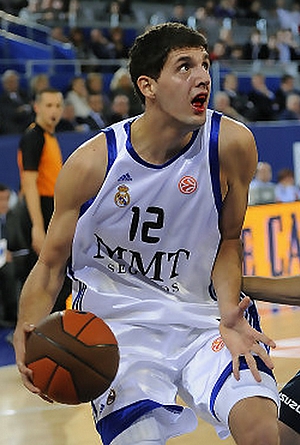 Tougher and more versatile than your typical European big man, Mirotic plays with an aggressiveness that bodes well for his future. He runs the court with purpose and is not ashamed to call for the ball forcefully and take a big shot.
While, offensively, it's not difficult to see why Mirotic has earned minutes, it's actually on the defensive end where he's surprisingly emerged as Real Madrid's most consistent big man.
Mirotic is very fundamentally sound -- never off-balance, always staying solid in his stance and rarely gambling for the sake of making a spectacular play. Nevertheless, he's been fairly productive statistically, showing excellent timing as a shot-blocker and even getting in the passing lanes on occasion, likely aided greatly by his excellent length. He still needs to add strength (as most 20-year-olds do), but Mirotic has a good frame and should be able to see minutes at either big man position in the NBA, depending on who he's playing next to.
This versatility is what makes Mirotic so intriguing from an NBA standpoint—he can play alongside many different types of frontcourt players as either a power forward or center and thus would be able to fit onto almost any team. Every good team these days needs at least one skilled big man in their rotation who can space the floor and attack opposing players in mismatch situations, and Mirotic seems to fit the bill to a T based on what we're seeing.
He's not a player without weaknesses, though.
For one, he's just an average defensive rebounder, ranking in the middle of the pack in this category amongst
ACB
and
Euroleague
power forwards. He has been improving as the year has progressed but is somewhat limited by his average athleticism (by NBA standards) in this area. He also doesn't appear to be a great passer, handing out just 16 assists in 470 minutes this season (or one every 29 minutes he's on the floor).
The biggest drawback from an NBA standpoint is in the likelihood a team will actually be able to bring him over. Mirotic was brought to Spain (from Montenegro, by a Real Madrid scout) when he was just 15 years old and signed a nine-year contract (which has since been redone) with unfavorable terms, as many young players in Europe often are. He still has two more seasons (after this) on his current deal, with a buyout clause that exceeds $2 million, which could be prohibitive for a NBA team.
Further complicating the situation is the fact that Mirotic was the recipient of an incredibly valuable Spanish passport last summer, making his value in Spain infinitely higher with the restrictions the ACB places on signing import players. With the way Mirotic is playing at the moment, it's likely that his contract will be restructured to allow him to earn closer to market value. That will likely involve making his exit clause even more prohibitive, not less, though.
From speaking to members of Mirotic's camp, it doesn't appear that he has a burning desire to leave Spain anytime soon, and it's not even a sure bet that he will be entering this year's draft. He reportedly is more focused on winning championships, becoming a top-level player in Europe and securing his family financially before leaving for the NBA.
This situation will surely play out over the course of the next few months, something that we'll be keeping close track of.
Edited by
Patrick Crawley
, Sports Editor for
Neon Tommy
and Managing Editor of
Basketball Fiend
.