Sebastian Pruiti, in his debut post on DraftExpress, takes a look at the strengths and weaknesses of
Jimmer Fredette
, with the help of BYU game-film from this past season.
Jimmer Fredette Strengths/Weaknesses Video
Watch in full screen mode by clicking button in upper right hand corner of video
Strengths
-
Shooting Ability:
The fascination with
Jimmer Fredette
starts with his shooting ability, where he seems to show unlimited range, and is a threat to take and make a shot as soon as he crosses half-court.
The type of shot doesn't matter to Fredette, who can knock down threes off of the dribble, coming off of screens, or in catch and shoot situations. Within BYU's offense, Fredette has the freedom to shoot whenever he wants, and that is such a threat to the defense because he can knock down both open and closely contested shots consistently.
-
Midrange Shooting:
Fredette's ability to knock down contested shots while off-balance is extremely beneficial. Fredette's shooting ability and freedom to pull up at any moment keeps the defense off balance and this allows him to get shots up over longer, more athletic defenders.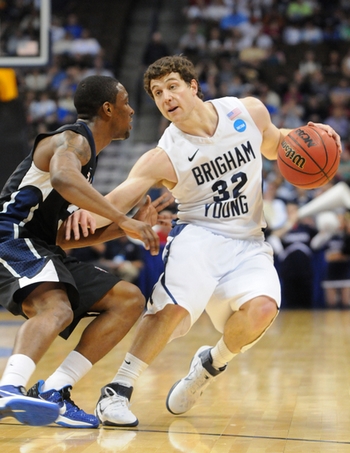 -
Passing:
Clips of Fredette attempting long pull-up threes have given him the reputation as a selfish gunner, but this is hardly the case. Yes, BYU's offense started and finished with Fredette, but he always seemed to be a willing passer, able to hit the open man if the defense starts to focus too much on him. In addition, Fredette is a strong enough ball handler with either hand to get himself to spots on the court where he is a threat, forcing help. When that help comes, Jimmer is able to get the ball to the open man.
Weaknesses
-
Defense:
For Fredette, the biggest concern for scouts is on the defensive end, and rightfully so, since playing defense is his biggest weakness.
Fredette's average, at best, athletic ability really hurts him on this end as his poor lateral quickness allows him to get beat by quicker ball handlers. Despite not having the tools to play tough defense, the most worrying thing might be his mindset on the defensive end. Fredette almost seems disinterested defensively, and this leads to poor help and poor positioning off of the basketball. Even worse, when he does get beaten by his man with the ball, he tends to give up instead of trying to recover, hoping that his help can get the job done.
-
Finishing At The Rim:
Despite showing a nice mid-range game that should translate to the NBA well, Fredette could have trouble finishing in the paint at the next level. While he might be crafty enough to finish over his man, he has struggled at times finishing over help defenders.
Fredette doesn't always have the athletic ability to finish with help coming, so he is forced into double-clutched, circus-style lay-up attempts. This puts the basketball on a tee for the help defense to block it, and if he does get it over the help, there is a small chance the ball actually goes in.
-
Turnovers:
Despite having strong offensive instincts and displaying an ability to make the correct pass more often than not, Fredette still tends to turn the basketball over a little too much. Fredette's Pace Adjusted Turnovers Per-40 minute average of 3.7 was 23rd highest in the NCAA last season and his Assist to Turnover ratio and Pure Point Rating were also very low (1.22 and -1.92 respectfully). A lot of these turnovers tend to be a direct result of how much he dominates the basketball and how much BYU's offense relied on him. When Fredette turns the basketball over, it is usually when he is trying to create on his own.
---
More DraftExpress Video Breakdowns:
Kenneth Faried
Harrison Barnes
Marcus Morris
Perry Jones
---
Sebastian Pruiti (see: TrueHoop feature) is the founder and editor of NBAPlaybook.com, a blog started in January 2010 that takes a look at the Xs and Os of the NBA. In addition to NBAPlaybook.com, Sebastian is a contributor to the New York Times' Off the Dribble blog,, SB Nation, Basketball Prospectus and The Basketball Jones, and is the Editor Emeritus of NetsAreScorching. Follow him on twitter here.