A recap of the top players seen at the 2010 Jordan Brand Classic International game, including Canadian
Anthony Bennett
.
The final boxscore
can be found here
.
Major props to the Jordan Brand people for organizing a deep and talented roster for this game and putting a heavy focus on the basketball aspect of the game throughout the week. The players received a great deal of individual instruction from the likes of head coach
Miles Simon
and Herman Harried, being put through serious practices with a strong emphasis on fundamentals and team work, and surely will remember this experience for a long time.
Anthony Bennett, 6-8, Power Forward, Mountain State Academy (WV), Canada, 1993
A last-minute
invite
, but possibly the most intriguing long-term prospect to emerge from the international roster, there is little doubt we'll be hearing plenty more about Canadian big man
Anthony Bennett
in the future. He plays at Mountain State Academy in West Virginia (which may soon close apparently) at the moment, but could very well transfer to Las Vegas-based Findlay Prep, following in the footsteps of fellow Canadians
Tristan Thompson
and
Cory Joseph
.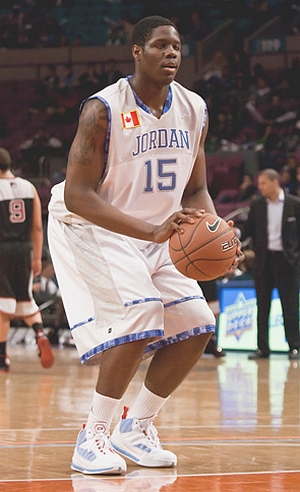 Standing around 6-8, with an outstanding frame, extremely long arms and terrific athletic ability, Bennett passes the eye test on first glance and then some. His leaping ability is especially impressive. He dunks absolutely everything in the paint in a ferocious manner, sometimes with his head right at the rim.
More than just an athlete, Bennett is very skilled for a 17-year-old big man, flashes of an intriguing perimeter game that could become quite a weapon down the road if he continues to add polish to it. We saw him knock down a number of 3-pointers in the three days we were able to evaluate him. He seems to possess a very nice touch on his jump shot and has fundamentally sound shooting mechanics. He even showed some ability to put the ball down from the perimeter, although he still has a long way to go in that area.
With his back to the basket, Bennett is fairly raw, but he does possess a semblance of a hook shot and a drop-step move. Considering the physical tools he brings to the table, he would be wise to continue to develop this part of his game. He seemed to drift a little too often to the perimeter, but he surely isn't what you would call a soft guy. He was a major factor on the offensive glass for example, which is not a surprise all things considered.
Bennett is a huge presence defensively at this level due to the sheer length, strength and explosiveness he brings to the table, but his fundamentals are nothing to write home about and he has little to no experience, as you might imagine. He did make an effort to compete and was fairly vocal in the one scrimmage we got to see, although that hasn't always been his reputation from what we understand. He appears to be an extremely coachable player, though, which is always a good sign.
Bennett is clearly a late bloomer, particularly from a physical standpoint. He only recently seems to have filled out his frame. Those who have seen him play in the past rave about his character and attitude, but are concerned about the lack of focus he displays at times. He doesn't always seem to have the disposition to dominate and is known to drift from time to time over the course of games. It will be interesting to see how this plays out in the future because, from a potential standpoint, Bennett's ceiling is as high as you'll find in his age group.
To his credit, Bennett seems to be aware of this issue, stating that he "wants to change that," and "want(s) to dominate every game [he] play(s)."
Only a high school sophomore at this point (despite turning 17 last month), Bennett is obviously far from a finished product. He told us he already has scholarship offers from the likes of UConn, West Virginia, Cincinnati, Virginia, Iowa State, Rhode Island, UNLV and more. We'll surely be hearing plenty more about him over the next few years.
Augustinas Jankaitis, 6-7, Power Forward, Zalgiris Kaunas, Lithuania, 1994
Fitting all the stereotypes of your typical Lithuanian prospect,
Augustinas Jankaitis
did his best
Linas Kleiza
impersonation throughout the week, making a strong impression along the way. A good (but not great) athlete who stands around 6-7 and has a nice frame, Jankaitis is a versatile prospect for his age. He does a little bit of everything for his team.
He stands out primarily because of the effort and competitiveness he brings to the table, something that manifests itself in particular on the offensive glass, helping him lead the game in rebounding with 13. Jankaitis is a tough guy who is aggressive in everything he does, whether it's putting the ball on the floor from the perimeter, finishing through contact around the basket, stepping out on screens defensively, posting up inside, or attempting jumpers from the outside; all of which he can do somewhat effectively at this stage.
A very advanced player considering his age (just 15-years-old), the question now becomes how much better he can get in the future, and whether he'll grow a couple more inches. He's already off to a great start. We'll have to see how he continues over the next few years.
Charly Maraux, 6-2, Point Guard, INSEP, France, 1994
Getting off to a very hot start but cooling down a bit as the week moved on, French point guard
Charly Maraux
nevertheless made a strong impression with his showing at Jordan Brand week. He seems to have a very nice future ahead of him.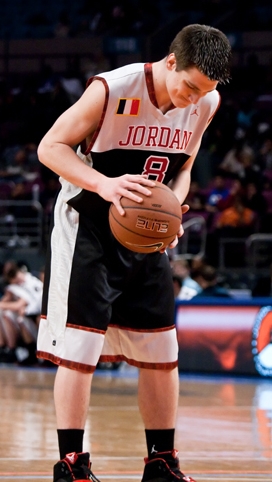 A very quick point guard who excels in transition and plays with great confidence, Maraux is an aggressive playmaker who will make the extra pass and has most of the fundamentals you look for in a player his age. He's a competitive guy with a nice basketball IQ and will even play some defense when called up. He looks a lot more experienced that your typical 15-year-old.
Maraux has an unorthodox looking shot with a funky release point, but he is capable of making jumpers regardless (even if he may have to work on his mechanics down the road). Maraux likes to drive left and seems to prefer shooting floaters rather than taking the ball all the way to the rim, but he already possesses some crafty change of speed moves and seems to have a good feel for getting by his man.
While it's way too early to draw any long-term conclusions (especially as far as his physical tools are concerned), Maraux seems to have a nice future ahead of him if he continues to work on his game and continues to develop as a point guard and perimeter shooter.
Jorge Sanchez, 6-7, Small Forward, Real Madrid, Spain, 1994
A long, lanky, physically underdeveloped wing player with nice size and budding skills, it's pretty clear Spanish forward
Jorge Sanchez
has talent to build on. But he is still an extremely early stage in his development as a basketball player.
Sanchez has nice touch on his shot (both in catch-and-shoot and pull-up situations), and can handle the ball in a straight line and create his own shot a little bit, even if everything about his game screams raw at this point, which is not a surprise considering his age.
He got pushed around a bit by the older and more physically developed players here in New York, but still showed nice instincts crashing the glass and a pretty good feel for the game. While his game could still go in many different directions at this point, it was interesting to get an early read on him.
Kyprianos Maragkos, 6-7, Power Forward, Panathinaikos, Greece, 1994
Coming into this event with a big reputation in his native country of Greece, power forward
Kyprianos Maragkos
looked eager to show himself here in this setting. He was one of the most aggressive players around.
Undersized for the power forward position at around 6-7, and not exceptionally athletic at this point, Maragkos gets by mostly on his smarts and competitiveness. He's capable of putting the ball on the deck, making the extra pass and posting up inside. He has nice footwork and touch in the paint as well as some nice patience for a player his age. He is also capable of stepping outside and knocking down a mid-range jumper. Defensively, Maragkos struggled at times. He has average strength and lateral quickness, but usually put up a good fight, and he did his best to crash the offensive glass as well.
Albert Homs, 6-6, SG/SF, DKV Joventut, Spain, 1994
Already a pro after making his debut at the ACB level at the tender age of 15 on
Ricky Rubio
's former team DKV Joventut no less, Spanish wing
Albert Homs
had a solid week here in New York, showing an intriguing skill level for his size.
Homs has very nice size for a wing (even if he's projected by some as a guard), standing around 6-6 with long arms and a skinny frame that should fill out in time. He has a nice first step and some real fluidity to his game, moving with great ease around the floor and clearly possessing some nice talent.
Homs is pretty good with the ball. He's capable of creating his own shot and getting to the basket effectively. His shot is a bit on the streaky side at the moment, but should steady in time. He can also make plays for others, showing a nice feel for the game, even if he lacked a degree of aggression over the course of the week. He seems to be an unselfish player by nature.
Homs, who doesn't turn 16 until May, is, unsurprisingly, not a particularly polished player at this point. He still has a long ways to go from a physical development standpoint, but he has a nice framework of skills to build off, and is someone to keep an eye on over the next few years.
Kevin Pangos, 6-1, Point Guard, Canada, 1993
One of the older players at this event, but still only 17,
Kevin Pangos
is another in a line of excellent point guards coming out of Canada recently; along with
Myck Kabongo
and
Cory Joseph
.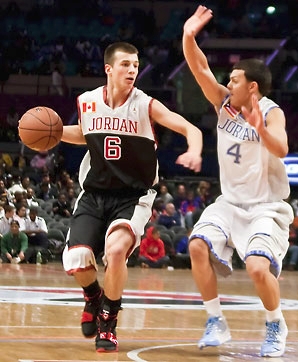 Not particularly gifted from a physical standpoint (possessing underwhelming size, strength and athleticism), Pangos compensates for his shortcomings with outstanding intangibles and a terrific basketball IQ to go along with a versatile skill-set. He has a terrific shooting stroke, is a willing passer, and is extremely competitive on the defensive end. He exhibited outstanding leadership skills throughout the practices and was quick to pick up on the drills and plays that were thrown at him, showing an excellent attitude along the way.
While his upside may not be as high as some of the other guards here, Pangos looks like a nice NCAA prospect who should make some college coach very happy. Canadian stronghold Gonzaga is apparently in the mix, and they'd probably be a perfect fit.
Matteo Imbro, 6-2, Point Guard, Montepaschi Siena, Italy, 1994
Showing up a day later than the rest of the group due to a prior obligation with his team back home, Italian point guard
Matteo Imbro
made a strong impression upon arriving at the first practice and continued that momentum into the game.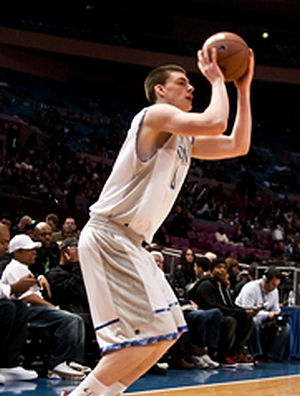 Showing nice size (possibly a bit taller than the 6-2 he's listed at), long arms, a good frame and a fluid blend of Euro-athleticism, Imbro has nice tools for a point guard to go along with some intriguing skills. He's clearly an unselfish player who is willing and able to make the extra pass--be it in transition or in the pick and roll in the half-court, where he shows a nice first step and good timing. While capable of making shots from the perimeter, Imbro's unorthodox shooting mechanics limit him to a certain extent, something he may need to correct down the road. Defensively he did not stand out either.
Imbro is obviously still young and has a long way to go at this point, but he clearly has plenty of natural talent. It's nice to see some good young players emerging from Italy, which has been in a bit of a drought as of late.
Malik Muller, 6-3, Shooting Guard, Urspring, Germany, 1994
The MVP of the game was German combo guard Malik Muller, an extremely strong, long and fairly athletic player who looks very mature from a physical standpoint despite being only 16-years-old.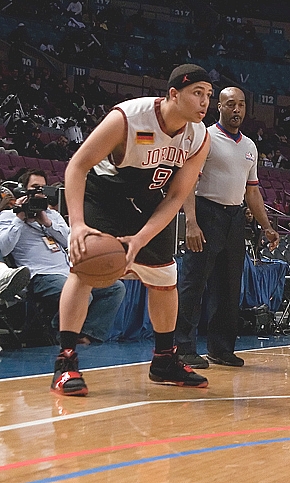 He can shoot the ball from the perimeter despite not getting much arc on his shot, something that didn't stop him from draining four of his six 3-point attempts in the actual game, mostly in catch-and-shoot fashion. He took the ball aggressively to the rim, relying heavily on his superior strength to get the job done, and even posted up. He also made plays defensively. It was certainly the 16-year-old's day in Madison Square Garden. He scored 21 points on 8-15 shooting, something he'll surely remember for a long time.
Marius Grigonis, 6-6, Small Forward, Zalgiris Kaunas, Lithuania, 1994
Although he got hurt fairly early on in the game, Lithuanian wing
Marius Grigonis
still managed to show some nice things over the course of the week; particularly in the practices, where he certainly stood out. At around 6-6, he's got good size for a wing, a nice frame, and, as you would expect from a Lithuanian born player, a terrific shooting stroke. Grigonis appears to be a highly unselfish, yet extremely competitive, player with a nice basketball IQ and a mature all-around game. We would have liked to see more, but unfortunately will need to wait for another opportunity.
Francesco Candussi, 6-9, Power Forward, Aibi Fogliano, Italy, 1994
The more heralded of the two Italians in this game, Francesco Candussi is far more of a project at this point, sporting an extremely underdeveloped frame that looks a couple of years away from developing. Athletically, Candussi is far from reaching his full potential. He struggles to finish around the basket and gets pushed around defensively. He does have nice hands and a soft touch around the rim (even showing range out to 18 feet) as well as good scoring instincts in general.