In part two of our series, we take a look at the top 20 shooting guards in the 2009 NBA draft. Not the strongest position in terms of depth or star power, this analysis should shed some light on what makes this crop a bit weaker than the norm.
Based on the group we're looking at here, we should have no problem drawing some conclusions about which of these players stand out in which areas. With only a couple of players from small conferences and no international prospects, the shooting guard position is one of the more straightforward that we'll look at. Though there is one international player in our rankings, All-Superleague Honorable Mention (Ukraine) selection
Sergey Gladyr
, we can't include him since we don't have his numbers available in our database. On top of being exclusively from the NCAA, this group is pretty similar in terms of experience as well, featuring no freshman and only a few sophomores.
To gain a better understanding of the statistics used, visit the glossary by Noah Libby-Haines. Interested in making your own statistical comparisons? You can do so
here
.
Point Per-40 Minutes Pace Adjusted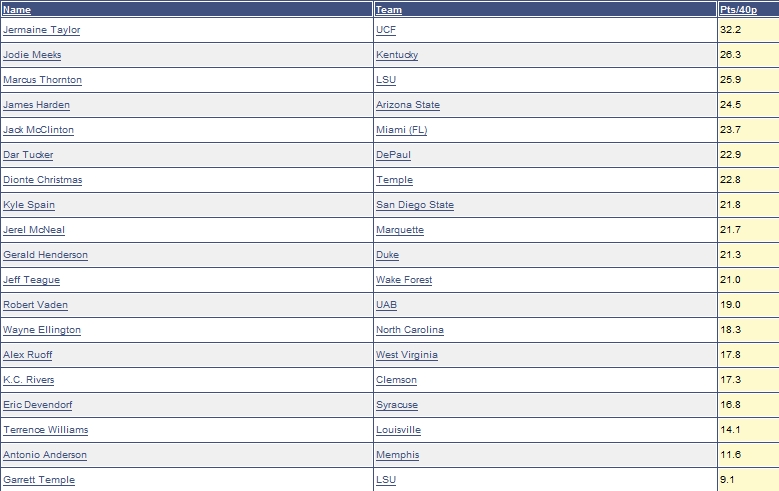 This stat shows us how well these shooting guards put the ball in the basket, regardless of situation, which tells us about their skill-level relative to the competition they played against and how assertive they were in their time on the court.
A recurring theme in this article, we find
Jermaine Taylor
at the top of our rankings at 32.2 points per-40. Not only is he almost 6 full points ahead of
Jodie Meeks
, but he even ranks slightly ahead of
Stephen Curry
, the top scorer in our first analysis. As you can see here, and will continue to see throughout this article, Taylor carried a bigger load than anyone in the NCAA.
Jodie Meeks
checks in next on our list, while
James Harden
sits in fourth. Both players were clearly utilized heavily by the teams due to their excellent perimeter scoring abilities. The third and fifth spots are owned by
Marcus Thornton
and
Jack McClinton
, who used their opportunities to handle the ball to create their own shots in addition to spending time off the ball.
In the middle of our rankings we see a handful of highly regarded guys from the ACC, namely
Gerald Henderson
,
Jeff Teague
, and
Wayne Ellington
, all playing for quality squads in an elite conference. From what we've seen, the players on higher level teams in the ACC usually fall behind prospects from the bottom feeding teams, largely due to the quality of talent they're surrounded with. Obviously it's easier for a player like
Jermaine Taylor
to put up outrageous numbers alongside the teammates he played with at UCF.
Near the bottom of our rankings we find two role-players in
Antonio Anderson
and
Garrett Temple
, but see
Terrence Williams
ranked third to last in this group, which tells us a bit about his lack of polish on the offensive end. Players like these three who make a living in other ways obviously don't look good when analyzing their bulk scoring, but their lack of offensive skill-level should be duly noted.
Three Point Attempts Per-40 Minutes Pace Adjusted
This stat tells us a lot about the role these prospects played for their team, as well as the confidence they had in their perimeter shooting ability.
Robert Vaden
checks in at second place for the second straight year, falling just short of
Dionte Christmas
's 10.5 three-point attempts per-40 minutes. Both Temple and UAB relied on the outside shooting of their guards to stay in games, and it's clear that both players were more than happy to shoot the three, for better or worse.
Jermaine Taylor
also lands pretty high on our list, which is notable since he is known just as much for his midrange game as he is for his three-point shooting. Arguably the top two shooters in this draft check in at the next two spots in
Jodie Meeks
and
Jack McClinton
.
Towards the bottom of our list we find all of the shooting guards projected to go in the first round, telling us a little bit about how the NBA values guys who settle for a lot of threes versus more versatile and complete options.
In the case of
Jeff Teague
, you begin to wonder about the statistical validity of his very high 3-point percentages, considering how few attempts he took.
Gerald Henderson
obviously wasn't that confident in his 3-point shot either, and to a lesser extent,
Terrence Williams
may not have been either.
Three Point Attempts Per Field Goal Attempt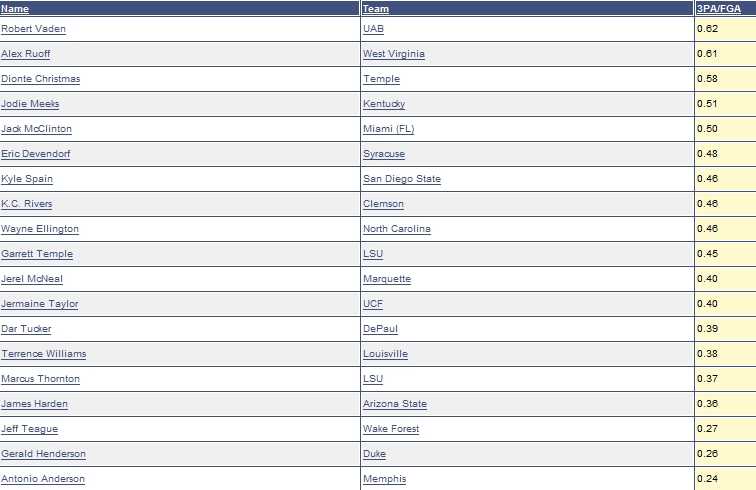 This stat examines how heavily a player relied on the 3-ball to score points, which is more of an indicator of their role than it was for our guards, though it might tell us something about their ball-handling skills as well.
Taking time out of the equation and simply looking at how often players shot threes in relation to other shots, we find
Robert Vaden
,
Alex Ruoff
, and
Dionte Christmas
ahead of the median, while
Jodie Meeks
and
Jack McClinton
round out the players that took more shots from beyond the arc per game than they did inside of it. All featured scorers for their teams, this stat also clues us in to how much each squad relied on their star's shooting to stay in games.
In contrast the our last table, we see
Wayne Ellington
climb the list, which indicates that in comparison to some other players on the list, he wasn't using as many of his team's possessions, but that many of the looks he did use were threes. We see
Jermaine Taylor
go in the opposite direction since he took a ton of shots on the whole.
Terrence Williams
and
James Harden
shoot threes on similar percentages of their possessions, as do
Jeff Teague
and
Gerald Henderson
. All capable of using their first step to create some space, clearly they are less reliant on the three than many of their counterparts, which is a positive sign. Considering how different each of their games are, the fact that they coincide to some extent is interesting at the least.
Free Throw Attempts Per-40 Minutes Pace Adjusted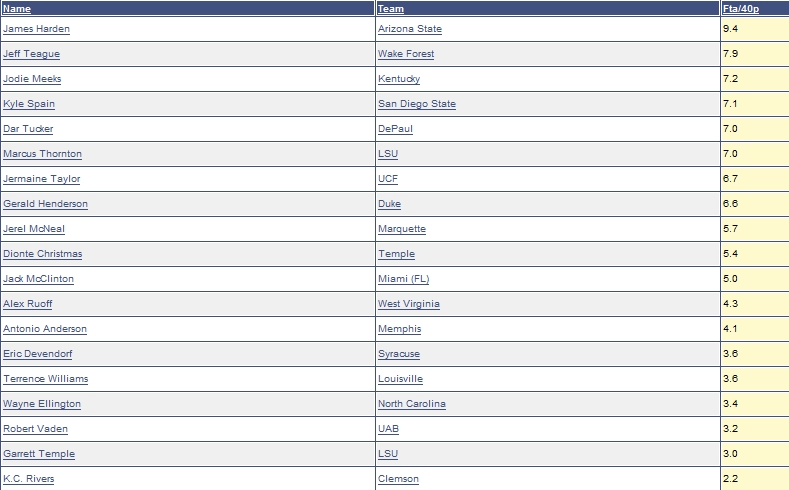 Free throws attempted per-40 minutes is a good statistic to measure the aggressiveness of a player getting to the rim, as well as his athleticism and ball-handling skills. In some ways, it provides an inverse look at the three-point stats we just looked at.
Based on what we saw on the last table, it isn't shocking to see
James Harden
and
Jeff Teague
amongst the most frequent visitors to the charity stripe in this group. More prone to attacking off the dribble, both players draw a lot of contact on their drives, though Harden's 9.4 attempts per-40 is especially impressive considering he's often knocked for his athleticism. It's a bit surprising to see
Jodie Meeks
this high on the list given how many three pointers he attempted, but he's clearly got more game than the average spot-up shooter. Worth mentioning as well are
Dar Tucker
and
Kyle Spain
, Tucker for his recklessness off the dribble and Spain for his upper body strength around the basket.
Terrence Williams
and
Wayne Ellington
didn't get to the line much in comparison to the other major prospects in this group, which has a lot to do with what they look to do when they turn the corner off the dribble. Ellington prefers his pull up jumper, while Williams is prone to hitting the open man.
Free Throw Attempts Per Possession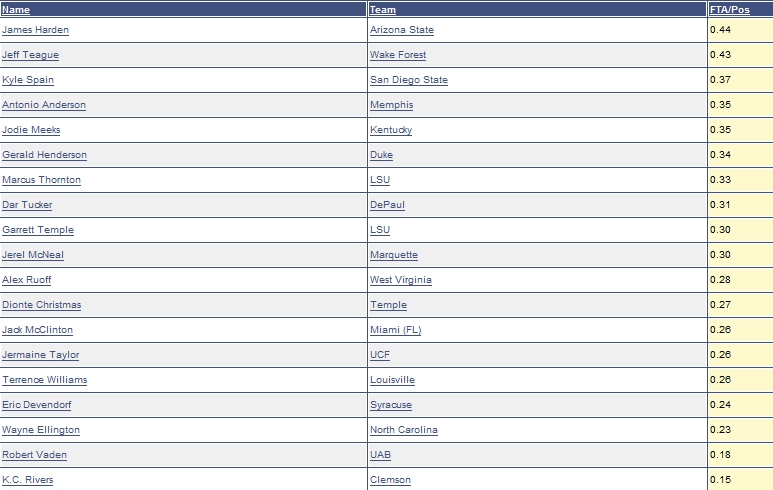 Even though Free Throws Per-40 Minutes Pace Adjusted tells us how much a player attacks in bulk, it doesn't show how much they attack relative to their usage rate. This stat tells that story.
For that reason, this table looks similar to the last one, with some significant differences.
Jermaine Taylor
drops from the upper part of the rankings towards to bottom due to just how many possessions he uses, not getting to the foul line at as impressive a rate per-drive as he does on the whole. In contrast,
Garrett Temple
jumps way up the ranking due to how few touches he gets and how frequently those possessions get him to the line.
None of the major prospects make too big of a leap in either direction, indicating that they use a considerable amount of possessions, but aren't carrying their team's offense alone.
True Shooting Percentage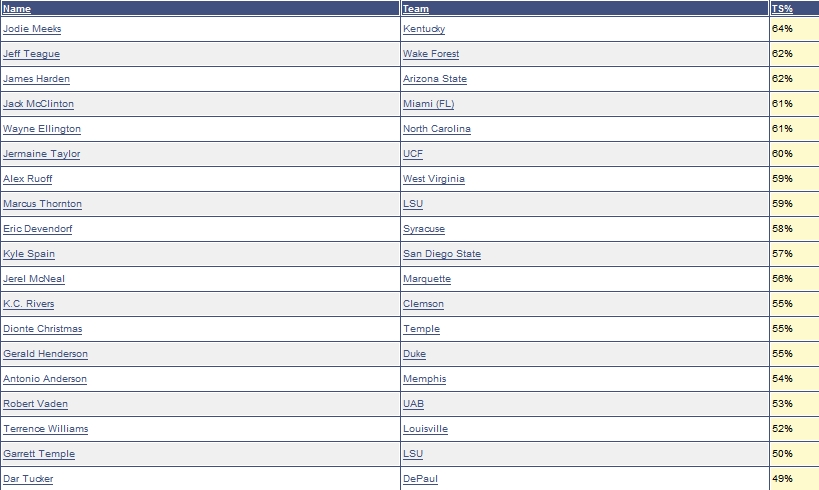 True Shooting Percentage is adjusted to account for what a player adds to their efficiency and team's point total with free throw attempts and 3-pointers. A player who makes 4/10 3-pointers obviously contributes the same amount of points as a player who made 6/10 2-pointers--which doesn't show up in the traditional field goal percentage stat. This stat attempts to adjust for that.
No surprises here, we find the top three-point shooters near the top of our TS% rankings, along with the prospects that get to the line and generally score at a high rate.
Jodie Meeks
tops this group at 64%, since he takes a lot of threes, shoots solid percentages from the inside and outside, and is lights out at the foul line.
James Harden
and
Jeff Teague
tie for second thanks to their versatility. In contrast to those two, we find to guys who relied heavily on their pure outside shooting in
Wayne Ellington
and Jack McClinton[/url. Obviously this stat can tell you a great deal about a player's role-player potential if a large portion of their shots were threes.
Closer to the bottom of the list we find
Terrence Williams
and
Gerald Henderson
, neither of whom look very good in this analysis from an offensive perspective, but often get a bit of a pass because of their athleticism, potential and the other things that they do bring to the table.
Assists Per-40 Minutes Pace Adjusted
3929
Speaking of things that
Terrence Williams
does well aside from score, he ranks as the top playmaker in this group followed by career role-player
Antonio Anderson
and probable top-5 pick
James Harden
.
Garrett Temple
falls in the same boat as Anderson –being a complementary guy who didn't play a ton of minutes, a obvious advantage in this area. Given that neither Williams nor Harden may be a number one option during their career, their ability to pass the ball is a nice asset. All these players at the top of the list saw some minutes at the point guard spot in college, which gives them added versatility.
Jeff Teague
and
Jack McClinton
may have the height of point guards, but at 3.9 assists per-40, they obviously don't have the game to match, which is why they are on this list. On the bottom of the list we find
Jodie Meeks
and
Dar Tucker
at just 1.9 assists per-40 minutes. From what we've seen on tape, Tucker has never seen a shot he didn't like, while Meeks was asked to finish plays way more often than he was ever asked to make them. His limitations as a ball-handler don't help him as a playmaker either.
Turnovers Per-40 Minutes Pace Adjusted
3930
Based on what we saw on the last list, there are a few things that stand out on this one.
Dar Tucker
not only doesn't pass well, but he's not effective when he tries to.
Jodie Meeks
isn't quite as bad, but still leaves something to be desired.
Terrence Williams
doesn't turn the ball over at a very high rate, nor does
Wayne Ellington
. For a passer of Williams' caliber that's an impressive feat, while Ellington's role-player potential gets a boost from his decision-making, even if that does come at the expense of his slashing game. We see
Jeff Teague
,
Jermaine Taylor
, and
Dionte Christmas
near the top of the list, which tells us something about how a player's role will often define how often they turn the ball over, regardless of how they actually score their points. Each of those three offer a significantly different offensive repertoire, but fall in the same boat nonetheless.
James Harden
turned the ball over a little bit more than you'd like, but he did shoulder a heavy offensive load on a very slow-paced team.
Assist to Turnover Ratio
3931
Putting the last two tables together, we see that
Terrence Williams
is not just a good passer, he's a great overall facilitator. Finishing ahead of two guys who were strictly roleplayers, Williams would have placed third on our point guard rankings by this metric. On the bottom of our list, we find a group of guys who didn't want or weren't asked to pass much in
Jermaine Taylor
,
Jodie Meeks
and
Dar Tucker
. The other top shooting guards in this draft fall in between the two extremes, as none of them stood out as passers outside of
Wayne Ellington
, who benefited from being surrounded by some great finishers and not having to do much ball handling.
Pure Point Rating
3932
Accounting for the fact that turnovers are statistically worse than assists are positive, and for pace, Jon Hollinger's pure point rating builds on the A/TO ratio that many of us use to gauge the efficiency of points guards. This stat backs up the things we learned above:
Terrence Williams
passes the point forward test seamlessly.
Strikingly similar to the A/T ratio table, this chart gives us a little bit more of an idea of how rare
Terrence Williams
's passing ability really is. The only major prospect over .5 PPR, he's the type of playmaker that could fit in next to an undersized, offensive-minded guard on the next level. His versatility will be very attractive to teams with such players.
Players like
Jodie Meeks
,
Dar Tucker
,
Jermaine Taylor
and to a lesser extent
Jeff Teague
will probably have to adapt their game significantly at the NBA level if they are to make it.
Rebounds Per-40 Minutes Pace Adjusted
3933
Rebounding is an important aspect of the game at any position, but shooting guards often fall into situations where they are either asked to get out in transition or box out. With that said, it's important to recognize that some of this stat is systematic.
Going back to the topic versatility,
Terrence Williams
is also the best rebounder in this group at an incredible 9.7 rebounds per-40 minutes. Supremely athletic, it is obvious that teams will accept that Williams needs some time to develop on offense considering all the other things he brings to the table. We find
Kyle Spain
in second, thanks to his excellent physical strength and big wingspan.
K.C. Rivers
is a surprise in third considering his size, and
Dionte Christmas
and
James Harden
aren't freak athletes either, but are crafty enough to know how to get their teams extra possessions.
Gerald Henderson
and
Jermaine Taylor
rebound at the same rate and land right around the middle of our rankings, which tell us that athleticism alone doesn't make a shooting guard a productive rebounder. Near the bottom of our list we find
Jack McClinton
and
Jeff Teague
, two of the smallest players in this group, which shouldn't come as a surprise. Neither player is likely going to pull down many missed shots on the next level.
Steals Per-40 Minutes Pace Adjusted
3936
A wing's ability to get in the passing lanes often helps his team quicken the pace of the game without forcing the issue. Though there's a million ways to create a turnover, this stat paints a broad picture of what a prospect brings to the table both physically in terms of quickness and length and mentally in terms of intensity and anticipation.
Continuing his run on the top of our tables,
Terrence Williams
is the top thief in this group, followed by defensive stalwarts
Garrett Temple
and
Jerel McNeal
. All long and aggressive, its no surprise to see these guys at the top of our list. Considering their athleticism, neither
Gerald Henderson
nor
Jermaine Taylor
came up with many steals, which seems to speak to the how big of a role length plays in creating turnovers versus quickness.
Wayne Ellington
and
Jack McClinton
round out our list, showing how hard it is for players lacking great height, length or athleticism to be stat-stuffing defenders.
Blocks Per-40 Pace Adjusted
3935
This is yet another stat that can provide some insight into the physical traits that these shooting guards use defensively.
Though they don't produce many steals, the explosive athleticism
Jermaine Taylor
and
Gerald Henderson
possess make them the top shot blockers amongst our group.
Garrett Temple
follows them in third in a tie with
Terrence Williams
, showing why both are considered such well-rounded defenders.
James Harden
lands in the bottom-5 along with
Jodie Meeks
and
Wayne Ellington
, not a surprise for guys who don't show the most explosiveness.
Jack McClinton
is the worst shot blocker in this group, and no surprise, is one of the shortest as well both from a height and wingspan perspective.
Team Possesions
3939
Obviously UNC tops our table in terms of the number of possessions they use, but Wake Forest isn't far behind. Neither is Syracuse. Each of these teams looked to use their overall talent level to push the tempo and overwhelm opponents. Duke and Marquette play at the same pace, despite one featuring a significantly smaller line up, which we found interesting. On the other side of the spectrum, Temple's traditionally slow offense is eclipsed by the conservative San Diego State attack and
James Harden
's Arizona State squad. It would be interesting to see what Harden's numbers would look like had he landed in a faster system with better teammates around him.
Player Efficiency Rating
3937
Another one of John Hollinger's gems, PER is a total measure of what a player does on the floor based on more than a dozen weighted calculations. It isn't wise to compare players across different leagues, though, since an average score of 15 (the median) would be a totally different figure in another league, with its own averages. The NCAA is especially tricky considering the varying levels of competition we find in the different conferences.
Jermaine Taylor
has the highest PER on our list, which isn't surprising considering he did just about everything for UCF this season, and played in a weaker Conference USA.
Marcus Thornton
and
James Harden
both look very good by this standard since both had very productive years.
Kyle Spain
makes a surprise appearance in the top 5 thanks to his shooting and rebounding.
Terrence Williams
lands in the middle of the rankings which tells you how this analysis views his lack of scoring and usage rate.
Efficiency Per-40 Minutes
3938
A Per-40 measure of productivity based on equally weighted stats, EFF/40 gives us some comparative opportunities that PER wasn't designed to.
Though this table looks quite a bit like the last one, there are some notable differences. It pushes
Wayne Ellington
and
Gerald Henderson
up the list while relegating
Kyle Spain
to the middle of the pack.
Clearly this metric is more favorable to players who are versatile and doesn't reward scorers as thoroughly.
Terrence Williams
ranks third for that reason, but still falls behind
Jermaine Taylor
and
Marcus Thornton
.