Kendall Marshall is the prospect with the biggest disparity between his most notable strengths and weaknesses. What kind of NBA player will he be and how does he stack up in this draft class?
-NBA Draft Prospect of the Week: Andre Drummond
-NBA Draft Prospect of the Week: Thomas Robinson
-NBA Draft Prospect of the Week: Jae Crowder
-NBA Draft Prospect of the Week: Quincy Miller
-NBA Draft Prospect of the Week: Anthony Davis
-NBA Draft Prospect of the Week: Jared Sullinger
-NBA Draft Prospect of the Week: Royce White
-NBA Draft Prospect of the Week: Moe Harkless
-NBA Draft Prospect of the Week: Damian Lillard
-NBA Draft Prospect of the Week: Cody Zeller
Joseph Treutlein
After a solid freshman year where his performance really came on strong late in the season,
Kendall Marshall
picked up right where he left off as a sophomore, playing a pivotal role in leading North Carolina to a #1 seed in the NCAA Tournament.
Unfortunately for Marshall, his season was unexpectedly cut short following a superb 18 point, 11 assist performance in a Round of 32 win over Creighton, as he broke a bone in his wrist late in the game and was unable to return before the Tar Heels' own season ended two games later in the Elite Eight.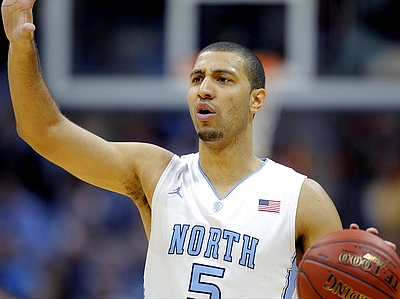 Marshall had a superb season in Chapel Hill by many standards, which can be evidenced by looking at his statistical accomplishments in relation to the rest of our database. It's no secret that Marshall's game centers heavily around his fantastic abilities passing the ball, which look even more impressive when you view them in a historical context.
Marshall's 10.7 assists per 40 minutes game adjusted this season rank
the highest of any player in the history of our database
(which goes back to 2001/2002). He's also
#1 all-time in Pure Point Ratio
by a large margin, while his 3.51 Assist-Turnover Ratio
ranks 3rd all-time.
.
When looking at Marshall's game from an NBA perspective, his passing ability is clearly his greatest selling point, and it's hard to overstate how good of a passer he is and how great a feel he has for managing a game.
In terms of point guard style, Marshall is a prototypical pass-first point guard taken to the extreme, as evidenced by his just 6.2 field-goal attempts per game in 32.9 minutes. He possesses an uncanny, second nature feel for the game, always instinctively playing with his head up and quickly moving the ball to the highest percentage scoring opportunity. Managing the game clearly comes very easy for him both in the half court and transition, as he looks as natural as any player in the country finding teammates for easy baskets.
Marshall possesses the full slate of passing skills, possessing excellent vision and the ability and willingness to make all types of passes, excelling especially in transition, on pick-and-rolls, and finding open shooters all over the floor. He does a great job reading the floor and finding openings, while being quick to get the ball out of his hands as soon as an opportunity develops, not being as ball dominant a player as one would expect given his gaudy assist numbers.
Marshall only averages 3.1 turnovers per-40 pace adjusted, but that number is slightly misleading due to how little he looks for his own offense, which cuts down the opportunities for turnovers in that area of his game relative to other players. Just accounting for possessions used, Marshall was the third most turnover prone prospect in our database this season, coughing the ball up on 27% of his possessions.
As he
readily admits
, he is prone to taking too many risks with his passing game at times, trying to make homerun plays or leaving his feet before he makes a decision and relying on his vision to bail him out, which leads to some unnecessary turnovers. While this is something a coach will need to live with considering how brilliant of a distributer he is, this is something he'll need to account for in the NBA where every defender will be bigger and more athletic, lowering the margin for error on all passing windows.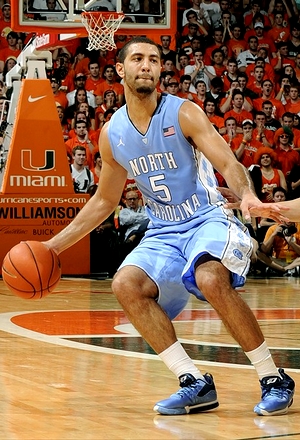 While Marshall clearly cemented his status as an excellent distributor in his breakout sophomore season, many of the same questions remain in his rarely utilized scoring game, as his pace-adjusted efficiency and production numbers stayed pretty stable this year.
Marshall's 7.9 points per 40 minutes pace adjusted ranks second worst of all players projected to be drafted this season, and his 55% True Shooting Percentage is towards the bottom as well. While Marshall improved his scoring output all season long (nearly doubling his scoring rate in March), and looked extremely aggressive in
a few
extremely
high-profile
matchups, he still has many concerns heading to the next level, namely whether he'll be willing and able to score enough to keep an opposing defense honest.
The most encouraging improvement for Marshall is the increase of his anemic 43.4% FG% on two-point baskets this season to a more respectable 50.7%, but he's still doing it on just 4.0 attempts per game and is also getting to the free-throw line at a slightly lower rate. Marshall has done a better job being decisive going to the rim, taking advantage of gaps in the defense when they present themselves and using his size to finish around the rim, but still is not very impressive in this area.
Marshall's first step is below average and despite excellent craftiness and a good ability to change speeds, he lacks the top gears most NBA guards have, which often prevents him from getting to the second level on drives. His lack of elevation around the rim is also concerning projecting forward, so developing a floater would be wise for diversifying his scoring ability in the lane.
As a shooter, Marshall has similarly remained mostly stagnant with his development as a sophomore, as he's shooting a respectable 71.2% from the free-throw line, and 35.1% from three-point range, but doing so on a very low 2.2 attempts per game. The bright side here is his 1.35 points per shot on unguarded catch-and-shoot jump shots according to Synergy Sports Technology is a more impressive number, and that bodes well for his chances of expanding this area of his game projecting to the next level, where he could play in the same backcourt with another playmaking combo guard (perhaps a
Monta Ellis
type). Marshall's shooting success is still in spite of his somewhat awkward albeit passable mechanics, which shows more potential for improvement if he can refine his motion some.
The defensive end, however, is perhaps the most concerning aspect of Marshall's game projecting to the next level, as his lack of quickness on this end of the floor is concerning in the dribble-drive centric NBA, and already is a problem against high level competition in college. While Marshall brings a good effort and fundamental level to the table at the college level, he is prone to being blown by more athletic competition due to his below average lateral quickness, and often has to give up notable space on the perimeter to compensate. His excellent size allows him to offset his other limitations somewhat, notably in the pick-and-roll game at times, but overall his ability to defend point guards consistently is a question mark projecting to the NBA, and he will really need to put in work to maximize his effectiveness on this end of the floor.
Looking forward, Marshall's superb passing ability, feel for the game, excellent intangibles, and penchant for playing winning basketball are certain to be attractive to NBA teams, as there simply aren't many players who can run a team like him available, certainly not in this point guard-starved draft class. The recent seamless transition of
Ricky Rubio
, a player with a similar strength/weakness profile in many ways, will also help the case for those wondering how Marshall's game could translate to the pros, as will the continued success of
Andre Miller
, another guard he somewhat resembles.
Maximizing his spot-up shooting and defensive abilities are definitely the simplest short-term and long-term improvements Marshall can make, and both would go a long way to easing his transition and rounding out his game. Playing in an unselfish offensive system under a coach that recognizes how to utilize his skills will be critical for Marshall's long-term success, but it's difficult to see a player with such a pronounced and coveted strength not finding a niche in the NBA.