The Phoenix Suns are in the midst of another fantastic season and should be considered one of the prohibitive favorites to win the NBA Championship. The return of
Amare Stoudemire
has bolstered the Suns interior game on both ends of the court, which is an important dimension that the team was lacking during last seasons playoff run.
Injuries haven't been a major factor this season, but
Boris Diaw
has missed some time. While Diaw isn't scheduled to miss any playoff games, his absence from the Suns lineup for any period of time would be considered a major detriment to building team chemistry.
The Suns were able to mitigate the loss of Stoudemire last season primarily due to the emergence of Diaw as a multi-dimensional force on the court. This season, Diaw has had some difficulty adjusting his game to complement the presence of Stoudemire. As the Suns look to finally break through and make it to the NBA Finals, they will need all of their best players in top form. The emphasis on half-court execution during the playoffs makes Diaw and Stoudemire vital pieces to the Phoenix attack.
Phoenix has committed substantial payroll to winning a championship, and it's unclear what will happen in regards to the rumored mandate from ownership to pare down team expenditures if the Suns don't take the next step collectively.
Shawn Marion
's name has found its way into trade talks over the past couple of seasons, and with three first round picks in the upcoming draft, the team could look to reconstitute itself financially at some point in the future.
Roster and Financial Breakdown: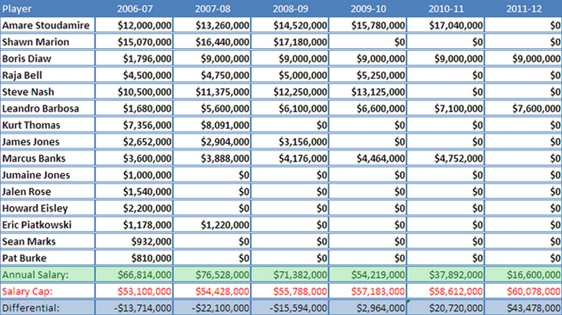 (cap figures projected from average increase over past 5 years.)
Record/ Overview:
61-21, 1st place Pacific Division, 2nd seed Western Conference
The Suns still rely profoundly on
Steve Nash
to function effectively. Without his presence controlling the offense, the team has struggled. In the two absences Nash has had over the past two seasons, there has been a substantial drop in production and the team's win/loss record.
However, given Nash's presence, the team still hasn't been able to effectively get past the Western Conference Championship round in either or his two MVP seasons. San Antonio's defensive prowess and ability to dictate pacing game tempo undid the Suns full court attack two seasons ago despite
Amare Stoudemire
's dominant series performance. Each game came down to the wire, but Phoenix was simply too reliant on Stoudemire and Nash in the half court game and couldn't string together enough plays to put themselves over the top.
Last season, Phoenix came into the year much better equipped to deal with half court execution.
Raja Bell
,
James Jones
, and
Boris Diaw
all represented a substantial upgrade to the team's floor spacing, playmaking, and presence on the defensive end.
Kurt Thomas
was another solid addition in this regard, but Stoudemire's injury and subsequent absence was far too great a void for either Thomas or Diaw to fill.
Diaw's nightly triple-double flirtations in the playoffs helped the Suns to push Dallas to seven games, and it was clear in that series how far the Suns had come in terms of being able to produce effective half court looks when the Mavs put coach
Avery Johnson
's signature lock down defense into effect late in games. A seven game series proved that the Suns could adapt, but
Dirk Nowitzki
was a force unmatched in that series despite Diaw's stellar play.
It's not hard to imagine the presence of Stoudemire being a major factor in the outcome of the Dallas series based off of his incredible play the year prior. He and Diaw could have made a formidable half court duo to complement Nash's orchestration, if circumstances had allowed. On top of that, Phoenix fans will always be forced to wonder what would have happened had
Raja Bell
not suffered a calf injury in the first game of the Dallas series.
It's been well-documented how volatile
Shawn Marion
's playoff performance has been through the years. Marion's game is geared for the full court game. He's an excellent complementary player in any scheme with his defensive instincts and ability to play off of others. But in terms of maintaining an All-Star level of performance, Marion has a difficult time producing offensively when the Suns are forced into half court execution. Because of this, Phoenix has been overly-reliant on Nash/Stoudemire and Nash/Diaw over the past two playoff appearances when the games have slowed and the team has needed to convert opportunities.
This flux in performance, coupled with Marion's sizable contract, has likely been the basis point for many of the trade rumors surrounding him. Marion is ideally suited for the role of third scorer and all-purpose extraordinaire because of his amazing ability to generate production within the context of a team play. He's not a "ball stopper" and brings a lot of good to the table. But, Phoenix is substantially over the salary cap and Diaw's emergence last season coupled with Stoudemire's return this year could be reason enough to move Marion's contract and attempt to replace his value through the acquisition of cheaper talent via draft and reliance on the team's depth.
The one thing that may stall such a move is the fact that Diaw hasn't been able to replicate the same success as he had last season. It's understandable to expect a drop in production relative to the return of Stoudemire into the lineup, but Diaw's production has fluctuated significantly over the course of the year and he has been out of sync with Stoudemire the entire year. The back spasms Diaw has been suffering from all season long probably haven't helped matters either.
With that said, Diaw is a playmaker that needs the ball in his hands to have an effect on the outcome of a possession. His ability to pass and make smart decisions should benefit everyone on the team, including Stoudemire. Moving Marion may open up more possessions for Diaw to work with, but since Marion's game is so predicated on "filling in the blanks" it is hard to draw direct parallels between Marion's absence and Diaw's increase in productivity.
With both making substantial salaries, at or above nine million annually, a decision will have to be reached unless ownership is willing to foot the bill. This draft could go a long ways in assisting with that decision.
Current Assets:
The Suns have some movable salaries on their roster, but their biggest assets are still their top rotation players and the three draft picks they have. The team doesn't need to acquire more talent at this stage, just determine a direction in terms of what to do with their big-budget stars.
Expiring Contracts:
Though there are no major salaries coming of the books this summer,
Kurt Thomas
and
Eric Piatkowski
account for a sizable amount of payroll coming off the books after next season. Piatkowski makes a modest salary and doesn't contribute much of anything on the court for the Suns, but he could help fetch the team another specialist type player if they felt there was a need.
Thomas has a much more substantial role on the team. His rebounding and defense help to stabilize the frontcourt rotation when Marion or Stoudemire need a rest, but his salary far exceeds his production value for the team. The team will need to acquire another backup F/C for their rotation, but the 5 points and 5 rebounds Thomas produces can be had cheaper, as can his signature midrange jump shot. Thomas' expiring salary slot could help the team make a move for a player who could have a bigger impact as some teams may be looking to move a longer term deal next season.
Phoenix will most likely look to simply let these contracts expire after 07/08. Phoenix projects to be more than twenty million over the salary cap next season and will still be fifteen million over the following year when these two contracts expire. But, if the Suns do move Marion for an expiring deal in the offseason, allowing Thomas and Piatkowski to expire would put the team nearly nine million below the cap. This would allow the team a season to review their performance without Marion and then determine whether or not a major acquisition was necessary with that spare salary.
Rotation Players:
Phoenix has an established core group of players who are all under contract for two years or more going into next season.
Steve Nash
,
Raja Bell
,
Shawn Marion
,
Boris Diaw
, and
Amare Stoudemire
make up one of the most versatile lineups in the NBA. Add in the ever-improving Leandro Barbosa for explosive offensive production off the bench and the Suns seem to be on solid foundations going forward.
Nash is the only player amongst the six who should be considered an age risk in terms of his production to salary ratio. The 33 year old has shown no signs of slippage as far as on court production, but his body has taken its share of abuse and the law of averages is bound to catch up with him at some point. Even if his production begins to decline, his ability to run an offense coupled with the complementary players he is surrounded by will make Nash a valuable contributor throughout the length of his deal.
Stoudemire is the type of cornerstone big man that can guarantee a franchise maintaining respectability throughout the length of his career. Now that the questions about his health and recovery appear to be in the rearview, the choice of keeping Stoudemire as a foundation player is an easy one.
Raja Bell
's offensive and defensive balance, coupled with his age and salary make him a fixture for the length of his deal as well. Bell's production may not be spectacular, but his understanding of the team schemes and his ability to blend into the action seamlessly makes him a tough player to replace. All teams need quality role players, and Bell's progression makes him the ideal fit for the Suns. It is unlikely the team would look to move Bell unless a massive overhaul was to take place.
Barbosa has become an excellent scoring guard off the bench who has some playmaking ability, but as Nash ages it is hard to project Barbosa as the future point guard of this team. It is more logical to see Barbosa taking over
Raja Bell
's spot at shooting guard than placing him at the helm of the Phoenix attack. Barbosa's contract is still very reasonable considering his ability to impact a game offensively, but at some point the Suns will have to address their need for an apprentice for Nash.
As it stands now, Barbosa doesn't seem to have the ability to effectively man the one as a starter. Having a sixth man the caliber of Barbosa is a necessary ingredient for championship success, but going forward, he will need to continue to stay content coming off the bench.
Marion and Diaw have been well-covered in the team overview. Even if ownership wasn't looking to pare down salary the team would still have to address this issue. Marion has a higher market value than Diaw because of his track record, but Diaw may be a superior playmaker in the half court sets. But Stoudemire's return has certainly impacted Diaw's productivity and at his current rate of return, Diaw could be considered a salary liability in the future if his back issues continue and he can't find a way to return to his terrific playoff form from a year ago.
If half court play is truly the key to playoff success, the team may need to restructure their offensive attack to incorporate more of what Diaw does best. Since moving Stoudemire is not an option, allowing Marion to bring his skill-set to a team in need of his off-ball productivity may be the best course of action to satisfy all parties. On most other teams this might be considered a potential point of conflict, but having
Steve Nash
manning the ship and distributing the ball so well in Phoenix's high-octane offense makes everyone that much more likely to stay content.
Total Cost: $60,425,000
Prospects:
The Suns will have no players on rookie deals after this summer, nor do they have any players who project to have substantial upside.
James Jones
is the closest thing to a prospect on the Suns roster and he's not going to command much in return by himself or coupled with a larger contract. After selling or trading off three draft picks in the past two years, Phoenix would be well served using their three first round picks this year to stock the team with some young talent for future use.
Total Cost: $0
Free Agency:
Phoenix is probably not going to look into bringing a mid-level player with its exception this season. The team is looking to possibly revamp with inexpensive young talent on rookie deals while determining what to do with their existent big contract players. Playing the free agent market for anything more than a cheap short-term fix is probably two to three seasons away with the current roster.
NBA Draft:
The Suns traded both of their draft picks last season, but will probably look to capitalize on the depth of this years draft with the three picks they've got in play. The Suns, sporting the second best record in the league, are in the enviable position of holding a conditional first round pick from the Atlanta Hawks. The Hawks foolishly threw the Suns two first round picks with limited protection as a part of the
Joe Johnson
deal from a couple seasons ago, and this year's pick is only top-3 protected. Assistant GM and key decision maker Dave Griffin has been spotted repeatedly at a plethora of college basketball games this year, and is likely licking his chops at the opportunity to finally capitalize on the knowledge he and the rest of Phoenix's excellent scouting department has acquired.
Unless the Hawks luck out and come away with one of the top 3 picks (of which the probability stands at 37.8%), Phoenix's pick will be in the 4 to 7 range in the draft, which would give them their choice of a number of quality players. As it becomes more clear who will be in the draft and who the top prospects are, we can already identify a few potential players that would certainly fit in nicely with the team.
It's hard to say that Phoenix has a "need" for any positional player, but getting a frontcourt player who can allow Stoudemire to get bigger breaks from the grind of the pivot position would certainly be a benefit. If the team is looking to move a bit of payroll in the form of
Shawn Marion
, they would certainly like to have someone who can play off-ball and make things happen the way the Matrix has.
Of all the players in the draft,
Joakim Noah
seems to fit the Suns needs better than most. He's also been rumored as their top choice from very early on in the season. Noah has the length and athleticism to play both frontcourt positions, though he will need to put on some more muscle. Noah's ability to ball-handle, pass, run the court, rebound, block shots, and steal the ball are perfect for the Suns attack. His lack of offensive polish is substantially reduced in importance because of how many other potent options the Suns posses.
Noah also comes somewhat game-ready in that his current skill level should make him an instant rotation player for whatever team he goes to. He has big game experience and is a sound decision maker when on the court. The Suns have no need for a starter and
Kurt Thomas
should provide a stable bench presence during Noah's inaugural year if the Suns were so inclined to choose him.
Stoudemire's ability and preference for operating out of high post and face-up situations also make Noah an excellent option for doing cleanup work near the basket as Stoudemire draws tremendous attention to himself. Defensively, he'll also provide a major boost, especially since he won't have to worry about getting in foul trouble or called for the ticky-tack stuff that NCAA refs are experts at. His timing and tenacity close to the basket should drastically increase their strength on the offensive boards in half court situations as he'll have to be accounted for while the opposition is faced with the challenge of containing Stoudemire. Playing off of a dominant big man on a team that plays an up-tempo style is exactly the type of situation that will bring out Noah's best qualities. Phoenix is ranked last in the league in free throw attempts per game, and Noah's fearless style of play could certainly provide an energy boost for the team that seemingly already has it all.
Other players that Phoenix is reportedly very high on are
Corey Brewer
and
Al Thornton
.
The Suns also hold two late-round picks, their own (#29) and the Cleveland pick (#24) acquired from Boston last season in exchange for the rights to
Rajon Rondo
, which should provide some substantial value for a team that has the luxury of drafting for need or raw talent.
Two players who fall into that range that could really grow with Phoenix are
Dominic McGuire
and
Taurean Green
. McGuire is an all-purpose player in the mold of
Gerald Wallace
or
Boris Diaw
. His all around ability and overall athleticism make him potentially a great complementary player for a team that prides itself on off ball-movement and quick decision making. McGuire is more athletic than Diaw, but is only just harnessing his skill set.
Developing behind such a multi-faceted player could really do wonders for McGuire's game on the pro level as opposed to being drafted by a team that has no current role model for him to emulate. Having a pre-existing role that he can grow into may be just the thing that ensures a successful transition to the NBA, though McGuire's "intangibles" will certainly play a major role in that transition as well.
Green may be an intriguing choice for Phoenix. The Suns are going to have to begin grooming a replacement for
Steve Nash
eventually and Green is a well accomplished playmaker with two NCAA championships under his belt. Being highly polished, extremely mature and an excellent shooter are all pluses for a team that is in win-now mode and plays at a tempo that suits him very well.
There may be other options for Phoenix in this range and they may choose to go in another direction, but Green is a player who could easily fill the role that
Marcus Banks
was intended to fill while alleviating the burden on Nash to carry the load as the lead guard. No one can replace what Nash brings to the table, but there are few players who can fit his shoes anyways and Green's combination of experience and ability would give the Suns a more immediate window for evaluating whether or not he could fit the bill.