Scouting reports on
Mouhammadou Jaiteh
,
Livio Jean-Charles
,
Karl Towns
,
Joel Embiid
and
Gabriel Deck
.
---
2013 Nike Hoop Summit Coverage
-
World Team Scouting Reports: the Wings
-
World Team Scouting Reports: the Guards
-
Practice Drill Videos
-
Nike Hoop Summit Scouting Reports: Guards
-
Nike Hoop Summit Game Recap
-
USA and World Select Team Practice Wrap
-
World Select Team Mid-week Practice Recaps
-
USA Team Measurements
-
World Select Team Coaches Interview
-
World Select Team Early Practice Storylines
-
World Select Team Measurements
-
World Select Team Roster Preview Podcast
-
World Select Team Roster Preview
---
Mouhammadou Jaiteh, 6'11, Center, Boulogne, 1994, France
Matt Williams
Measuring in at 6'11 with a 7'4 wingspan and a 249-pound frame, Mahammadou Jaiteh aced the look test, catching the eyes of NBA scouts immediately at the Nike Hoop Summit. Despite widely being listed at 6'9, Jaiteh looks every bit like a NBA center on first glance with his chiseled frame, and turned in a solid showing in Portland, particularly in the practices leading up to the game.
Perhaps the most significant thing Jaiteh did over the course of the week was play hard. Despite averaging a double-double for SO Maritime Boulogne in the 2nd division of France, Jaiteh has looked apathetic at times this season in league play, but clearly made it a point to demonstrate that he can play with greater intensity in front of the hoard of NBA scouts assembled in Portland.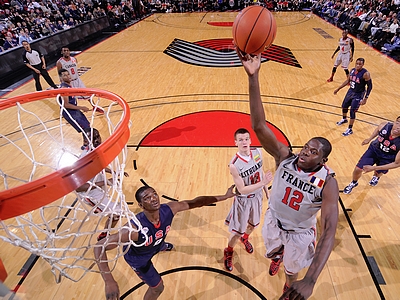 Making his presence felt over the course of the week with his combination of size, strength, and instincts, Jaiteh finished with 6 points and 9 rebounds on 3-8 shooting on game day. A massive interior presence, Jaiteh didn't show the most polished back to the basket repertoire over the course of the week, but was able to score with a simple hook shot inside. He showed the ability to step away from the rim and make shots from 15-feet from time to time with a consistent, albeit a very mechanical shooting motion.
Jaiteh struggled most frequently on offensive when forced to finish in traffic. Looking a bit rigid, the 18 year old isn't a long strider running the floor and doesn't appear to have an easy time getting low to explode up for dunks unless he has a few steps to gather himself. Getting his shot blocked by more explosive big men relatively frequently, Jaiteh has an incredibly mature frame despite being one of the youngest players on the World Select roster, making it difficult to project if he can become less upright and more explosive at the rim after a few years in a NBA strength program.
His lack of great explosiveness also limits his defensive presence to a degree, as he is not much of a presence inside the paint, certainly not as a weakside shot blocker, despite his size and length, and isn't quick enough to stay in front of quicker big men on the perimeter. Jaiteh displays solid timing contesting shots defending the ball, though, and his size certainly lends itself to holding position on the block one-on-one and rebounding his area, which is perhaps his biggest strength as a prospect. Jaiteh displays terrific instincts for pursuing loose balls and was able to show that all week long in Portland with the way he attacked the glass. The fact that he averages 10 rebounds per game in 28 minutes does not appear to be a fluke.
The second youngest player currently declared for the 2013 NBA Draft, Jaiteh is an interesting prospect considering his age, size, and strength. Having expressed the desire to come over to the NBA as quickly as possible, he's a long-term project a team with patience and resources could look to draft and cultivate in the NBADL or leave overseas.
Livio Jean-Charles, 6'9, Power Forward/Small Forward, ASVEL Lyon-Villeurbanne, 1993, France
Matt Williams
Stealing the show at the 2013 Nike Hoop Summit,
Livio Jean-Charles
did more to help himself over the course of the week than any player in attendance, leading to his declaration for the 2013 NBA Draft. The French forward had already generated some buzz among NBA scouts with his consistent play in practice, but exploded for 27 points and 13 rebounds against the USA Junior National Select Team on game day. Both of those totals rank in the top-7 in the 16-year history of the event.
Jean-Charles began the week doing the same things that ultimately led to his historic performance in the game; moving well without the ball, running the floor tirelessly, finishing at the rim, and making the most of his athleticism and 7'2 wingspan by playing with great intensity on both ends of the floor. Standing out in practice with his ability to do a lot of the little things NBA scouts look for in a combo forward, Jean-Charles showed promising potential as a roleplayer.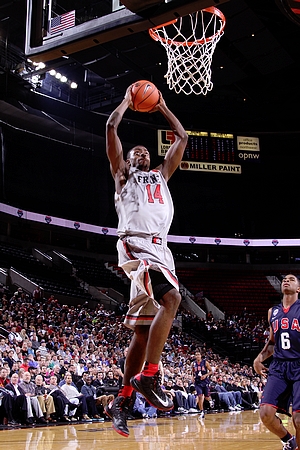 Earning a spot in the starting lineup for Roy Rana's World Select Team after sitting out briefly with an injury earlier in the week, Jean-Charles did most of his damage on the offensive end by crashing the glass and as the screen setter on the pick and roll. Finishing the game shooting 10-13 from the field and 7-10 from the line, Jean-Charles played within himself while displaying good touch and patience around the rim.
Defensively, Jean-Charles did a terrific job containing dribble penetration and challenging shots around the rim. Not a freak athlete, the 19-year old has good speed, and combined with his length and motor, showed the ability to defend both forward positions. Blocking a couple of dunks over the course of the week and a few on game day, Jean-Charles is a smart defender who could become an even more versatile on that end of the floor as his frame improves.
Moving forward, there are three areas of his game that will dictate what kind of player Jean-Charles can be down the road and likely define his NBA position: his physical strength, range on his jumper, and ball-handling ability. Possessing passable size for a power forward and very good length, Jean-Charles has gained some weight in recent years, but at 217 pounds, will need to continue getting stronger to better defend the post at the NBA level. A very reliable midrange shooter, albeit with a very long, unorthodox release, and sound decision-maker, Jean-Charles's ability to handle the ball and make a standstill 3-pointer will determine whether he can become as versatile on the offensive end as he is on the defensive end.
A prospect we've covered a extensively during his time at INSEP and playing for the French Junior National Teams in FIBA competition, Jean-Charles certainly showcased his strengths as a prospect with his showing at the Nike Hoop Summit. Able to make the leap to the NBA after this season or a few years down the road according to his representatives, Jean-Charles is in a very flexible situation. Averaging 3.1 points over 14.3 minutes per-game playing for ASVEL in Pro A, a team could opt to draft him and allow him to gain experience playing a bigger role at the club level or draft him and bring him over immediately to more closely steer his development.
Karl Towns, 7-0, PF/C, St. Joseph High School, 1995, Dominican Republic
Jonathan Givony
The youngest player competing at the Hoop Summit on either roster, not turning 18 until November, not much was expected of high school sophomore
Karl Towns
, who isn't even considered one of the top-10 prospects in his class according to some recruiting services.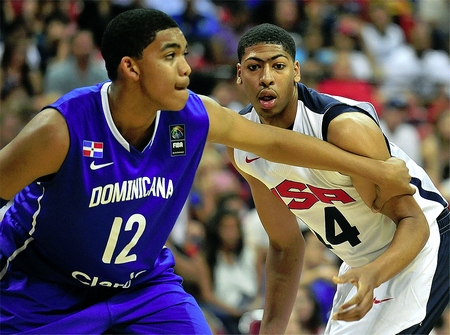 Imagine our surprise when we walked into practice for the first time and saw a legit 7-footer with a NBA caliber frame and a long wingspan draining 3-pointers from beyond the NBA line, handling the ball in transition, making behind the back passes in traffic, and scoring with both hands inside the paint.
Towns is still a baby in many aspects, as you can expect considering his age, but it's difficult not to be impressed by what he could develop into if he continues to work on his frame and skill-level and stays hungry and humble despite the immense amount of attention he is certain to generate. He has excellent hands, soft touch, a terrific feel for the game, and is almost as impressive off the court with the way he carries himself as he is on it.
While Towns' skill-level on the perimeter is extremely unique, he would be wise to not fall in love with his jump-shot as his career progresses and continue to improve his post-game and toughness inside the paint. His footwork is raw and he at times tends to shy away from contact at the rim—something that is not surprising considering his age—but his size, frame, length, tough and ability to operate over either shoulder give him huge potential here.
Defensively, Towns shows nice instincts and has the size, length and timing needed to alter shots around the rim, but his fundamentals are average at best, and he tends to bite excessively on pump-fakes. He's not terribly explosive at this stage of his physical development, and probably won't ever be considered a freakish athlete, so he'll have to keep adding strength and experience to play the center position his size and average lateral quickness likely makes him best suited for long-term, at least on this end of the floor.
Towns obviously gained very valuable experience as a member of the Dominican Republic national team competing in the Olympic Qualifying tournament in Venezuela last summer, even if cynics would point out that his head coach there, John Calipari, used this to his advantage in steering him to an early commitment to Kentucky. He recently reclassified and will skip his junior year of high school (thanks to his 4.3 GPA, according to him) and become a senior this upcoming fall, which will bring him a year closer to college and potentially the NBA draft, whenever he decides to move in that direction. Towns could again spend this summer with the Dominican national team as they try to qualify for a spot in next year's World Championship in Spain through the FIBA Americas Championship in Caracas in late August.
While he won't be eligible for the draft until 2015 at the earliest, NBA teams are already very much aware of him thanks to his strong showing in Portland, and many scouts we spoke to feel he could be a very high draft pick if he continues to develop accordingly. This certainly won't be the last time we'll be writing about his progress.
Joel Embiid, 7'0, Center, The Rock School, 1994, Cameroon
Matt Williams
Hampered by back spasms throughout the week,
Joel Embiid
(#28 ESPN, #61 Scout, #25 Rivals, #31 24/7) still managed to put together a nice showing in Portland. Invited to the Hoop Summit after a strong showing at the Jordan Brand Classic, the 7-foot center has only been playing the game for a few years, and while he remains raw, his upside is obvious.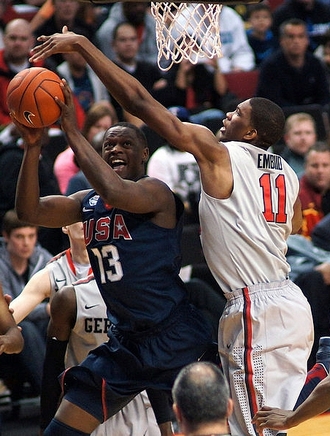 Standing out at first glance with his 240 pound frame and 7'5 wingspan, Embiid looks the part of a NBA center. Very new to the game of basketball, the Kansas commit has a limited feel for how to make his presence felt consistently, and doesn't always know his limitations, but flashed some intriguing tools on both ends of the floor, even though he wasn't at 100%. Knocking down a 20-foot jump shot, making a nifty move to score a left handed hook shot in the post, and putting in some impressive efforts on the offensive glass, Embiid has some unique skills for a player only beginning to pick up the nuances of the game.
On the defensive end, Embiid is a talented shot-blocker who has the tools to become an excellent defender on the ball and rotating over from the weak-side down the road. The Basketball Without Borders product is a bit foul prone and could stand to be more aggressive pursuing the ball off the rim, but his timing was impeccable at certain moments in practice.
Noted for developing big men, the Kansas staff landed an ideal long-term project in Embiid. If he can get stronger and continue developing as an interior scorer, rebounder, and defender, it would not be surprising to see Embiid emerge as an extremely interesting NBA prospect down the road and a valuable contributor for the Jayhawks as they look to replace
Jeff Withey
.
Gabriel Deck, 6-7, Power Forward, Quimsa, 1995, Argentina
Jonathan Givony
Gabriel Deck
was pretty much unstoppable last summer at the U17 World Championship, averaging 22 points in 30 minutes per game shooting 67% inside the arc, but things were a lot different in Portland, where his lack of size and athleticism, as well as the fact that he was 12-18 months younger than most of the players he faced, made him look very ordinary.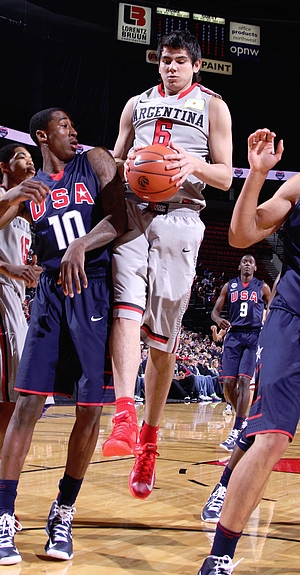 Measured at 6-7, 228 pounds, without a great wingspan, Deck is very much stuck between positions at the moment, not possessing the perimeter shooting ability, ball-handling skills or explosiveness needed to transition to the wing full time, and being severely undersized to play inside. He's a very competitive player with a high basketball IQ and solid scoring instincts, but you could tell he was at a disadvantage from the very first moment he stepped on the court, as besides his limitations physically, he was the only player on the roster who didn't speak any English and needed a full-time translator as well.
Similarly to
Nikola Ivanovic
, Deck was also not riding a great deal of momentum back home in Argentina, as he only played 6 minutes per game this season in his first division club Quimsa, who were just eliminated from the playoffs before he left for Portland.
Moving forward, Deck will need to improve his outside shooting and ability to defend the perimeter if he's to avoid being relegated to a role as an undersized big man at the professional level. Players his size have made it at the power forward position in good leagues in Europe, but it would help his cause a great deal if he could stretch the floor a little more effectively.