Jonathan Givony
Gabriel Deck
was pretty much unstoppable last summer at the U17 World Championship, averaging 22 points in 30 minutes per game shooting 67% inside the arc, but things were a lot different in Portland, where his lack of size and athleticism, as well as the fact that he was 12-18 months younger than most of the players he faced, made him look very ordinary.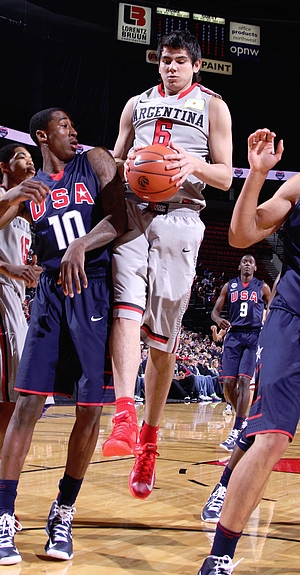 Measured at 6-7, 228 pounds, without a great wingspan, Deck is very much stuck between positions at the moment, not possessing the perimeter shooting ability, ball-handling skills or explosiveness needed to transition to the wing full time, and being severely undersized to play inside. He's a very competitive player with a high basketball IQ and solid scoring instincts, but you could tell he was at a disadvantage from the very first moment he stepped on the court, as besides his limitations physically, he was the only player on the roster who didn't speak any English and needed a full-time translator as well.
Similarly to
Nikola Ivanovic
, Deck was also not riding a great deal of momentum back home in Argentina, as he only played 6 minutes per game this season in his first division club Quimsa, who were just eliminated from the playoffs before he left for Portland.
Moving forward, Deck will need to improve his outside shooting and ability to defend the perimeter if he's to avoid being relegated to a role as an undersized big man at the professional level. Players his size have made it at the power forward position in good leagues in Europe, but it would help his cause a great deal if he could stretch the floor a little more effectively.