Top NBA Draft Prospects in the ACC, Part Nine (#25-30)
September 16, 2013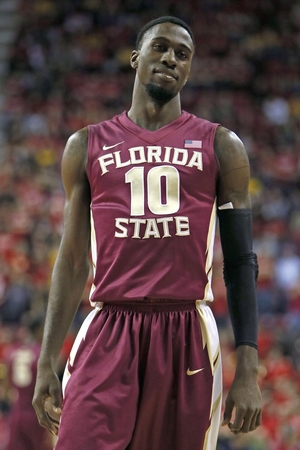 US Presswire
Kyle Nelson
We last wrote about Okaro White before his
sophomore year
, after registering some interest as a freshman starting for Florida State. After a ho-hum sophomore year, White responded with a breakout junior season where he was Florida State's top rebounder and second leading scorer. Furthermore, he posted career high efficiency metrics alongside while both fouling and turning the ball over less than ever before. Now, entering his senior season, White must continue to improve individually while
leading a very young and inexperienced Florida State team coming off a down year
. Regardless of how well he achieves either goal, scouts have quite a few questions about the type of player he can be at the next level.
From a physical and athletic perspective, White looks the part of a prototypical NBA small forward at 6'8 with a 204-pound frame and with a 6'11 wingspan. While he must continue to get stronger, he has added 24 pounds to his wiry frame since his senior year in high school and should continue to be able to fill out his impressive frame, especially given the fact that he is a year younger than many in his class, just having turned 21 a few days ago. He is also an excellent athlete for his size, quick laterally and in the open floor, and explosive around the basket, giving him significant room for growth as his skill-level continues to round out.
The issue, however, is that he is very much stuck between positions at the moment, without one defining skill to really hang his hat on. According to Synergy Sports Technology, nearly 60% of his shots come around the basket though only 13% of those attempts are traditional post-ups. White still doesn't show much in the way of post moves, but he finishes 65% of his shots around the basket, looking particularly good finishing off of cuts and out of the pick-and-roll due to his soft hands and quick feet. Thriving off of the ball, as well, White is also good at putting back his teammates misses, catching lobs, and scoring in transition.
He still struggles as a ball-handler, however, lacking the ability to put the ball on the floor for more than a couple of dribbles and, even then, still is only capable of straight line drives to the basket. For these reasons, he rarely is unable to create his own shot effectively, confined more or less to having his teammates create looks for him.
His offensive limitations, then, present a dilemma worth tracking as he heads into his senior season. As he lacks the bulk to do significant damage in the post and the handles to create offense for himself, he is either forced to rely on Florida State's raw facilitators, scrap for points, or spot up around the three-point line. The latter becomes an issue when he finds himself floating around the perimeter, particularly as Florida State's offense begins to stagnate.
White made 31% of his 82 3-pointers last season, shooting more jumpers than he did in the past, but still being very streaky here. His shooting mechanics are solid, but inconsistent, particularly in terms of his jumper's release point and fluidity in his shooting motion. That said, he is capable in space and with his feet set, hitting a respectable amount of shots of these nature last season, but on a very small sample size. Coupled with his 81.5% FT, this suggests that he could still become a solid spot-up shooter in time, something that would significantly improve his prospects of transitioning to the perimeter at the pro level.
Yet, for as raw as he remains on the offensive end of the floor, White still impresses on defense. His length, lateral quickness, and size coupled with his aggressive mentality -- particularly evident in his quick hands and feet, and his ability to run through screens -- allow him to guarding players inside and outside. While he is at his best guarding face-up power forwards, he is capable of guarding small forwards, as well, and can even do damage in the post thanks to his timing and length. He also ranks as
one of the better rebounding combo-forwards in our database
. Getting stronger is a must, but his prowess and versatility at this level suggests that he should be able to transition quickly to the NBA.
Thus, White presents scouts with more questions than answers at this point. At 6'8 and 204-pounds, he is both undersized and too slight to play in the NBA post, and lacks a small forward's offensive skill set at the moment.
That said, his intriguing physical profile, defensive potential, and youth suggest that he may still continue to improve, and possibly make another leap as a senior. Early season match-ups against Virginia Commonwealth and Florida, as well as a brutal ACC conference schedule should provide him with myriad opportunities to prove that he is not merely another Florida State tweener and that he can contribute on both ends of the floor in an NBA uniform.
[
Read Full Article
]
Top NBA Draft Prospects in the ACC, Part Five (#21-25)
September 26, 2011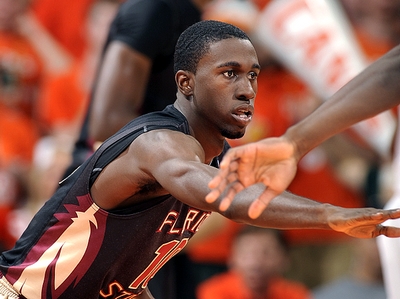 Icon SMI
Matt Kamalsky
A highly touted high school player who landed just outside of the RSCI top-50 in 2010,
Okaro White
had a quiet season for the Seminoles, but had some nice moments on both ends of the floor. He saw rotation minutes in a deep and talented FSU frontcourt early in the season before starting the last 13 games of the season at the small forward position for Leonard Hamilton's squad after
Chris Singleton
's ill-timed injury.
White's move to the starting lineup was thanks in large part to his impressive physical profile. Standing 6'8 with a near 7-foot wingspan, he has excellent size for a small forward, but it is his quickness for his size and ability to defend multiple positions that made him a logical choice to fill in for Singleton despite his inexperience. Though it remains to be seen if the Clearwater native can develop the perimeter skills to play the three long-term, his lateral quickness, rangy strides in the open floor, and explosiveness at the rim give him potential on the wing and as a face-up four alike. His extremely skinny frame is a concern in projecting him to the next level, but he doesn't back down from stronger players and has plenty of time to maximize his physical potential in the weight room.
As a freshman, it was White's reckless abandon in traffic that accounted for most of his points. He will never be a space-eater in the paint or a true back-to-the-basket grinder, but the rising sophomore does a terrific job filling lanes in transition, crashing the offensive glass, and flashing to the rim when defenders rotate away from him. According to Synergy Sports Technology, more than 50% of White's touches came in such situations, which is reflective of his effort level and the fact that he's yet to develop a defined NBA-caliber offensive skill.
Though he was typically FSU's fifth option when he was on the court, White finished at an exceptional 63% rate around the rim, showing a degree of aggressiveness that belied his skinny frame. At this point, the young forward is turnover prone and a bit limited outside of his catch-and-finish ability on the offensive end, as evidenced by the disparity between his 63% shooting at the rim and 44% shooting overall. Though he took the ball coast-to-coast in transition on a few occasions last year, flashed the ability to create separation using his quickness when facing up in the post, and knocked down his free-throws at a solid 83% clip, his polish on the block, as a jump shooter, and when creating shots off the bounce from the perimeter are questionable.
Those limitations aren't uncommon for an athlete like White who is still on the upswing of his skill-set development, but what he offers defensively is a unique commodity. Many of the players we see in White's athletic-tweener mold tend to lack the intensity to impact the game on the defensive end. That isn't an issue for White, who doesn't have ideal fundamentals at this point, but shows a terrific motor closing out on shooters, contesting shots from the weakside, and pursuing rebounds.
White's lack of physical strength limits him somewhat at the moment in the minutes he sees at the 4-spot. However, his length makes him a factor around the rim and in the passing lanes and his lateral quickness helps him stay in front of twos and threes. In the short-term, he'll need to cut down on the number of dubious fouls he commits to make the most of the minutes left behind by
Chris Singleton
's departure, but his potential on this end looks significant.
Considering his raw skill set, it wouldn't be prudent to draw any definitive conclusions on what White's NBA future may hold, but if he improves his frame and carves out a niche offensively, his energy, length and athleticism would certainly be enough to pique the interest of scouts. Florida State's roster will be in flux in the next few seasons with Singleton out of the picture and
Bernard James
,
Jon Kreft
, and
Michael Snaer
set to graduate this year, meaning White will have ample opportunity to improve as a player and draft prospect down the road.
[
Read Full Article
]