We continue our coverage of the top returning NBA prospects in the Pac-12 with part three, players ranked 3-5:
Dwight Powell
,
Kaleb Tarczewski
, and
C.J. Wilcox
.
Incoming freshmen have been excluded from these previews, as we'd like to wait and see what they have to offer on the NCAA level before we come to any long-term conclusions.
-
Top 30 NBA Draft Prospects in the ACC
-
Top 15 NBA Draft Prospects in the Big Ten
-
Top 10 NBA Draft Prospects in the Big 12
-
Top NBA Prospects in the Pac-12, Part One
(#1) Jahii Carson
(Scouting Video)
-
Top NBA Prospects in the Pac-12, Part Two
(#2) Spencer Dinwiddie
(Scouting Video)
#3 Dwight Powell, 6'10, Senior, Power Forward, Stanford
Having already chronicled Dwight Powell's bounce back season in detail late last February, we'll wait until the season is underway to revisit his scouting report with a fresh perspective as he looks to emerge as one of the Pac-12's top players and one of the best senior draft prospects in the nation.
#4 Kaleb Tarczewski, 7-0, Sophomore, Center, Arizona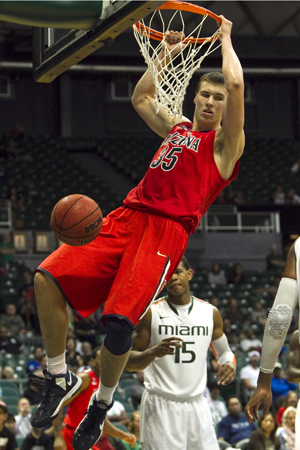 Matt Williams
A consensus top-10 recruit coming out of high school, Kaleb Tarczewski was the headliner of Sean Miller's outstanding 2012 recruiting class. Facing the lofty expectations associated with those labels as a freshman, the young center struggled to make his presence felt for stretches and often found himself grounded by foul trouble. Still, the St. Mark's (MA) product gained valuable experience and strung together some stretches of solid play late in the year, leaving plenty of room for optimism as his game continues to mature.
Standing 7'0 with a maturing 250-pound frame to go along solid mobility and athleticism for a player his size, it isn't hard to see what makes Tarczewski an intriguing center prospect on first glance. He did a great job packing on weight over his last two years at the high school level, and certainly looks the part of NBA center, even if his frame still looks like it can handle more muscle. Aside from his below average 6'11 wingspan, Tarczewski has everything scouts look for in a big man.
As is often the case with freshman big men in his mold, Tarczewski played a small offensive role in his first season in Tucson. The majority of his touches came in the immediate vicinity of the rim where he was able to use his size and athleticism to his advantage as a finisher, but wasn't as consistent when forced to create a look for himself in close as his skill level is still a work in progress.
He did the majority of his scoring converting the looks his teammates created for him in simple catch-and-finish situations. Staying active in the half court and able to finish above the rim with authority when given a step to gather himself, Tarczewski shot a respectable 58.6% finishing around the basket according to Synergy Sports Technology. Narrowly missing more than a few tip ins and close range opportunities in traffic, Tarczewski looked rushed at times, especially when challenged, and is capable of more as he gets more comfortable operating under duress and with the speed of the college game.
In back to the basket situations, the New Hampshire native shot a middle-of-the-road 42.6% and turned the ball over at a fairly high rate, but nonetheless flashed some positive things to work with moving forward. Adept at establishing deep post position, his size and physicality allowed him to create some easy opportunities in close as he managed to seal his defender and catch the ball with two feet on occasion. He also tossed in a hook shot over his left shoulder from time-to-time, but has a ways to go to become a consistent post scoring threat as his repertoire lacks variety and reliability. If Tarczewski can take the next step as a scorer by developing his footwork and left hand in the coming seasons, his ability to carve out position in close should pay major dividends when he's better prepared to contribute as an individual scorer.
At this point, Tarczewski makes his best contributions on the glass, where he does a fine job boxing out defensively and getting to the front of the rim offensively. Averaging a solid 10.9 rebounds per-40 minutes pace adjusted, his length limits him to some degree and he comes up short of having outstanding hands or timing on the boards, but he puts a body on opposing big men and goes after the ball in traffic, pursuing caroms with a good energy level.
Defensively, Tarczewski's size makes him a formidable defender one-on-one on the block and his mobility gives him the potential to develop into the type of big man who can step out and hedge in the two-man game. His lack of great length and anticipation limit his impact as a weakside shot blocker, and he has plenty of room to improve his consistency, discipline, and fundamentals on this end of the floor. Nonetheless, the building blocks are there for him to continue to improve as he gains experience. In the short term, his ability to avoid foul trouble will be a factor in what type of season he'll have as a sophomore.
This will be an important season for Tarczewski's development as he'll have plenty of opportunities to take on a bigger role on the offensive end and emerge as a difference-maker for an extremely talented Arizona team looking to fill the void left behind by Solomon Hill and Mark Lyons. Considering his size and mobility, Tarczewski's NBA upside is apparent, but it will be the development of his skill level and defensive presence which ultimately dictate just how he's perceived by scouts when his sophomore season comes to a close.
#5 C.J. Wilcox, 6'5, Senior, Shooting Guard, Washington
Having gone in-depth on Wilcox near the end of the last season, we'll wait to add another full update to his scouting report when he returns to action fully recovered from the injuries that hampered him late in his junior year.