C.J. Wilcox
Recent Tweets
All Tweets
DraftExpress: Top NBA Draft Prospects in the Pac-12 #3-5 http://t.co/1zwn79iHqp - Dwight Powell Kaleb Tarczewski C.J. Wilcox
2013-10-04 01:20:35
DraftExpress: RT @percyallen C.J. Wilcox tells Washington he's returning for his senior season.
2013-04-18 14:20:56
DraftExpress: DX Trending Prospects C.J. Wilcox http://t.co/X0Smolei
2013-02-11 18:00:44
DraftExpress: Top NBA Draft Prospects in the Pac-12, #1-#5: http://t.co/Xaijn2jX Andre Roberson, Joshua Smith, C.J. Wilcox, Devon Collier, Allen Crabbe
2012-10-06 11:24:50
Team: Washington, Senior
Physicals
Positions
Rankings
Misc
H: 6' 5"
W: 190 lbs
Bday: 12/30/1990
(23 Years Old)

Current: SG
NBA: SG
Possible: SG

Pick: 33 in 2014 Mock Draft
Rank 3 in NCAA Seniors
Rank 40 in Top 100 Prospects
RSCI: 148

High School: Pleasant Grove
Hometown: Pleasant Grove, UT

Predraft Measurements
| Height w/o Shoes | Height w/shoes | Weight | Wingspan | Standing Reach | Body Fat | No Step Vert | Max Vert | Bench Press | Lane Agility | 3/4 Court Sprint | Class Rank |
| --- | --- | --- | --- | --- | --- | --- | --- | --- | --- | --- | --- |
| NA | 6' 5" | 193 | 6' 8" | NA | NA | NA | NA | NA | NA | NA | NA |



Basic Per Game Statistics

- Comprehensive Stats - Statistical Top 25s
| Year | League | Name | GP | Min | Pts | FG | FGA | FG% | 2Pt | 2PtA | 2P% | 3Pt | 3PtA | 3P% | FTM | FTA | FT% | Off | Def | TOT | Asts | Stls | Blks | TOs | PFs |
| --- | --- | --- | --- | --- | --- | --- | --- | --- | --- | --- | --- | --- | --- | --- | --- | --- | --- | --- | --- | --- | --- | --- | --- | --- | --- |
| 2013/14 | NCAA | C.J. Wilcox | 31 | 34.9 | 18.5 | 6.2 | 13.5 | 46.0 | 3.4 | 6.4 | 53.0 | 2.8 | 7.2 | 39.6 | 3.2 | 3.7 | 86.8 | 0.7 | 3.1 | 3.7 | 2.6 | 1.0 | 1.0 | 1.7 | 2.4 |

Player Page&nbsp&nbsp| Player Stats | Mock Draft History | Related Articles&nbsp&nbsp| Add to My Draft Express&nbsp
&nbsp
Trending Prospects: C.J. Wilcox
February 11, 2013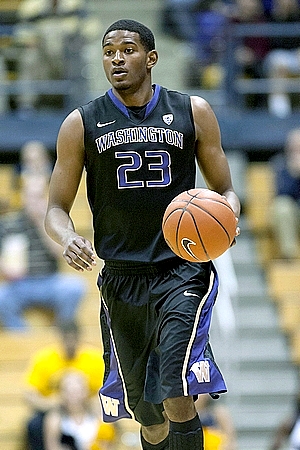 US Presswire



Matt Kamalsky

Taking a backseat to the likes of Isaiah Thomas, Justin Holiday, Terrence Ross and Tony Wroten during his first three years at Washington, C.J. Wilcox has quietly emerged as one of the most prolific offensive players in on the west coast as a redshirt junior. Despite Washington's recent struggles in Pac-12 play, Wilcox has been a bright spot all season, maintaining the efficiency he displayed as a role-player early in his career despite shouldering a significantly heavier offensive burden as the Huskies' first option.

Slowed by stress fractures for the second time in his career, Wilcox exited the arena after Washington's 2/7 game at UCLA wearing a walking boot. Playing through pain since early January according to the Seattle Times, he still suited up and played 36 minutes three days later against USC, but is clearly not 100%. Considering the injury's potential impact on his play down the stretch, now seems as good a time as any to appraise what he accomplished while healthy this season as far as it pertains to his NBA draft stock.

As we've outlined in the past, Wilcox's NBA potential revolves around his excellent jump shooting ability and solid size for his position. Standing 6'5 with a 6'8 wingspan, the 22 year-old has solid height and length for a NBA shooting guard. As we've noted in the past, he's still on the skinny side and lacks great explosiveness, but he's a solid athlete with great fluidity who shoots the ball with effortless, picturesque mechanics.

Essentially a spot-up specialist in his first season as a regular for the Huskies, Wilcox's role has evolved as Lorenzo Romar has seen his personnel shift in recent seasons. Seeing more touches working off of screens and operating off the bounce within Washington's offensive sets in each of the past two years, Wilcox's jump shot has been the focal point of his team's offensive attack in 2013. Despite his increased usage and the defensive attention that has come with it, Wilcox has remained an efficient perimeter scoring threat.


C.J. Wilcox Usage and Efficiency
Season
%Team Pos
TS%
RS 2009/10 DNP
FR 2010/11
8.7%
58%
SO 2011/12
15.8%
58%
JR 2012/13
22.6%
56%


As we've touched on before, Wilcox is a fairly limited one-on-one threat and finisher at the basket, only getting to the rim on 19% of the half-court possessions he uses. He's adept at knocking down pull up jump shots off of one or two dribbles when he sees daylight or his defender makes a mistake, but lacks the blow by quickness and ball-handling ability to create clean, high percentage shots inside the paint. Even when he does get to the rim, he has only finished at a 47% clip this season according to Synergy Sports Technology, while his 3.6 free throw attempts per-40 pace adjusted ranks very low among top-100 shooting guard prospects.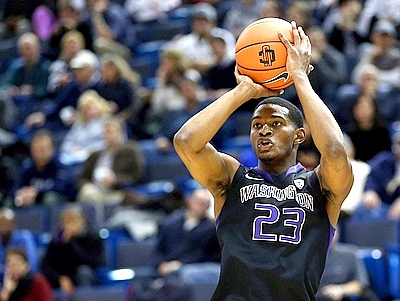 US Presswire



To his credit, Wilcox has developed fairly deft touch on his floater and won't hesitate to give the ball up when the defense collapses, but he shouldn't be expected to create his own offense at the next level. He fits the mold of a Wayne Ellington type of offensive role-player who can space the floor, make the most of his open looks, and keep defenders who close out too aggressively honest with his midrange game.

On the defensive end, Wilcox has room to improve. Lacking great lateral quickness, he tends to be too upright when trying to deny dribble penetration out on the perimeter, struggling to stay in front of quicker and more physical guards at times. Playing with good intensity and working hard to get a hand up on shooters, Wilcox would benefit from continued work on his frame.

A year older than the rest of his class and in the midst of a terrific season to this point, Wilcox is reportedly heavily considering entering his name in the 2013 NBA Draft. Teams will certainly do their research into his history of stress fractures whenever he becomes draft eligible, but Wilcox offers clear value as a role-playing shooter/scorer at the next level.

[Read Full Article]

---
Top NBA Draft Prospects in the Pac-12, Part One
October 5, 2012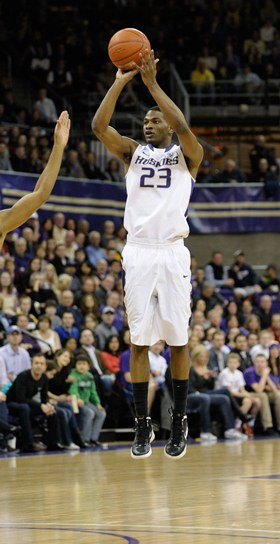 US Presswire



Joe Treutlein

After a solid freshman season in which he produced well in limited minutes, C.J. Wilcox took on a much larger role as a sophomore, nearly doubling his minutes after teammates Isaiah Thomas and Justin Holiday moved on to the pros. While Wilcox greatly increased his minutes and role, his pace-adjusted production and efficiency were virtually identical across the board, though just maintaining those numbers in spite of such an increased role is somewhat impressive in itself.

Wilcox did make some subtle improvements in a few areas, the first of which can be seen just by looking at him. While he remains a similar prospect from an athletic standpoint, not being one to overwhelm with explosiveness or quickness, he has filled out his frame some and used his stronger build to good effect on both ends of the floor.

On the offensive end, Wilcox was anemic in his ability in his ability to take the ball to the basket, and while it remained a relative weakness as a sophomore, he did make some improvements. This shows up most noticeably in him nearly doubling his ratio of free-throw attempts to field-goal attempts from 0.14 to 0.27, but he also did a better job getting to the rim and finishing there. Wilcox rarely takes the ball to the basket on his own off the dribble, and is a decidedly below-the-rim finisher once there, but he has developed an excellent floater in the lane to compensate, and uses it quite well.

On the perimeter, Wilcox is still an excellent scorer shooting the ball both in catch-and-shoot and off-the-dribble situations. He's incredibly dangerous in both situations, but his strong ability pulling up is probably the more impressive of his skills, as he does an excellent job using his size and compact motion to get the ball off with ease in a variety of situations. He's great shooting on the move going in either direction and has no problem creating space with simple, effective ball-handling.

On the defensive end, Wilcox's improved frame has helped him some in playing more physical man-to-man defense and getting through pick-and-rolls effectively. On the other hand, his increased role and more time spent guarding higher-end players led to him being beat laterally more frequently, though he's often matched against small combo-guards rather than pure shooting guards, something that could change at the next level. Still, he could have some trouble with quicker guards projecting forward, and will be tough to overcome at his position.

Looking ahead, Wilcox is a somewhat uncommon prospect, as most players with his skill set tend to be undersized with great quickness, where as he possesses just average athletic tools while having great size for a two-guard. His combination of ability to score effectively both in catch-and-shoot situations and pulling up off the dribble along with his good size will certainly draw his attention, but how high his stock goes will depend on if he can shore up the relatively weaker areas of his game such as finishing at the rim and defense.

[Read Full Article]

---
Top NBA Draft Prospects in the Pac-12, Part Three (#11-15)
October 10, 2011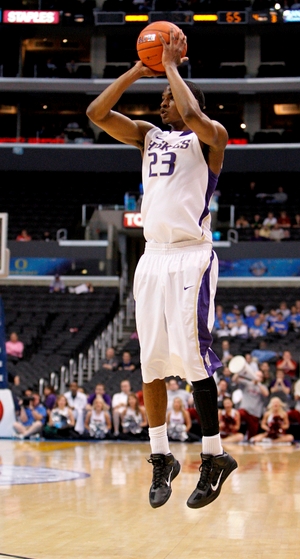 Icon SMI



Matt Kamalsky

Though Terrence Ross is the star of Lorenzo Romar's rising sophomore class, teammate C.J. Wilcox had a productive freshman year as well. Scoring 2 points per-40 minutes more than Ross on the year, Wilcox may not share Ross's upside at the next level, but proved to be a dangerous perimeter scoring threat.

Standing 6'5 with a decent wingspan and a frame that he would be well served to continue working on, Wilcox does not possess ideal physical tools for the NBA level. He isn't overly quick or explosive, and won't play above the rim unless he has considerable time and space. Considering that the young guard seems to have quite a bit of potential as a shooting specialist at the NBA level, his physical profile and athletic tools are right on par, if not better, than some players we've seen in a similar role in the past.

Wilcox's jump shot is easily his most intriguing asset from a NBA perspective. At the college level, defenders have to constantly be aware of where he is on the floor, whether it is in transition or a half court set. Whether he's running off a screen, trailing the break, or spotting up in the corner, Wilcox is devastatingly accurate whose quick and compact release is extremely reliable from beyond the arc when he's given time and space. According to Synergy Sports Technology, he knocked down 50% of his unguarded catch and shoot jump shots, and while his efficiency dipped below 30% when he had a hand in his face, he made teams pay when they didn't close him out.

Among the top players in our database in field goal attempts per-possession, Wilcox is never shy about pulling trigger off the catch. He proves capable of knocking down pull-ups with great consistency off of one or two dribbles when defenders are overly aggressive in closing him out, but will need to improve his accuracy when closely defended to improve his efficiency. He ranked in the top-15 in our database in points per-possession, but is still a ways off the type of efficiency that helped Jon Diebler get drafted.

The rest of Wilcox's arsenal offensively is fairly non-descript. He only attempted 11 shots at the rim last season, and seldom ventures inside the arc even when he's ahead of the play on the fast break. It isn't surprising that he doesn't get to the line at a high rate or create shots for others, but it will be worth keeping an eye on what he brings to the table as his playing time increases.

On the defensive end, Wilcox shows fairly average lateral quickness. He gets out of position at times and struggles against stronger players, but has a bit more to work with on the defensive end that many players we've seen in his mold in the past. If he can improve his body and his fundamentals, he should continue to improve on this end of the floor.

While Wilcox may not be the most exciting prospect in the college ranks, or even on his own team, he showed a valuable skill that with continued development could make him a draft prospect. With Terrence Ross and Tony Wroten breaking down defenses, Wilcox, at the minimum, is going to prevent defenders from collapsing on his talented teammates.

[Read Full Article]

---