Isaiah Cousins Updated NBA Draft Scouting Report
April 19, 2016
Josh Riddell

Isaiah Cousins was a key part of the Oklahoma Final Four team, and although their season ended with a disappointing blowout loss, his team's deep tournament run coupled with playing alongside Buddy Hield all season gave Cousins plenty of opportunities to showcase his skills in front of NBA scouts.

Cousins has a solid frame, measured around 6'3", 196 pounds and he isn't afraid to throw his weight around and mix it up with bigger players. He isn't a great athlete relative to most NBA guards but he makes up for it with his toughness as he refuses to back down from anyone and plays bigger than his actual size. He's also mentally tough as he is not afraid to take the big shot or put the offense on his back if his team needs a bucket.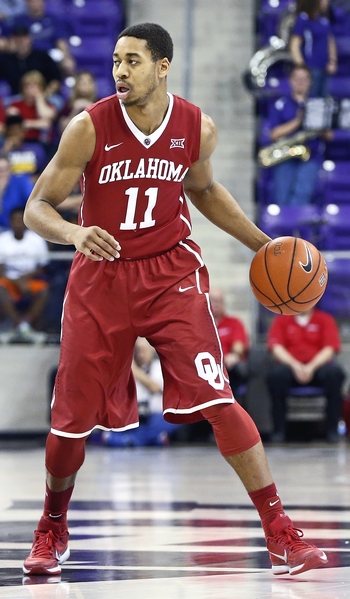 US Presswire
He split his offensive time between playing on and off the ball, and while he is comfortable in either guard position, he isn't elite at either spot. He is a mixed bag with the ball as he can be a little wild with his decision making, either by shooting low efficiency shots early in the shot clock or failing to make the right decision when it comes to passing the ball and running the offense. On the other hand, he can push the ball in transition and make plays off ball screens both as a scorer and a passer.
His frame and lack of explosiveness hurts him around the rim as he was only able to make 43.5% of his shots around the rim according to Synergy Sports Technology. He shot just 41% 2P% for his college career, so this has been a consistent issue for him for quite some time. His handle can get a little loose and he can't always get to the rim but when he does get into the paint, he struggles to finish with a bucket. He avoids contact at the rim and flings the ball at the basket instead of attempting a more composed close range shot with touch on his shot.
More often than not, he isn't able to beat his defender off the dribble and he settles for a tough step-back two point jumper, which is a big reason his two point percentage this season was a meager 40.3%. This will be a tough sell for NBA teams and he will need to show improvement inside the arc, both from a decision making and efficiency standpoint.
Off the ball, he finished his senior season shooting 41.1% on three point attempts. His stroke isn't the purest but he has a good base to build on and has shown he has NBA range. He's more likely to produce offensively with the ball in his hands as he attempted a small number of catch and shoot jump shots, just 77 logged by Synergy Sports Technology, converting 39% of these attempts as opposed to his 34% conversion rate on 159 jumpers off the dribble. He won't always be able to dominate the ball in the pros, so becoming more confident in his catch and shoot ability will help him round out his offensive skills.
Defensively, Cousins' effort and focus level slips to below acceptable levels far too often. He is more content to switch every screen rather than move around the court and follow his man. His fundamentals are poor as he is hunched over when in guarding position and can be turned around putting his back to the ball when navigating through off ball action. When engaged he can make winning plays but that isn't often enough to be a consistent defensive asset.
He has some fairly pronounced holes in his game but with his ability to score and play either guard position, Cousins should get his opportunity to play his way onto a NBA roster if he isn't drafted, particularly if he can improve defensively.
[
Read Full Article
]
Top NBA Prospects in the Big 12, Part Six: Prospects #10-15
September 22, 2015
Jacob Eisenberg

Entering last season, question marks surrounded Isaiah Cousins' health following a traumatic summer. He was shot in May of 2014, after getting caught in the middle of a crossfire between two rival gangs in his Mt. Vernon neighborhood, just miles north of New York City. However, Cousins put concerns about his health to rest when he returned to Oklahoma and dazzled with a consistently smooth stroke from the perimeter, helping lead Oklahoma to a #3 seed and Sweet Sixteen appearance in 2015.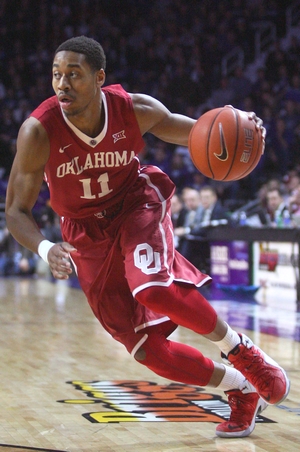 US Presswire
Measured just 6'0 ½ barefoot by USA Basketball and weighing 196 pounds, Cousins is undersized for an NBA shooting guard. His 6'5.5 wingspan does help compensate of his lack of size somewhat, but he still possesses below average length for his positon by NBA standards.
Offensively, Cousins ranks among the top shooters in college basketball. He led the Big 12 in three-point shooting last season, hitting 63-of-140 attempts (45%) from behind the arc. He possesses a quick trigger and usually releases his shots with a high arc. If there was a knock on his shooting, though, it's that his shot selection can be maddening. Cousins' awareness on the court is dubious, regularly taking shots while standing on the three-point line or even a few inches in front of the line. While he hits his shots at a high clip, he takes heat checks on bad looks early in the clock with a concerning regularity.
In transition, Cousins attempted pull-up jumpers on 38.3% of his offensive possessions last year -- among the highest rates in the NCAA. He hits these pull-ups off the dribble at a decent rate (38%) factoring in the inherent difficulty of the shot. However, considering he shot 48-for-99 (48.5%) on catch-and-shoot jumpers last season, it's worth wondering whether his confidence gets in the way of his ability to play more efficiently
Cousins has a loose crossover dribble going both ways which he uses to create separation on his pull-up. He's not a particularly skilled ball handler in traffic and is somewhat turnover prone when he does put the ball down and try to get all the way to the rim. On the rare occasions he does get inside the paint, Cousins is just an average finisher, lacking the strength or explosiveness needed to finish plays or draw fouls in traffic. Per Synergy Sports, he shot just 22-for-63 (35%) on half-court shots inside the paint and got fouled on just 7% of his used possessions.
To compound Cousins' weaknesses as a foul generator, he's simply not very efficient at the charity stripe even when he does get there. For a 45% three-point shooter, Cousins disappointingly made just 46-of-71 (64.8%) of his attempts at the line last season. To his credit, he shot 78-for-97 (80.4%) from the free throw line as a sophomore so it's plausible to think he'll rediscover his soft touch as a senior.
While Cousins possesses point guard size, his scoring mindset and average court vision prevent him from bringing a facilitating mentality on the court. He averaged just 2.7 assists per-40 minutes last season and posted an uninspiring 14.6% assist rate doing so.
Cousins has the physical tools to play effective defense. However, his fundamentals on that end are lacking. He has an exaggeratedly wide stance while defending the ball and tends to hunch forward rather than crouch down, leading to issues with balance when trying to get in front of opponents' drive-bys. Cousins also shows suspect commitment to fighting through screens and often resigns himself from the play once he's beat.
To compound that, he lacks concentration when defending off ball, regularly allowing his opponents to get open looks. He liberally calls for switches on his man without showing much hustle to fight around screens. It's not uncommon for Cousins to lose his assignment on the perimeter and subsequently close out late. Opponents shot 28-for-58 (48.3%) on catch-and-shoots against him (with a third of those coming unguarded), according to Synergy Sports.
Overall, Cousins' elite shooting touch will put him on some teams' radars, but at the moment there appear to be too many flaws with his game to make him a legitimate prospect. Still, with Oklahoma expected to make a run at a top NCAA Tournament seed behind Buddy Hield, there should be opportunities for Cousins to show what he's capable of as a floor spacer, and he has another season to show he's more than just a one-dimensional shooter/scorer.
[
Read Full Article
]