We kick off our coverage of the top NBA prospects in the Big East with scouting reports on players ranked 1-5 in the conference:
Isaiah Whitehead
,
Chris Obekpa
,
Rysheed Jordan
,
Deonte Burton
and
D'Vauntes Smith-Rivera
.
The Top 20 NBA Draft Prospects in the Pac-12 Conference
The Top 20 NBA Draft Prospects in the Big 12 Conference
The Top 10 NBA Draft Prospects in the AAC Conference
The Top 22 NBA Draft Prospects in the SEC Conference
#1, Isaiah Whitehead, 6-4, Freshman, Shooting Guard, Seton Hall
Without the benefit of extensive high school footage, we prefer to wait and see how Whitehead performs as a freshman before adding to his DraftExpress profile, which already features a scouting report and video interview.
#2, Chris Obekpa, 6-9, Junior, PF/C, St. John's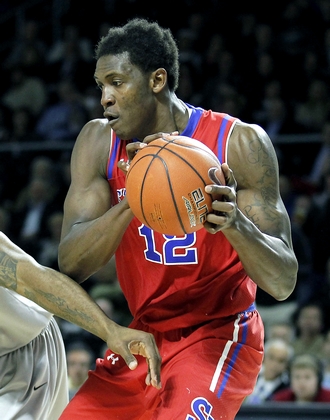 Jonathan Givony
Things have been somewhat tumultuous for Chris Obekpa since our
last report
, towards the end of his freshman season. He received a
two game suspension
to start his sophomore year for a "violation of University policy," and then had a very uneven year, fluctuating in and out of the starting five all season, and seeing his playing time drop from 26 minutes per game on average as a freshman to 20 as a sophomore.
Things came to a halt for Obekpa at the end of the season, as he started St. John's lone appearance in the Big East tournament, but played just two minutes after taking an ill-advised jumper. A similar thing happened in the NIT, where he played just 11 minutes in a blowout first round home loss. A few weeks later, Obekpa
announced he's transferring
, only to have a change of heart and
elect to stay
in Queens for another year.
With that chapter hopefully behind him, Obekpa will be looking to have a strong and steady junior season that could propel him back into draft discussions.
His potential value to a NBA team continues to lie with his terrific combination of physical attributes and rim-protection ability. He has decent size for a big man at 6-9, to go along with a good frame, incredibly long arms (wingspan measured 7-4 ½), and excellent athleticism. Obekpa runs the floor extremely well when motivated, and is very mobile and agile for a player his size. He's quick off his feet, moves well laterally, and can play above the rim with ease.
Obekpa's offensive game remains a major work in progress, and likely will for most of his career. He's largely an afterthought for St. John's on this end of the floor, as his usage rate of 11.7% was one of the lowest among collegiate draft prospects last season. Obekpa's scoring rate improved marginally, but at a paltry 7.7 points per-40, he was still the least prolific scorer among any realistic draft prospect in the NCAA.
Most of Obekpa's offense at this stage comes off offensive rebounds, cuts, and as a pick and roll finisher. He's a decent finisher around the rim, converting 56% of his attempts in these situations, as he has decent hands, and is extremely quick and pretty explosive once he gets a touch.
His lack of lower body strength, combined with his poor footwork and touch makes him a non-factor with his back to the basket, where he looks slow and methodical, and turns the ball over on 30% of his post-possessions.
Despite converting just 40% of his free throw attempts last season, Obekpa fancies himself as somewhat of a jump-shooter at times, heaving up ill-advised attempts from the perimeter that likely contributed to his sporadic playing time. While the selfish play of his teammates probably didn't help matters, Obekpa will need to do a better job of learning his limitations in the NBA, as he is prone to making some selfish plays at times (such as pushing a teammate in the back to grab an offensive rebound).
Where Obekpa will make his living in the NBA is on the defensive end, an area he absolutely excels in. His timing and anticipation skills are simply off the charts, helping him average a terrific 5.9 blocks per-40 minutes, second best among all draft prospects last season.
He's not just a capable rim-protector, but also does a decent job outside the paint as well. He's mobile enough to step out to the perimeter and use his quick feet and long arms to contest shots, being extremely difficult for opposing players to shoot over. Even if he gets blown-by initially he's quick enough to recover and make a play at the rim. He has nice potential as a pick and roll defender for all these reasons, and St. John's already likes to switch him out onto guards where he can hold his own capably.
Obekpa still has room to improve his low-post defense, particularly in terms of adding lower body strength and preventing stronger players from establish deep post-position and backing him down.
He's also not a very impressive on the defensive glass, hauling down just 6 defensive rebounds per-40 minutes, an average rate at best. He doesn't show a great deal of urgency in his work here, rarely boxing out, and often finding himself out of the play due to his propensity for chasing blocks. He could do a better job of making a second effort to put himself back in the mix for defensive rebounds, as he has a tendency to just stand around at times. Only being a rim-protector is not enough in the NBA in order to stay on the court considering Obekpa's limitations, so scouts will want to see him do a better job of boxing out and pursuing loose balls as a junior.
Coming off somewhat of a disappointing season after an impressive debut, NBA scouts will be watching to see how Chris Obekpa bounces back as a junior. His physical tools and shot-blocking prowess are still coveted traits in today's NBA, so a consistent and productive season could definitely put him right back in the mix to get drafted.
#3, Rysheed Jordan, 6-4, Sophomore, Point Guard. St. John's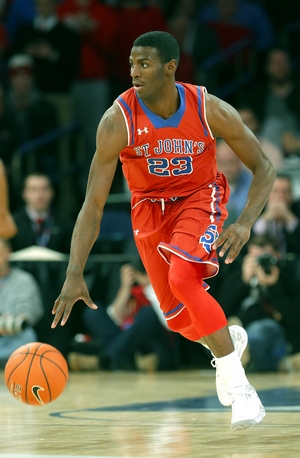 Jonathan Givony
The highest rated recruit (#31 RSCI) Steve Lavin has reeled in during his tenure at St John's thus far, Rysheed Jordan lived up to his billing somewhat inconsistently in his first season of college, being suspended for a few days in the midst of a rocky start early on, but nevertheless rebounding and making the Big East's All-Freshman team.
Jordan has very good physical attributes for his position, standing 6-4, with a strong frame, long arms, big hands, and solid athleticism.
Offensively, Jordan was neither a prolific (14.5 points per-40) or efficient (49.7% TS%) scoring threat as a freshman. The biggest share of his offense came in transition according to Synergy Sports Technology, as his size and athleticism make him an excellent threat to push the ball ahead in the open floor, but he isn't overly effective once there, shooting just 47% from the field in these situations.
Jordan is able to create his own shot and get inside the paint in both the half and full court fairly effectively, as he has a long, strong and quick first step driving in both directions, but he doesn't always know what to do once there. His touch around the basket is average at best, and his inability to finish with his left hand is something opposes defenses are aware of and like to game-plan for.
Jordan's ball-handling ability hasn't caught up yet with his physical tools, as he only plays at one speed and relies too much on his strength to overpower defenders and get into the lane. He coughs the ball up at a high rate-- his 19% turnover percentage ranked fifth worst among all Top-100 college prospects-- as he's prone to making lazy, careless passes in traffic and can be fairly wild with the ball in his hands.
As a facilitator, Jordan is a mixed bag at this stage. He can create for teammates in drive and dish situations, and will generate some assists by way of making the extra pass unselfishly within the flow of the offense, but doesn't show brilliant court vision and is prone to over-dribbling. His feel for operating on the pick and roll is just average due to his inability to play at different speeds and lack of creativity.
Jordan's jump-shot is another area he will need to improve on. He was very inconsistent as a freshman, hitting just 28% of his 3-pointers and 66% of his free throws. Jordan's shot doesn't appear to be broke, his mechanics in catch and shoot situations are actually decent, and he had a few games last season where he made multiple outside jumpers, he just doesn't have very good shot-selection and settles for too many extremely difficult looks. He creates nice separation from his defender on his jump-shot, but sees very inconsistent results because he shoots it differently virtually on every attempt.
Defensively, Jordan shows very intriguing potential, and this might be the area that gets and/or keeps him in the NBA if he really decides to focus and perfect this part of his game. He has tremendous tools here, with his superior size, length, and frame, coupled with his ability to move his feet and put strong pressure on the ball. Jordan can guard multiple positions (up to three at the college level), which gives him very nice versatility, and he gets in the passing lanes at a high rate, averaging nearly 2 steals per-40 minutes adjusted.
Like many young players, Jordan wasn't terribly consistent on this end of the floor as a freshman. He loses his focus easily, gets lost off the ball too frequently, and doesn't always play with the same intensity level—not fighting through screens, gambling excessively for steals, and closing out lazily on the perimeter.
While fairly inefficient and inconsistent, Jordan showed some very intriguing flashes of potential as a freshman. Now moving into his sophomore year, NBA teams will want to evaluate how much of his struggles early on were due to a lack of experience and how much were due to things he can and will improve on. Already 20, Jordan is a little older than some of his peers in the sophomore class, but will be a prospect scouts will watch closely to see how his skill-level and basketball IQ are developing.
#4, Deonte Burton, 6-4, Sophomore, Small Forward, Marquette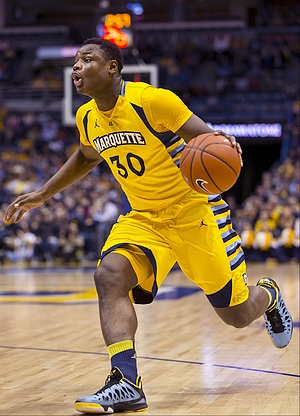 Matt Williams
One of the
most powerfully built athletes
in college basketball, from a distance, Deonte Burton looks more like an outside linebacker than a basketball player. Standing 6'4 and weighing in at a stout 230 pounds, Burton averaged 6.9 points and 2.2 rebounds over 12.6 minutes per-game, the majority of which he accrued at the power forward position.
Despite his height, Marquette's lack of size up front and struggles offensively, combined with Burton's athleticism and aggressiveness, allowed him to carve out a unique role as an extremely high-volume inside-outside threat in limited playing time. As SI's
Luke Winn points out
Burton was among the highest usage players in the country when he was on the floor a year ago, ultimately
ranking
among the most prolific per-40 minute pace adjust scorers in the freshman class.
Seeing his minutes dip mid-year before playing his best offensive basketball to close the season, Burton's freshman campaign was a bit of an adventure. At times, his assertiveness and the versatility of his role, which had him playing around the paint like a true big man, spotting from a variety of ranges, and freelancing both in transition and the half court, made him Marquette's best offensive player. By the same token, the lefty also struggled with his decision-making, trying to do too much for stretches and looking rushed at times.
Regardless of the ups and downs of Burton's first year with the Golden Eagles, there's no questioning that he was a force at times. Able to put the ball on the floor and use his explosive first step and tremendous overall strength to create angles to get to the rim, create second shot opportunities at a high rate, knock down shots from the midrange, and play above the rim inside, Burton has an intriguing combination of tools as a scorer. Despite his sometimes erratic play, the Milwaukee native finished the year making 43% of his jump shots, 41% of his shots in the post, and 56% in finishing situations according to Synergy Sports Technology. As much as Burton's playing time limits the sample size on those numbers, there's little doubt that his ability to put the ball in the basket can be a major asset for first year Head Coach Steve Wojciechowski this season.
Defensively, Burton was productive, but not always effective.
Ranking
among the top freshman in the country averaging 3.4 steals per-40 minutes pace adjusted, Burton's aggressiveness and physicality translated into forced turnovers and solid defense in the paint at times, though his willingness to take risks and lack of consistent intensity limited his impact on this end of the floor. His 5.6 fouls per-40 minutes and lack of production as a rebounder relative to his performance offensively were also concerns.
One of the most unique freshmen in the country a year ago, it is difficult to gauge what the future holds for Burton at the moment. There's little doubt he could be highly productive give significant minutes, making his first year under Marquette's new staff worth watching. At 6'4, he's obviously lacks size for either forward position at the NBA level, but given the good things he already does, there's plenty of room for optimism about Burton's long-term prospects if he can improve his perimeter skill set in the coming years.
#5, D'Vauntes Smith-Rivera, 6'3, Shooting Guard, Georgetown, Junior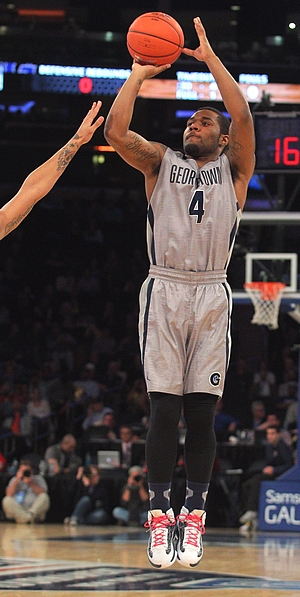 Kyle Nelson
D'Vauntes Smith-Rivera was a highly regarded recruit coming out of high school, with the reputation of being a versatile perimeter scorer. After a solid, but unspectacular freshman season, Smith-Rivera was expected to fill the massive void left behind after Otto Porter left Georgetown for the NBA. The results were somewhat mixed; as Georgetown missed its first NCAA Tournament since 2009, but Smith-Rivera emerged as Georgetown's best player, earning a spot on the All-Big East Second Team and logging 32 and 22-point performances against West Virginia and Florida State in the NIT. Pundits now expect Smith-Rivera to contend for Big East Player of the Year
as a junior
, but scouts will be more impressed if he can continue to improve his floor game while helping Georgetown bounce back from a disappointing 2013-2014 campaign.
With an eye toward the next level, Smith-Rivera's physical profile leaves a lot to be desired. At 6'3 with a 6'3 wingspan, he is extremely undersized for the shooting guard position, and lacks the length and athleticism to compensate. He is a below-the-rim player, as well, and he does not show standout quickness in the open floor, even if he is strong for his size with a solid 214-pound frame.
On the offensive end of the floor, Smith-Rivera played a massive role for Georgetown as a sophomore, seeing 35.5 minutes per game while accounting for 24% of Georgetown's possessions while on the court. His 20.1 points per 40 minutes pace adjusted and 60% TS% ranked favorably among shooting guard prospects in our
database
.
Synergy reveals that nearly 75% of his shot attempts are jump shots and over half of his jump shots come from beyond the arc, where he shot 39.3% on 5.8 attempts per 40 minutes pace adjusted. On film, Smith-Rivera shows consistent shooting mechanics with a quick release, outstanding elevation, and NBA range. While he made an impressive 40.2% of his catch-and-shoot attempts, he looked even better pulling up off of the dribble, where he made 43.6% of his overall attempts and had little trouble getting his shot off against bigger and more athletic defenders.
Likewise, he excels at finding shots out of the pick-and-roll, where he does an outstanding job of utilizing screens and needs very little room to get his shot off. He can pass the ball, too, less to rolling big men than to open shooters, even though he ultimately looks far more comfortable as a scorer in these situations.
In addition, he is a dangerous slasher. His first step is just average, but his ball-handling and ability to create separation, mid-range repertoire, and aggressiveness driving to the basket do not make it easy to stay in front of him off of the dribble. At the rim, he relies on his strength and body control, both of which allow him to draw contact around the basket and contributes to his solid 6.3 free throws per 40 minutes pace adjusted. He struggles as a finisher, however, as he lacks both the explosiveness and length to finish around the basket, and makes just 48.3% of his attempts around the basket.
At the end of the day, however, Smith-Rivera's NBA prospects revolve around two concerns. The first concern is positional, as his style of play is more conducive to the shooting guard position despite possessing the size of a point guard. Though he undoubtedly seeks his own offense first, he shows some potential as a passer to the tune of 3.1 assists per 40 minutes pace adjusted against 2.0 turnovers. He is not a particularly creative passer, but he can find open players on the perimeter or dump the ball off to big men in the paint, both solid options if he is unable to find his own shot. It will be interesting to see if he can develop more in this capacity in the future.
The second concern revolves around his defense. Physically, Smith-Rivera is best suited to guard the point guard position. The issue here is that he simply lacks the lateral quickness and length to guard NBA-caliber point guards, let alone shooting guards. He does not show the scrappiness or aggressiveness that one would expect to compensate, either, as too often he gives up early or is caught watching the ball as his man gets an easy look at the basket. He does do a solid job of defending the pick-and-roll, even if his tendency to run under screens will likely hurt him at the next level.
For these reasons, Smith-Rivera ultimately projects as a fringe NBA prospect at this point in his career. He is a dynamic scorer who possesses the ability to create offense all over the floor and could perhaps transition into a combo-guard in the future if he continues to develop. The problem now, however, is that he is a tweener who struggles to both finish and defend at the collegiate level in large part due to his below average physical profile. Therefore, maximizing his efforts on the defensive end of the floor, not to mention showing scouts a bit more as a distributor, would help his NBA prospects significantly.
That being said, if the NBA is ultimately not in the cards for Smith-Rivera, it is easy to see him fitting in to a rotation as a scoring guard at a high level overseas. In the meantime, he will have quite a bit of work to do as Georgetown's best returning player, both individually and as his team's leader, if he wants to help the Hoyas make a run to the NCAA Tournament in a depleted Big East Conference.