We continue our coverage of the top NBA prospects in the Pac-12 with scouting reports on prospects 6-10:
Drew Eubanks
,
Ike Anigbogu
,
Chimezie Metu
,
Rawle Alkins
and
Chris Boucher
.
---
More DX Conference Previews
-The Top NBA Draft Prospects in the Big East
---
Top NBA Draft Prospects in the Pac-12
(#1) Markelle Fultz
(#2) Lauri Markkanen
(#3) Ivan Rabb
(#4) Lonzo Ball
(#5) Kyle Kuzma
#6, Drew Eubanks, 6'10, Sophomore, Center, Oregon State
Jonathan Givony
Formerly known more for his work on the mound as a pitcher in high school, Drew Eubanks didn't start playing basketball seriously until the age of 14, which partially helps explain his late blooming status in the recruiting world.
Improving significantly throughout high school, and considered a borderline top-100 recruit (except by Scout.com who had him at #64) by the time he enrolled in college, Eubanks had a productive, but predictably inconsistent freshman season for NCAA Tournament bound Oregon State, starting nearly every game.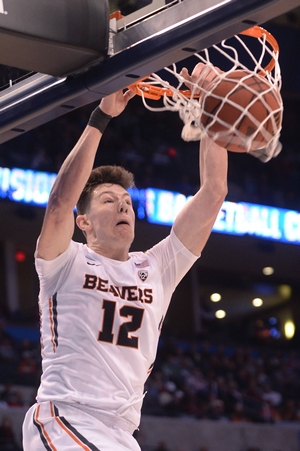 Eubanks' numbers as a freshman don't jump off the page at 14 points, 8.4 rebounds, and 2.3 blocks per-40 minutes, in 21 minutes per game, but he showed some intriguing glimpses of potential that hint at things to come.
Eubanks doesn't have great height or length for the center position he mostly plays, at around 6'10, with just a decent wingspan, but has a terrific frame, big hands and excellent athleticism that helps him play slightly bigger than his size. Fast getting up and down the floor, and highly explosive (and extremely quick) off one or two feet, Eubanks is an outstanding athlete who covers ground quickly and with smooth body control, giving him strong potential in some key areas on both ends of the court.
That starts with his prowess as a finisher, where Eubanks made a significant impact with his ability to convert off cuts, offensive rebounds, running the floor in transition, and as a pick and roller. Eubanks finished 72% of his field goal attempts around the basket that didn't come off post-ups in the half-court according to Synergy Sports Technology, one of the best rates in college basketball.
Nimble and agile, Eubanks rolls with great purpose after setting a screen and diving to the basket, making him an excellent target for his guards to get the ball to. He has soft hands to help him corral most passes thrown his way, and is quick off his feet to elevate and convert plays around the rim, sometimes in highlight reel fashion. He wants to dunk everything, but shows some ability to finish with either hand using touch shots on occasion when he can't simply make a play above the rim.
Everything outside of being a finisher is mostly a work in progress for Eubanks at this stage. He saw a decent amount of post-ups last season, around three per game, but wasn't overly effective there at just .707 points per possession, a very poor rate. Eubanks' lack of experience, polish, strength and average feel for the game really showed there at times, as he looked very mechanical with his back to the basket, particularly when forced to pass out of a double team. He also doesn't show much in the ways of ball-handling skills or a jump-shot.
Generally speaking, Eubanks doesn't have a great feel for the game, which makes sense considering his late-blooming status. He posted a paltry 3.7% assist percentage last year, compared with a 17.8% turnover percentage, as the game seems to move a little too fast for him at times. Once in a while you'll see him unleash a one-handed bullet outlet pass, reminding of his background as a pitcher (and his reported 96 mile an hour fastball), so it will be interesting to see how his versatility evolves over the next season or two in college.
Defensively, Eubanks is somewhat of a mixed bag. His physical tools allow him to do some impressive things at times, as besides sporting a strong frame, he also covers ground extremely well and is quick off his feet to challenge shots at the rim, giving him nice potential to build off. He may even be able to step out and guard smaller players in time on the perimeter considering how quick his feet are, but it will take some time and experience to develop this part of his game.
At the moment Eubanks lacks much in the way of consistent focus, technique and awareness, as he's often a split-second late with his rotations trying to protect the rim, getting caught in no-man's land while exposing the offensive glass. He allows himself to get screened too easily, bites on fakes too frequently, and will need do a better job of bending his knees and getting in a low, defensive stance on the perimeter. While he has a nice frame, he wasn't always physical enough with his approach last year, getting pushed around by older and stronger players and backed down in the post.
Eubanks' work on the glass is something scouts will want to monitor closely, as he posted a dismal 8.4 rebounds per-40 minutes last season, not excelling on either end of the floor. His instincts here look very questionable at times, letting rebounds sail right over his head and not always putting up the kind of fight you might hope trying to box out opponents.
While it's a little early to get too clear of a read on his long-term outlook, Drew Eubanks clearly did a great job putting himself on the radar with a strong freshman season in the Pac-12. It will be interesting to see what kind of progress he makes as a sophomore, as he has some coveted tools to build off that are difficult to come by with his size and athleticism.
#7, Ike Anigbogu, 6'10, Freshman, Center, UCLA
Without the benefit of extensive high school footage, we prefer to wait and see how Anigbogu performs as a freshman before adding to his
DraftExpress profile
, which already features one scouting report breaking down his strengths and weaknesses.
#8, Chimezie Metu, 6'10", Center, USC, Sophomore
Derek Bodner
Despite playing alongside highly touted frontcourt recruits such as Ivan Rabb, Stephen Zimmerman, and Stanley Johnson on the AAU circuit with the Oakland Soldiers, Chimezie Metu (#40 ESPN, #30 Scout, #41 Rivals) entered his freshmen season with quite a bit of fanfare as well. Metu started off slowly for Andy Enfield and the Trojans, but by the end of the season was utilizing his intriguing physical gifts as a more consistent contributor for USC, finishing the season with averages of 6.4 points, 3.6 rebounds, and 1.6 blocks in 34 games, mostly off the bench.
The intrigue for Metu starts with his physical profile, standing 6'10" in shoes, with quickness, both laterally and off his feet, which gives him a considerable amount of potential on the defensive side of the court. That upside may be limited somewhat by a relatively short 6'11" wingspan and a slender frame listed generously at 225 pounds by USC, but he still maintains a combination of athletic gifts few prospects his size have.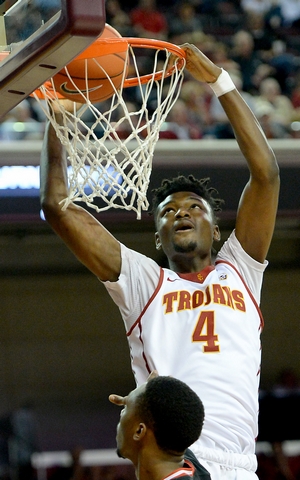 USC tried to use Metu some with his back to the basket, which accounted for 18% of his offensive possessions, per Synergy Sports Technology. Metu's effectiveness in this aspect of the game was limited, to say the least, as he shot just 35.5% on shots out of the post and had his share of turnover problems. Metu doesn't have the size or lower body strength to consistently establish quality post position, and doesn't have the diverse set of moves to overcome this, relying almost entirely on jump hooks and with a limited, at best, set of counter moves. While he can occasionally show some touch on right-handed hook shots, his left hand is still very much a work in progress, and he can struggle to finish through contact regardless of which direction he goes.
Where Metu is more effective, and what his role is likely to be catered to at the next level, is as an off-the-ball scorer. Metu is an incredible athlete for his size, with a combination of quickness and explosiveness that makes him a threat in transition, off offensive rebounds, on cuts to the basket, and on alley-oops.
Metu pulled down 3.2 offensive rebounds per 40 minutes, pace adjusted, a decent rate for a big man, finishing many in impressive put-back fashion. His athleticism really shines in this regard and he shows consistent pursuit, even if his lack of physical maturity holds him back in this regard. When Metu isn't able to use his athleticism to finish emphatically, however, his overall limitations around the basket start to show up, as he can take some time to gather himself and control the ball before going back up, struggles to finish through contact, and doesn't have great touch with his off-hand.
His effectiveness as a cutter and as a roll man off of pick and rolls follows the same blueprint: his incredible quickness and athleticism create opportunities other big men wouldn't have, and he can finish in highlight reel fashion, but he's held back at times by average-at-best hands, especially when thrown low, and a lack of physical maturity or great touch around the hoop.
Metu's offensive game away from the basket is a bigger project, although even that shows some potential down the line. Metu shot just 32.1% on jump shots, per Synergy, often taking ill-advised jump shots on the move and early in the shot clock. To compound, that he shot just 51.3% from the free-throw line, not providing much of an indication that the jumper is further along than the results indicate. Still, his overall shooting motion and touch seems to indicate some potential down the line, and the sample size is small enough, both on in-game jump shots (28 attempts, per Synergy) and free-throws (80 attempts) that indicate it's too early to entirely disregard form that shows some untapped potential, especially if he can consistently take higher quality looks than he did last season. Hitting that jumper consistently would open up a dribble-drive game that could be an occasional weapon due to his quick first step and explosiveness around the basket.
The defensive side is where Metu's impact is the most consistent right now, as he blocked 3.2 shots per 40 minutes, pace adjusted. Metu does a good job of maintaining verticality to prevent himself from picking up unnecessary fouls around the basket, although he still has difficulty staying out of foul trouble due to touch fouls on the perimeter. Metu seems like he has the type of build that his standing reach should be more in line with his height than his wingspan is, as his slender shoulders do him no service with the latter. That will help his chances if indeed the case, and he has excellent timing, a superb second jump, and shows good pursuit as a weakside shot blocker off the ball.
Metu's defensive contributions aren't just limited to altering shots around the rim, however, as he moves his feet exceptionally well for a player his size, something that not only allows him to defend either frontcourt position, but also helps defend the pick and roll, allowing him to hedge and recover on pick and rolls or just flat-out switch defensive assignments, traits that are extremely valued at the next level. His instincts on the perimeter still need some work, and he can get caught being overly aggressive in his rotations and be prone to mistakes, but the defensive base is intriguing, to say the least.
Unfortunately, Metu was very disappointing on the defensive glass last season, pulling down just 11.1% of the available defensive rebounds while he was on the court for the Trojans. While Metu's shot blocking, pick and roll responsibilities, and instincts as a help defender certainly impact this extremely low number, he also doesn't consistently seek out a body to box out when the ball goes up and lacks the lower body strength, physicality and toughness to hold his ground when he is in position, something that also impacts his ability to defend the post. Considering Metu's expected low-usage offensive role, having a glaring weakness on the defensive glass could hurt his chances to stick in a rotation, and he must get more productive in this aspect of the game.
Overall, Metu has an athletic profile filled with defensive versatility that could make him an interesting prospect down the line, but he still has considerable development, from his physical profile, to his offensive skill set, to his defensive fundamentals, before he reaches his full potential.
#9, Rawle Alkins, 6'5, Freshman, Shooting Guard, Arizona
Without the benefit of extensive high school footage, we prefer to wait and see how Alkins performs as a freshman before adding to his
DraftExpress profile
, which already features a scouting report breaking down his strengths and weaknesses, as well as two interviews.
#10, Chris Boucher, 6'10, Senior, Power Forward, Oregon
Matt Williams
An entirely unheralded player just four years ago whose winding backstory Daniel Uthman of USA Today Sports
outlined in fascinating detail
last year, Chris Boucher is a player we could just as easily not be writing about today. From St. Lucia, to Montreal, to Pavillon Damase-Boulanger, to Alma Academy, to Junior Colleges in New Mexico and Wyoming, to Oregon, and finally onto the NBA draft radar as one of the top prospects in the senior class, Boucher's journey has been anything but ordinary, which fits well with the unusual skill set that helped the 23-year-old average 12.2 points, 7.4 rebounds, and 2.9 blocks per game en route to Pac-12 All-Conference Honorable Mention honors.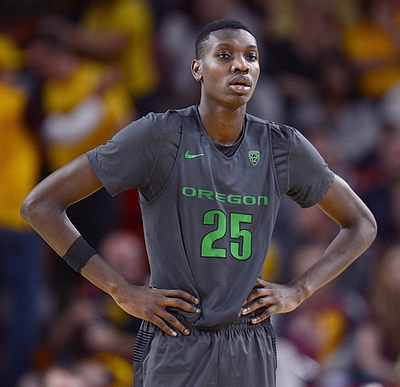 Standing 6'10 in shoes, with a 7'3 1/2 wingspan, Chris Boucher's ability to make an instant impact at the college level was based on his unique physical tools. His tremendous combination of length, agility and explosiveness helped him impact the game as a rim protector and finisher from the moment he stepped on the floor for Dana Altman's Ducks. However, weighing just 193-pounds, Boucher's rail thin frame limited him at times as well, and his ability to fill out his frame, particularly in his lower body, is one of NBA scouts' main concerns about his upside as he looks to make the jump to the next level.
The 2014-2015 NJCAA Division I Player of the Year, Chris Boucher averaged an impressive 22.5 points and 11.8 rebounds per game at Northwest College (WY) and appeared to be a potential x-factor for an Oregon team searching for immediate front-court help heading into last season. Finishing fourth in scoring and first in scoring efficiency on one of the nation's more balanced, talented offensive teams, Boucher exceeded expectations emerging as one of the most unique weapons in the country.
Boucher scored most of his points in the manner you'd expect, using his length and athleticism crashing the glass, running the floor, and finishing the shots his teammates created for him in close. His feel for the game isn't particularly advanced, and he seldom finds the open man passing the ball, but his physical tools made him a valuable roleplayer in Pac-12 play as he meshed very well with the talent Oregon had around him. He used fewer post ups than many guards in the country last season, but tallied almost one third of his total possessions in spot up situations as he flashed the ability to spread the floor.
At 6'10, Boucher's ability to make shots from the perimeter is a bit of an anomaly, and when you factor in his prowess as a shot blocker, it is downright rare. Shooting the ball with funky, slow, flat-footed mechanics and inconsistent follow through, Boucher is nonetheless a threat to step out to the perimeter in the pick & pop or playing off the penetration of his teammates. When Boucher does pop out to the perimeter, he almost always sets up shop beyond the arc—he attempted 113 3's and just three midrange shots with very few drives in between a year ago. Making one attempt from deep per game while shooting 34%, down from an astonishing 44% in his last season of junior college, as awkward as his mechanics appear, Boucher could conceivably add value as a floor spacer at the next level, particularly if he can shore up his mechanics, quicken his release, and get used to shooting over pressure.
Aside from his ability to shoot the 3, Boucher is primarily a rim-runner and finisher in the half court, where he is a target for lob passes, able to finish put backs emphatically, and even able to score an occasional hook with some basic footwork when the moment calls for it. His hands are good, but not great, and lacking a degree of strength, he gets pushed around inside and doesn't finish through contact very well. Nonetheless, his activity level on the glass and leaping ability make him an efficient complementary option on a team with multiple ball handlers.
Defensively, Boucher was one of the most productive playmakers in the college game last season finishing the year
ranked ninth
in blocked shots per-40 minutes pace adjusted. A capable weakside shot blocker who also makes some impressive plays swatting shots on the perimeter and when defending on the ball, Boucher's length and ability to cover ground help him impact the game. He is not a very physical defender, isn't always quick to rotate or crash the glass, and can be a bit jumpy and overaggressive at times, however, and will face some questions about his ability to battle for defensive rebounds and match up with the far more physical big men he'll come across on a nightly basis at the next level.
Turning in a strong showing at the 2016 Nike Basketball Academy, Boucher has effectively come out of nowhere to rank as one of the most unique players in college basketball. One of the only players in NCAA history to average over one made three and 2.5 blocks per game while shooting over 60% inside the arc, the St. Lucia born big man is an unusual prospect. His age, limited frame, and raw skill level will hold him back a bit in the eyes of scouts, but his ability to protect the rim and potentially score from the inside and outside certainly gives him some intrigue. Boucher will have a chance to further build his resume this season and could certainly hear his name called on draft night with a strong year.