We continue our coverage on the top NBA draft prospects in the SEC with part nine, players ranked 9-14:
Dorian Finney-Smith
,
Wade Baldwin
,
Marcus Lee
,
Danuel House
,
Alex Poythress
and
Antonio Blakeney
.
---
More DX Conference Preseason Previews:
-The Top 20 NBA Draft Prospects in the Pac-12
-The Top 20 NBA Draft Prospects in the Big East
-The Top 15 NBA Draft Prospects in the Big 12
---
Top NBA Draft Prospects in the SEC
-Top NBA Prospects in the SEC, Part One
(#1) Skal Labissiere (Scouting Video)
-Top NBA Prospects in the SEC, Part Two
(#2) Ben Simmons (Scouting Video)
-Top NBA Prospects in the SEC, Part Three
(#3) Jamal Murray (Scouting Video)
-Top NBA Prospects in the SEC, Part Four
(#4) Malik Newman (Scouting Video)
-Top NBA Prospects in the SEC, Part Five
(#5) Damian Jones (Scouting Video)
-Top NBA Prospects in the SEC, Part Six
(#6) Isaiah Briscoe (Scouting Video)
-Top NBA Prospects in the SEC, Part Seven
(#7) Tim Quarterman (Scouting Video)
-Top NBA Prospects in the SEC, Part Eight
(#8) Devin Robinson (Scouting Video)
---
#9, Dorian Finney-Smith, 6-8, Senior, SF/PF, Florida
Jonathan Givony
The SEC's sixth man of the year as a sophomore, Dorian Finney-Smith became a full-time starter as a junior, and delivered a strong season individually, culminating in Second-Team All-SEC honors. It was ultimately a disappointing year overall however, as the team stumbled to a sub-500 record, their worst campaign in nearly 20 years, missing postseason play for the first time since Billy Donovan's debut season at Florida. With Donovan moving on to coach the Oklahoma City Thunder, the Gators and newcomer Michael White will be looking to fifth-year senior Finney-Smith for leadership in what appears to have the makings of a transition year for the program.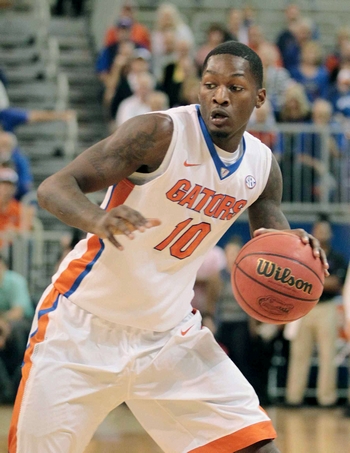 Listed at 6-8 by Florida, and measuring consistently between 6-7 and 6-8 in shoes the last few years, with a 6-11 wingspan, Finney-Smith has very good size for the small forward position and probably adequate height to play some small-ball power forward like he's mostly done in college thus far. He's added 25 pounds since the first measurement we have in our database back in 2010, and now sports an impressive frame that looks ready for the rigors of playing professional basketball at the highest levels.
Although he led the Gators in scoring last season, Finney-Smith is undoubtedly a role-player even at the college level, seeing almost all of his offense playing off the ball, whether its spotting up from the 3-point line, crashing the offensive glass, running the floor, or cutting/rolling to the basket.
He made some dramatic improvements between his sophomore and junior seasons in a few different areas, though, upping his 2P% from 44 to 50%, and his 3P% from 29 to 43%, which increases his appeal as a pro prospect significantly considering the type of role he'll most likely be asked to play.
Finney-Smith's improvement from the perimeter is perhaps the most notable as far as his NBA stock is concerned. While he still shoots a two-handed jumper while releasing the ball from the side of his head, he seems to have found a more repeatable and smooth stroke now, complete with a consistent release point, which he looks far more confident with. He saw excellent results with it as a junior, making 46% of his catch and shoot jumpers, the second best rate among returning draft prospects. Long-armed 6-8 combo forwards who can stretch the floor and defend their position are increasingly valuable in today's NBA, making Finney-Smith's improvement from the perimeter very intriguing.
Beyond that, Finney-Smith finds subtle ways to contribute offensively, crashing the glass, sprinting in transition, or moving intelligently off the ball and into open spaces. He is very effective around the basket when he's not the one creating his own offense, as he finished a solid 55% of his looks inside the paint in the half-court. He also kept mistakes to a minimum, turning the ball over on just 14% of his used possessions, while doing a nice job of making the extra pass unselfishly and fueling his team's ball-movement. All these things bode well for his potential of carving out a role at the NBA level, where he'll never be the most talented player on the floor.
With that said, while Finney-Smith's junior season provided us with a decent sample size of 3-pointers, with 115 attempts, his 59% free throw percentage (career 61%) still makes you wonder if his dramatic shooting improvement as a junior is indeed here to stay. NBA teams will want to see him carry over his success to his final season of college basketball, helping to up his career 35.7% 3-point percentage closer towards the 40% area possibly.
That will be very important, since it seems unlikely that Finney-Smith will ever emerge as a high-level shot-creator at this point. He remains a crude ball-handler in the half-court, struggling to do much damage even in transition or attacking closeouts in a straight-line. Finney-Smith can use his solid first step and chiseled frame to get to the rim if a lane is there, but he has no real left hand, and is incapable of changing speeds or directions if the defense rotates in his direction.
Due to his powerful frame, he seems to look a little more explosive than he actually is, as he really struggles to finish around the rim in traffic, partially due to the fact that he does not have great touch (which may help explain his struggles as a free throw shooter). When he does get all the way to the basket, he rarely appears to be fully on-balance, making it difficult for him to get off an under control layup attempt. Needless to say, he doesn't draw many fouls inside the paint, only getting to the free throw line 4 times per-40 minutes last season.
Defensively is where NBA teams might be the most intrigued by Finney-Smith's long-term potential. At 6-8, with a chiseled frame, he's big and strong enough to contain most power forwards he'll encounter, but also has the length, quickness and agility needed to step outside and guard perimeter players as well. His multi-positional versatility defensively is reflected in the 1.7 steals and 1.3 blocks he averages, making him one of only a dozen or so returning draft prospects to post that combination. On top of that, he's hauled in a career 10.2 rebounds per-40 minutes on average, which is a very nice added bonus.
Turning 23 in May, Finney-Smith will be among the older players in next year's draft, which makes this an important season for him from a production standpoint. With that said, his ready-made role-playing status eases those concerns a bit, especially considering how little of a transition he'll actually have to make in terms of his style of play. All things considered, Finney-Smith will get a lot of NBA looks this upcoming spring if he's coming off a strong senior year.
#10, Wade Baldwin, 6-3, Sophomore, Point Guard, Vanderbilt
Jonathan Givony
A completely unheralded high school recruit, not ranked as a top-100 prospect by any of the major recruiting services, Wade Baldwin exceeded all expectations by emerging as one of the top freshmen in the SEC, earning him a spot on the league's All-Rookie team.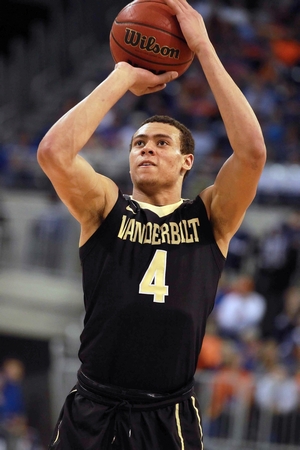 Now returning as a sophomore, with a deep and talented roster that will likely compete for an NCAA Tournament berth, Baldwin looks poised to take the next step in his development and emerge as a more well-known player in college basketball circles, and among NBA scouts.
Baldwin has excellent physical tools for an NBA point guard, standing 6-3, with an outstanding frame that should fill out nicely in time, big hands and a gigantic wingspan, measured unofficially at 6-10. Although he doesn't show exceptional athleticism at this stage, he is a very smooth and fluid player who may still have room to improve his quickness and explosiveness as his body matures and his skill-level evolves.
While not known as a great shooter in high school, Baldwin emerged as a very effective threat from the perimeter as a freshman, making 44% of his 3-point attempts. This didn't come on an especially high volume of attempts (2.9 per game), but his quick, confident and consistent release, combined with the fact that he converted 81% of his free throw attempts, leaves a lot of room for optimism regarding his development as a shooter. Baldwin has a fairly low release point on his jumper, making it difficult for him to get off when heavily guarded at times, particularly off the bounce, but he still did a nice job of making shots both with his feet set (46%, 1.39 PPP), and even off the dribble (38%, .88 PPP) in small doses as a freshman.
For a player often listed as a combo or shooting guard coming into Vanderbilt, Baldwin did a very nice job making plays for teammates in his first season of college basketball, averaging 6.3 assists per-40 while posting a 3.88 pure point rating, both of which trailed only Tyler Ulis and Tyus Jones among freshmen prospects.
Baldwin shows both a strong feel for the game and excellent creativity, moving the ball crisply and unselfishly, and often looking very instinctive with the way he sees plays developing and passing right into the space where his teammates are going to end up. Most freshmen don't usually show such an advanced understanding of utilizing both sides of the court with skip passes, and feeding his big men with post-entry looks. His strong size and gigantic hands give him a big advantage here, as he can palm the ball with ease and make passes over the top of the defense using angles that simply aren't available to most guards.
For a player who was as efficient as Baldwin was as a freshman (59% TS%, sparkling PPR), he surprisingly ranked just fifth among Vanderbilt players in Usage rate last season. The reason for that likely revolves around his average ball-handling and shot-creation ability, which rendered him somewhat passive at times as a freshman. Defenses consistently pushed him to his weaker off-hand in-conference play, and he doesn't yet show the type of crafty ability to get low, and change speeds and directions that many non-freakishly athletic guards develop with age, forcing him to settle for a lot of tough pull-ups in late-clock situations, which he doesn't excel at with his low release point.
When he did get by defenders, Baldwin struggled badly to finish around the basket as a freshman, converting just 21 of 47 (45%) "inside the paint" attempts in the half-court, while not drawing that many free throws. He lacks a degree of strength and toughness with his finishes, but also is not particularly explosive, only hitting 44% of his field goal attempts in transition as well, which is extremely poor.
It will be very interesting to see how Baldwin progresses in this area as a sophomore, as Vanderbilt will certainly rely heavily on him as their primary shot-creator, especially with 20 minute per game guard Shelton Mitchell transferring to Clemson this offseason. Baldwin showed a great deal of promise on a handful of possessions last season, executing some very impressive moves that could be developed into real weapons with added experience and polish. As mentioned, he's likely not finished developing physically, and is operating on a different development curve than most prospects, so making major improvement in this area down the road wouldn't be shocking.
One area where Baldwin shows a great deal of potential in is as a defender. His combination of excellent size, length, frame and big hands should allow him to guard either backcourt spot at the NBA level. He moves his feet very well, and covers ground fluidly and instinctively, making some very impressive closeouts at times for example. Vanderbilt utilized a lot of zone last season, and even some full-court press, and Baldwin showed the ability to absolutely wreak havoc at times with his impressive length and solid anticipation skills, averaging 2 steals per-40 minutes pace adjusted overall, and 5.9 rebounds.
With that said, Vanderbilt was not a great defensive team last year, and Baldwin certainly played a role in that. He looks a little too nonchalant here at times, standing completely straight up with his hands by his side, losing his focus, and letting opposing guards drive right past him. When he's dialed in and fully engaged, he can be quite a handful, but he's still figuring out how to bring the same level of intensity to every defensive possession.
All in all, Baldwin did an excellent job of emerging from obscurity as a freshman and giving Vanderbilt fans plenty of be excited about heading into next season, saving his best play for the end of the year, where he had some terrific moments. The Commodores have some very nice pieces surrounding him, and he has an ideal platform to showcase himself on a team ranked in the top-25 in most preseason polls.
#11, Marcus Lee, 6'9", Junior, PF/C, Kentucky
Derek Bodner
After spending his freshman season stuck on the bench behind a talented Kentucky frontcourt that included Julius Randle, Willie Cauley-Stein, Dakari Johnson and Alex Poythress, Marcus Lee played behind an even deeper front line during his sophomore season, as Karl-Anthony Towns and Trey Lyles replaced Julius Randle.
In part because of that depth, Lee's minutes didn't quite see the jump many had hoped for. Now an upperclassman going into his junior season, the former top-20 high school recruit has yet to play more than 11 minutes per game.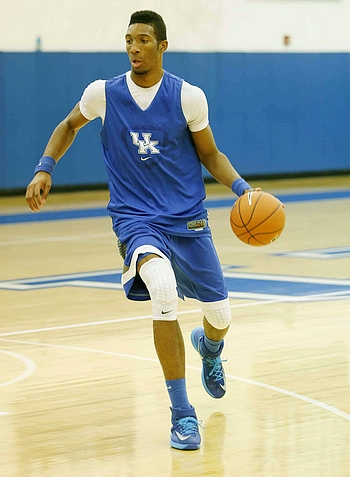 From a numbers perspective, Lee fared better in some respects, and worse in others. His scoring rate dropped, from 15.0 points per 40 minutes, pace adjusted, to just 9.7. He blocked 2.6 shots per 40 minutes after adjusting for pace, down from the 3.6 he blocked during his freshman season, but still a good figure. On the positive side, Lee's defensive rebounding improved, from 3.8 defensive boards per 40 minutes, pace adjusted, to a much more acceptable (yet still underwhelming) 5.7, and he shot even better from 2-point range, from 61.9% to 64.4%.
These numbers carry very little relevance, however. With how little Lee has played over the last two seasons, there's a tremendous amount of noise in his statistics, making this an incredibly important year in store for him, which will tell us quite a bit about what type of NBA prospect he actually is.
When watching film, Lee remains the same incredibly intriguing physical specimen we've been tracking over the last few years. While Lee is slightly undersized, measured around 6'9" in shoes, he has an 8'11" standing reach and a 7'3" wingspan that more than make up for it. When you combine Lee's length with his incredible quickness and explosive leaping ability, there's a lot of potential still left to untap.
Lee weighed in at 220 pounds at the Kentucky Pro Day last fall, an increase of 21 pounds over where he was weighed at the LeBron James and Amare Stoudemire camps back in 2012. Still, Lee needs to add considerable strength before this stops being a concern, especially in the lower body. Lee struggles to hold his position defensively, something which Kentucky was mostly able to overcome thanks to their incredible frontcourt depth, but which could be exploited down the line as moves into pro settings against better and more physically mature competition.
Despite that, Lee continues to make progress in turning his athleticism into realized defensive ability. While Lee's shot blocking numbers were down slightly this past year, from a 9.2% block percentage to 6.8%, that was most likely a result of spending more time away from the hoop thanks to the plethora of interior defenders that John Calipari and his staff had access to. Lee was still able to use his length, along with incredible quickness off of his feet and solid timing, to alter a ton of shots around the hoop.
On the perimeter, Lee improved his technique this past year, doing a better job of getting down in a defensive stance, and he has the lateral mobility necessary to defend the pick and roll, and even to switch out on guards and hold his own. What's more, Lee has the quickness, and quick-twitch reflexes, to get back into plays and alter shots around the basket even when he's initially tasked with helping on the perimeter, which is extremely intriguing in today's NBA.
While his size and strength still holds him back as a defensive rebounder, Lee did do a better job on the defensive glass than he did during his freshman season. He has pretty good technique boxing out and does a good job of locating his man and putting a body on him. If he's able to add that much-needed strength down the line, there's hope that he could round out into a positive on the defensive glass, something that will be tracked closely this year considering how important it is for his pro profile.
On the offensive side of the ball, Lee gets almost all of his points off the ball, as his quickness and explosiveness make him a highlight reel waiting to happen, with emphatic displays of athleticism in transition, off offensive rebounds, cuts to the hoop, and lobs from his teammates.
Still, Lee's progress from a skills perspective could certainly be described as disappointing. With the plethora of options that Kentucky had in the front court, nobody was really expecting Lee to be featured all that much in the Kentucky offense, but some of the same holes that were present in his game during his freshman season remained.
The perimeter game is where you would hope to see some development from Lee this season, especially since few bigs have the foot speed to keep up with him. But Lee attempted only four jump shots all season, according to Synergy Sports Technology, and more concerningly, shot a miserable 32% (8-25) from the free throw line. The addition of at least some semblance of, or progress towards, a jump shot would help him fill the energy role he would be projected to have at the next level, and perhaps open up opportunities for him to take his man off the dribble using his terrific first step.
Kentucky's incredible depth over the past two years has certainly impacted Marcus Lee's playing time, which makes it difficult to really evaluate how much he's grown, and how much bigger of a role he is capable of filling. While Kentucky saw Karl-Anthony Towns, Dakari Johnson, and Willie Cauley-Stein leave Lexington for the NBA draft, they also brought in some frontcourt additions in Skal Labissiere, and to a lesser extent, 17-year old Isaac Humphries, while returning an extremely talented power forward in Alex Poythress. While Humphries will likely not be ready to contribute in a major way immediately, Kentucky still has talent and depth in the front court that pretty much any other program would be envious of. Still, this may be Lee's best chance to earn big minutes and give decision-makers a chance to see what he's capable of. With Kentucky already reeling in a number of highly touted frontcourt players from the 2016 high school class, this is a pivotal season for Lee to not get lost in the shuffle.
#12, Danuel House, 6'7, Senior, Small Forward, Texas A&M
Matt Williams
Last time we checked in on Danuel House, he was fresh off a strong freshman season at Houston having earned Freshman of the Year honors in Conference USA, after averaging 12.4 points and 4.9 rebounds per game. Following that up with a somewhat disappointing sophomore season as the Cougars made the jump to the AAC, House opted to transfer to Texas A&M in 2014 in the midst of a coaching change. Granted a hardship waiver to become immediately eligible for the 2014-2015 season, the former top-30 recruit averaged 14.8 points and 3.8 rebounds per game en route to SEC All-Conference 1st Team honors, despite missing the postseason with a foot injury, which lingered into this fall.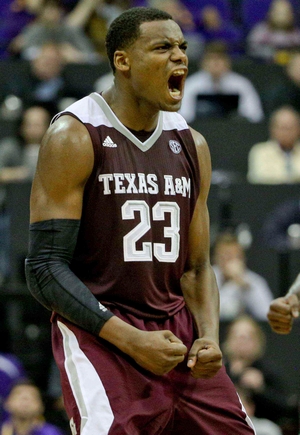 Standing 6'7 with a strong 215-pound frame, House has looked the part of a pro prospect on first glance since his high school days. He lacks great length, as his wingspan is only a shade longer than his height, but he's a very capable athlete, possessing very good speed and decent explosiveness.
A productive player from the moment he stepped foot on a college court, House is a bit of interesting case on paper, as his numbers have grown only marginally over the last two years. It's important to note that he's jumped up a level of competition each season, from C-USA, to the AAC, to the SEC, and has evolved significantly as a prospect. Finishing as a SEC's ninth ranked scorer, House did the majority of his damage in spot up and transition situations, showing the improvement in his skill set and the upside that makes him an interesting NBA prospect.
More of a slasher early in his career, House has steadily grown into a reliable perimeter threat. Attempting 2.9 3-pointers per game as a freshman (32% 3P%), 4.4 as a sophomore (33%), and 6 as a junior (40%), House has gone from an occasional shooter, to his set shot being the calling card of his game offensively. It reached the point that late last season teams seemed to build their defensive gameplan around taking it away, which shows how far he's come in this area. Shooting the ball with nice mechanics both off the catch and off the dribble, House's jumper is the most appealing aspect of his skill set from an NBA perspective, even if his form tends to break down when he's under defensive pressure and his free throw shooting (64%) leaves something to be desired.
Though his game has gravitated toward the perimeter, Houses's approach on the offensive end remains largely unchanged. He's aggressive to a fault at times, appearing too eager to take what the defense gives him inside the arc. A fairly poor ball-handler and an average passer, House isn't particularly adept at creating his own shot, finishing at the rim when he isn't attacking closeouts in space, or pushing the ball to the rim in transition. Converting only 44% of his shots at the rim in the half court and 23% of his floaters, House does get to the line a decent 5.3 times per-40 minutes, but often looks out of control looking to finish inside when he doesn't draw contact. He seems to realize that, as only 25% of his field goal attempts in the half court come around the rim, as he's more prone to relying on his ability to make perimeter shots than anything else.
The biggest challenge that House faces in making the jump to the next level is developing as a defender. Though the Aggies were above average last season, House still appears apathetic at times. Given the athleticism he flashes, his difficulties fighting through screens and consistently denying dribble penetration are concerning considering the role he'll be asked to play in the NBA. To his credit, the senior does appear more engaged now than he did at Houston, but if it would be nice to see him expend more effort on this end of the floor as his lack of elite lateral quickness and length could make his learning curve at the next level a bit steeper, giving other prospects at his position an edge in comparison.
Texas A&M figures to be a fascinating team to watch in 2016 as the Aggies return a large portion of their core from last season to go along with a deep, exceptionally talented freshman class. It will be interesting to see just how much Billy Kennedy uses his roster's depth to his advantage and what if any impact that has on House's role as a senior. If House can improve as a creator or figure out the "D" part of the equation as a "3'n'D" role-player, he still has room to make headway as a senior. Though he may not be a glamorous NBA prospect at this stage, his size, athleticism, and improvement as a shooter will certainly put him in position to hear his name called on draft night.
#13, Alex Poythress, 6-8, Senior, SF/PF, Kentucky
Josh Riddell
A torn ACL in just the tenth game of the season ended Alex Poythress' junior season prematurely, forcing him to watch from the sideline as his teammates pursued perfection. This injury made it easy for him to decide to return for his senior season under John Calipari, something few would have predicted out of high school, and he will now be hoping to end his collegiate career on a positive note.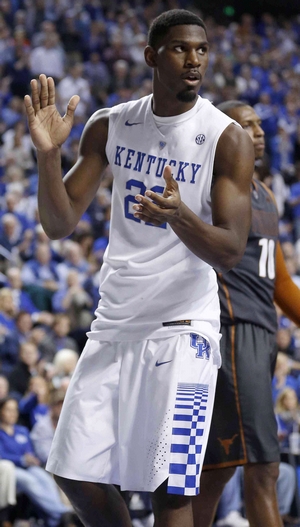 One of the best attributes Poythress possesses as a NBA draft prospect is his physical tools. He was measured at a shade over 6'8" and is also very strong, with a chiseled 240 pound frame. His wingspan doesn't leap off the page at 6'11" but his remaining physical attributes are stellar.
He has great open court speed and is very mobile for a player of his size. He can beat the defense down the floor and finish in transition, converting 66% of his shots around the rim in his sophomore season (his last full season). He was one of the best leapers in college basketball before his injury and will need to show his explosiveness is still there coming back from the ACL tear.
Offensively, Poythress is limited, and relies mostly on his teammates to create shots for him. His 10.9 points per 40 minutes pace adjusted last season
ranked next to last among our top 100
and he wasn't very efficient in his opportunities with his 45% true shooting percentage
the worst mark in our top 100
. He is most comfortable around the rim where he is a capable finisher due to his explosiveness and ability to finish through contact, and will have to show he can still finish at a high level this season.
He has contributed as an offensive rebounder in the past and will need to demonstrate he still has the ability to explode above the rim and chase down balls outside his area. He should be able to easily translate this to the next level, showing NBA teams his role player potential.
Poythress is not a reliable jump shooter, demonstrating poor mechanics that shows he will need a lot of work to become a consistent threat. He's made just 22 of 73 (30%) of his 3-point attempts in his career, and isn't much better from the mid-range either. He also can't create off the dribble even after using his quick first step to get by his defender as he loses the ball off the bounce or makes a poor decision with the ball. He struggles to get all the way to the rim to finish or draw a foul and defenders have little trouble containing him in the half-court. For Poythress to emerge as a real NBA prospect as a senior, he'll likely have to show better potential as a jump-shooter, as its difficult to envision any type of role for him offensively as a pro otherwise.
The bulk of the intrigue around Poythress as a pro prospect currently revolves around his potential to develop into a lockdown defender in time, with the versatility to guard multiple positions many teams are seeking. He has the strength to guard bigger players but also the quickness and agility to move laterally, which should allow him to match up against quicker wings as well. He's an excellent shot-blocker, as his 1.6 blocks per 40 minutes pace adjusted in his last full season was
the highest among small forwards in our top 100
. Defense will have to be his calling card with his limited offensive game and he has the potential to be a tough defensive player.
In his senior season, Poythress will need to show an improved basketball IQ. He doesn't always make the right or simple play at times, which can leads to turnovers or missed opportunities. He had a poor
assist to turnover ratio of 0.45 in his junior season
as he looks jittery when he looks to create, resulting in bad turnovers. This is also manifested on the defensive end when he loses focus off the ball or misses defensive rotations. These mistakes will have to be mitigated in his senior season with Poythress being more focused on decision making on both ends of the floor.
It is becoming harder to play the wing in the NBA without being a floor spacer but if enough other roles can be filled, the opportunities will be there as players like Michael Kidd-Gilchrist or Tony Allen have proved. Coming back from injury, he'll have plenty of opportunity to demonstrate his value as a role player playing within Kentucky's talented roster, which will give him the opportunity to show how he fits into a NBA roster.
#14, Antonio Blakeney, 6-4, Freshman, Shooting Guard, LSU
After watching Blakeney intently at the Nike Academy this past July, we offered up the
following scouting report
. We will wait and see how he performs as a freshman before adding to his profile, which also includes an interview.