Wade Baldwin vs Kentucky Video Breakdown
January 25, 2016
Wade Baldwin appears to be one of the fastest rising prospects in this draft class thus far, making a significant jump between his freshman to sophomore seasons that has catapulted him into lottery discussions. While it's first and foremost Baldwin's physical tools and upside that have scouts so intrigued, his production has been very solid thus far too, posting a strong 19.5 points (47% 2P%, 46% 3P%, 82% FT%), 5.3 rebounds, 5.9 assists and 1.9 steals per-40 minutes.
---
More DX 2015-2016 Season Video Breakdowns
Gary Payton II vs Kansas Video Breakdown
-Damian Jones vs Jameel Warney Head to Head Matchup Analysis
-Juan Hernangomez Strengths and Weaknesses Breakdown
-Malik Newman vs Kentucky Video Analysis
-Ben Simmons vs Kentucky Video Analysis
-Buddy Hield's 46 point Explosion vs Kansas
-Kay Felder Strengths and Weaknesses Breakdown
-Tyler Ulis vs Louisville Video Analysis
-Pascal Siakam vs Baylor Video Analysis
-Ben Simmons vs Henry Ellenson Head to Head Matchup Analysis
-Karl-Anthony Towns vs Kristaps Porzingis Head to Head Matchup Analysis
-D'Angelo Russell vs Emmanuel Mudiay Head to Head Matchup Analysis
---
While Baldwin's stock has surged, his Vanderbilt team is in the midst of a highly disappointing season (3-4 in SEC, 11-8 overall) that has put their NCAA Tournament hopes on thin ice barring significant improvement.
From an NBA scouting perspective, one of the most intriguing games Vanderbilt will play all season came against Kentucky this past weekend at Rupp Arena in Lexington. Baldwin put some of his strengths, but primarily his weaknesses on full display there, scoring 7 points (1/8 2P, 0/1 3P) to go along with 1 rebound, 2 assists and 5 turnovers in 32 minutes.
Via Mike Schmitz, here's a seven minute video breakdown of some of the more notable things NBA scouts were able to see from Baldwin in that game, both good and bad, on either end of the floor.
[
Read Full Article
]
Top NBA Prospects in the SEC, Part 9: Prospects #9-14
October 2, 2015
Jonathan Givony

A completely unheralded high school recruit, not ranked as a top-100 prospect by any of the major recruiting services, Wade Baldwin exceeded all expectations by emerging as one of the top freshmen in the SEC, earning him a spot on the league's All-Rookie team.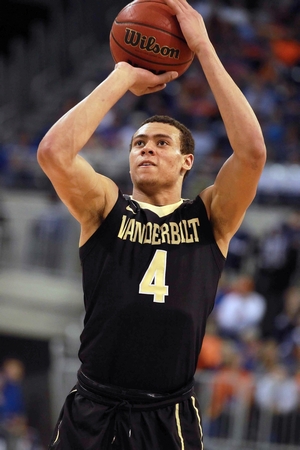 US Presswire
Now returning as a sophomore, with a deep and talented roster that will likely compete for an NCAA Tournament berth, Baldwin looks poised to take the next step in his development and emerge as a more well-known player in college basketball circles, and among NBA scouts.
Baldwin has excellent physical tools for an NBA point guard, standing 6-3, with an outstanding frame that should fill out nicely in time, big hands and a gigantic wingspan, measured unofficially at 6-10. Although he doesn't show exceptional athleticism at this stage, he is a very smooth and fluid player who may still have room to improve his quickness and explosiveness as his body matures and his skill-level evolves.
While not known as a great shooter in high school, Baldwin emerged as a very effective threat from the perimeter as a freshman, making 44% of his 3-point attempts. This didn't come on an especially high volume of attempts (2.9 per game), but his quick, confident and consistent release, combined with the fact that he converted 81% of his free throw attempts, leaves a lot of room for optimism regarding his development as a shooter. Baldwin has a fairly low release point on his jumper, making it difficult for him to get off when heavily guarded at times, particularly off the bounce, but he still did a nice job of making shots both with his feet set (46%, 1.39 PPP), and even off the dribble (38%, .88 PPP) in small doses as a freshman.
For a player often listed as a combo or shooting guard coming into Vanderbilt, Baldwin did a very nice job making plays for teammates in his first season of college basketball, averaging 6.3 assists per-40 while posting a 3.88 pure point rating, both of which trailed only Tyler Ulis and Tyus Jones among freshmen prospects.
Baldwin shows both a strong feel for the game and excellent creativity, moving the ball crisply and unselfishly, and often looking very instinctive with the way he sees plays developing and passing right into the space where his teammates are going to end up. Most freshmen don't usually show such an advanced understanding of utilizing both sides of the court with skip passes, and feeding his big men with post-entry looks. His strong size and gigantic hands give him a big advantage here, as he can palm the ball with ease and make passes over the top of the defense using angles that simply aren't available to most guards.
For a player who was as efficient as Baldwin was as a freshman (59% TS%, sparkling PPR), he surprisingly ranked just fifth among Vanderbilt players in Usage rate last season. The reason for that likely revolves around his average ball-handling and shot-creation ability, which rendered him somewhat passive at times as a freshman. Defenses consistently pushed him to his weaker off-hand in-conference play, and he doesn't yet show the type of crafty ability to get low, and change speeds and directions that many non-freakishly athletic guards develop with age, forcing him to settle for a lot of tough pull-ups in late-clock situations, which he doesn't excel at with his low release point.
When he did get by defenders, Baldwin struggled badly to finish around the basket as a freshman, converting just 21 of 47 (45%) "inside the paint" attempts in the half-court, while not drawing that many free throws. He lacks a degree of strength and toughness with his finishes, but also is not particularly explosive, only hitting 44% of his field goal attempts in transition as well, which is extremely poor.
It will be very interesting to see how Baldwin progresses in this area as a sophomore, as Vanderbilt will certainly rely heavily on him as their primary shot-creator, especially with 20 minute per game guard Shelton Mitchell transferring to Clemson this offseason. Baldwin showed a great deal of promise on a handful of possessions last season, executing some very impressive moves that could be developed into real weapons with added experience and polish. As mentioned, he's likely not finished developing physically, and is operating on a different development curve than most prospects, so making major improvement in this area down the road wouldn't be shocking.
One area where Baldwin shows a great deal of potential in is as a defender. His combination of excellent size, length, frame and big hands should allow him to guard either backcourt spot at the NBA level. He moves his feet very well, and covers ground fluidly and instinctively, making some very impressive closeouts at times for example. Vanderbilt utilized a lot of zone last season, and even some full-court press, and Baldwin showed the ability to absolutely wreak havoc at times with his impressive length and solid anticipation skills, averaging 2 steals per-40 minutes pace adjusted overall, and 5.9 rebounds.
With that said, Vanderbilt was not a great defensive team last year, and Baldwin certainly played a role in that. He looks a little too nonchalant here at times, standing completely straight up with his hands by his side, losing his focus, and letting opposing guards drive right past him. When he's dialed in and fully engaged, he can be quite a handful, but he's still figuring out how to bring the same level of intensity to every defensive possession.
All in all, Baldwin did an excellent job of emerging from obscurity as a freshman and giving Vanderbilt fans plenty of be excited about heading into next season, saving his best play for the end of the year, where he had some terrific moments. The Commodores have some very nice pieces surrounding him, and he has an ideal platform to showcase himself on a team ranked in the top-25 in most preseason polls.
[
Read Full Article
]