Tyler Ulis
Recent Tweets
All Tweets
DraftExpress2: One NBA team asked each Kentucky player they interviewed "which UK teammate would you pick to go to war with?" All answered same Tyler Ulis
2015-05-18 16:19:16
Predraft Measurements
| Year | Source | Height w/o Shoes | Height w/shoes | Weight | Wingspan | Standing Reach | Body Fat | No Step Vert | Max Vert |
| --- | --- | --- | --- | --- | --- | --- | --- | --- | --- |
| 2015 | Kentucky Combine | 5' 8" | 5' 9" | 160 | 6' 1.25" | 7' 4" | 7.1 | 32.5 | 39.0 |
| 2014 | Kentucky Combine | 5' 8" | 5' 9" | 155 | 6' 1.25" | 7' 4" | 9.0 | 31.5 | 37.0 |
| 2013 | LeBron James Camp | NA | 5' 8.5" | 142 | 6' 1" | NA | NA | NA | NA |
| 2013 | PG Skills Acad | NA | 5' 8.5" | 142 | 6' 1" | NA | NA | NA | NA |



Basic Per Game Statistics

- Comprehensive Stats - Statistical Top 25s
| Year | League | Name | GP | Min | Pts | FG | FGA | FG% | 2Pt | 2PtA | 2P% | 3Pt | 3PtA | 3P% | FTM | FTA | FT% | Off | Def | TOT | Asts | Stls | Blks | TOs | PFs |
| --- | --- | --- | --- | --- | --- | --- | --- | --- | --- | --- | --- | --- | --- | --- | --- | --- | --- | --- | --- | --- | --- | --- | --- | --- | --- |
| 2015/16 | NCAA | Tyler Ulis | 5 | 35.6 | 14.2 | 4.0 | 10.2 | 39.2 | 3.2 | 6.4 | 50.0 | 0.8 | 3.8 | 21.1 | 5.4 | 6.0 | 90.0 | 0.6 | 3.6 | 4.2 | 4.8 | 1.4 | 0.2 | 2.0 | 1.2 |

Player Page&nbsp&nbsp| Player Stats | Mock Draft History | Related Articles&nbsp&nbsp| Add to My Draft Express&nbsp
&nbsp
What Did We Learn At the Champions Classic? Part 1: Kentucky vs Duke
November 18, 2015
Tyler Ulis, 5'9, Sophomore, Point Guard, Kentucky
18 points, 4 rebounds, 6 assists, 0 turnovers, 2 steals, 6-13 2P, 0-0 3P, 40 minutes

This was a vintage performance by Tyler Ulis, calmly and steadily leading his team to victory with very solid play on both ends of the floor. He set the tone for Kentucky by executing in the half-court, pushing the ball ahead in transition, and not turning the ball over a single time despite playing all 40 minutes.

Ulis' willingness to move the ball ahead and find the open man is the key to Kentucky's offense, as he's always probing, quarterbacking and talking on the floor. He never hesitates to fire a pass into open space, and is tremendous at getting his teammates easy baskets. He fed Skal Labissiere with two gorgeous looks, one a drop-off in transition, and another a bounce pass from the baseline, demonstrating his court vision and ability to counter his lack of size with his passing ability. He also had a few notable possessions in the second half showing he can score himself as well, using his strength to fend off Derryck Thornton on two beautiful isolation possessions for strong finishes in the lane, even if he struggled to create high-percentage looks in late-clock situations in other occasions. Ulis also hit a handful of pull-up jumpers after creating a shot in the half-court when the lane was clogged, which is extremely important for him at his size.

Scouts are seeing Ulis in a very different role this season, particularly defensively where he's not picking up opponents 94 feet away from the basket and putting crazy ball-pressure on opposing point guards like we became accustomed to last season. Nevertheless, his really frustrated freshman Derryck Thornton in their individual matchup, forcing him into bad passes and even worse body language as the game wore on.

Ulis is the engine that makes Kentucky go, and every win he accumulates will be another notch in his belt as a Mr. Intangibles type that some NBA team will inevitably fall in love with.

[Read Full Article]

---
2015 Kentucky Combine Measurements and Analysis
October 11, 2015
Like Lee, Tyler Ulis's measurements are largely the same as last year. He's added 5 pounds to his frame since then to tip the scales at 160 pounds, but at 5'9 remains one of the smaller guards with legitimate NBA potential ever measured. His vertical has improved a bit, and the 39 inch mark he registered is terrific, but not quite on par with other diminutive guards like Nate Robinson (43.5), Speedy Claxton (42.5), and Pierre Jackson (42.5). He does possess elite speed though.

[Read Full Article]

---
Top NBA Prospects in the SEC, Part Ten: Prospects #15-20
October 3, 2015
Matt Kamalsky

One of the smallest prospects ever measured in our extensive historical database, Tyler Ulis's size didn't stop him from emerging as a consensus top-25 recruit, or from having an immediate impact for one of the most talented teams in recent memory as a freshman at Kentucky. Averaging 5.6 points, 3.6 assists, and just 1 turnover over 23.8 minutes per game as the Wildcats came up just short of perfection in the Final Four, Ulis figures to play prominently into John Calipari's offense in his second season in Lexington, even if the Wildcats' backcourt remains crowded as 5-star guards Isaiah Briscoe and Jamal Murray step in for Andrew and Aaron Harrison.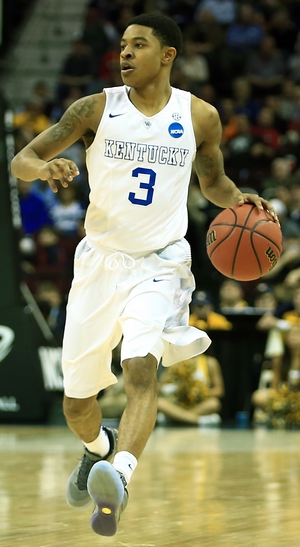 US Presswire



Standing 5'9 with 6'1.25 wingspan and a 155-pound frame that's he's clearly added some muscle to since he was measured at UK's Pro Day almost exactly a year ago, Ulis' size, as it has been throughout his entire career, remains his biggest weakness from a NBA perspective. Like so many diminutive guards that have gone before him, Ulis compensates with tremendous burst and quickness. He may not be the leaper that Nate Robinson was, have that unparalleled extra gear that propelled Mugsy Bogues to a 14 years NBA career, or the bizarre physical strength of Earl Boykins, but like all three of those players, Ulis has a number of characteristics that put him in position to rise above the stigma sub-6-footers face.

Earning rave reviews from coaches, teammates, and scouts alike last season, the Lima, Ohio-born point guard is a tremendously competitive player with a team-first attitude and an intangible toughness that belies both his age and his size. Pushing Andrew Harrison for minutes in Kentucky's absurdly deep rotation last season, Ulis seemed to relish any opportunity he received for extended minutes, showing the ability to change the pace of the game.

A terrific ball-handler who uses changes of speeds and crossovers effectively, Ulis looked incredibly natural with his ability to create shots for others last season. Possessing terrific vision and proving to be a surprisingly sound decision-maker for a freshman, Ulis ranked in the top-50 players in the country regardless of class or NBA potential dishing out 6.3 assists per-40 minutes pace adjusted. More impressive, however, is just how efficient he was while making those plays as his 4.9 assist-to-turnover ratio in transition and 3.4 assist-to-turnover ratio in the half court are simply spectacular.

Unselfishly throwing the ball ahead early on the break, seemingly always aware of when his big men had an opening for a lob pass, eagerly feeding the post, and even showing a knack for making the right read when running the pick and roll against attacking defenses, there's a lot to like about what Ulis showed as a floor general last season. It will be interesting, and likely entertaining, to watch how he meshes with this crop of Kentucky freshman in the coming months, as it may not always be easy for John Calipari to take him off the floor.

As a scorer, Ulis' role revolves around pick and roll and spot up opportunities, while he relies heavily on his ability to make perimeter shots and floaters, as is the case with most players his size. Knocking down a tremendous 53% of the somewhat small sample of 49 catch and shoot jump shots he attempted last season but only 21% of the 44 pull ups he attempted, Ulis is capable of knocking down shots from well beyond the three point line and converted a very impressive 46% of his floaters. As one would expect, he struggles to score when the defense is able to get in good position to contest his shot, but he does a nice job not forcing the issue inside.

Defensively, Ulis holds his own far better than most players his size, which is one of the reasons scouts are more optimistic about his odds at the next level than they usually are with his undersized peers. Doing a terrific job following his matchup like a shadow, the rising sophomore is an incredible pesky defender who plays with active hands and feet and can be a real nuisance on the perimeter or when he picks up full court. His length allows him to play a bit bigger than his height, but his lack of size and strength limits him when offensive players are able to get an angle to the rim or elevate to shoot inside.

Though Ulis will always face questions about how his size limits his upside at the NBA level, he already appears to have a ready-made role as an off the bench change of pace option for a team that finds a way to use him creatively. His leadership ability, attitude, knack for playmaking, and ability to apply ball pressure make him the type of player you really don't want to bet against, even if it will require a team and coaching staff to think outside the box somewhat.

[Read Full Article]

---
2014 Kentucky Combine Measurements and Analysis
October 11, 2014
Tyler Ulis measured just 5'8 with a 155 pound frame and 6'1 wingspan. As we've stated previously, size is Ulis's biggest obstacle in becoming a high-level player, as he ranks among the smallest players in our database all-time, but he's gained some 10 pounds in the last year, which is a step in the right direction. For reference, Isaiah Thomas measured 5'9.5 with shoes (Ulis was 5'9 in shoes) with a 182-pound frame and 6'0 wingspan coming out of Washington.

[Read Full Article]

---