Aaron Gordon
Recent Tweets
All Tweets
DraftExpress: MVP is Aaron Gordon #fibau19 @usabasketball
2013-07-07 16:16:49
DraftExpress: U-19 World Championship official All-Tournament team Vasilije Micic Dante Exum Dario Saric Aaron Gordon Jahlil Okafor #fibau19
2013-07-07 16:15:23
DraftExpress: RT @JustinDYoung Can we suit up Aaron Gordon for the high jump long jump and triple jump please?
2013-07-07 15:51:16
DraftExpress: Can we suit up Aaron Gordon for the high jump long jump and triple jump please?
2013-07-07 15:47:49
DraftExpress: Interviews conducted at the FIBA U19 World Championship in Prague with Jahlil Okafor Trey Lyles and Aaron Gordon http://t.co/gJioY8cyYt
2013-07-07 12:17:52
Team: Arizona, Freshman
Physicals
Positions
Rankings
Misc
H: 6' 9"
W: 212 lbs
Bday: 09/16/1995
(18 Years Old)

Current: PF
NBA: PF
Possible: PF

Pick: 8 in 2014 Mock Draft
Rank 8 in Top 100 Prospects
Rank 6 in NCAA Freshmen
RSCI: 3

High School: Archbishop Mitty
Hometown: San Jose, CA

Predraft Measurements
| Year | Source | Height w/o Shoes | Height w/shoes | Weight | Wingspan | Standing Reach | Body Fat | No Step Vert | Max Vert |
| --- | --- | --- | --- | --- | --- | --- | --- | --- | --- |
| 2013 | USA Basketball | 6' 6" | 6' 7" | 220 | 6' 11" | 8' 10" | NA | NA | NA |
| 2013 | Hoop Summit | NA | 6' 9" | 212 | 6' 11.5" | 8' 10.5" | NA | NA | NA |
| 2011 | LeBron James Camp | NA | 6' 8" | 207 | 6' 11" | NA | NA | NA | NA |



Basic Per Game Statistics

- Comprehensive Stats - Statistical Top 25s
| Year | League | Name | GP | Min | Pts | FG | FGA | FG% | 2Pt | 2PtA | 2P% | 3Pt | 3PtA | 3P% | FTM | FTA | FT% | Off | Def | TOT | Asts | Stls | Blks | TOs | PFs |
| --- | --- | --- | --- | --- | --- | --- | --- | --- | --- | --- | --- | --- | --- | --- | --- | --- | --- | --- | --- | --- | --- | --- | --- | --- | --- |
| 2013/14 | NCAA | Aaron Gordon | 38 | 31.2 | 12.4 | 5.0 | 10.1 | 49.5 | 4.6 | 8.9 | 51.3 | 0.4 | 1.2 | 35.6 | 2.0 | 4.7 | 42.2 | 2.7 | 5.3 | 8.0 | 2.0 | 0.9 | 1.0 | 1.4 | 2.4 |

Player Page&nbsp&nbsp| Player Stats | Mock Draft History | Related Articles&nbsp&nbsp| Add to My Draft Express&nbsp
&nbsp
NBA Draft Prospect of the Week: Aaron Gordon
January 28, 2014
Aaron Gordon has played a key role on 20-0 Arizona's emergence as the #1-ranked team in college basketball, showing tremendous versatility as a defender, passer, finisher and all-around glue guy.
---
-NBA Draft Prospect of the Week: Clint Capela (Video Scouting Report)
-NBA Draft Prospect of the Week: Thanasis Antetokounmpo (Video Scouting Report)
-NBA Draft Prospect of the Week: Shabazz Napier (Video Scouting Report)
-NBA Draft Prospect of the Week: Bogdan Bogdanovic (Video Scouting Report)
-NBA Draft Prospect of the Week: Joel Embiid (Video Scouting Report)
-NBA Draft Prospect of the Week: Julius Randle (Video Scouting Report)
-NBA Draft Prospect of the Week: Jabari Parker (Video Scouting Report)
-Revisiting Nikola Mirotic (Video Scouting Report)
-Revisiting Alexis Ajinca (Video Scouting Report)
---
With that said, his offensive limitations--he's neither a prolific, nor particularly efficient, scorer--cause some scouts to question just how high his NBA upside might be.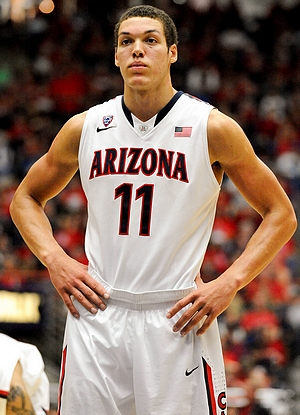 US Presswire



Tough road games against Duke, Michigan, San Diego State and UCLA have given us ample opportunity to evaluate Gordon's strengths and weaknesses as a prospect, which we've done in the following video scouting report, courtesy of Mike Schmitz.



All of our video scouting reports this season can be found here.

[Read Full Article]

---
2013 FIBA U19 World Championship Interviews: Okafor, Lyles, Gordon
July 7, 2013
[Read Full Article]

---
USA Basketball U19 World Championship Training Camp Report, Part Two
June 19, 2013
Likely the best athlete on the roster, Aaron Gordon will undoubtedly play an important role on this squad, as he proved to be one of the most versatile players in attendance throughout the training camp in Colorado Springs.



Watch this Dunk (trust us)




Showing an extremely unique blend of physical attributes, intensity and smarts, Gordon set the tone right off the bat with his no-nonsense attitude, having no qualms whatsoever about going into the paint and making his presence felt. He grabbed seemingly every loose ball that came off the defensive glass, often skying well high above the rim to do so, and then sometimes initiating the break on his own. He also showed a little bit of a post game, utilizing his superior quickness and aggressiveness to score points, despite not possessing an overly advanced back to the basket arsenal or the thickest frame around. Defensively, Gordon was everywhere, switching out onto guards, making plays at the rim, and playing with a fantastic motor to compliment his tremendous athleticism.

While Gordon isn't the most skilled player around—his ball-handling skills in the half-court are somewhat crude, and his jump-shot still very much on the streaky side—he impressed again and again with his terrific passing ability. He's an extremely unselfish player who reads the floor well and finds the open man consistently for easy baskets. Although question marks remain about how effectively he'll score in the half-court early on in his career until his skill-level increases and his frame fills out, his high basketball IQ will certainly help him contribute in other areas in the meantime.

Even though it still seems like Gordon's biggest advantages lie as a mismatch threat at the power forward position—both facing the basket or making plays around the rim—he's likely talented enough to make it work wherever he plays. Arizona is indeed planning on starting him at small forward next season according to what we've been told, but he'll see a good amount of time at power forward as well. Either way, Gordon has to be considered one of the top prospects in next year's draft class, and he'll be heavily scouted on this USA Basketball team in Prague.

[Read Full Article]

---
2013 Nike Hoop Summit Practice Drill Videos
April 24, 2013
[Read Full Article]

---
2013 Hoop Summit USA Junior Team Measurements
April 19, 2013
Aaron Gordon
Height w/ Shoes: 6'9
Weight: 212
Reach: 8'10.5
Wingspan: 6'11.5

[Read Full Article]

---
HoopHall Classic Scouting Reports: Elite 2013 Prospects
January 24, 2013
Aaron Gordon, 6'8, PF, Archbishop Mitty, 2013
Uncommitted

Recruiting Rankings: ESPN: 7, Rivals: 6, Scout: 6

Strengths:
-One of the most explosive athletes in high school basketball
-A highlight reel waiting to happen any time he steps out on the floor
-Very intelligent and mature player, despite his age
-Fundamentally sound. Makes the extra pass. Plays the right way. Good teammate
-Solid ball-handler, particularly in the open court
-Tremendous first step, which puts a great deal of pressure on the defense. Draws lots of fouls by simply attacking opposing big men in a straight line
-Can make an open jump-shot with feet set
-Plays extremely hard
-Very good rebounder. Boxes out. Puts an effort in on the glass

Weaknesses:
-Somewhat undersized for a power forward at 6-8
-Still needs to keep improving his skill-level offensively
-Not a knockdown shooter yet
-Shooting mechanics pulling up off the dribble still need work
-Doesn't have much of a post game
-Needs to continue to improve his ball-handling skills in the half-court

Outlook: One of the youngest players in his class. Appears to have significant upside still. Body should continue to fill out impressively. Already extremely productive despite some clear limitations, thanks to effort level, athleticism and smarts.

[Read Full Article]

---
High School Class of 2013: Elite Prospect Scouting Reports
September 5, 2012
Jonathan Givony

Recruiting Rankings: ESPN: #6, Scout: #5, Rivals: #5, 24/7: #6

Strengths:
-Phenomenal body
-Phenomenal athlete
-Tremendous asset in transition thanks to the way he runs the floor and can finish around the rim
-Pogo stick on offensive glass
-Can make the extra pass
-Can create off dribble from the perimeter with simple ball-handling moves
-Elevates incredibly well around the basket
-First step is very strong
-Not the tightest handle, but can work on that
-Has some back to the basket skills.
-Footwork, pivots. Uses quickness, fluidity
-Really competes on defense
-Dives on floor for loose balls. Consummate team player
-Makes plays on defense thanks to his athleticism
-Can block a shot
-Plays with passion. Very positive presence on the floor
-Always encouraging teammates
-Incredibly young, still only 16 years old

Weaknesses:
-Has good, but not great size for a power forward at 6-8, with a 6-11 wingspan
-Long, ugly stroke from 3-point line
-Really needs to work on perimeter shooting ability
-48% FT line at EYBL
-Settles for ill-advised jumpers at times
-No left hand

Outlook:
A modern power forward who shows flashes versatility offensively, but is still improving his skill-level and polish. Incredible athlete who has drawn some comparisons to Blake Griffin due to his complexion and highlight reel dunking ability. Struggled with injuries in the tournament we watched him, but still gave 100% every moment he was on the floor regardless. Has excellent long-term potential, especially if he can develop a consistent jump-shot. One of the youngest players in this high school class.

Highlights:


[Read Full Article]

---