Alexey Shved
Recent Tweets
All Tweets
DraftExpress: RT @SportandoBasket Alexey Shved Everybody loves donuts here and I eat them too. People mostly drink beer & not stronger drinks ...
2013-02-06 17:26:53
DraftExpress: Alexey Shved Everybody loves donuts here and I eat them too. People mostly drink beer & not stronger drinks exactly like in The Simpsons
2013-02-06 17:12:36
DraftExpress: RT @DjordjeMatic Obrad Fimic, Alexey Shved's agent, confirms that Cavs, T'Wolves & Memphis are interested. Everything will be known july 11
2012-07-02 09:55:04
DraftExpress: Super talent. Less than super intangibles. RT @chernykh: Alexey Shved killing his stock with such body language http://t.co/iYwhdU4i
2012-07-02 06:50:50
DraftExpress: Alexey Shved has realized much of the potential we discussed here: http://t.co/lrN2nXMH - Very complete offensive player. Improved shooter.
2012-05-14 03:32:05
Team: Khimki
Physicals
Positions
Salary
Misc
H: 6' 5"
W: 175 lbs
Bday: 12/16/1988
(26 Years Old)

Current: PG/SG
NBA: PG
Possible: PG/SG

Agent: Obrad Fimic
Current Salary:$3,198,723

High School:
Hometown: Belgorod, Russia

Predraft Measurements
| Year | Source | Height w/o Shoes | Height w/shoes | Weight | Wingspan | Standing Reach | Body Fat | No Step Vert | Max Vert |
| --- | --- | --- | --- | --- | --- | --- | --- | --- | --- |
| 2009 | Eurocamp | 6' 5" | 6' 6.25" | 186 | 6' 4.5" | 8' 6" | NA | 29.0 | 35.0 |



Basic Per Game Statistics

- Comprehensive Stats - Statistical Top 25s
| Year | League | Name | GP | Min | Pts | FG | FGA | FG% | 2Pt | 2PtA | 2P% | 3Pt | 3PtA | 3P% | FTM | FTA | FT% | Off | Def | TOT | Asts | Stls | Blks | TOs | PFs |
| --- | --- | --- | --- | --- | --- | --- | --- | --- | --- | --- | --- | --- | --- | --- | --- | --- | --- | --- | --- | --- | --- | --- | --- | --- | --- |
| 2015/16 | EURO | Alexey Shved | 7 | 22.0 | 12.9 | 3.9 | 10.1 | 38.0 | 2.4 | 5.1 | 47.2 | 1.4 | 5.0 | 28.6 | 3.7 | 5.0 | 74.3 | 0.6 | 3.0 | 3.6 | 4.0 | 0.9 | 0.6 | 2.4 | 2.4 |

Player Page&nbsp&nbsp| Player Stats | Mock Draft History | Related Articles&nbsp&nbsp| Add to My Draft Express&nbsp
&nbsp
Finding a Niche for Alexey Shved
June 23, 2010
Russian guard Alexey Shved has been on the NBA draft radar for what seems like forever now, but he is still quite an obscure prospect compared to his American counterparts.



While Shved's first DraftExpress profile entry came all the way back in 2006, he has seen precious little playing time at the senior level until this season, after being loaned by the team that owns his rights, CSKA Moscow, to cross-town rivals Dynamo. Most of the intrigue surrounding Shved stems from a couple of excellent showings at the Reebok EuroCamp and in the U-20 European Championships in 2007 and 2008.

Shved flourished in a bigger role this season, averaging 10 points and nearly 4 assists in about 22 minutes per game--impressive numbers for a 21-year-old in the ultra-competitive Russian league. He got to the free throw line at a good rate, shot 55% inside the arc and ranked as the second best distributor per-minute in the Superleague. The assist numbers stand out in particular because he wasn't always Dynamo's primary ball handler in his time on the floor. He often shared those duties with fellow Russian backcourt mates Sergey Bykov and Dmitriy Khvostov.

Watching Shved play, it's tough not to be enamored with the terrific talent he displays, particularly his ability to play the pick-and-roll and operate in the open floor. He's got great size for either backcourt position at 6-5 and is an extremely fluid, creative player with the ability to create his own shot, which is rare for a European prospect. He has all the typical tricks you see from Euro-style slashers, relying heavily on timing, pace, change of speed and herky-jerky shakes and crossovers to get his man off balance, but he also has an extra gear he can go to to get by his man using either hand, particularly in transition.

In this regard, his style of play is very similar to the way Goran Dragic played for Phoenix this season. Shved is an even better passer, though. He instinctively makes smart, simple passes within the flow of the offense, but he can also wow you at times with his imagination and his ability to thread the needle and find the open man diving to the rim for an easy basket.

Shved has the ability to create shots for himself and his teammates, and he's capable of finishing lobs and transition plays above the rim, but he simply isn't strong enough to finish around the basket in traffic. Shved's frame is narrow and it hasn't seemed to improve much over the last few years. This creates a major problem for him because of the extremely physical league he plays in—the Russian league is one of the slowest-paced, most half-court oriented leagues in Europe.

Shved's lack of physicality forces him to rely on his jump shot a bit more heavily than you'd like, particularly in the mid-range area. He does have an effective off-the-dribble jumper, though, and he looks confident in his shot, using excellent shooting mechanics and terrific touch. This is a part of his game that should translate nicely to the NBA. Generally speaking, Shved has a pretty American-style game, likely a product of the years he spent practicing with J.R. Holden, Marcus Brown, Trajan Langdon and the other outstanding guards that have gone through CSKA's system.



While Shved has a nice shooting stroke from the perimeter, he wasn't particularly consistent from beyond the arc this season, converting just 25 of 101 shots, or 25% of his attempts. Watching film of him, though, it's tempting to think he's a much better shooter than these numbers suggest and that his jumper should steady with time.

Part of the reason for his streakiness is his shot selection. It's not rare to see Shved take a jumper with a hand in his face and at times he's overly optimistic about his ability to make shots off the dribble.

Decision making in general is an area that Shved can still improve in. He makes some risky passes from time to time and seems to lose his focus on occasion. He also seems to fluctuate between being too passive and too emotional, which isn't surprising when you consider that he's only seen sparse playing time in the past few seasons at CSKA Moscow.

Defense is the biggest issue for Shved in terms of making the transition to the NBA. His skinny frame and below-average wingspan raise significant concerns about his ability to defend either backcourt position in the NBA. As it is, Shved is already a major target for opposing coaches to post up and run through a barrage of screens—doing so can be a pretty attractive option in the half court.

Shved also has issues holding his own in one-on-one isolation situations, biting on pump fakes and letting opposing players get by him with relative ease. If he is to see significant playing time in the NBA, he must improve considerably in this area.

Shved is a bit off the radar at this point due to the fact that few high-level NBA executives were able to make the long trek out to Moscow, and he was not able to accept the invite to the adidas EuroCamp in June because of his team's playoff schedule. But this is a shallow draft for both international prospects and point guards, which could make Shved an intriguing option for teams drafting in the second round. There's even an outside chance that a team with multiple picks, such as Memphis, will take a shot at him in the late first round.

[Read Full Article]

---
Blogging Through Europe 2008 (Part Three: Russia)
December 3, 2008
Alexey Shved was one of the main draws on CSKA's roster as far as scouting NBA prospects is concerned. He left a great impression on many at the Reebok EuroCamp in Treviso last summer, and this was a perfect opportunity for us to evaluate his progress in a very competitive setting, since he rarely plays in actual games.

Shved's obligations to the Russian army are holding him out of league games recently, but it's unlikely he would play very much, if any, regardless. Frail, and a bit on the wild side, he just hasn't yet made the step up to the level Messina demands from his rotation players defensively or in terms of his decision making skills.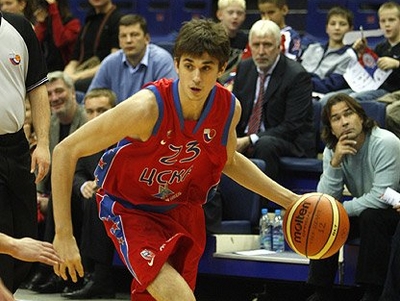 M. Serbin, cskabasket.com



Even though he's not ready to contribute consistently at the highest level in the world outside the NBA right now, Shved is regardless an extremely interesting long-term prospect thanks to his undeniable talent. Extremely fluid, skilled and athletic, even alongside these players, Shved is able to hold his own and them some offensively on a daily basis. He regularly created his own shot with his excellent ball-handling skills and very nice first step, and was able to score consistently with his perimeter jumper. He gets it off both in static fashion or pulling up off the dribble from mid-range, sometimes off a smooth crossover going left or right. He is more than capable of getting to the basket at times, and can use both hands creatively once there, but he struggles to finish in traffic on occasion due to his extremely thin frame.

Playing almost exclusively at the point guard position (despite standing 6-5), Shved showed great vision creating shots for his teammates, sometimes in highlight reel fashion. He is extremely creative and just has a terrific feel in general for making things happen on the court, which is sure to translate itself to the professional level sooner or later. Still a bit on the wild side, he clearly lacks experience in terms of how best to maximize his gifts.

Going into these practices, we were a bit down on Shved's situation in CSKA Moscow, due to the very little playing time he's enjoyed over the past few years at the senior level. What we saw here made us think twice, though. Young players need minutes to develop, there is no question about that, but Shved is not just sitting on the bench biding his time in Moscow.

Even if he doesn't play in real games, there is a lot to be said for competing in practice every single day against the type of players Shved does. The competition he faces on a daily basis is about as good as it gets, and Messina is putting a significant effort into the task of developing him, picking apart nearly his every move on both ends of the court in the two practices we observed. He was in his ear immediately after every poor defensive possession (of which there were many), and egged him on after any lazy pass, over-dribble, wild half-court set, etc. Shved might be struggling right now, but he'll become a significantly better player in the long term because of the tough love he's getting from Messina.

As far as his NBA draft stock is concerned, Shved will likely have a hard time getting drafted higher than the second round if he can't find a way to get on the court by the time June of 2010 rolls around. That might not be such a bad thing, though, for a variety of reasons (his own development, CSKA's investment, the NBA rookie scale, and others). In terms of pure talent, there are few guards in the NCAA that would rank ahead of him, even if there is obviously a lot more to the equation that just that. There are clearly still many question marks left to be answered before Shved will be able to fully tap into the immense potential he enjoys.

[Read Full Article]

---
2008 Reebok Eurocamp in Treviso, Days Three and Four
June 10, 2008
There likely isn't a player who showed more potential at this camp than Russian combo guard Alexey Shved, and he did a great job translating that into actual production as well over the last few days. He pumped in 26 points in 28 minutes in the final game of the camp in fact, knocking down 8 of 15 3-point attempts. He also scored 13 points in 24 minutes the game before that, making some nice drives and dishes in transition, hitting his open shots, showing off his trademark pull-up jumper from mid-range, all while handling the ball on a string.

Shved's athleticism, skill-level and all-around talent are a cut above anyone else here, and he's done it despite his noticeably skinny frame while being two years younger than many of the other camp participants. Shved will have to work on his body and especially improve his defensive intensity and technique (he doesn't even get into a stance at times) if he's going to try and make a run at next year's draft. It will be difficult for him to see major minutes at CSKA Moscow, so it will be interesting to see where he ends up.

[Read Full Article]

---
2008 Reebok Eurocamp in Treviso, Day Two
June 8, 2008
Alexey Shved- Under the watchful eyes of his head coach Ettore Messina, Shved did a very nice job showing his ability to create his own shot and elevate from mid-range and even beyond the arc to get his picture perfect shot off. He had 18 points (5/7 2P, 2/5 3P) in 32 minutes, with seemingly every one looking more spectacular than the next. Shved looks more like an American guard than a European at this stage of his development. He's a good athlete, his ball-handling skills are excellent, and he has all kinds of terrific shot-creating tools at his disposal in order to free himself up and create space from the perimeter. He can't be considered anything less than an absolutely terrific shooter, particularly from mid-range with his pull-up jumper.

On the negative side, at times he has the tendency to over-dribble and force bad passes, leading to unnecessary turnovers. He's clearly more of a shooting guard than a point (his possible future position) at the moment, although he did do a solid job at times finding the open man on drive and dish plays or in transition. Shved needs to learn as he gets older how to do a better job not forcing the issue and knowing when to slow down.

Very surprising was how aggressive Shved was crashing the glass on both ends of the floor, coming up with an excellent 13 rebounds in the process. It's clearly something he's been taught (tip of the hat to Ettore Messina, see David Blatt's speech earlier in the day), and it played a big role in his team staying in this game. They eventually lost, but were +10 with him on the floor. Not quite ready to play heavy minutes at a very high level of competition considering his extremely slender frame, Shved has a world of potential at his disposal, and will very likely continue to draw quiet, but steady buzz in NBA draft circles over the next few years.

[Read Full Article]

---
2008 Reebok Eurocamp in Treviso, Day One
June 8, 2008
Easily the most talented guard in the camp, Shved left several drops of his exquisite skill level. Ball-handling, shooting, some passing too, you can feel how naturally the game comes to him. He showed an excellent off hand with a few crazy ball-handling moves, eventually killing an opponent with a perfect crossover move, connecting on a few long range shots (one of them elevating off the dribble in a one-on-one setting) making some solid passes and smartly finding the way to the basket showing nice footwork in the process. Anyway, physically he still has a long ways to go, so unless CSKA decides to loan him for the next season, he could easily struggle again finding playing time in the Russian powerhouse.

[Read Full Article]

---
Roundup: European-Friendly Dragicevic
December 26, 2007
Alexey Shved is enjoying very little chances to hit the court for CSKA. Obviously, for a young player like him, it's extremely difficult to get opportunities with arguably the best team in the Europe, but not even in the last month, when the team from Moscow suffered an injury plague, could he see any meaningful playing time. On the other hand, his coach Messina stated in his excellent blog just a few weeks ago that he liked "the way Alexey Shved has worked for last several weeks. He was the most competitive among our young players in practice and if he continues to work the same way, I think, his moment will come". We hope he's taking advantage of practicing with nine of the best players in Europe hands down (the nine-man core of CSKA is unbelievably strong); otherwise, perhaps a loan would make more sense. At some point, he will need to hit the court in order to keep improving.

[Read Full Article]

---
2007 RBK Eurocamp: Day Four
June 14, 2007
Shved was yet another highly regarded NBA draft prospect to make it out to Treviso to face off against a contingent of the RBK Eurocamp all-stars. The 1988 Russian guard didn't have a great showing-- coming off the bench and not looking like a real focal point of the team as one of the youngest players on it—but he did manage to drop some glimpses of his excellent potential.

Shved has nice tools for the combo guard position, featuring good size, long arms and very nice athletic ability, even if his frame looks pretty frail at the moment. He has a quick first step and pretty good ball-handling skills with either hand—making him a threat to go one on one at any time. He also likes to operate in the mid-range area, usually to pull-up smoothly off the dribble after going left. He hit one 3-pointer in this fashion and another from about 18 feet out, but struggled otherwise with his long-range shooting today.

Shved is billed a big point guard, and even if he played off the ball quite a bit in this game, still showed a pretty good understanding of how to find the open man on the drive and dish—making quick decisions within the flow of the offense and doing a good job feeding the post with entry-passes. He did get a bit wild at times, though, leaving his feet before having made up his mind as to what he wants to do, and causing a couple of unnecessary turnovers due to his over-exuberance trying to make the spectacular play. His Russian coach wasn't going to stand for such a thing from one of the youngest players on the team, so he was promptly benched for a few minutes after throwing the ball carelessly out of bounds on one occasion.

Despite being a year younger than most of his teammates and up to three years younger than the players he was matching up against, Shved still stood out on the defensive end. His long arms and nice lateral quickness help him out in this area, but he also seems to have good instincts on this end, even if he has a tendency to gamble a bit for blocks and steals.

All in all, Shved did a good job showing off the various tools he has at his disposal, even if he still looks a couple of years away from being able to contribute at the senior level and eventually try to play his way into first round draft consideration. Being a product of the very well respected CSKA Moscow youth development system, he's obviously going to be getting some good coaching to help him along that path.

[Read Full Article]

---
U-18 European Championship Prospects: Point Guards
September 11, 2006
Considering the circumstances that Shved faced in this championship, we can say that he fared really well. Which circumstances? Basically, the poor coaching Russia had during the tournament (they didn't look a team, but a bunch of stars playing friendly games) and the fact that he barely could play point guard because of the presence of a talented and more natural playmaker such as Dimitriy Khvostov (which seems logical) but also Andrei Mateyunas, a very limited player, both in present level and potential, unexplainably took his minutes at the point. Therefore, little we can say about his ability to run the team as a point guard. For more information on this regard, check this article.

Still, he showed some excellent stuff to keep the audience very intrigued about him. It all really starts with his magnificent physical set and solid athleticism. At 6-5, he's a very tall point guard, but, and it's important to stress this, with the quickness of a smaller player. Not only is he big by his height, but also because of his nice wingspan. His body looks skinny, not really weak, but still underdeveloped, which comes to add even more intrigue. After all, he's a guy born in December, so almost one year younger than most players in the championship.

When it comes to producing offensively, he has particularly shined slashing towards the basket and shooting the ball from three-point land. A very good ball handler, his quickness makes him really difficult to keep him out of the paint, being able to perform remarkable direction changes at full speed, while he shows a nice ability to finish around the basket. His perimeter accuracy has been impressive, but he doesn't look like a true shooter. Most of his production came from open shots where he had time to release them. Regarding passing the ball, his shooting guard role limited him to dish the ball off penetrations, which he does quite well.

With excellent tools to play defense, he could have used a bit more intensity, but it also went with the team dynamic. He has nice lateral movement and reads the passing lanes pretty well.

All in all, Shved looks like arguably the best point guard prospect for the NBA at the junior stage in Europe. Probably other guys are safer bets, especially for Europe, but his potential is not matched among his peers.

[Read Full Article]

---
U18 European Championships: Quarterfinals Heat
July 26, 2006
His teammate Alexey Shved was also drawing huge expectations in advance. MVP in L'Hospitalet Tournament early this year, it was actually a performance based on transition play that didn't let us see much more than a highly intriguing body and some nice skills. His coming out party took place at the Euroleague's Final Four Junior Tournament, just where the hype started to grow. Here in Greece, we've hardly been able to taste his potential at full strength given that he's being played at shooting guard for virtually all his minutes.

Nevertheless, he's showing some remarkable stuff, basically concerning his ability to beat his defender off the dribble with excellent ball-handling and quickness (an extremely intriguing ability considering that he's a 6-5 point guard with a huge wingspan), and his extremely solid perimeter shooting so far in the championships. He's a guy to watch out for very carefully.

[Read Full Article]

---
Euroleague Final Four: Junior Tournament
May 4, 2006
The most impressive player in this 3-day period was CSKA Moscow's point guard Alexey Shved. The 6-5 Shved was the best player here in Prague and lost the MVP award to teammate Ivan Nelyubov only due to his terrible shooting in the final game, where he shot 1 of 14 from the field.

Already the MVP in last January's L'Hospitalet Tournament in Barcelona, Shved was known to most NBA scouts due to his length, strong body, splendid footwork, athletic ability, excellent court vision and determination. What he added in our notebook in the two games we watched over this weekend was the feeling of offensive superiority over any single opponent and the excellent use of his size to pull defenses up and come up with amazing assists at any given opportunity. Alexey's athleticism was by far the most obvious aspect of his game, even from first sight. His quickness was also not compared to any other PG in Prague, making him literally unguardable by man to man defenses for any team CSKA faced. His game was mostly dependant on patiently spreading his teammates and organizing the team on the offensive end, looking for the best possible shot selection.

His court vision looks excellent at the moment, not losing contact with his teammates and predicting empty spaces to take advantage of. His ability to come up with a nice offensive conclusion, either by finishing himself or by adding assists to his stat-line was admirable and looked like cake for him. His shooting touch is a bit questionable and this is why he comes with some poor stats line pretty often, but his mechanics seem better than the result. He has a steady jump shot and excellent slashing skills, which end up with nice finishes, impressive dunks or smart assists. Alexey has acquired the confidence to carry his team over any moment of the game and at least twice in the tournament slashed towards the opposing basket in order to get a foul and earn easy points when his team was stuck offensively. On defense, he presented impressive leaping ability, coming up with three amazing blocks, all over taller players, making him a factor on the defensive end especially when it comes to help defense. His defensive rebounding is very good thanks to his splendid leaping ability and as a result, he came up with more rebounds that some teams' starting centers this weekend.

When mentioning his offensive confidence, which was obvious, as he could understand himself that he was by far superior in more aspects of the game than any other European point guard of his age group, we should mention that this could have some impact towards his enthusiasm. It seems as Alexey thinks pretty highly of himself, because his shot selection appeared to be poor at some specific moments of both of his last games, showing that he believes he can beat a 5-player team himself. Of course, this doesn't mean that he is a shoot-first PG, but his team became predictable offensively with Shved's exaggerating attempts, especially in the final game versus Zalgiris. This might be a matter of his age, but also a mental issue, as he seemed to underestimate his teammates in some cases, limiting his fine contributing ability and also harming his team game potential.

Additionally, he was constantly overrating his shooting abilities, as he often takes jump-shots or three pointers without weighing his shot and without seeming to have made a clear decision. As a result, his shots often came short, leaving the impression that he would shoot much better if his shot selection would improve. In the final game versus Zalgiris, he was surprisingly used mostly at shooting guard and failed miserably to present any significant scoring and especially shooting abilities. It seems wiser for his coach to keep him at the PG spot for most of the time, as his game is much more effective when he has the opportunity to also create.

On defense, despite his quick legs, strong and big body, he isn't half as determined as on offense. He is still learning that following smaller opponents might not be easy and he cannot organize his teammates that well. Of course, he often comes up with steals and impressive rebounds and blocks, but this happens when the ball is loose, because he has the ability to predict where the ball is heading and usually this doesn't happen when his team is playing man-to-man defense. Also, despite his nice leaping ability, all his blocks came from help defense on other players than the ones he was supposed to guard. Even though he is quick, he lacks the smarts to understand the exact timing that the opponent will be shooting at and in spite of his size and athleticism; he doesn't do as much as he could to prevent a jump shot.

[Read Full Article]

---