Andre Dawkins
Recent Tweets
All Tweets
DraftExpress: Notable Undrafted 3 Artem Klimenko Cristiano Felicio Ioannis Papapetrou Akil Mitchell Keith Appling Andre Dawkins Eric Moreland
2014-06-27 00:11:58
DraftExpress: Bizzare RT @tomhaberstroh: It appears Heat owner @MickyArison has now deleted his tweets that named Duke players Seth Curry & Andre Dawkins.
2011-11-15 10:39:26
DraftExpress: DX: Top NBA Prospects in the ACC, Part 5 (#21-25): http://t.co/xqDiRXDl - Okaro White, Ryan Kelly, K.T. Harrell, Andre Dawkins, Mike Scott
2011-09-26 02:29:26
DraftExpress: He's written up in part five, along with two other Duke players. RT @afh4: was Andre Dawkins close to making the top 20?
2011-09-23 01:31:40
DraftExpress: No, not really. Think Austin Freeman...maybe more aggressive. RT @crheery: P.J. Hairston sounds a lot like Andre Dawkins. That about right?
2010-11-19 04:54:49
Team: PMS Torino
Physicals
Positions
Salary
Misc
H: 6' 4"
W: 216 lbs
Bday: 09/19/1991
(24 Years Old)

Current: SG
NBA: SG
Possible: SG

Agent: John Spencer
Current Salary:$507,336

High School: Atlantic Shores Christian
Hometown: Chesapeake, VA

Predraft Measurements
| Year | Source | Height w/o Shoes | Height w/shoes | Weight | Wingspan | Standing Reach | Body Fat | No Step Vert | Max Vert |
| --- | --- | --- | --- | --- | --- | --- | --- | --- | --- |
| 2015 | D-League Elite Camp | 6' 3.25" | 6' 4.5" | 216 | 6' 8.5" | 8' 4" | NA | 28.0 | 33.5 |
| 2014 | Portsmouth | 6' 3.5" | NA | 206 | 6' 8.5" | 8' 2.5" | NA | 30.0 | NA |
| 2009 | LeBron James Camp | NA | 6' 4.5" | 196 | 6' 8" | NA | NA | NA | NA |
| 2009 | Paul Pierce Camp | NA | 6' 4.5" | 196 | 6' 8" | NA | NA | NA | NA |



Basic Per Game Statistics

- Comprehensive Stats - Statistical Top 25s
| Year | League | Name | GP | Min | Pts | FG | FGA | FG% | 2Pt | 2PtA | 2P% | 3Pt | 3PtA | 3P% | FTM | FTA | FT% | Off | Def | TOT | Asts | Stls | Blks | TOs | PFs |
| --- | --- | --- | --- | --- | --- | --- | --- | --- | --- | --- | --- | --- | --- | --- | --- | --- | --- | --- | --- | --- | --- | --- | --- | --- | --- |
| 2015/16 | Italian | Andre Dawkins | 8 | 28.6 | 11.9 | 4.4 | 10.1 | 43.2 | 1.9 | 4.1 | 45.5 | 2.5 | 6.0 | 41.7 | 0.6 | 0.6 | 100.0 | 0.3 | 1.6 | 1.9 | 1.5 | 0.9 | 0.0 | 1.5 | 2.9 |

Player Page&nbsp&nbsp| Player Stats | Mock Draft History | Related Articles&nbsp&nbsp| Add to My Draft Express&nbsp
&nbsp
L.A. Clippers Mini-Combine Recap and Analysis
May 22, 2014
Andre Dawkins, 16 points, 4 turnovers, 5-for-17 FGs, 4-for-12 3FGs
Much like he did at Portsmouth, Dawkins came out gunning and somehow managed to get up 17 shots in four shortened quarters. Dawkins got cooking from three at times, but also made only 1-of-5 shots inside the arc and left his teammates calling for the ball open on the perimeter on several occasions. Dawkins is an NBA-level shooter but he's not a great athlete or defender, and is very one-dimensional offensively. Looking extremely thick in the upper body, NBA teams are wondering about Dawkins' conditioning, as he appears to be gaining some bad weight since leaving Duke.

[Read Full Article]

---
2014 Portsmouth Invitational Tournament, Day Two
April 18, 2014
Andre Dawkins, 6-5, Shooting Guard, Duke
20 points, 0 rebounds, 0 assists, 2 turnovers, 1 steal, 8-17 FG (4-11 3P, 0-0 FT)

Jonathan Givony

Andre Dawkins is an interesting character in this setting, a former five star high school recruit who played only 14 minutes per game as a senior after redshirting his junior year due to tragic circumstances.

Dawkins played one of the most narrowly confined roles of any player at this tournament in college, as an astounding 78% of his offense came off spot-up jumpers, screens, or hand-offs—which he absolutely excelled at, making 42% of his 3-pointers on the season. Dawkins had a chance to show off a more expansive skill-set in this setting than we were able to see at Duke, something he found mostly mixed results with last night. 11 of his 17 attempts came from beyond the arc, with the rest coming mostly in the form of one dribble pull-ups from just inside the arc. He did make some nice passes off the dribble, showing a solid basketball IQ, but for the most part struggled to separate himself from the group despite scoring 20 points.

Looking somewhat out of shape, and not showing the highest intensity level, Dawkins didn't come out with the type of urgency you'd expect considering his situation. His defense was porous, and he failed to run back on a few occasions, showing some concerning body language at times. When he tried to put the ball on the floor he had a difficult time getting past his man, throwing up some awkward floaters in the lane and not getting to the foul line even once.

While measuring out well (6-5 with a 6-8 ½ wingspan) for a shooting guard, Dawkins will need to show he can be more than just a spot-up jump-shooter to make it in the NBA, at least in terms of putting forth better effort defensively. He has two more games to improve his standing here, and would be smart to use them wisely.

[Read Full Article]

---
Top NBA Draft Prospects in the ACC, Part Five (#21-25)
September 26, 2011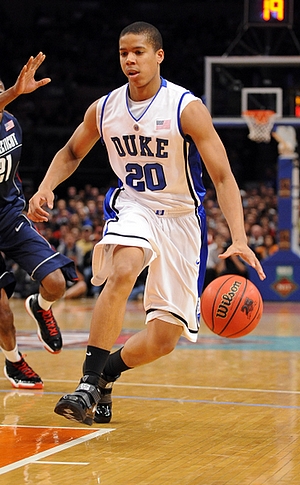 Icon SMI



Joseph Treutlein

After a marginal freshman season where he scored just 4.4 points in 12.6 minutes per game as essentially a high school senior promoted hastily to the college ranks, Andre Dawkins nearly doubled his production as a sophomore, while making considerable strides in his efficiency from all over the floor. Dawkins made noteworthy improvements in his two-point, three-point, and free-throw shooting percentages, but despite the increases he still remains a fairly limited player in Duke's scheme.

Not a player who will blow you away with either his athleticism or shot creating ability, Dawkins does the vast majority of his damage hitting spot-up jumpers in the Blue Devils halfcourt offense. 72% of his field goal attempts came from beyond the arc, with him rarely getting attempts anywhere near the basket.

In terms of shooting ability, Dawkins possesses excellent mechanics, having a high and quick release along with great balance and NBA range. Dawkins is adept at pulling up with the ball in space and coming around screens, not just relying purely on spot-up shots. With that said, he does show some trouble dealing with contested shots and creating when closely guarded, getting most of his off-the-dribble looks when uncontested.

Dawkins shows a very good understanding of his role, as he rarely steps outside his comfort zone, picking his spots extremely well when he chooses to do more than hit open jumpers. Dawkins doesn't show much of anything in terms of advanced ball-handling or shot creating ability in isolations, but he does show a certain degree of shiftiness on spot-up drives, doing well to read lanes and get to the basket for high-percentage shots on his rare forays. His 62% two-point shooting percentage on just 1.6 two-point attempts per game is evidence of his extreme selectiveness, as is his 43 free throw attempts on the season in nearly 800 minutes of action..

Dawkins may find himself in line for more minutes and possessions with teammates Kyrie Irving, Nolan Smith, and Kyle Singler all moving on to the NBA. On the other hand, he could just as likely see a diminished role if he doesn't rise to the occasion, as Duke has five top-100 players incoming in their recruiting class, most notably Austin Rivers. Regardless, Dawkins won't have anything handed to him, and will likely have to expand his game to stay relevant in Duke's rotation.

On the defensive end, Dawkins shows a high motor and a very strong fundamental base, being active in his stance, using his hands well, and constantly going all out to stay with his man. With that said, he's clearly lacking somewhat in lateral quickness, being prone to getting blown by on the perimeter, though he does do a decent job using his length to block shots from behind and ride his man's hip on drives. Dawkins also shows some trouble getting over screens on pick-and-rolls, though makes up for it partially with effort.

Looking forward, Dawkins' strong three-point shooting ability gives him a decent foundation to work on with a skill that's always in demand in the NBA, but has yet to show much else at the college level on a high-level consistent basis. Dawkins probably doesn't have the athletic/defensive profile to stick around in the NBA as just a pure shooter, so he will likely need to show more in other areas, something that may be a challenge with so much talent around him in Durham.

[Read Full Article]

---
Top NBA Draft Prospects in the ACC, Part Three (#11-15)
October 22, 2010
Kyle Nelson

Andre Dawkins had a triumphant and tragic freshman year at Duke. Between an impressive start in November and a national championship in March, Dawkins sustained the loss of his 21-year-old sister in a car accident and failed to regain his early-season form on the basketball court. Though he had a decent post-season, he was very much an afterthought and, as a sophomore, he must improve quickly or run the risk of losing minutes to a talented group of freshman.

Dawkins will not be Duke's most talented guard next season, but he has a size-advantage at 6'5 with a well-developed frame and solid length. While his athleticism is not particularly visible in his skill set and he projects to be just an average athlete at the next level, he seems to know his physical limitations and compensated well as a freshman.

Dawkins was very limited on the offensive end as a freshman where he averaged just 4.4 points per game, which is equivalent to 13.4 points per 40 minutes pace adjusted. Almost 60% of his offense consisted of spot-up opportunities around the perimeter and he attempted 8.1 three-point field goal attempts per 40 minutes pace adjusted. Dawkins is an outstanding shooter with his feet set and he made 37.9% of his perimeter shots as a freshman while showing excellent mechanics. Dawkins must get better at utilizing screens and shooting off of the dribble, however, as he struggled in both areas last season.

His slashing game, a staple of his high school offense, was less successful as evidenced by his mediocre 43.9% shooting from inside of the arc on just 3.5 attempts per 40 minutes pace adjusted. Though he is solid in transition, his inability to finish around the basket and mediocre ball handling abilities limit his effectiveness. His slashing game is best characterized as wild and he committed far too many charging violations as a freshman. He does not show much of a mid-range game, either, undoubtedly related to his shaky handle and less than refined offensive instincts.

Dawkins was solid defensively as a freshman and shows potential to improve at the collegiate level due to his size, length, and athleticism. Even though he struggled on rotations and fighting through screens, he did a good job of closing out on perimeter shooters and never gave up on his man even when he was beaten off of the dribble. His lateral quickness is just average, but he showed good fundamentals and focus, which will help him compensate for his athletic deficiencies at the next level.

If Dawkins had not graduated early from high school, he would undoubtedly be a standout member of Duke's 2010 recruiting class. A mediocre freshman season set him back significantly, however, and, it will not be easy for him to find minutes in Duke's stacked backcourt if he continues to struggle offensively. Though Dawkins is a fringe prospect at this point, he nonetheless is worth watching, especially if he regains the confidence and aggressiveness that he defined his high school career.

[Read Full Article]

---
LeBron James Skills Academy Player Profiles
July 13, 2009
The crown jewel of Duke's 2010 recruiting class, Andre Dawkins (#22 Scout, #16 Rivals, #10 ESPN) acquainted himself nicely with this camp from the first moment we saw him, looking extremely aggressive right off the bat. Dawkins shows average size for his position, but makes up for that with solid athleticism, an excellent frame and a long wingspan. His basketball IQ is immediately evident when comparing him with his peers, as he seems to have excellent fundamentals and really looks serious about the game, which is a very nice sign. He's a confident kid who showed no shame in attacking the defense in transition or taking shots from the perimeter, showing a really nice stroke from the perimeter, solid ball-handling skills and the ability to find the open man. His mid-range game seems to need some work, as he's not nearly as effective pulling up off the dribble as he is with his feet set.

[Read Full Article]

---