Chandler Parsons
Recent Tweets
All Tweets
DraftExpress: For Dallas (and Houston) fans Chandler Parsons DX Free Agent Scouting Video http://t.co/gIl9lljmbJ - Is he worth 15 million per year?
2014-07-09 19:08:24
DraftExpress: New on DX Chandler Parsons Free Agent Scouting Video http://t.co/lTjjlFdECQ (via @Mike_Schmitz ) http://t.co/aXTwHvaheM
2014-07-03 20:18:49
DraftExpress: Chandler Parsons shot 56% from the free throw line his senior year at Florida. Scouting=an inexact science
2013-04-18 01:07:19
DraftExpress: .@TheBigLead Just like Chandler Parsons, Nick Calathes, Vernon Macklin, Kenny Boynton and all of UF's other NBA prospects got a pass from us
2011-07-09 10:24:40
DraftExpress: This guy is still working too. RT @GoodmanCBS: Chandler Parsons to Houston at #38, sources told CBSSports.com.
2011-06-23 10:49:25
Team: Rockets College Team: Mavericks
Physicals
Positions
Rankings
Salary
Misc
H: 6' 10"
W: 221 lbs
Bday: 10/25/1988
(27 Years Old)

Current: SF
NBA: SF
Possible: SF

RSCI: 40

Agent: Dan Fegan
Current Salary:$14,700,000

High School: Lake Howell
Hometown: Winter Park, FL
Drafted: Pick 38 in 2011 by Clippers

Predraft Measurements
| Year | Source | Height w/o Shoes | Height w/shoes | Weight | Wingspan | Standing Reach | Body Fat | No Step Vert | Max Vert |
| --- | --- | --- | --- | --- | --- | --- | --- | --- | --- |
| 2011 | NBA Draft Combine | 6' 8.75" | 6' 9.75" | 221 | 6' 9.5" | 8' 8.5" | 7.0 | 25.5 | 31.5 |
| 2010 | LeBron James Camp | NA | 6' 8" | 217 | 6' 9.5" | NA | NA | NA | NA |
| 2010 | Kevin Durant Camp | NA | 6' 8" | 217 | 6' 9.5" | NA | NA | NA | NA |



Basic Per Game Statistics

- Comprehensive Stats - Statistical Top 25s
| Year | League | Name | GP | Min | Pts | FG | FGA | FG% | 2Pt | 2PtA | 2P% | 3Pt | 3PtA | 3P% | FTM | FTA | FT% | Off | Def | TOT | Asts | Stls | Blks | TOs | PFs |
| --- | --- | --- | --- | --- | --- | --- | --- | --- | --- | --- | --- | --- | --- | --- | --- | --- | --- | --- | --- | --- | --- | --- | --- | --- | --- |
| 2015/16 | NBA | Chandler Parsons | 13 | 19.2 | 8.0 | 3.4 | 7.1 | 47.8 | 2.6 | 4.6 | 56.7 | 0.8 | 2.5 | 31.3 | 0.5 | 1.3 | 35.3 | 0.3 | 2.4 | 2.7 | 1.2 | 0.4 | 0.4 | 1.3 | 1.4 |

Player Page&nbsp&nbsp| Player Stats | Mock Draft History | Related Articles&nbsp&nbsp| Add to My Draft Express&nbsp
&nbsp
Chandler Parsons 2014 Free Agent Scouting Video
July 3, 2014
Analyzing the strengths and weaknesses of restricted free agent Chandler Parsons, one of the best wing players available on the market.


---
More Free Agent Videos:


-Gordon Hayward
-Greg Monroe
-Isaiah Thomas
-Lance Stephenson
-Eric Bledsoe
-LeBron James
-Carmelo Anthony

All of our video scouting reports can be found here

[Read Full Article]

---
West Coast Workout Swing Part Five: 360 Sports
June 9, 2011


The Player of the Year in the SEC this season, Chandler Parsons is one of the more accomplished prospects in the senior class. Standing nearly 6'10, Parsons has excellent size for a small forward, and while he didn't light the world on fire statistically as a senior, he is extremely skilled and versatile.

Here at the 360 Sports Performance Center, Parsons has been honing his ability to score from the perimeter under the instruction of Don MacLean, and getting a crash course in defending smaller players at the next level by regularly matching up against the ultra-athletic J.R. Giddens. Getting pointers from fellow Gator David Lee, Parsons has continued to foster his jack-of-all-trades skill set since the end of the college season.

Similar to Leuer, Parsons started the session we watched by getting up some catch and shoot threes from behind the NBA line. Fresh off the best shooting season of career, Parsons looked comfortable from NBA range. His shot is extremely smooth, just like the rest of his skill set, and he got better and better from the outside as the workout progressed.

As the training session went on, we got to see Parsons show some of the other facets of his game matching up against a staunch defender in J.R. Giddens in two-on-two competition. Putting the ball on the floor to get to the rim, Parsons was able to turn the corner on a few occasions, and did a good job defending the quicker Giddens throughout the five game series they played.

Much of what makes Parsons an intriguing prospect stems from his ability to pass the ball, crash the glass, and distort the defense with his handle. We've grown accustomed to seeing all those things from Parsons over his four year stint at Florida, so seeing him have to create one-on-one against Giddens and be a scorer first was interesting to watch. He's not going to be asked to force the issue to score on the NBA level like he was here, so it was intriguing to see him out of his element, having to make decisive moves and get his shot off under duress.

A terrific fit next to the high scoring guards NBA teams love to bring off the bench, Parsons is working to become a more potent shooter and scorer to complement all of the things that he already does well. He's been especially focused on his conditioning in recent weeks, but from what we saw, is benefitting from the on court instruction as well.

[Read Full Article]

---
NBA Combine Interviews: Kyle Singler, Honeycutt, Richmond, Parsons
May 22, 2011
[Read Full Article]

---
Trending Prospects (3/18/2011)
March 18, 2011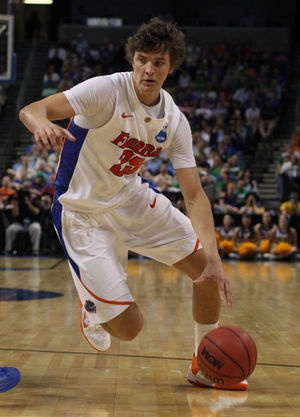 Icon SMI



Derek Bodner

Chandler Parsons has developed into an intriguing all-around player, being named SEC player of the year while leading the Florida Gators to a 26-7 record and a 2-seed in the NCAA tournament. While Parsons scoring output has not taken the jump many hoped for, his all-around game has continued to show signs of progression.

Offensively, Parsons continues to increase his proficiency from long range, now converting 38% of his 3-point attempts, a career best. He still has a fairly long release, but he gets good elevation on his shot and does a solid job of making shots with his feet set—a crucial part of his evaluation as a pro prospect.

Parsons increasing ability to make spot-up jump shots increases the effectiveness of his dribble drive game, as he does an excellent job of utilizing pump fakes to open up driving lanes, showing an ability to hit a pull up jump shot or go all the way to the rim when the opportunity presents itself. When in the lane, Parson's ball handling and passing ability really shines. An excellent ball handler and decision maker for a player his size, Parsons' 4.4 assists per 40 minutes pace adjusted ranks tops amongst all small forwards in our database.

He also does an extremely good job moving without the ball, continuing to improve as a catch and shoot player, making strong cuts without the ball, and doing a very good job off the offensive glass. A more fluid than explosive athlete, Parsons does a good job of finishing at the rim, keeping the ball up high and going up quickly off of offensive rebounds, wasting little time to allow defenders to react.

While Parsons shows an ability to get into the lane off of spot-up opportunities and cuts, he has only an average first step, which may limit his effectiveness as a slasher at the NBA-level. He's done a better job of going to the right off of dribble drives, but still generally prefers to go to his left. Considering his overall skill level, this seems an area that could see improvement in the future.

Projected as a small forward at the next level, one area where Parsons could stand to improve is his post-game in order to use his length to his advantage against smaller defenders. According to Synergy Sports Technology, only 3.2% of Parsons half-court offense came on post-up opportunities, as he lacks the requisite strength or physicality needed to make his presence felt in these situations.

On the glass, Parsons has shown steady improvement, now standing at a very respectable 9.3 rebounds per 40 minutes, pace adjusted, which ranks amongst the top 10 small forwards in our database. He does a good job of using his length well and contributing on both sides of the ball in that aspect of the game.

Defensively, Parsons appears to have above average lateral quickness, which will be needed to defend the perimeter when transitioning to the next level. He appears to have added some upper body strength during his time at Florida, but he still could use some lower body strength to help defend against more physical post players. He uses his length well, but at times can lose his focus or get outhustled by more physical players, something he must continue to work on.

While not having the kind of scoring jump (in fact, decreasing his scoring output) some may have hoped for in order for Parsons to really stand out, Parsons all-around game and his ability to get offense without plays being run for him should get him some serious looks from NBA teams. The key for him will likely be proving his ability to make shots and defend NBA level wing players at the next level.

[Read Full Article]

---
Top NBA Draft Prospects in the SEC, Part One (#1-5)
September 27, 2010
Walker Beeken

Chandler Parsons is coming off a solid junior season for the Florida Gators, where he continued to develop as a player and improved in all facets of his game. This season as a senior, Parsons will have his final opportunity to display his all-around game and versatility for NBA scouts and prove that he is worthy of being selected in the 2011 NBA Draft.

From a physical standpoint, Parsons fits the mold of an NBA small forward prospect. Standing at 6'9" with good length and a thin frame, he could still stand to add some extra strength, but he has definitely improved his body over the course of his career at Florida. And while he doesn't possess elite athleticism, he is a very fluid athlete for a guy his size.

Parsons biggest strength is his extremely high skill level for a wing player at 6'9". While we noted that after his freshman season that he was primarily just a spot-up jump shooter, Parsons has become much more comfortable and effective handling the ball and making plays off the dribble, displaying a high basketball IQ and excellent passing ability.

He does a very good job utilizing shot fakes on close-outs, where he has the ability to pull up for a jumper off of one dribble or drive the ball and attack the basket. He is skilled enough with both hands to drive either direction, but he definitely prefers going left. And while Parsons isn't a top notch finisher when attacking the rim, he does have the size and body control to find ways to finish, and it was encouraging to see him drawing fouls at a much higher rate last season, when compared to his first two years at Florida. The fact that he sports a positive assist to turnover ratio at his size (and has his entire career) is an indication of his versatility and the way Billy Donovan likes to use him in his half-court offense.

As a shooter, Parsons continued to make strides as a junior, as he saw an increase in his field goal percentage as well as his percentages from the free throw line and the 3 point arc from his sophomore season. Parsons has deep range and shoots with confidence, but he still needs to become a more consistent threat from the outside to be able to play at the NBA level, where he'll likely spend less time making plays with the ball in his hands and more time spotting up for catch-and-shoot jumpers. Two things for him to work on here are improving his low trajectory and keeping his momentum from falling backwards when he shoots.

Defensively, Parsons has a decent base to build on with his great size and above average lateral quickness, but he must continue to get stronger to defend small forwards at the NBA level. Bringing consistent energy and toughness on the defensive end should be a focus of Parsons too.

When looking at Parsons' complete package and how he projects as an NBA prospect, he provides a bit more intrigue than the typical college senior. He has the physical tools and skill set to compete with NBA small forwards and fit in as a role player, and if he continues to expand on his all-around game and show improvement on his perimeter shot this season, he could garner quite a bit of attention from scouts and give himself a good chance to get drafted. Parsons may even be a potential sleeper for the first round if he has a big season.

[Read Full Article]

---
Top NBA Draft Prospects in the SEC (Part Two: #6-10)
September 17, 2008
On a Florida roster filled to the brim with young talent, such as Marreese Speights and Nick Calathes, sophomore combo-forward Chandler Parsons was often overlooked in his freshman season. In a reserve role, he quietly delivered solid numbers to the tune of 8.1 ppg (47.2% FG, 32.4% 3FG, 62.7% FT), 4.0 rpg, and 1.4 apg in 20.7 minutes per game. This coming season, with Marreese Speights lost to the NBA ranks, Parsons will be relied upon to take on a more significant role in Billy Donovan's offense.

Standing 6'9 and allegedly weighing about 213 pounds after an aggressive strength-training regimen this summer, Parsons has spectacular size for the wing and should be better equipped to play in the post. Parsons is a good athlete, looking quite mobile and fluid in his movements for a player his size. His work ethic is well documented as well as and should allow him to continue to work on his physical profile throughout his time in Gainesville.

Offensively, Parsons is a prototypical collegiate combo-forward, most known at this point for his streaky perimeter shooting. According to Synergy Sports Technology's Statistics Database, spot-up jumpshots consisted of 35.7% of his offense. His shooting motion looks fairly good at this stage with his feet set, but his stroke loses significant accuracy when rushed or forced to pull up off the dribble. Parsons needs to work quickening the speed of his release, as his somewhat deliberate mechanics often take too long to get off. Parsons has nice touch and solid range on his perimeter shot and looks to be able to develop into a very good shooter in the future should he continue to improve on his consistency.

Elsewhere on the offensive end, Parsons is not nearly as developed. His most glaring weakness at this stage is his ball-handling ability. He dribbles the ball far too high and visibly slows down with the ball in his hands. If he could improve in this area, his offensive game looks as though it would expand significantly. He has shown the ability to get to the basket off of the dribble utilizing his solid first step, quickness, and outstanding touch around the basket, as well as flashes of a mid-range game. That being said, Parsons shows neither skill with any sort of consistency and must show such improvements during this upcoming season if he wants scouts to consider him a potential small forward at the next level. 50% of his attempts from the field currently come from beyond the arc, which tells you a bit about his mentality and polish as a slasher.

Parsons spends most of his time away from the basket, but when he decides to play in the post, he is not incredibly effective. His added bulk should help, but Parsons does not have a very advanced post arsenal outside of using his size and quickness to get around defenders to the hoop. He shows outstanding touch around the basket and does a good job positioning himself for put-backs, but expanding his post-game is another area where Parsons must improve next year, especially considering the fact that he's one of Florida's top returning players with any significant size.

Defensively, Parsons isn't yet anything to write home about, but he looks to have the potential to be a solid defender in the future. Utilizing his long arms and solid lateral quickness, Parsons has the ability to guard collegiate wings. In the awareness department, Parsons has a long way to go. He gives his man too much room on the perimeter and often gives up shots because of his inability to close his man out. In the post, Parsons lacked the strength to efficiently defend his man and it remains to be seen whether or not his off-season work will positively influence his post defense, specifically his lackluster rebounding numbers.

Parsons is nowhere near a finished product and would likely be best suited staying at Florida for two to three more seasons. Like most collegiate combo-forwards, there is certainly a wait-and-see aspect in terms of Parsons's development. If he continues to progress, however, he could emerge as one of the more interesting prospects in the SEC and cement his place as a legitimate draft contender. That being said, considering how well Billy Donovan and his staff have developed players in the past, particularly between their freshman and sophomore seasons, don't be surprised if you hear the name Chandler Parsons more often during this coming year.

[Read Full Article]

---
Nike Jordan All-American Classic: Main Event Recap – Blue Team
May 3, 2007
Chandler Parsons made solid contributions to his team the way he's been doing all week, finishing at the rim and hitting spot-up outside shots, but still not showing much in terms of a mid-range game or the ability to put the ball on the floor. He did a good job running the floor in this game, finishing on a handful of lay-ups and jams in transition, but also dished out a few nice passes in transition, playing a good two-man game with future teammate Nick Calathes when he had the opportunity. Parsons hit just one outside shot in this game, but showed his range fairly consistently in the practices earlier in the week. With his athleticism and ability to stroke the three and finish in transition, Parsons will be a solid role player next year at Florida. But if he wants to become more than that, he's going to need to develop an in-between game as well as some ball-handling skills, two things that would allow him to more consistently contribute in the scoring department.

[Read Full Article]

---
Nike Jordan All-America Classic: Friday Practice
April 21, 2007
Chandler Parsons had a pretty strong showing, hitting some spot-up three pointers and finishing well in transition, also making a steal on the defensive end, dribbling the ball up the court, and dishing off an assist to future teammate Nick Calathes on one occasion.

[Read Full Article]

---