Team: Instituto Cordoba
Physicals
Positions
Rankings
Salary
Misc
H: 6' 5"
W: 208 lbs
Bday: 02/14/1985
(30 Years Old)

Current: SG
NBA: SG
Possible: SG

RSCI: 17

Agent: Aaron Mintz

High School: John Marshall
Hometown: Oklahoma City, OK
Drafted: Pick 30 in 2008 by Celtics

Predraft Measurements
| Year | Source | Height w/o Shoes | Height w/shoes | Weight | Wingspan | Standing Reach | Body Fat | No Step Vert | Max Vert |
| --- | --- | --- | --- | --- | --- | --- | --- | --- | --- |
| 2008 | NBA Pre-Draft Camp | 6' 4" | 6' 4.75" | 208 | 6' 11.25" | 8' 8" | 5.4 | NA | NA |



Basic Per Game Statistics

- Comprehensive Stats - Statistical Top 25s

Player Page&nbsp&nbsp| Player Stats | Mock Draft History | Related Articles&nbsp&nbsp| Add to My Draft Express&nbsp
&nbsp
J.R. Giddens: "I was a kid who made bad decisions"
April 28, 2008
Ask J.R. Giddens about his past. Ask him about May 19, 2005, the night he was stabbed in his right calf in a bar fight and the thirty stitches he needed. Ask him about how he transferred out of the basketball powerhouse that recruited him as a McDonald's All-American. Go ahead and ask him; he has nothing to hide.

"I have no problems about answering the questions because I was a kid who made bad decisions," Giddens said. "As I've gotten older I've learned to make better decisions, so if people want to ask questions and find out all the details, they can, because I'll answer them."

Clearly no one can predict the future, but five years ago after completing a prep career that left him as one of the top twenty players in the nation, things looked anything but bumpy for Giddens. The Oklahoma City native would sign a letter of intent to play for the Kansas Jayhawks because as he said, "when Roy Williams offers you a scholarship, it's kind of a no-brainer."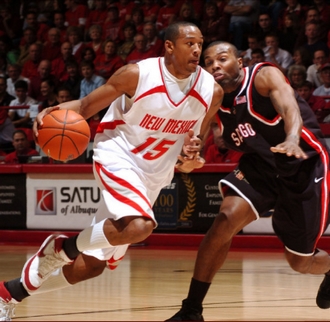 AP



The first of many shakeups during Giddens college career would come before he ever experienced his first Rock Chalk Jayhawk, as Williams would leave Lawrence to take the head position at North Carolina. Bill Self, Williams's replacement, would meet with his star recruit and his family at their home to discuss the issue and hopefully convince Giddens to stick with Kansas.

"[Coach Self] is from Oklahoma, so I felt pretty comfortable with him," Giddens said. "After talking I decided to still go to Kansas; there's just so much tradition there so it wasn't like I was only going originally because of Coach Williams. I knew that I would get a great college experience, they sell out every game, and I knew I'd be playing in front of big crowds."

Giddens wasted little time making his presence felt, averaging over eleven points per game in taking home All-Big 12 Freshman honors. It seemed the talented guard was well on his way to becoming a high profile NBA draft pick in just a year or two, but his sophomore season would be a completely different story. Giddens' numbers, though still solid, dipped slightly from his All-Conference caliber freshman year and there started to be rumblings amongst Kansas fans about his decision making abilities and attitude.

Everything would come to a climax that night at the Kansas night club. For Giddens it was a nightmare, "the worst time of my life," he said. Perhaps the worst part was that for many that followed the team, the incident wasn't all that surprising. An article published in the Kansas City Star shortly after the incident stated, "If you had to peg a Kansas basketball player most likely to get involved in an ugly brawl, it would be Giddens."

As the media continued its criticism of the sophomore, Giddens was left to wonder about his future, not only at Kansas, but with the game of basketball.

"I didn't know if I was going to come back one-hundred percent or not, it was just really hard. Everything happens for a reason, and I think in the end it was good that this happened because I had a lot of maturing to do at that time. It gave me the chance to sit there and think hey, I'm not going to let this happen again."

Giddens would recover and return to the basketball court, but it would take longer than he might have expected. His relationship with Kansas had reached a point where it was no longer beneficial for him or the program to remain a Jayhawk. While the brawl wasn't the only reason behind his decision to transfer, it certainly took away any uncertainties. Giddens said both he and the coaching staff felt he needed a fresh start somewhere else, and he would get that fresh start at the University of New Mexico.

The Lobos were coming off a 26-7 year that had culminated in a berth in the NCAA Tournament, thanks in large part to star player Danny Granger. Granger was on his way to the NBA, though, and several other players were transferring out of the program, which begs the question, why did Giddens transfer here?

"It was close to home and it had a good coach in Ritchie McKay," Giddens said. "He let us play a freelance type of offense and we thought that would benefit my game. He did a lot for Danny, and Danny made it to the NBA, that's one thing I wanted to do, take my game to the next level. I really thought going to New Mexico would be a benefit to me and my game."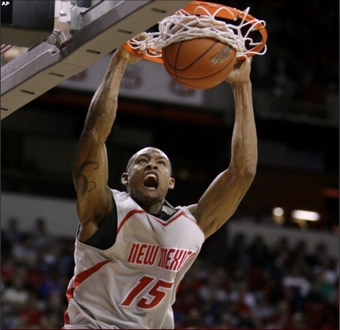 AP



While Giddens harbored some concerns that his new teammates might have preconceived notions about him due to the headlines he had made at Kansas, he wasn't worried about the coaching staff.

"They let me know that they had complete confidence in me; they kept reassuring me by saying that they wanted me there and that they were going to work with me to make me a better ball player. I really appreciated that. I wanted to go out there and show New Mexico that I could help them win games."

During his first season with the Lobos, Giddens had to sit out due to NCAA transfer rules, and served as a member of the redshirt practice squad. During this first year in a new setting, not only did Giddens improve his abilities as a player, but as a leader as well. Being immersed in an environment completely different from the one he had been in at Kansas forced him to become more open minded. In doing this, Giddens began to grow off the court and earn the respect of his new teammates.

With a newfound resolve and a continually improving game, Giddens entered his junior season ready to make a splash in the Mountain West Conference. Things were looking promising; Giddens was posting career highs in points, rebounds and assists, but New Mexico was struggling. Unbeknownst to many at the time though, was a growing problem with Giddens' attitude. Finally in late February Giddens was suspended indefinitely from the team. Head coach Ritchie McKay said of Giddens, "He did nothing illegal, nothing unethical. This program tries to promote being a good teammate and I want to emphasize that."

After a second major incident in three years that called his character into question, Giddens had reached his biggest and quite possibly, his last fork in the road for his college basketball career. They say the greatest measure of a man is how he responds to adversity; Giddens response was a strong one. Rather than turning the suspension into a reason for feuding with the coaching staff, or continuing down a spiraling path, the junior owned up to his mistakes and pushed forward.

"I had a bit of an attitude at that time and I really needed to work on being a better teammate," Giddens said. "It's not that I was doing anything crazy, I could have probably just come into practice every day with a better attitude. The coaches taught me that real players play everyday, they don't take plays off or have breakdown practices. They come in everyday and set the tone, because practice is very important. So I looked at all of this as a step towards becoming a better leader and learning how to better prepare for the games as best as possible."

This past season, the former high school All-American finally put his past behind him, and things began to click on the court. Giddens saw his numbers improve in essentially every single statistical category from a year ago. In addition to being named an honorable mention All-American, Giddens was co-MWC Player of the Year and became just the second player in history to lead the conference in points and rebounds in the same season. He also helped return New Mexico to its winning ways, leading the Lobos to the NIT, where they eventually fell in a hotly contested battle with Cal. With so much having taken place in his life in the last several years, how did Giddens explain the sudden turning on of the proverbial light bulb?

"I was finally just going out there and playing with a free mind, I was having fun. This is the most fun I ever had playing basketball, and I've really been able to enjoy just being around my teammates and my coaches."

Giddens stated that both his teammates and the coaching staff were extremely trusting of him with the basketball this year and gave him the necessary freedom to create for himself and others. Having never given up on himself with all that he had endured during the previous four years has earned Giddens the respect of everyone in the program.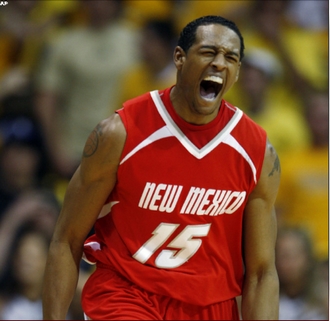 AP



This isn't where the story of J.R. Giddens ends though. Just when you think you have him all figured out, the young man from the Sooner State makes you do a double take when he says he is happy with how the last few years have gone for him.

"It's like I said, everything happens for a reason. Some people may not think it was all good, but for me as a person I felt I improved both on and off the court. Looking back, I'm glad I had the senior year that I had and the career that I had. After going through what I did, a lot of people probably would have wanted to give up on their dreams to play ball, but I fought everyday just to get to where I am. In the end, I'm just trying to keep going and play one more day of ball. It's been a good experience, even though it's been a bumpy one, I'm glad I stuck with it."

It may seem unlikely that anyone, let alone a college student, having endured all of the pain and criticism that Giddens has could possibly be this positive, but you can't deny the sincerity in his voice. This is clearly an individual who has taken to heart the lessons he has learned during the course of his adolescence and early adulthood years.

"I'm really blessed that it all happened in a funny sort of way; I don't know if people will understand, but I feel like it was good for me."

Now with the season over, Giddens, like so many other NBA hopefuls is hard at work preparing for the draft. Currently he is working out in California at the 360 Health Club with Oregon's Bryce Taylor. Giddens felt that free throw shooting and ball-handling are the two areas he needed to make the most improvements before he shows off his skills in front of NBA scouts at the pre draft camp in Orlando. As for what he can bring to a pro team next season, Giddens was quick to point out his winning mentality.

"I want to make guys around me better and win games. I won't necessarily go out and score a lot of points all the time, but I'll do all the little things that are important. If I can get an open shot on the outside for a shooter or drive and give my teammate and easy lay up, I'm going to do that. I have a big desire to win, and if I don't win, I'm going down swinging."

Giddens is projected as a second round draft pick, so by no means is he a lock to be in an NBA uniform next season, even though his terrific physical tools combined with his versatility and upside has certainly piqued the interest of numerous teams. But for an individual who has been accused time and time again for lacking maturity and possessing major character flaws, Giddens shows tremendous perspective when discussing his future.

"A lot of people have jobs that they hate, so waking up everyday to become the best basketball player possible is the absolute best. I'm having a lot of fun doing it. I'm just trying to let all of this sink in right now. I'm still doing what I love to do, so everyday is a ball to me."

Spoken like a true adult.

[Read Full Article]

---
NCAA Weekly Performers, 3/12/07
March 12, 2008
Just about to conclude a college career more resembling a soap opera at times, J.R. Giddens has survived being stabbed, suspended, injured, and much maligned over the past five years, and now will prepare to taking the next step to being a pro. After a tumultuous junior season that ended in disappointment, few could have asked for a better ending that is still being written as we speak in possibly the last week of his senior year.

Statistically, you'd be hard pressed to find a player who has turned himself around as much as Giddens. His scoring averages remain largely the same as last year, but his shooting percentages have rocketed up to impressive heights (from 44 to 51%), largely due to the fact that he's attempting quite a few less 3-pointers (5.2 to 2.3 per game), while also getting to the free throw line at a better rate. Giddens is rebounding the ball exceptionally well (leading the entire Mountain West Conference in this category at 8.6 per game), and has unconventionally seen his assists rise (from 2.3 to 3.0 per game) while his turnovers dropped (2.7 to 2.1) simultaneously. He's also blocking 1.2 shots per game, and picking up 1.4 steals. In case you need it spelled out…all indications seem to be that the light bulb has come on for him in a major way in his senior season. He in fact ranks 2nd amongst all shooting guard prospects in the very interesting "Win Score" statistic.

To add intrigue to the picture, Giddens remains the same terrific prospect in everything revolving around his physical tools. He has an excellent frame, an outstanding wingspan, and is a phenomenal all-around athlete, blessed in particular with exceptional leaping ability.

The biggest difference we notice in Giddens' game is the fact that he's no longer playing as selfishly as he once did. He seems to have no problem giving up the rock these days, and has been doing a very nice job creating scoring opportunities for his not-so talented teammates, who don't always convert at a very high rate. Regardless, Giddens looks very focused on doing many of the little things that need to be done to help his team come away with a victory, and in turn New Mexico is having a pretty solid year, with a 24-7 record on the season going into in the Mountain West Conference tournament. For his efforts he was rewarded with conference player of the year honors, which he shared with BYU's Lee Cummard.

Offensively, Giddens gets his points in a variety of ways. He can come off a screen and knock down a shot, or beat his man off the dribble with a very nice first step. He crashes the glass and comes away with excellent results, and is even going into the post this season to take advantage of his superior physical tools down low. He has terrific instincts as a scorer, and seems to possess a great deal of talent that is yet to be harnessed.
Unfortunately Giddens also seems to have quite a few weaknesses, which get exposed more than they probably should because of the extremely slow pace New Mexico plays at, combined with the unusually large role he is expected to shoulder in their offense.

Never known as an exceptional ball-handler, Giddens has certainly made strides in his ability to create his own shot from the perimeter. As a sophomore, he averaged 8.8 3-pointers per-40 minutes pace adjusted, while posting a paltry 1.2 free throw attempts. This year he's down to 2.9 3-point attempts, but his free throw attempts are up to 5.6.

That should tell you quite a bit about the change in mentality he's gone through, although the difference in level of competition he faces in the Mountain West compared with the Big 12 must be accounted for as well. His first step, and aggressive mentality looking to beat players off the dribble makes him very tough to handle at this level, but his left hand and ability to change directions sharply still leave something to be desired. He'll at times look out of control barreling his way into the lane, unable to finish cleanly or avoid the offensive foul because of his average ball-handling skills. His mid-range game is a nice weapon that shows quite a bit of promise, but also lacks some polish in terms of his ability to utilize his exceptional athleticism to create separation consistently from defenders with a sharp pull-up jumper.

Giddens has only made 24 3-pointers on the season on a 35% clip (for comparison, he hit 74 as a freshman, shooting 41%), and even though he displays great potential here, there is still some work he can do here to make himself more efficient. He has a very quick release, but tends to rush his shots, not always fully setting his feet even when he has time to spare, and often fading away for no particular reason. Cleaning up his mechanics and becoming a dead-eye spot-up shooter could go a long ways in helping him make and stick with a team. He's also a shockingly bad free throw shooter, at just 57%.
Defensively, Giddens has excellent tools once again, but still can't be considered a great defender at this point. He lacks fundamentals and awareness on this end of the floor, but seems to be putting in a much better effort than we've seen from him in years past, coming up with a great deal of steals and blocks in the process. If he continues to commit himself, he should be able to develop into a solid defender in time.

Despite being older than most players in this draft at 23 years old, Giddens still seems to have a great deal of upside he has yet to tap into, even though he still has a good deal of work left to do as well. It remains to be seen if he's truly put all his many on and off the court issues fully behind him in this his "contract year", but if he indeed has, he could be a very intriguing player for teams to look at, particularly in the second round, where he poses very little risk.

Giddens has been invited to Portsmouth, and should be considered a lock for the NBA pre-draft camp in Orlando as well. He will need all the exposure he can get at this point, as he has quite a bit to overcome in terms of the negative perception he built up with his actions on and off the court over the past four years. He has also been severely under the radar playing in the anonymous Mountain West conference, which gets zero exposure on the national level because of its terrible TV deal. Even game footage of his has been somewhat difficult to come by. With that said, he could use the element of surprise to sneak up on people and gain some solid momentum going into the draft process as things begin to heat up over the next two months.

[Read Full Article]

---
Top NBA Draft Prospects in the 'Other' Conferences (Part Two: #6-#10)
November 2, 2007
After being involved in an array off the court issues at Kansas, J.R. Giddens transferred to New Mexico, where he is yet to completely put his issues behind him. The once highly touted prospect had a solid season last year, but struggled through injury problems throughout the season, including a broken nose and bum ankle. He eventually finished off the season by being kicked off the team once again, a disappointing conclusion considering his past history. Despite some noticeable progress, Giddens still struggled with many of the same weaknesses on the court as well that hindered him at Kansas. Now a senior, he must prove he can finally hone his natural talent and translate it into an NBA-ready skill-set, as well as stay out of trouble for the entire year.

The senior guard will draw NBA interest based on his natural physical tools alone. Giddens possesses great athleticism, and the ability to create his own shot at any time. Though shorter than many NBA two guards, the senior has a well built body and can jump out of the gym.

Offensively, Giddens established himself as the go-to scorer on New Mexico last season, and showed no fear in attempting to create his own shot. He has the tools to develop a deadly mid-range game down the road, but forces too many looks off the dribble at this point. Rather than drawing contact or finding the open man when double-teamed, Giddens will often pull up and force bad shots from 10 feet out. His ability to pull up at any time would be much more effective if he showed a willingness to drive all the way to the basket and create contact on a regular basis as well. On the drive to the basket, Giddens displayed a quick first step, though his ball handling became sloppy at times, particularly with the left hand.

The talented guard relied on his three point shot at Kansas, but his accuracy with the perimeter jumper dropped significantly last season. This can be attributed to Giddens' shot selection, which will need a lot of work this season. When spotting up from three or working against just one defender, he can shoot the three pointer quite effectively, but the success rate again drops significantly when he forces difficult shots. The mechanics on his shot look funny, but he releases the ball very quickly, and with the elevation needed to shoot contested jumpers at the NBA level.

The combination of quickness, length and strength give the senior guard potential on the defensive end of the ball, but the effort has yet to match the physical tools in this area. Giddens rarely exerts himself defensively, and lacks the fundamental knowledge of defensive rotations and positioning.

J.R. Giddens will be relied upon to be the go-to guy for New Mexico again this season, but this time it will be under Steve Alford, his third college coach in 5 seasons. With an improved shot selection and a focus on team play, Giddens could move his way up the draft board of many scouts. Until then, he will find himself in the second round of many mock drafts, but with great potential to move up or down depending on his final season of college basketball.

[Read Full Article]

---
NCAA Weekly Performers (12/4/2006)--Part Two
December 6, 2006
The 6'5 high flyer was highly regarded out of high school by most because of his length, explosiveness and unconventional, but deadly outside jumper. A promising freshman season seemed to confirm this train of thought, but Giddens took a major step in the wrong direction as a sophomore. His game became almost entirely one-dimensional and he rarely contributed much of anything if he wasn't hitting from the outside. Despite his immense natural tools, he got to the line just 52 times in two years as a Jayhawk, and his efficiency as a shooter really diminished late in his sophomore year.

With this somewhat bearish evaluation in mind, it is clear that Giddens has worked hard not only on his scoring tools but also his approach to the game. At the same, it is still very early in the season and a few of Giddens' less appealing traits still remain.

The most noticeable difference in Giddens compared to where he was at Kansas is in his offensive mentality. Instead of playing tentatively and rarely venturing inside the 3-point arc, he displayed an attacking mentality. Where he wasn't able to take on more significant scoring duties as a sophomore in the Big XII, it is clear that he realizes the Lobos are his team and that he is attempting to emerge as an all around go-to scorer in the MWC. On several occasions he connected on impressive-looking midrange fadeaways that can only be described as NBA-caliber, and he was very aggressive flying to the basket in the open court. He appeared to be much more involved with his teammates as well, though the Lobos did fall decisively to a very young UTEP squad. Simply put, these are the types of things he didn't do under the bright lights in Lawrence.

This newfound mentality is easy to pick out in the box score, where in just six games Giddens has already set a new career high for free throw attempts in a season. He only got there four times against UTEP and somehow managed to score 25 points on 11-19 shooting against Richard Roby and Colorado without attempting a single free throw, but it is clear that he has improved this number by diversifying his game a bit.

At the same time, Giddens still showed room for improvement in these areas. He didn't really attempt to get all the way to the basket against UTEP, and started to force the 3-ball again after a dazzling stretch of play to open the second half. For all the intensity he appeared to be showing, it still isn't clear how much of a factor he is going to be on the defensive end this year.

Taking into account that Giddens struggled in the first half wearing a mask after breaking his nose earlier in the week and the fact that this was his worst performance of the year so far, one has to be at least somewhat encouraged by his early productiveness. The MWC has proven to be a great place for prospects to display their individual talents, and just two years ago Danny Granger took a similar path to a guaranteed contract in the NBA as the #17 overall pick.

It would be hasty to even speculate about how much of a future Giddens has at the NBA level, but he is certainly a player who has worked to improve his game, is playing in a situation that should allow him to grow and display his progress, and was talented enough to keep an eye on in the first place.

[Read Full Article]

---