Delon Wright vs Tyrone Wallace Video Analysis
February 17, 2015
(Video may not load with Internet Explorer. Use Chrome or Firefox)
More Situational Videos from Mike Schmitz
-Jahlil Okafor vs Frank Kaminsky Head to Head Matchup Video Analysis
-Myles Turner vs Kentucky's NBA Frontcourt Video Analysis
-Kristaps Porzingis vs Barcelona Video Analysis
-Ben Simmons vs Ivan Rabb Video Analysis
-Jakob Poeltl vs Cliff Alexander Head to Head Matchup Video Analysis
-Montrezl Harrell vs Kentucky's NBA Frontcourt Video Analysis
-Rashad Vaughn vs Arizona Video Analysis
-Christian Wood vs Arizona Video Analysis
-Jerian Grant vs J.P. Tokoto Video Analysis
-Bobby Portis vs Damian Jones Video Analysis
-D'Angelo Russell vs Louisville Video Analysis
-Delon Wright vs Rondae Hollis-Jefferson Video Analysis
-Stanley Johnson vs Anthony Brown Head to Head Matchup Video Analysis
-Robert Upshaw vs Jakob Poeltl Head to Head Matchup Video Analysis
-D'Angelo Russell vs Indiana Video Analysis
-Justise Winslow vs Justin Anderson Video Analysis
-Mario Hezonja vs Real Madrid Video Analysis
-Karl Towns vs Jarell Martin Video Analysis
---
Take a look at our video section for a compilation of all the videos we've produced this year.
[Read Full Article]

---
Delon Wright vs Rondae Jefferson Head to Head Matchup Video Analysis
January 21, 2015
More Situational Videos from Mike Schmitz
-Jahlil Okafor vs Frank Kaminsky Head to Head Matchup Video Analysis
-Myles Turner vs Kentucky's NBA Frontcourt Video Analysis
-Kristaps Porzingis vs Barcelona Video Analysis
-Ben Simmons vs Ivan Rabb Video Analysis
-Jakob Poeltl vs Cliff Alexander Head to Head Matchup Video Analysis
-Montrezl Harrell vs Kentucky's NBA Frontcourt Video Analysis
-Rashad Vaughn vs Arizona Video Analysis
-Christian Wood vs Arizona Video Analysis
-Jerian Grant vs J.P. Tokoto Video Analysis
-Bobby Portis vs Damian Jones Video Analysis
-D'Angelo Russell vs Louisville Video Analysis
---
Take a look at our video section for a compilation of all the videos we've produced this year.
[Read Full Article]

---
Top NBA Draft Prospects in the Pac-12, Part 5: Prospects #5-9
September 5, 2014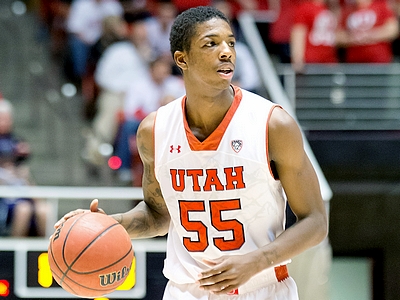 US Presswire



Jonathan Givony

One of the best teams not to make last year's NCAA Tournament, after brutally losing 8 games by a margin of four points or less, the Utah Utes are widely pegged to make their first Tournament berth in six years after returning virtually their entire roster.

A major factor in that will be the play of their point guard Delon Wright, one of the biggest surprises in college basketball last season, who emerged from Junior College obscurity (via prep school in Philadelphia) to establish himself as arguably the most versatile player in the NCAA.

Wright is one of the most efficient scorers in college basketball, shooting a scintillating 63% from 2-point range, while getting to the free throw line over 6 times per game and knocking down nearly 80% of his attempts once there.

Wright does a good amount of his scoring in the open court, averaging over 4.5 transition opportunities per game according to Synergy Sports Technology. Not only does he ignite the fast break at a prolific rate, he also converts his opportunities here with spectacular efficiency, posting a phenomenal 1.436 points per possession in these situations (#1 in college basketball [min: 100 possessions]), hitting nearly 80% of his field goal attempts from the floor.

Wright is also Utah's primary ball-handler in the half-court, seeing nearly five attempts per game in pick and roll situations. He uses his superior strength to draw fouls very frequently, being fouled on nearly a quarter of his possessions in these situations, which helps mitigate his relatively high turnover rate (20%) on the pick and roll.

While not exceptionally quick or explosive, Wright does a terrific job of getting to the rim and finishing, hitting an outstanding 66% of his shots around the basket in the half-court. He is extremely crafty with the way he creates offense on the perimeter, relying heavily on a variety of hesitation moves, fakes and fancy footwork to keep opponents off-balance. His combination of excellent size, long strides and smooth body control helps him get right into the teeth of the defense with regularity, and he finishes very creatively around the rim with soft touch and a knack for using the glass. Wright's slinky, herky-jerky style of play draws him plenty of fouls and helps him collect a good amount of points from the free throw line (converts 79%) every game.

Since Wright barely has any semblance of a mid-range game—he converted just a handful of off the dribble jumpers all season—he's forced to make his living inside the paint, something he excels at, and helps keep his shooting percentages and overall scoring efficiency extremely high. Utah plays at a relatively slow pace, which often revolves around Wright dribbling the ball for long stretches of the 35 second shot clock, looking for avenues to exploit.

Not the most traditional point guard in terms of pure distribution skills, most of Wright's assists seem to come off simple drive and dish plays or extra passes on the perimeter within the flow of the offense. It will be interesting to see if his court vision and all-around creativity improves in his second (and final) season of division one basketball, as at times last season he tended to pound the ball somewhat excessively, picking up his dribble or forcing the issue trying to barrel his way down the lane.

Part of the reason for that revolves around Wright's struggles as an outside shooter. He converted just 12 of his 54 attempts (22%) from beyond the arc last season, as he sports extremely inconsistent and unconventional shooting mechanics that don't leave a lot of room for optimism regarding his ability to ever become a legitimate threat from the perimeter. Opposing defenses really started to exploit this as the season moved on, and Wright's overall field goal percentage fell from a ridiculous 71% in November and December to a much more ordinary 49% in January, February and March.

In different eras of the NBA that might not be as much of an issue considering how many other ways Wright impacts the game, but these days there just aren't that many point guards who can be considered total non-shooters. Unless he significantly improves his outside shot, he might have to reinvent himself as somewhat of an all-around defensive oriented guard ala Shaun Livingston or Garrett Temple to carve out a real niche.

What separates Wright from other non-shooting guards and makes him extremely unique is his ability to fill up the entire stat-sheet, as he's one of just 13 players in the DraftExpress database (spanning the last 30 years of college basketball) to average over 6 rebounds, 5 assists, 2 steals and 1 block per-40 minutes: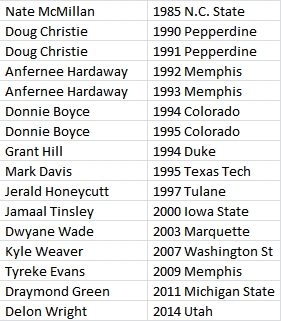 DraftExpress Blue



Wright doesn't have incredible length (he measured just a 6-6 ½ wingspan at the Nike Skills Academy this summer), an amazing frame or exceptional athleticism, but he does have a superb knack for being in the right place at the right time, which is a testament to his tremendous feel for the game. He has excellent size for his position and excellent lateral quickness, which allows him to put terrific pressure on the ball, draw charges on a regular basis, and defend either backcourt position equally well.

You won't find many prospects with a more extreme contrast between their strengths and weaknesses than Delon Wright, which is sure to make him one of the more controversial figures in this upcoming draft class. Many analytics models rate him as a sure-fire lottery pick, while traditional scouts seem to be split at the moment on whether or not he'll be able to carve out a role at the NBA level due to his lack of perimeter shooting and unconventional style of play. Making things even more complicated is the fact that Wright is a year old for his class, turning 23 in April. Nevertheless, this upcoming season should be very telling for Dorell's brother, as another strong year capped by a solid NCAA Tournament run would surely win over some of those decision makers that are still on the fence.

[Read Full Article]

---