We continue our coverage on the top NBA draft prospects in the Pac-12 with part five, players ranked 5-9:
Delon Wright
,
Nigel Williams-Goss
,
Brandon Ashley
,
Kevon Looney
and
Reid Travis
.
-Top NBA Prospects in the Pac-12, Part 1

(#1) Stanley Johnson (Scouting Video)
-Top NBA Prospects in the Pac-12, Part 2

(#2) Rondae Hollis-Jefferson (Scouting Video)
-Top NBA Prospects in the Pac-12, Part 3

(#3) Norman Powell (Scouting Video)
-Top NBA Prospects in the Pac-12, Part 4

(#4) Jabari Bird (Scouting Video)
#5, Delon Wright, 6'5", Senior, Point Guard, Utah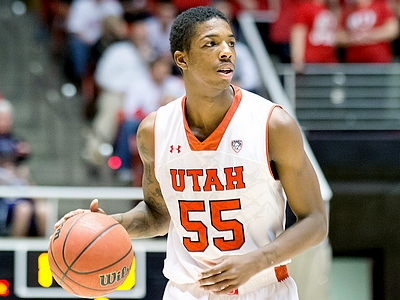 Jonathan Givony
One of the best teams not to make last year's NCAA Tournament, after brutally losing 8 games by a margin of four points or less, the Utah Utes are widely pegged to make their first Tournament berth in six years after returning virtually their entire roster.
A major factor in that will be the play of their point guard
Delon Wright
, one of the biggest surprises in college basketball last season, who emerged from Junior College obscurity (via prep school in Philadelphia) to establish himself as arguably the most versatile player in the NCAA.
Wright is one of the most efficient scorers in college basketball, shooting a scintillating 63% from 2-point range, while getting to the free throw line over 6 times per game and knocking down nearly 80% of his attempts once there.
Wright does a good amount of his scoring in the open court, averaging over 4.5 transition opportunities per game according to Synergy Sports Technology. Not only does he ignite the fast break at a prolific rate, he also converts his opportunities here with spectacular efficiency, posting a phenomenal 1.436 points per possession in these situations (#1 in college basketball [min: 100 possessions]), hitting nearly 80% of his field goal attempts from the floor.
Wright is also Utah's primary ball-handler in the half-court, seeing nearly five attempts per game in pick and roll situations. He uses his superior strength to draw fouls very frequently, being fouled on nearly a quarter of his possessions in these situations, which helps mitigate his relatively high turnover rate (20%) on the pick and roll.
While not exceptionally quick or explosive, Wright does a terrific job of getting to the rim and finishing, hitting an outstanding 66% of his shots around the basket in the half-court. He is extremely crafty with the way he creates offense on the perimeter, relying heavily on a variety of hesitation moves, fakes and fancy footwork to keep opponents off-balance. His combination of excellent size, long strides and smooth body control helps him get right into the teeth of the defense with regularity, and he finishes very creatively around the rim with soft touch and a knack for using the glass. Wright's slinky, herky-jerky style of play draws him plenty of fouls and helps him collect a good amount of points from the free throw line (converts 79%) every game.
Since Wright barely has any semblance of a mid-range game—he converted just a handful of off the dribble jumpers all season—he's forced to make his living inside the paint, something he excels at, and helps keep his shooting percentages and overall scoring efficiency extremely high. Utah plays at a relatively slow pace, which often revolves around Wright dribbling the ball for long stretches of the 35 second shot clock, looking for avenues to exploit.
Not the most traditional point guard in terms of pure distribution skills, most of Wright's assists seem to come off simple drive and dish plays or extra passes on the perimeter within the flow of the offense. It will be interesting to see if his court vision and all-around creativity improves in his second (and final) season of division one basketball, as at times last season he tended to pound the ball somewhat excessively, picking up his dribble or forcing the issue trying to barrel his way down the lane.
Part of the reason for that revolves around Wright's struggles as an outside shooter. He converted just 12 of his 54 attempts (22%) from beyond the arc last season, as he sports extremely inconsistent and unconventional shooting mechanics that don't leave a lot of room for optimism regarding his ability to ever become a legitimate threat from the perimeter. Opposing defenses really started to exploit this as the season moved on, and Wright's overall field goal percentage fell from a ridiculous 71% in November and December to a much more ordinary 49% in January, February and March.
In different eras of the NBA that might not be as much of an issue considering how many other ways Wright impacts the game, but these days there just aren't that many point guards who can be considered total non-shooters. Unless he significantly improves his outside shot, he might have to reinvent himself as somewhat of an all-around defensive oriented guard ala
Shaun Livingston
or
Garrett Temple
to carve out a real niche.
What separates Wright from other non-shooting guards and makes him extremely unique is his ability to fill up the entire stat-sheet, as he's one of just 13 players in the DraftExpress database (spanning the last 30 years of college basketball) to average over 6 rebounds, 5 assists, 2 steals and 1 block per-40 minutes: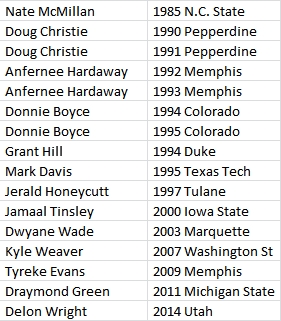 Wright doesn't have incredible length (he measured just a 6-6 ½ wingspan at the Nike Skills Academy this summer), an amazing frame or exceptional athleticism, but he does have a superb knack for being in the right place at the right time, which is a testament to his tremendous feel for the game. He has excellent size for his position and excellent lateral quickness, which allows him to put terrific pressure on the ball, draw charges on a regular basis, and defend either backcourt position equally well.
You won't find many prospects with a more extreme contrast between their strengths and weaknesses than
Delon Wright
, which is sure to make him one of the more controversial figures in this upcoming draft class. Many analytics models rate him as a sure-fire lottery pick, while traditional scouts seem to be split at the moment on whether or not he'll be able to carve out a role at the NBA level due to his lack of perimeter shooting and unconventional style of play. Making things even more complicated is the fact that Wright is a year old for his class, turning 23 in April. Nevertheless, this upcoming season should be very telling for Dorell's brother, as another strong year capped by a solid NCAA Tournament run would surely win over some of those decision makers that are still on the fence.
#6, Nigel Williams-Goss, 6'4", Sophomore, Point Guard, Washington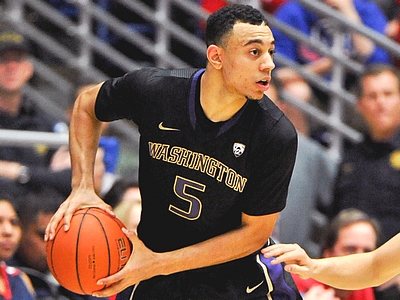 Matt Williams
Washington freshman
Nigel Williams-Goss
quietly put together a solid freshman campaign on a Washington team that finished the season with only 16 wins and failed to reach the postseason for just the second time in the last decade. A consensus top-40 recruit in the high school class of 2013, Williams-Goss stepped into a starting role as Washington's point guard alongside 2014 first round pick
C.J. Wilcox
, relishing the opportunity
Lorenzo Romar
affords to him to finish as the Huskies' leader in assists and second most prolific scorer. Averaging 13.4 points, 4.4 rebounds, and 4.4 assists per-game, Williams-Goss led all Pac-12 freshmen in scoring, en route to being named to the All-Conference freshman team, and in the process planted himself firmly on the radar of NBA scouts.
Williams-Goss' appeal from a NBA perspective starts with his terrific size for a primary ball-handler. Measuring 6'4 in shoes with a 6'6' wingspan one summer ago while preparing for the U19 World Championships with USA Basketball in Colorado Springs, the Oregon native towers over some of the players he encounters at the collegiate level –a significant factor in his productive freshman season given his lack of outstanding explosiveness.
A skilled, crafty offensive player, Williams-Goss has been an adept mid-range scorer since he emerged as a prospect during his highly successful high school career at Findlay Prep thanks to his ability to use his size to find angles to score inside the arc. As a freshman, that ability to score around the paint with floaters quickly became the soon to be 20-year old's calling card, as the 68 points he scored on runners in the half-court ranked among the top-15 nationally according to Synergy Sports Technology, and his 47% conversion rate on such shots is quite impressive.
In contrast, Williams-Goss still has plenty of work to do as a scorer from the outside and as a finisher. Though the rising sophomore showed growth as a perimeter shooter late in his high school career and connected on a very respectable 40% of his jump shots overall, maintaining that momentum as a freshman, he appears a bit out of rhythm at times and his 36% shooting from deep on 2.8 attempts per-game and 72% from the line seemingly have room to improve. Shooting a middling 51% as a finisher at the rim, the more efficient and prolific Williams-Goss can be as a shooter, the more it will overshadow his lack of great blow-by quickness and ability to finish explosively inside.
Any improvements Williams-Goss can make in his scoring arsenal will only be magnified by the fact that he plays a disciplined offensive game, not forcing many shots and turning the ball over primarily when trying to make a smart pass, rather than when he's trying to do too much. Averaging 15.5 points per-40 minutes, which
ranks
right in the middle of the pack among rising sophomores in our current top-100, Williams-Goss should get plenty of opportunities to be more productive this season with
C.J. Wilcox
graduating to the professional ranks. It will be interesting to see how his high basketball IQ and ability to change speeds and make things happen in the pick and roll translate to a higher usage role.
Racking up 5.1 assists and rebounds per-40 minutes pace adjusted, Williams-Goss did a bit of everything for Washington a year ago. He has good court vision, a solid understanding of spacing, and actually appeared more comfortable attacking a set defense in the half court than pushing the ball in transition, a true rarity for freshman guard.
One of the more mature freshman in the college game, Williams-Goss' savvy carried over on the defensive end at times, where his ability to anticipate the action helped him come up with 1.1 steals-per game, as he proved adept at stripping opposing big men when digging down from the perimeter. Unfortunately, his lack of lateral quickness led to some difficulties guarding smaller, quicker guards in one-on-one and pick and roll settings, despite his willingness to compete consistently at this end of the floor.
Looking ahead, Williams-Goss is in an interesting situation heading into his sophomore season. His predecessors among
Lorenzo Romar
coached UW point guards,
Nate Robinson
and
Isaiah Thomas
, had similarly productive freshman years, but didn't see their roles expand significantly as sophomores. Whether Washington has the personnel to maintain their scoring balance as they did in those two cases this coming year remains to be seen, and if no one steps up, it will be worth monitoring how heavy of an offensive burden Williams-Goss will have to carry.
Though his lack of great athleticism will remain a concern as scouts project him to the next level, a strong sophomore year carrying the Huskies back to the NCAA Tournament could make the decision to enter the NBA Draft that he labored over last spring a bit easier come next April.
#7, Brandon Ashley, 6'8", Junior, Power Forward, Arizona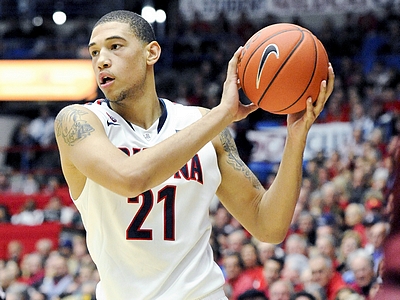 Derek Bodner
Brandon Ashley
came into Arizona ranked by recruiting services as the 15th best prospect in his high school, something he hasn't been able to quite live up to.
To this point, Ashley has been a key contributor on two very good, and very deep, Arizona teams that have gone a combined 60-13. The 6'8" power forward did see a bigger role last season, as his playing time increased to 27.7 minutes per game, up from 20.5 his freshman season. His offensive output increased as well, as he scored 17.1 points per 40 minutes pace adjusted, an increase from the 14.3 he scored the previous season, while maintaining a high level of efficiency, with a 59.4% true shooting percentage.
Still, Ashley's overall contributions might be considered disappointing to some, as he hasn't been quite as productive much as his talent level would indicate. Whether that was because of Arizona's depth, the passive nature that Ashley displayed at times, or the necessity for further refinement in his skill level, it will be interesting to see how Ashley responds to the changing dynamics of an Arizona team that lost major contributors in
Nick Johnson
and
Aaron Gordon
to the NBA draft.
As we noted in previous write-ups, a very big part of Ashley's game is based on on his perimeter jump shot, at times too much of his game, perhaps. That is still the case, as jump shots made up an even bigger portion of Ashley's half-court shot distribution, up to 32.1% of his half-court attempts, an increase from 27.9% during his freshman season, according to Synergy Sports Technology. On the positive side, Ashley was far more consistent and effective shooting the ball from the perimeter last year than he had previously been. Ashley made progress extending his range out to the collegiate three point line, seeing his attempts increase from only 3 total during his freshman season to 29 attempts (in 22 games) last season, connecting on an encouraging 37.9% of those. Beyond that, his mid-range game was automatic last year, connecting on an incredible 63.2% of those attempts, generating 1.263 points per possession in those situations, which would be in the top percentile of college basketball.
Sample size, particularly since Ashley was limited to only 22 games after breaking his foot in early February, is obviously worth noting here, as none of these numbers are on a very high amount of attempts. Still, Ashley was a solid shooter during his freshman season, and the fact that he improved his numbers across the board is a good sign, including from the free throw line, where he shot 75.7% on 74 attempts this past season. Over the years he has proven to have a consistent shooting stroke, with a high release point, good follow through, and excellent touch. The jump shot should be a weapon of his going forward, and something that he can hopefully supplement with more production around the basket as well.
Ashley did see more of his offense derive from post-up situations, which now make up 19.3% of his possessions, up from 11.5% during his freshman season, per Synergy Sports. His overall feel and footwork isn't incredibly advanced, but he does have good touch on a jump-hook over either shoulder, and gets enough elevation to get either shot off with consistency. Besides diversifying his post-up game and developing more counter-moves, Ashley could stand to do a better job of establishing deeper post position early in the possession, as he's frequently starting his move further from the hoop than he would optimally be.
In order to spend more time operating on the perimeter, Ashley will need to put in considerable work in his ball handling and ability to create off the dribble. With Ashley being the threat that he is in the pick and pop game, combined with his relative quickness, Ashley has the potential to beat his man off the dribble. He does flash this ability from time to time, as when he is able to attack the basket in a straight drive these attributes of his show their potential.
The problem comes when the second line of defense rotates over, as at this point in his development he does not have the advanced ball handling moves, or the comfort level to make quick decisions, to counteract that. With the perimeter-oriented nature of NBA power forwards, as well as he continued progression as a jump shooter, showing a higher skill level attacking the basket off the dribble would help him diversify his offensive game, and make him less reliant on shooting from the perimeter.
One area where Ashley saw a statistical decline in was on the glass, particularly on the defensive side of the court. He grabbed only 5.8 defensive rebounds per 40 minutes pace adjusted, a pretty big decline from the 7.2 defensive rebounds per 40 minutes pace adjusted he grabbed during his freshman season, and a well below average amount for a power forward. In Ashley's defense, Arizona was one of the best defensive rebounding teams in the nation last year, and the sheer number of contributors on the defensive glass likely impacted his numbers in this regard. Ashley does a fairly good job of timing his jump and getting the ball at the apex, but he could benefit from doing a better job putting his body on a man and establishing position. While Ashley has a frame that looks like it will fill out in time, he could still stand from getting stronger, something that would help him hold position down low and also allow him to come away with balls that he does get his hands on.
At 6'8" in shoes, with a 7'2.5" wingspan and 9'1" standing reach and a frame that looks like it could fill out, Ashley has the size and length to defend either forward position. He moves his feet relatively well on the perimeter, and does a good job moving his feet and keeping his balance on the defensive end. While not incredibly explosive and not likely much of a shot blocking threat at the next level, Ashley has enough physical tools to not be a liability on the defensive end, if he is able to add some strength to his frame to bang in the NBA. The questions at this end of the court mostly stem from toughness, intensity, and focus. He seemed to make progress on this last year over where he was during his freshman season, but it can still be inconsistent at times. NBA scouts will likely want to see him make additional strides in this area as a junior.
The improvement Ashley made from the perimeter last year was a good step in his development, and continuing to extend his range out to the NBA three point line will be key for him going forward. If Ashley could complement this with a more developed dribble-drive game, as well as add the strength he will need to bang at the next level, he has the makings of someone who could potentially contribute at the NBA level. It will be interesting to see how Ashley's role changes with the loss of Gordon and Johnson, as well as how he bounces back from the broken foot that ended his season prematurely last year.
#8, Kevon Looney, 6-9, Freshman, Power Forward, UCLA
Without the benefit of extensive high school footage, we prefer to wait and see how Looney performs as a freshman before adding to his
DraftExpress profile
, which already features a scouting report and video interview.
We continue our coverage on the top NBA draft prospects in the Pac-12 with part five, players ranked 5-9:
Delon Wright
,
Nigel Williams-Goss
,
Brandon Ashley
,
Kevon Looney
and
Reid Travis
.
#9, Reid Travis, 6-8, Freshman, Power Forward, Stanford
Without the benefit of extensive high school footage, we prefer to wait and see how Travis performs as a freshman before adding to his
DraftExpress profile
, which already features a scouting report and video interview.