Henk Norel
STRENGTHS:
- Off-ball movement
- Pick and roll play
- Excellent hands
- Excellent Touch
- Commitment to playing defense
- Potential
- Unselfishness
- Work ethic
- Level of competition
- Ability to run the floor
- Fluidity
- Wingspan
WEAKNESSES:
- Lacks significant offensive polish
- Ability to create own shot
- Inability to establish position in post
- Ability to fight through screens
- Defensive awareness
- Foul prone
- Gets backed down in post
- Not ready to contribute immediately
- Backup/Fringe Starter?
- Cultural adjustment to NBA
- Explosiveness
- Frail frame
Team: NON-NBA College Team: Zaragoza
Physicals
Positions
Salary
Misc
H: 6' 11"
W: 212 lbs
Bday: 09/17/1987
(28 Years Old)

Current: PF
NBA: PF
Possible: PF/C

Agent: Peter de Bos

High School:
Hometown: Gorinchem, Netherlands
Drafted: Pick 47 in 2009 by Timberwolves
Best Case: Jeff Foster
Worst Case: Fabricio Oberto

Predraft Measurements
| Year | Source | Height w/o Shoes | Height w/shoes | Weight | Wingspan | Standing Reach | Body Fat | No Step Vert | Max Vert |
| --- | --- | --- | --- | --- | --- | --- | --- | --- | --- |
| 2009 | Eurocamp | 6' 11" | 6' 11.75" | 236 | 7' 1" | 9' 2" | NA | 24.0 | 27.0 |



Basic Per Game Statistics

- Comprehensive Stats - Statistical Top 25s
| Year | League | Name | GP | Min | Pts | FG | FGA | FG% | 2Pt | 2PtA | 2P% | 3Pt | 3PtA | 3P% | FTM | FTA | FT% | Off | Def | TOT | Asts | Stls | Blks | TOs | PFs |
| --- | --- | --- | --- | --- | --- | --- | --- | --- | --- | --- | --- | --- | --- | --- | --- | --- | --- | --- | --- | --- | --- | --- | --- | --- | --- |
| 2015/16 | ACB | Henk Norel | 8 | 19.4 | 9.1 | 3.3 | 6.4 | 51.0 | 3.3 | 6.4 | 51.0 | 0.0 | 0.0 | &nbsp | 2.6 | 2.8 | 95.5 | 1.5 | 3.3 | 4.8 | 0.9 | 0.4 | 0.4 | 1.3 | 3.1 |
| 2015/16 | Eurocup | Henk Norel | 7 | 19.3 | 10.4 | 4.4 | 7.4 | 59.6 | 4.4 | 7.4 | 59.6 | 0.0 | 0.0 | &nbsp | 1.6 | 2.1 | 73.3 | 2.4 | 3.3 | 5.7 | 1.6 | 0.3 | 0.4 | 0.9 | 2.3 |

Player Page&nbsp&nbsp| Player Stats | Mock Draft History | Related Articles&nbsp&nbsp| Add to My Draft Express&nbsp
&nbsp
Reebok Eurocamp Summary, Part One
June 11, 2009
After an extremely impressive showing at last yearís Reebok Eurocamp, Henk Norel took somewhat of a step backwards in this his draft-eligible year, struggling to get back in the same rhythm after an injury plagued season. Norel looked a lot more tentative than we remembered him, not running the floor quite as well or doing as good a job crashing the glass. Hit perimeter jumper wasnít falling, and he didnít finish particularly well around the basket. Considering his status as a hustling role-player, heís obviously not as interesting for teams if he isnít doing all those things. Nevertheless, Norel still showed sparks of being the same player we saw and really liked early this season and in last yearís Eurocamp, and itís not out of the question that he regains that same form once he shakes off the rust he accumulated over the past few months. Heís still a tall and very mobile big man with good length and great energy, and he could definitely develop into a solid rotation player over the next few years.

[Read Full Article]

---
Blogging Through Europe 2008 (Part Five: Spain)
December 13, 2008
DKV Joventut has continued to draw a steady amount of NBA scouts this season, thanks to the play of their 21-year old Dutch big man Henk Norel. Heís having a pretty successful rookie season in both the Euroleague and ACB, playing around 14 minutes per game, and being relatively productive in his time on the court.

Playing somewhat of a limited role offensively, Norel is getting his offensive production the way you would expect based on his profileórunning the floor extremely hard (often being the first one down the court), crashing the offensive glass (showing a great knack for finding loose balls), and making some basic moves in the post. His length, activity level and touch come to good use here, and heís using his excellent extension around the rim to throw in some very elegant hook shots with both hands and really nice touch. Smart on the pick and roll, he rolls off the ball with purpose and is capable of catching and finishing above the rim in strong fashion once there, making him a very reliable target. He even hit a 3-pointer last week in the ACB, although heís only shooting 62% from the free throw line on a limited number of attempts.

Defensively, he is competing, as you would expect, but he suffers at times going up against stronger players who can back him down and take advantage of his lack of strengthómaking him a bit foul prone. He struggles with screens, looks inexperienced at times with his off-ball defense, and can get outmuscled going after defensive rebounds (his per-minute production here is poor).

Norel was knocked out of the Rome game on two separate occasions, once after taking an elbow to the nose, and once after hurting his knee following a vicious hip-check from Andre Hutsonówhile already wearing a mask. The crowd seems to love the energy he brings to the floor, and serenaded him with chants as he limped to the bench. Norel draws unanimous praise from coaches for his work ethic and team spirit.

Considering the way he looks, and what we know about him already, it wouldnít be shocking to see someone pull the trigger on drafting him in the late first roundóheís automatically eligible as a 1987 born player. If an NBA GM thinks that his body will be able to put on 15-20 pounds over the next few years, he could be getting a very productive role-player to bring off the bench at the 4/5 position. One NBA scout we spoke with compared him with San Antonio Spurs big man Fabricio Oberto.

[Read Full Article]

---
2008 Reebok Eurocamp in Treviso, Days Three and Four
June 10, 2008
Norel has completed an excellent camp, proving to have a lot to offer beyond his physical limitations. Scoring 14 points (6/9 FG, 2/2 3P) and grabbing 4 rebounds, he shined again in the last day, showcasing his offensive versatility. The Dutch big man cashed in on his very nice touch from deep positions in standstill fashion, emerging pretty reliable from the arc. You can see how solid his mechanics are, and actually it has been one of his main weapons all through the season (especially from the mid-range area).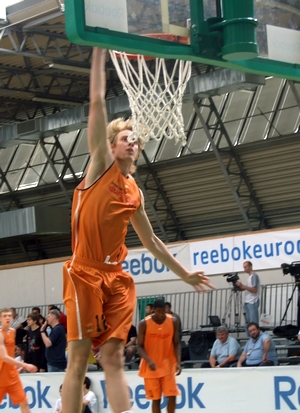 Jonathan Givony, DraftExpress



Meanwhile he produced from the low post showing solid footwork and nice ability to finish with his off hand. Very active as usual, restlessly fighting regardless of his strength disadvantage, showing good positioning at both ends of the court, his length, talent and basketball IQ offer some serious long-term potential that he should be able to start fulfilling as he fills out his still thin body. Heís for sure one of the most intriguing big guys in Europe right now, and might develop into a NBA player down the road (meaning, heís several years away). For the moment, heís a very likely second round pick in the draft.

[Read Full Article]

---
2008 Reebok Eurocamp in Treviso, Day Two
June 8, 2008
The impression you got about Norelís play will likely heavily depend on which part of the day you were in Treviso for. People who were here for just the morning session and the Omer Asik/Semih Erden workout likely werenít too impressed, while those in attendance for the evening all-star game probably came away thinking very highly of the Dutch big man.

Early on, Norel clearly struggled with the strength and physicality of the big men he faced in the morning and workout session, as Vladimir Stimac, Omer Asik and Semih Erden pushed him around mercilessly and made him look very far away at the moment from being able to compete at a high level. Defensively is where it seems like heíll have the most problems, as he just doesnít have the girth to hold his spot on the block on either end of the floor.

His play in the evening showed a lot more about why heís such a highly regarded prospect by those who follow the Spanish leagues closest. Norel looked incredibly smart and active, running the floor extremely well, boxing out for every rebound, hustling for every loose ball, getting up and finishing well around the rim, and doing all the little things his team needed to come away with the victory. He reads the floor well and is very fundamentally sound for a guy that hasnít been playing basketball for that long. He even knocked down some shots from mid-range and even a 3-pointer from beyond the arc. He got to the free throw line 10 times and knocked down 8 of his shots, while also hitting 7 of his attempts from the field, giving him 17 points (and 7 rebounds) in just 22 minutes.

Thatís the beauty of the evaluation we were able to make from the entire dayóseeing all of the strengths and weaknesses of a prospect through numerous drills, workouts and games, giving you a fairly complete picture for an early-entry candidate like Norel. Those who werenít here might be interested to know that Norel is claiming to be ď90% likely to stay in the draft,Ē according to his agent, stating the very heavy interest they are getting in the mid-2nd round.

[Read Full Article]

---
Roundup: Scoring Machine Dragicevic
March 19, 2008
Henk Norelís continuous development process is showing increasingly better results lately. The Dutch big man, whose rights are owned by DKV Joventut and plays on loan at Alicante Costa Blanca in LEB Oro (the Spanish second division), delivered an excellent performance this past weekend. Only able to stay on the floor for 21 minutes due foul trouble, he managed to amass 22 points, 8 rebounds and 2 steals, staying almost perfect from the floor, while leading Alicante past Tenerife Rural. He has scored in double digits in five out of the past six games, and averages 16.5 points in the last four.

Norel enjoys an excellent combination of length and skills, while also delivering nice athleticism. His biggest knock has always been his physical build, as heís an extremely skinny player with only a decent frame, and thatís why itís taken him so long to blossom. In LEB Oro heís facing pretty strong competition (itís likely a top-10 league all across Europe), and indeed heís often being outmuscled, but still, Norel is finding ways to contribute by relying on his abilities and size.

A rather promising post player, this is an area where his physical fragility is still slowing him down. Norel enjoys nice footwork and can finish with both hands near the basket, but heís not comfortable operating down low against physical defenders. I donít think heís soft, indeed heís willing to take contact, but itís really difficult to properly execute while being seriously outmuscled. So whenever he could use his low post game as a go-to ability in his repertoire, right now itís only another weapon he tests from time to time. Indeed, if he receives near the basket, he often prefers to pass the ball taking good use of his nice court vision and decision making, which he also is able to find teammates from the high post.

When it comes to scoring points, Norelís most effective weapon right now is probably his jumper. Heís a very nice spot-up shooter, showing very solid mechanics and nice quickness in the release. His range extends out to the international three-point line, but heís your classic mid-range gunner. He also puts the ball on the floor with both hands, showcasing his very nice ball-handling skills for a player his size, in order to look for the basket or kick the ball out to the perimeter.

One of the most encouraging characteristics of Norel is his willingness and ability to play above the rim. Heís a nicely reactive player who easily dunks the ball (in one-handed fashion if needed), which helps him to cash in his off-the-ball movement whenever he receives near the basket.

Defensively, Norel suffers again in the low post on a physical level, being sometimes banged by stronger post players. However, he shows nice positioning, good lateral quickness and interesting activity. Still, heís not much of an intimidator, and almost never goes for the block.

Norel looks like a rather smart player with high basketball IQ. He shows a nice feel for the game, his decision making is pretty solid, and he knows how to fill spaces or where to pass the ball. Heís a pretty talented player.

Draft wise, Norel looks like a second-round pick in the making. His NBA potential will clearly rest in his ability to gain strength Ėheís pretty far from there- which would probably turn him into a first-round-caliber guy, but his thin frame leaves a dark shadow of uncertainty in that regard. Heís proving to be fairly effective in the top LEB level, so we should see him next season earning his pay in the ACB league, which happens to be the campaign when he becomes automatically eligible. We shouldnít expect a sudden impact there, while itís highly unlikely that heíll be able to take a huge leap forward in his physical development, but his length, skills and potential in general will likely draw a lot of interest in the second round.

[Read Full Article]

---
Looking ahead: Spanish U-20 Circuit
August 3, 2007
A very talented and skilled big man, Henk Norel is quite a familiar name for Spanish basketball fans, having been often praised as a great prospect with a bright future. Still, he's on the verge of turning 20 years old and has barely played at any higher level than LEB-2 in Spain. And that's in spite of being part of Joventut, a team that is well-known for providing playing opportunities to its youngsters early. The reason probably rests in the fact that Norel is still a very immature player in terms of his physical development.

Henk is a long guy, standing easily 6-11 in shoes, with a nice wingspan. He's quite skinny, though, and shows an average frame, while being easily pushed around on both ends of the court. However, he's a highly skilled and pretty versatile player with a very nice feel for the game. A very intriguing mix, as strength is something that is easier to add, even in Norel's case.

Currently, perhaps his best offensive weapon is his mid-range shot, showing a sweet and solid stroke. He can even shoot from near the arc, although not consistently. Anyway, he enjoys a pretty interesting soft touch near the rim, being able to net jump-hooks regularly with both hands. It's not really his specialty, and his mechanics sometimes look pretty unorthodox; it's probably due the fact that he's not very prolific in the low post, where he suffers physically and doesn't make up for his lack of strength with polished enough footwork, even if he eventually shows some very nice moves. On the other hand, he's rather active playing without the ball, being nicely effective in pick-and-roll situations, where he doesn't hesitate to look for the dunk if he's offered the space. Also, he can decently put the ball on the floor with both hands, although he still doesn't show the quickness and reactivity to light his defender up. A nice passer from both the high or low post, Norel shows a good basketball IQ playing the game.

On defense his physical immaturity limits his effectiveness. He can suffer in the low post against physical players, he still lacks some reactiveness despite his nice mobility, and perhaps you can miss a small degree of aggressiveness to challenge his opponents. Still, he has delivered a pretty solid season in LEB-2 and he might get some burn in the ACB for the next campaign.

[Read Full Article]

---