Ryan Thomson
Humphries, a native of Caringbah, Australia, found his way to Kentucky after a successful stint at La Lumiere School in La Porte, Indiana. Humphries, originally a member of the 2016 recruiting class, burst onto the scene during the FIBA U17 competition in 2014 where he averaged 18.9 points and 11.6 rebounds over seven games. Humphries had his most impressive outing against Canada, scoring 41 points, recording 19 rebounds and 5 blocks. Humphries reclassified and spent the 2015-2016 season playing sporadically for Coach Calipari and the Kentucky Wildcats.
Humphries settled in to a bench role with the Kentucky Wildcats that saw him start one of the 23 games he appeared in. He played only 9 minutes per game and with another influx of talent looming in Lexington, Humphries should continue to battle for minutes as a sophomore, even if he's been praised early on in the preseason for the improvements he's made.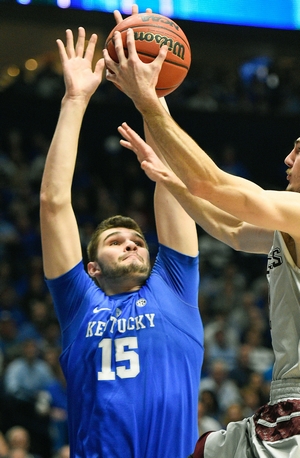 Humphries is listed at 7'0 and 260 pounds, but possesses an underwhelming 7'0" wingspan. He is a mobile big who has a terrific basketball IQ, but has some limitations athletically in terms of his explosiveness. Humphries improved his body over the course of the season, listed as having a 12.2% body fat percentage at the 2015 UK Pro Day, it will be interesting to see where he tests at this seasons combine, keeping in mind that he won't turn 19 until January.
Humphries' numbers as a freshman weren't overly impressive, at 8.2 points, 10.7 rebounds and 3 blocks per-40, in just 9 minutes per game, but he showed some flashes of potential. Humphries best game of the season was likely his performance against Texas A&M, a game that saw Kentucky lose in overtime. He was productive in his time on the floor, playing 20 minutes, scoring 6 points with 12 rebounds, 1 steal and 2 blocks.
Despite not being overwhelmingly long or explosive, Humphries averaged a solid 3.8 offensive rebounds per-40 and was able to convert on those second chance opportunities, shooting 75% on all offensive rebound possessions per Synergy Sports Technology. He does a great job of putting himself in good rebounding position while playing with a strong motor. Thanks to his good hands he is able to secure rebounds in traffic and finish quickly with either hand around the basket.
With that said, when he caught the ball on cuts and drop-offs, he struggled, shooting only 44.4% on his attempts around the basket, per Synergy Sports Technology, in large part because of his lack of elite length and athleticism. Humphries has a soft touch, but at times seemed overwhelmed by opponents' athleticism, which is not shocking considering he was the youngest player in college basketball. Humphries will need to prove that he can embrace contact and finish against length in traffic as he continues to progress with his college basketball career.
As the Kentucky offense was highly predicated on their guards generating offense, Humphries had few opportunities to showcase his ability as a low-post scorer. He has good footwork around the basket and doesn't allow defenses to speed him up. It will be interesting to see if he features at all on the inside for Kentucky or if he is relied on as a screen setter and rebounder.
Humphries only got to the free-throw line a handful of times this season, but shot 73.3%, making 11 of his 15 total attempts. His mechanics from the charity stripe are solid- he has a good knee bend and high follow through. In game action was a different story though, Humphries shot only 25% in catch and shoot situations, and his percentages plummeted the further away from the basket he moved, shooting 16.7% on jump shots past 17 feet, per Synergy Sports Technology. Looking past his percentages, Humphries has enough of a base in his mechanics that his ability to make jump shots could continue to improve.
Humphries is visibly uncomfortable when forced to move his feet in space on the defensive end. In an era where centers and power forwards are increasingly expected to be able to guard multiple ball screen actions in a single possession, Humphries may seem a bit of an odd fit. He doesn't move his feet particularly well when guarding ball screen actions and is often times out of position to challenge shots- evidenced by his extremely high 8.8 fouls per-40, but his high IQ and solid motor ultimately could help minimize the impact of his physical limitations. This will be one of the biggest keys to him emerging as a serious NBA prospect.
Humphries has the potential to be a solid one on one low post defender, and even showed some signs as a shot blocker, averaging 3.0 blocks per-40 as a freshman. In addition, Humphries does a terrific job of controlling the defensive glass, and if he can find a way to be less foul happy and keep himself on the floor rather than watching from the bench, he could be a productive player for the Wildcats. It is important to note that Humphries' emotions can at times get the better of him as he picked up a crucial technical late against Texas A&M and also has a tendency to hang his head after mistakes.
The key with Humphries is to remember that he is still only 18, not turning 19 until January. He has soft hands, a strong motor and is an instinctual rebounder on both ends of the floor. It will be interesting to see what sort of improvements Humphries has made on his body as well as if he can be a more effective finisher around the rim, consistently protect the rim and stay on the floor for extended periods.