Top NBA Prospects in the Big 12, Part Four: Buddy Hield Scouting Video
September 20, 2015
Mike Schmitz continues our coverage of the top NBA prospects in the Big 12 with a video scouting report of the #4 prospect in the conference, Oklahoma's Buddy Hield.
---
More DX Conference Preseason Previews:
-The Top 20 NBA Draft Prospects in the Pac-12
-The Top 20 NBA Draft Prospects in the Big East
---
Top NBA Prospects in the Big 12
(#1) Cheick Diallo (Scouting Video)
(#2) Sviatoslav Mykhailiuk (Scouting Video)
(#3) Taurean Prince (Scouting Video)



#4, Buddy Hield, Senior, Shooting Guard, Oklahoma



Strengths:



Weaknesses:



Mike Schmitz is the video analyst for DraftExpress. Follow him on twitter and check out his archive. He will be breaking down the NBA draft in digital format all year long for us.

[Read Full Article]

---
Buddy Hield 2015 adidas Nations Interview
August 31, 2015
An interview with Oklahoma shooting guard Buddy Hield at the 2015 adidas Nations in Los Angeles.
---
More adidas Nations Content:
-Center Prospect Scouting Reports
-Power Forward Prospect Scouting Reports
-Wing Prospect Scouting Reports
-Point Guard Prospect Scouting Reports
-Yogi Ferrell Interview
-Wayne Selden Interview
-Brice Johnson Interview
-Jake Layman Interview
-Devin Robinson Interview
-Joel Bolomboy Interview
-Troy Williams Interview
-Amida Brimah Interview
-Simi Shittu Interview
-James Webb III Interview
-Udkoa Azubuike Interview
-Zach Auguste Interview
-Nickeil Alexander-Walker Interview
-Wenyen Gabrien Interview
-Markelle Fultz Interview
-Dennis Smith Interview
-Kobe Paras Interview
-Tim Quarterman Interview
---
[Read Full Article]

---
Nike Academy Scouting Reports: College Shooting Guard Prospects
July 2, 2015
Mike Schmitz

Few players in college basketball have more fun playing basketball than Oklahoma's Buddy Hield. The soon-to-be senior guard and Bahamas native is the consummate glue guy, constantly competing, talking and smiling in the heat of the battle – all important qualities for a player who (at best) projects as a rotation player. Hield isn't exactly great in one area, and he doesn't quite have the physical tools to make up for his lack of an elite NBA skill, but he competes, plays the right way, and actually has more ability with the ball than he has shown at Oklahoma.

Hield played a lot of point guard in games and competition, handling comfortably in ball screens and changing speeds and directions effectively. He's a very capable passer on the move and even knocked down a couple of step back jumpers, one right in DeMarcus Cousins' face.

Hield also showed an ability to defend both guard spots with his strength, length and energy. As is the case with a lot of his skills, Hield isn't quite elite at guarding either position, at least from an NBA standpoint. Hield also struggled to make shots consistently from the perimeter, spraying the ball left and right in both spot up and off the dribble situations. When Hield shoots it on balance with a compact release, he's very effective, but he tends to lean too much on his shot and eventually shoot a bit of a push shot, ultimately leading to less than desirable results.

As was the case last year at Oklahoma, Hield did do a lot of damage handling and filling the lanes in transition, but he'll really have to become a knockdown shooter to be a consistent threat in the half court. His improved handle and playmaking ability is certainly a plus, but he doesn't quite have the burst or offensive creativity to consistently be called upon to create offense in the half court, making his jump shot that much more important.

Despite some of his shortcomings, there's no doubting Hield's likability and intangibles, which, along with his current skill set, give him a great chance of at least making an NBA roster and sticking if he's able to carve out a niche.

[Read Full Article]

---
Top NBA Prospects in the Big 12, Part 6: Prospects #9-12
September 14, 2014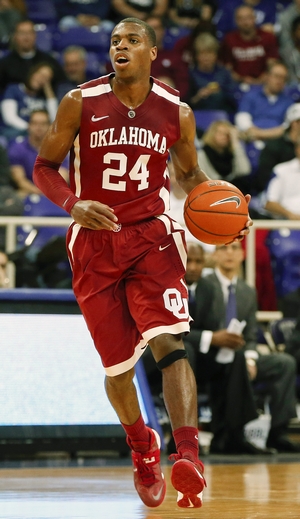 US Presswire



Jonathan Givony

After an unassuming freshman season, Buddy Hield broke out in a major way as a sophomore, winning All-Conference Second Team honors after more than doubling his per-game scoring production from 7.8 to 16.5 points, good for 10th in the Big 12 conference and 4th best among returning players.

Hield is slightly undersized for a NBA shooting guard at 6-4 1/2 in shoes (measured at the Nike Skills Academy this summer) but has a solid 6-8 1/2 wingspan and 214 pound frame to help compensate for that. He's an above average athlete as well, being quick, strong and mobile, although not incredibly explosive.

The Freeport, Bahamas native is at his best in the open court, where his strong frame and solid athleticism make him relatively effective at the college level. He's a smart player who knows his strengths and weaknesses and makes the right play more often than not, whether it's leaking out to the wing in transition for open 3-pointers or giving up the ball unselfishly to the open man.

Hield significantly improved his 3-point shooting as a sophomore, which accounted for a big portion of the improvement he made as an overall scorer last season. 3-pointers accounted for 53% of his overall field goal attempts as a sophomore, up from 38% as a freshman. More importantly, he made 39% of those 3s, up from 24%.

At this point in his development, Hield is strictly a catch and shoot player, making 41% of his attempts on a large volume (4.5 per game). When forced to operate outside his comfort zone with his feet set, Hield's effectiveness as a shooter falls off dramatically, as he only made 6 of the 33 jumpers he attempted last season shooting off the dribble. To his credit, Hield seems to realize this and doesn't try to force the issue with ill-advised pull-up jumpers too often.

As a shot-creator in general, Hield is very much a work in progress in the half-court at this stage. Rarely will you see him creating his own shot from the perimeter and getting to the rim against a set defense, as his ball-handling skills are rudimentary at best, his left hand is weak on both drives and finishes, and he doesn't really know how to utilize change of speeds or hesitation moves to get defenders off-balance. He doesn't show much confidence at all in his slashing ability, as most of his pick and roll and isolation possessions last season resulted in either a jump-shot or a very simple pass to a teammate on the perimeter. Hield only got to the free throw line 2.9 times per-40 minutes pace-adjusted last season, which is the third lowest rate among all 26 returning collegiate guards in our top-100 prospect rankings.

Defensively, Hield has the tools to be very effective on this end of the floor when he's fully dialed in, as he has good strength, a solid wingspan, nice lateral quickness and is not afraid to be physical and put a body on opponents. He's not very consistent with this part of his game at this stage, though, as his fundamentals are just average. He's prone to closing out wildly on the perimeter, falling asleep in his stance, and losing focus off the ball. Hield will come up with some very impressive possessions from time to time, but needs to do a better job of staying engaged at all times, something scouts will likely be watching closely as it's a major key to his evolution as a NBA prospect.

There is no shortage of 6-4 shooting guards who are simply one-dimensional catch and shoot players, so it will be interesting to see how Hield improves his versatility as a junior after a breakout sophomore season. Hield is in an ideal situation to showcase himself playing a featured role under a very well respected coach in one of the toughest conferences in college basketball, so he'll have plenty of opportunity to improve his standing over the next year or two.

[Read Full Article]

---