Jeremy Bauman
A physical left-handed guard, Jalen Brunson played an important role as a freshman for the 2016 NCAA Champion Villanova Wildcats. In 24 minutes per game, Brunson proved to be poised and decisive with the ball in his hands while starting 39 games, and was unanimously named to the 2016 Big East All-Freshman team. Heading into his sophomore year, the 20-year old will likely handle a much bigger playmaking role following Ryan Arcidiacano's graduation.
Brunson's physical profile is a mixed bag, as he has decent size for a point guard at 6-2 combined with a below average 6-3 ½ wingspan. His strength is impressive, as he weighs around 201 pounds and is great at using his physical tools to get where he wants to go with the ball in his hands, but is just an average athlete overall and won't blow anyone away with his quickness or explosiveness, even at the college level, and not certainly not the NBA.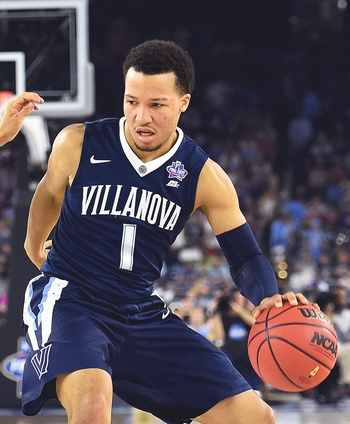 Brunson shot the ball well as a freshman, which is important considering his limitations athletically. He hit 66/168 of his overall jump shots (39.3%) and 51/119 in spot-up situations (42.9%) during his freshman season according to Synergy Sports Technology, impressive percentages for any freshman let alone one starting on a national championship team. He was very consistent when he had time to get set, but tends to rush into his motion when he had a defender closing out on him or shooting off the bounce. Footwork is a major key to Brunson's consistency because when he 1-2 steps into his shot in rhythm his motion looks much better and he gets better arc on his shot (which flattens out when he rushes his release).
Brunson moves off the ball, making himself available to kickouts on the perimeter, as he cuts with purpose and looks for angles where he might be open to catch a pass. As a shooter the key for Brunson seems to be comfort, which stems from experience, and as he heads into a sophomore season where he'll be relied on to score more frequently the opportunity to gain that experience will be awaiting him if he's ready to capitalize. The fact that he'll be asked to operate much more frequently as the lead ball-handler as a sophomore will be a major transition compared with his freshman year, and will help scouts get a much better gauge on how he might fare at his natural point guard position.
Brunson's efficiency and potential as a playmaker are crucial when projecting him to the next level. He is excellent at advancing the ball with a sense of urgency to spark the Wildcats' break. He consistently has his head up early in the backcourt and is willing to skip the ball ahead to the open man in transition, whether it leads to a basket or not. We will learn quite a bit more about his ability to run a team in the half-court this season, which will be very important for Villanova, as well as his personal outlook.
A lefty with a mature body, Brunson makes strong, confident and decisive moves with the ball in his hands. He also protects the ball by shielding it with his body and by using his strength. Brunson plays with a steady pace, changes gears and directions very well and creates space by initiating contact, all of which helps when penetrating the defense to score or kick to an open teammate. He has very good court vision and the instincts to see and deliver pinpoint cross-court passes or cunning bounce passes to open cutters. These skills also got him into trouble, though, as sometimes he got too creative for his own good, which led to some turnovers. In spite of the turnovers, his ability as a passer is still impressive. He sells options within the offense so that the defense thinks he's looking for one thing when the play is designed to flow the other way.
Brunson uses his strength and decisiveness to finish around the rim, too, and he makes use of jab-steps and pump-fakes regularly, oftentimes making strong and creative drives to the rim while staying low to the ground before taking off and finishing the play when he's created the right angle. Brunson is comfortable finishing with either hand and was effective in transition in 2015-16, shooting 30/54 on field goals (55.6%) while proving to be decisive and crafty on the break, regularly utilizing Euro-steps while attacking from smart angles to get a high percentage shot off.
Though Brunson wasn't asked to be an isolation scorer during the Wildcats championship run, he proved that he was capable when given the chance to create for himself as he scored 1.077 PPP on a very small sample size, taking just 18 shots in iso situations in 40 games on a loaded team. The versatile guard will likely be relied upon more in iso situations this year and it will be interesting to see how he fares in much more of a featured role.
The pick-and-roll is where Brunson must improve as a scorer and decision maker, as he shot just 24/67 (35.8%) while turning the ball over on 20.2% of his possessions. During his freshman season he had a tendency to over-dribble while probing the defense, which led to charges and live-ball turnovers. If he can develop a more consistent floater and pull-up jumper, instead of being overly reliant on driving, it would help to make decision making simpler while opening up angles to the rim while making him a more versatile scorer.
The defensive end is where Brunson must make strides to prove to scouts that he is more of a competitor and hustler than was on during his freshman season. Brunson's lateral quickness, effort, and willingness to contest shots left a lot to be desired, which is concerning considering his already pedestrian physical tools. When projecting to the next level it's necessary for Brunson's stock that he proves to be a capable defender since he'll have to stay in front of the best playmakers in the world at the NBA level.
A McDonald's All-American coming out of high school, Brunson played a complementary role as a freshman at Villanova; but there aren't many freshmen who are poised enough to come in and start that many games while providing the nightly impact that Brunson produced over the course of a full season. He proved that he can be a valuable role-player on an excellent team, and will now be tasked with showing he can do much more than that as a leader of a defending championship squad. With an even larger platform, an offense suited for playmakers and a year of experience under his belt, Brunson is in an ideal position to showcase himself for the next level and solidify his standing in the eyes of scouts.