Justise Winslow
Recent Tweets
All Tweets
DraftExpress: Steal of the draft here for Miami in Justise Winslow. Perfect Pat Riley player. Crazy he fell this far. Fills a major void right away.
2015-06-25 20:37:16
DraftExpress: Where does Justise Winslow go now. That's the big question everyone is asking. Detroit needs to take him right?
2015-06-25 20:16:45
DraftExpress: Jaylen Brown is sick and not playing today. US Starters vs Mexico Tyus Jones Allonzo Trier Stanley Johnson Justise Winslow Myler Turner
2014-06-21 19:40:25
DraftExpress: (cnt'd) Jaylen Brown Justise Winslow Luke Kennard Myles Turner Stanley Johnson Stephen Zimmerman Thomas Welsh Tyler Lydon. Tyus Jones
2014-06-12 13:47:23
DraftExpress2: My early vote for MVP would be future Duke Blue Devil Justise Winslow. Has scored a very efficient 14 points in the first half.
2014-04-12 19:55:20
Team: Heat
Physicals
Positions
Rankings
Salary
Misc
H: 6' 7"
W: 222 lbs
Bday: 03/26/1996
(19 Years Old)

Current: SF
NBA: SF
Possible: SF

RSCI: 14

Agent: Joe Branch

High School: St. John
Hometown: Houston, TX
Drafted: Pick 10 in 2015 by Heat

Predraft Measurements
| Year | Source | Height w/o Shoes | Height w/shoes | Weight | Wingspan | Standing Reach | Body Fat | No Step Vert | Max Vert |
| --- | --- | --- | --- | --- | --- | --- | --- | --- | --- |
| 2015 | NBA Draft Combine | 6' 4.5" | 6' 6.5" | 222 | 6' 10.25" | 8' 8.5" | 5.3 | NA | NA |
| 2014 | USA Basketball | 6' 6" | NA | 229 | 6' 10" | NA | NA | NA | NA |
| 2014 | Hoop Summit | NA | 6' 6" | 221 | 6' 10" | 8' 7" | NA | NA | NA |
| 2013 | USA Basketball | 6' 4.5" | 6' 5.5" | 218 | 6' 9.5" | 8' 9" | NA | NA | NA |



Basic Per Game Statistics

- Comprehensive Stats - Statistical Top 25s
| Year | League | Name | GP | Min | Pts | FG | FGA | FG% | 2Pt | 2PtA | 2P% | 3Pt | 3PtA | 3P% | FTM | FTA | FT% | Off | Def | TOT | Asts | Stls | Blks | TOs | PFs |
| --- | --- | --- | --- | --- | --- | --- | --- | --- | --- | --- | --- | --- | --- | --- | --- | --- | --- | --- | --- | --- | --- | --- | --- | --- | --- |
| 2015/16 | NBA | Justise Winslow | 16 | 28.8 | 7.1 | 2.8 | 6.1 | 44.9 | 2.3 | 4.5 | 51.4 | 0.4 | 1.6 | 26.9 | 1.1 | 1.8 | 64.3 | 1.1 | 4.3 | 5.4 | 1.6 | 0.6 | 0.2 | 1.7 | 2.8 |

Player Page&nbsp&nbsp| Player Stats | Mock Draft History | Related Articles&nbsp&nbsp| Add to My Draft Express&nbsp
&nbsp
Justise Winslow Interview
May 23, 2015
A video interview with Duke wing Justise Winslow at the 2015 NBA Combine in Chicago, Illinois.

(Video may not load with Internet Explorer. Use Chrome or Firefox)
---
More Pre-Draft Interviews/Workout Videos
-Rashad Vaughn Workout Video and Interview
-Andrew Harrison Workout Video
-J.P. Tokoto Workout Video
-Jarell Martin Workout Video
-D'Angelo Russell Interview
-Quinn Cook Interview
-Frank Kaminsky Workout Video
-Robert Upshaw Workout Video
-Rakeem Christmasn Workout Video
-Myles Turner Workout Video
-Stanley Johnson Interview
-Kelly Oubre Interview
-Frank Kaminsky Interview
-Satnam Singh Interview
-Satnam Singh Workout Video
-Alan Williams Interview
-Aaron White Interview
-T.J. McConnell Interview
-Chasson Randle Workout Video
-Chris Walker Interview
-Chris Walker Workout Video
-Cameron Payne Workout Video
-Cameron Payne Interview
[Read Full Article]

---
2015 NBA Draft Combine Measurements Analysis
May 13, 2015
-Justise Winslow: Standing 6'4.5 without shoes with a 6'10.25 wingspan and a 221.8-pound frame, Winslow doesn't really stand out on paper among his peers in terms of sheer size, aside from his tiny 5.3% body fat percentage. The Duke product is almost exactly the same size as Lance Stephenson, who measured 6'4.5 without shoes to go along with a 6'10.5 wingspan while tipping the scales at 227 pounds. Though Winslow's raw size may not stand out, he figures to be one of the more impressive athletes in attendance.

[Read Full Article]

---
Justise Winslow NBA Draft Scouting Report and Video Breakdown
April 16, 2015
Scouting Report by Jonathan Givony. Video Analysis by Mike Schmitz

Considered somewhat of an afterthought in the Duke recruiting class highlighted by Jahlil Okafor and Tyus Jones, Justise Winslow didn't take long to show the college basketball world and NBA scouts alike that he's one of the best players in the NCAA.

After a strong start, Winslow hit a bit of a road bump midway through the season, partially due to injury, not really finding his stride until he started seeing extended playing time at the power forward spot, which really opened up Duke's offense.

Winslow played his absolute best basketball late in the year as Duke won the NCAA Tournament, highlighted by a few stellar performances that raised his stock firmly into the Top-10 and possibly even higher.

Measured at 6-6 without shoes, with a 6-10 wingspan and a chiseled 229 pound frame, Winslow has strong physical tools for either NBA wing position. He's a good athlete on top of that, showing nice quickness, a strong first step, and both the ability and willingness to punish weaker opponents with his imposing physique and outstanding toughness.

(Video may not load with Internet Explorer. Use Chrome or Firefox)

Winslow's best attribute as a NBA prospect is clearly his defense, which has been his calling card ever since he first started making a name for himself with USA Basketball as a 16-year old beating up on older players at the FIBA U17 World Championship in Kaunas.

Very few power forwards overpower him inside the paint, while he's quick and agile enough to stay in front of guards on the perimeter, giving him tremendous versatility on this end of the floor. His footwork and lateral movement is outstanding for a player his age, as he's always in a stance, displays tremendous focus and awareness, and is incredibly tough, physical and competitive. While he's tremendous one on one, he's even better as a team defender, doing an outstanding job of making the right rotations and helping out his teammates, digging down on the post, closing out on shooters, and finding ways to make plays off the ball, averaging 1.8 steals and 1.2 blocks per-40 minutes.

This ability to defend multiple positions is all the rage in today's NBA game, and it wouldn't be surprising at all to see him draw the other team's best offensive player at the 1-3 spots every single night from very early on in his career, with the added bonus of being able to operate as a small-ball power forward like he often did at Duke. He won't give up anything on the defensive glass either, as he demonstrated with the 7 rebounds per-40 minutes he averaged at Duke, the third best rate among wing players in our Top-100.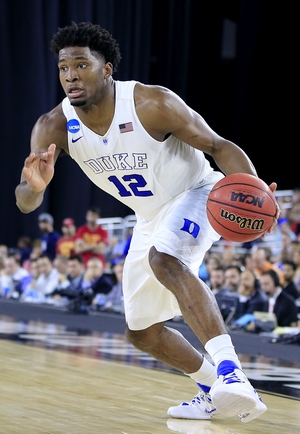 US Presswire



Offensively, Winslow is not the most prolific scorer around, with his 17 points per-40 ranking towards the bottom among wing players in this draft, but he's efficient, with a 58% TS%, and also is a solid passer who rarely turns the ball over. He's excellent in transition, where he finds himself frequently with his aggressive style of play, and can also go down to the low post and punish opposing players with his strong frame. He is very intelligent operating off the ball, showing a great knack for being in the right place at the right time and making strong cuts to the rim when the opportunity presents itself.

While not the fanciest ball-handler, he can create a little off the dribble as well thanks to his quick first step, strong frame and incisive nature. Even though he's mostly a straight-line driver, he's developed his ability to operate at different speeds and will mix in some simple change of directions to keep defenders off-balance. He will often lower his shoulder and just bulldoze his way to the basket with pure strength, showing decent touch with either hand once he gets there, even if he's not the most vertically explosive guy around.

Winslow was considered a mediocre shooter coming into college, as he made just 26 of the 86 [30%] 3-pointers he attempted in 1900 minutes and 82 games in the many events (FIBA, EYBL, Adidas Nations, etc) he participated in prior to Duke that we have on record. He clearly put a lot of time into improving his shooting mechanics, and came into the year with a much more compact stroke than in the past, which resulted in him shooting 46/111 [41%] from beyond the arc as a freshman, a significant improvement.

He's mostly a catch and shoot guy who needs time and space to get his shot off, but that's nonetheless a very encouraging sign. The next step for him will be developing his ability to shoot off the dribble, where he struggles badly, only hitting 2 of 19 pull-ups on the season.

(Video may not load with Internet Explorer. Use Chrome or Firefox)

The biggest question marks about Winslow revolve around how prolific a scorer he will become at the NBA level. Is he better suited as being a third or fourth offensive option, or can he develop into someone who can shoulder a heavier load? Right now he's a little on the mechanical side and seems to struggle as a primary shot-creator, not being very effective in isolation or pick and roll situations, unless he has a slower footed power forward he can take advantage of on the perimeter. It's no surprise that his productivity fell off when playing alongside two non-shooting big men (Jefferson/Okafor) earlier in the season, before Duke started using smaller lineups more frequently.

His game relies heavily on power, which probably won't work quite as well in the NBA, where lowering your shoulder and bulldozing through the lane doesn't get the same results as it does in college. Developing his in-between game will help, as will quickening the speed of his release and showing he can translate his somewhat flat shot to the longer distances of the NBA 3-point line. The 64% he shot from the free throw line as a freshman indicates he still has work to do on his jumper.

With that said, Winslow has continued to improve every single time we've seen him, as he has a reputation for being an absolute gym rat, and will certainly continue to work on his game as his career progresses. He's also an extremely intelligent player who is highly unselfish, executes extremely well offensively, and has won in every single place he's been. He won three gold medals with USA Basketball, and a NCAA championship as a freshman, which speaks volumes about the type of competitor he is. What he lacks in style points he'll make up for as a flawless teammate, which will certainly be very attractive to teams in the lottery who are looking to upgrade their culture and try to get back on the winning track.

[Read Full Article]

---
Justise Winslow vs Justin Anderson Video Analysis
February 2, 2015
More Situational Videos from Mike Schmitz
-Jahlil Okafor vs Frank Kaminsky Head to Head Matchup Video Analysis
-Myles Turner vs Kentucky's NBA Frontcourt Video Analysis
-Kristaps Porzingis vs Barcelona Video Analysis
-Ben Simmons vs Ivan Rabb Video Analysis
-Jakob Poeltl vs Cliff Alexander Head to Head Matchup Video Analysis
-Montrezl Harrell vs Kentucky's NBA Frontcourt Video Analysis
-Rashad Vaughn vs Arizona Video Analysis
-Christian Wood vs Arizona Video Analysis
-Jerian Grant vs J.P. Tokoto Video Analysis
-Bobby Portis vs Damian Jones Video Analysis
-D'Angelo Russell vs Louisville Video Analysis
-Delon Wright vs Rondae Hollis-Jefferson Video Analysis
-Stanley Johnson vs Anthony Brown Head to Head Matchup Video Analysis
-Robert Upshaw vs Jakob Poeltl Head to Head Matchup Video Analysis
-D'Angelo Russell vs Indiana Video Analysis
---
Take a look at our video section for a compilation of all the videos we've produced this year.
[Read Full Article]

---
Top NBA Prospects in the ACC, Part 2: Justise Winslow Scouting Video
October 16, 2014

Mike Schmitz is the video analyst for DraftExpress. Follow him on twitter and check out the DraftExpress video section. He will be breaking down the NBA draft in digital format all year long for us.

[Read Full Article]

---
New Batch of USA Basketball Measurements Released on DraftExpress
October 3, 2014
Another player who appears to still be growing is Duke freshman Justise Winslow. He measured 6-4 ½ without shoes in June of 2013, but seems to have grown an inch and a half in the span of a year, and will likely be listed at 6-7 at least. He also added 11 pounds to his chiseled frame in that time.

[Read Full Article]

---
2014 Nike Hoop Summit: USA Measurements
April 12, 2014
Justise Winslow
Weight: 221 lbs.
Height (w/ shoes): 6'6"
Wingspan: 6'10"
Standing Reach: 8'7"

[Read Full Article]

---
USA Basketball U19 World Championship Training Camp Report, Part Two
June 19, 2013
The youngest player on the roster, more than two years younger than seven of his teammates making the final cut, Justise Winslow started off the camp slowly, but eventually showed why he's such a highly sought after prospect.



Interview




Winslow doesn't look the part of someone who just turned 17 just a few months ago, as he sports a strong, mature frame that helps him significantly against the older players. The son of former NBA draft pick Rickie Winslow (who also played in Spain, France, Italy and Turkey), he is very mature off the court as well, carrying himself with confidence and humility, which easily allowed him to fit into the group.

Winslow is a physical, high energy wing player with an excellent feel for the game. He is extremely competitive defensively, but is a terrific passer on top of that, looking like a real team player, which undoubtedly helped his cause significantly in making this squad. He is very good in transition, and also a solid rebounder, even if his skill-level in the half-court, particularly his perimeter shooting ability, still needs a good amount of work.

It will be interesting to see how much Winslow is able to contribute on this squad after being arguably the most important player on the USA Basketball U17 World Championship squad last summer. He'll likely have to take somewhat of a back seat to the older players on the roster, but should be ready to step in and provide energy when called upon.

[Read Full Article]

---
High School Class of 2014: Elite Prospect Scouting Reports, Part One
September 27, 2012
Jonathan Givony

Recruiting Rankings: ESPN: #10, Scout: #15, Rivals: #9, 24/7: #7

Strengths:
-Chiseled frame
-Extremely athletic
-Consummate role-player. Terrific teammate
-Plays under control
-Intelligent passer
-Incredible competitor. Gives maximum effort on every play seemingly
-Defends every position on the floor. Great instincts for blocking shots
-Excellent rebounder on both ends of the floor
-Extremely serious. Very business-like attitude. Never changes his face. Not affected by the ups and downs of the game
-Shows some ability to create off the dribble
-Can make an open 3-pointer

Weaknesses:
-Skill-level still a work in progress. A little bit mechanical offensively
-Shooting mechanics need a lot of work. Shoots ball on the way down
-Ball-handling skills are unpolished
-Too reliant on using his strength, intensity and athleticism to just bully his way offensively

Outlook: Michael Kidd-Gilchrist esqe competitor. Shows a tremendous knack for shutting down the opposing team's best player. Played an instrumental role in USA Basketball winning the U-17 World Championship. Poised player with a terrific attitude. Will have to work hard to polish his offensive skill-level to round out the rest of his game.

[Read Full Article]

---