Tyus Jones
Recent Tweets
All Tweets
DraftExpress: Best available at 23 according to DX Top-100\n1. Rondae Hollis-Jefferson\n2. Tyus Jones\n3. Kevon Looney\n4. Montrezl Harrell\n5. Jonathan Holmes
2015-06-25 22:05:05
DraftExpress: Best players available at #13 according to the DX Top-100 Devin Booker Rondae Hollis-Jefferson Tyus Jones Jerian Grant Kelly Oubre.
2015-06-25 20:59:18
DraftExpress: Jaylen Brown is sick and not playing today. US Starters vs Mexico Tyus Jones Allonzo Trier Stanley Johnson Justise Winslow Myler Turner
2014-06-21 19:40:25
DraftExpress: (cnt'd) Jaylen Brown Justise Winslow Luke Kennard Myles Turner Stanley Johnson Stephen Zimmerman Thomas Welsh Tyler Lydon. Tyus Jones
2014-06-12 13:47:23
DraftExpress: High School Class of 2014 Scouting Reports- the Guards http://t.co/5oIWlaRPw6 - Tyus Jones Emmanuel Mudiay Joel Berry Josh Perkins & more
2013-09-01 10:37:03
Team: Timberwolves
Physicals
Positions
Rankings
Salary
Misc
H: 6' 2"
W: 185 lbs
Bday: 05/10/1996
(19 Years Old)

Current: PG
NBA: PG
Possible: PG

RSCI: 6

Agent: Rob Pelinka

High School: Apple Valley
Hometown: Apple Valley, MN
Drafted: Pick 24 in 2015 by Minnesota

Predraft Measurements
| Year | Source | Height w/o Shoes | Height w/shoes | Weight | Wingspan | Standing Reach | Body Fat | No Step Vert | Max Vert |
| --- | --- | --- | --- | --- | --- | --- | --- | --- | --- |
| 2015 | NBA Draft Combine | 6' 0.25" | 6' 2" | 185 | 6' 5" | 8' 1" | 6.5 | 26.5 | 32.5 |
| 2014 | USA Basketball | NA | 6' 0.75" | 191 | 6' 5.25" | NA | NA | NA | NA |
| 2014 | Hoop Summit | NA | 6' 1.25" | 184 | 6' 3" | 7' 10.5" | NA | NA | NA |
| 2013 | USA Basketball | NA | 6' 0.5" | 175 | 6' 3" | 8' 0" | NA | NA | NA |



Basic Per Game Statistics

- Comprehensive Stats - Statistical Top 25s
| Year | League | Name | GP | Min | Pts | FG | FGA | FG% | 2Pt | 2PtA | 2P% | 3Pt | 3PtA | 3P% | FTM | FTA | FT% | Off | Def | TOT | Asts | Stls | Blks | TOs | PFs |
| --- | --- | --- | --- | --- | --- | --- | --- | --- | --- | --- | --- | --- | --- | --- | --- | --- | --- | --- | --- | --- | --- | --- | --- | --- | --- |
| 2015/16 | NBA | Tyus Jones | 2 | 7.0 | 0.5 | 0.0 | 2.5 | 0.0 | 0.0 | 2.0 | 0.0 | 0.0 | 0.5 | 0.0 | 0.5 | 1.0 | 50.0 | 0.0 | 0.5 | 0.5 | 0.5 | 0.5 | 0.0 | 0.0 | 0.5 |

Player Page&nbsp&nbsp| Player Stats | Mock Draft History | Related Articles&nbsp&nbsp| Add to My Draft Express&nbsp
&nbsp
2015 NBA Draft Combine Measurements Analysis
May 13, 2015
-Tyus Jones: The skilled point guard measured 6'0.25 without shoes to go along with a 6'5 wingspan and a 184.6 pound frame. Measured at 6'0.75 with shoes last year by USA Basketball, it is safe to say Jones has grown a bit since that time, but he was also 191 pounds with a 6'5.25 wingspan at that point. While every little bit in terms of size helps for a player like Jones, his weight loss is also interesting. Interestingly, Jones compares favorably to both Mike Conley and Chris Paul when they were coming out of Ohio State and Wake Forest respectively. Conley measured 5'11.75 without shoes with a 6'5.75 wingspan and a 175-pound frame while Paul was 5'11.75 with a 6'4.25 wingspan and a 178-pound frame. Though Jones doesn't have elite quickness like those two players, from a sheer size standpoint, he fits in with some of the league's top floor generals.

[Read Full Article]

---
Tyus Jones NBA Draft Scouting Report and Video Breakdown
April 24, 2015
Scouting Report by Jonathan Givony. Video Analysis by Mike Schmitz

Tyus Jones earned a reputation for being a killer very early on in his career, being considered the #1 prospect in his high school class entering his junior year, and winning gold medals for USA Basketball at the U16, U17 and U18 levels. He continued to do much of the same in his lone year of college basketball, helping Duke to a national championship behind a heroic 19-point second half performance in the final game against Wisconsin, which earned him Most Outstanding Player of the Final Four honors.

(Video may not load with Internet Explorer. Use Chrome or Firefox)

Jones has average physical tools for the point guard position by NBA standards, being measured around 6-1, with a 190 pound frame and a wingspan between 6-3 and 6-5. He's not an exceptional athlete on top of that, possessing just average speed in the open floor, without a great first step or vertical leap to compensate.

What Jones lacks in measurables he makes up for with balls and brains, as he's incredibly poised, confident and intelligent for an 18-year old, particularly operating in the clutch, earning him the well-deserved "Tyus Stones" moniker. He needed very little time to make the transition from high school to college basketball, establishing himself as one of the best point guards in the country very early on, posting the third highest PPR and assist to turnover ratio in our Top-100 (behind two 22-year olds).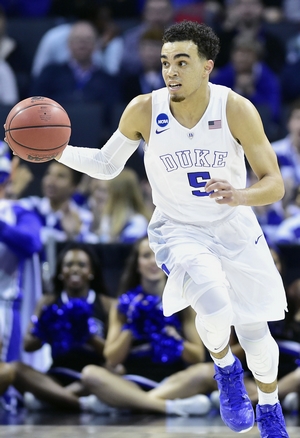 US Presswire



Jones does a great job of pushing the tempo and getting his team baskets early in the shot-clock, ranking eighth best in college basketball with the 301 points (7.5 per game) he produced in transition this season, according to Synergy Sports Technology. He advances the ball quickly and unselfishly up the floor, regardless of whether he'll get an assist for his efforts, rewarding his big men running the floor with easy baskets, and finding shooters spotting up on the wing. There is no question that he is the type of point guard teammates like playing with.

Jones' creativity as a passer extends to the half-court settings, where he ranked the second most efficient pick and roll player in college basketball after Eastern Washington's Tyler Harvey. Extremely patient and poised, he finds a very nice balance between shooting and passing, which keeps the defenses honest.

Jones has outstanding ball-handling skills and a wide variety of change of speeds and hesitation moves to keep opponents off balance. He sees and utilizes both sides of the floor, and can make every pass in the book, be it off the bounce, lobs, skip-passes, or just bullets right through the heart of the defense. He has elite court vision and passing ability, and does a good job of keeping turnovers to a minimum, with his 2.3 turnovers per-40 minutes ranking as the third best rate among DX Top-100 PGs.

Part of Jones' success on the pick and roll stems from his proclivity for making off the dribble jump-shots. He made 43% of his pull-ups on the season, with his 1.13 PPP in these situations ranking third best among prospects in this draft, behind Tyler Harvey and Corey Hawkins. The threat of his pull-up jumper allowed him to find moderate success as a driver, mostly in terms of hitting crafty floaters outside of the restricted area with soft touch, and initiating and exaggerating contact around the rim to draw fouls and get to the free throw line—where he converts nearly 90% of his attempts.

Playing alongside another point guard in Quinn Cook, as well as a ball-dominant big man in Jahlil Okafor, Jones also plenty of possessions operating off the ball, where he did a solid job of spacing the floor in Duke's highly efficient offense. He made 39% of his shots with his feet set this year, sporting strong shooting mechanics and touch which leave plenty of room for optimism regarding how he'll develop in this area down the road.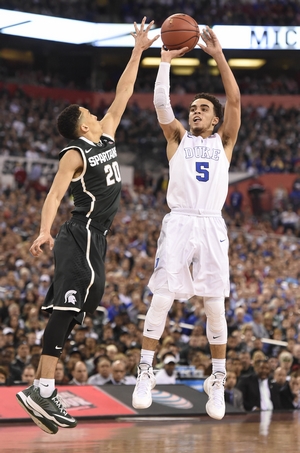 US Presswire



Known as an average shooter early on in his high school career, Jones has worked hard to improve this part of his game, which will be very important to any success he has in the NBA.

The reason for that is Jones' average physical profile, which will put him at a disadvantage on most nights in the NBA. Only standing around 6-1 in shoes, he does not possess a great frame, nor outstanding athleticism.

(Video may not load with Internet Explorer. Use Chrome or Firefox)

That showed up at the college level with his struggles finishing around the basket in traffic, where he converted just 44% of his half-court attempts inside the paint. He doesn't possess the type of blow-by quickness the go get his own shot whenever he pleases like some guards in the NBA these days, and won't be able to simply bulldoze his way through the lane with his relatively underwhelming frame. Things won't get any easier against the significantly more talented big men he'll face in the NBA, which will force Jones to rely even more heavily on his jump-shot and passing ability.

Even more of a concern for scouts is Jones' struggles on the other end of the floor. He was not a very good defender at the college level, even if he was able to improve as the season moved on. He has average lateral quickness, and his lack of strength does him no favors when trying to get over the top of screens.

To compound the issue, Jones is not the most attentive or intense defender, often looking somewhat lackadaisical with his work here. He has very good anticipation skills, as evidenced by the 1.7 steals per-40 minutes he averaged this year, but will have to put a better effort on this end of the floor if he's not to emerge as a liability, which would really hurt his chances of carving out a significant role on a good team. Having a real rim protector behind him to help eliminate mistakes will probably be a key, something he didn't benefit from this year at Duke.

Scouts will be watching the wingspan and standing reach measurements he posts at the NBA combine to try and get a better feel for what his potential is on this end of the floor.

Jones is somewhat of a divisive prospect among NBA scouts, one who draws widely varying reactions and opinions, both positive and negative. On one hand it is hard to understate the amount of success he's had thus far in his career, as a winner everywhere he's been, who played his best games against the best competition he faced all season. His highlight reel of clutch plays is almost unprecedented for a player his age, and the confidence, toughness and feel for the game he displays makes him difficult to bet against him.

On the other hand, his physical profile is clearly that of a backup point guard, not a starter, which may make it difficult for a team to pick him in the lottery. Can he develop into a good enough shooter/scorer to overcome his struggles finishing inside the paint? Will he become a better defender in time? NBA teams will try and learn more about him during the pre-draft process against the likes of Jerian Grant, Cameron Payne and Delon Wright to get a better feel for how to rank them.

[Read Full Article]

---
Top NBA Prospects in the ACC, Part 4: Tyus Jones Scouting Video
October 20, 2014

Mike Schmitz is the video analyst for DraftExpress. Follow him on twitter and check out the DraftExpress video section. He will be breaking down the NBA draft in digital format all year long for us.

[Read Full Article]

---
New Batch of USA Basketball Measurements Released on DraftExpress
October 3, 2014
Tyus Jones only grew a quarter of an inch in the span of a year according to our measurements, but added 16 pounds to his frame, which he likely needed to do. His wingspan is now listed at a respectable 6-5 ¼, which helps compensate somewhat for the fact that he's only 6-1.

[Read Full Article]

---
2014 Nike Hoop Summit Video Interviews: Tyus Jones, Mike Moser
April 16, 2014
[Read Full Article]

---
2014 Nike Hoop Summit: USA Measurements
April 12, 2014
Tyus Jones
Weight: 184 lbs.
Height (w/ shoes): 6'1.25"
Wingspan: 6'3"
Standing Reach: 7'10.5"

[Read Full Article]

---
High School Class of 2014 Scouting Reports, Part One - the Guards
August 31, 2013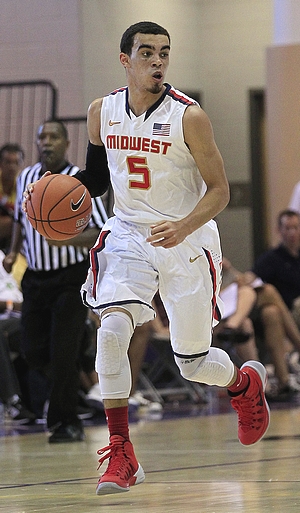 US Presswire



Jonathan Givony

Recruiting Rankings: 247: #5, ESPN: #3, Scout: #2, Rivals: #2

Strengths:
-Extremely creative and fundamentally sound point guard
-Can both score and distribute extremely well
-Possesses a superb first step.
-Can operate at different speeds
-Has very good court vision. Is a willing passer who reads the defense, anticipates well and can move the ball around with pinpoint accuracy
-Gets to the basket at will at the high school level. Draws a ton of fouls. Lives at the free throw line
-Does a good job of getting teammates involved. Makes crisp passes
-Improved 3-point shooter. Made 41% of his 3-point attempts in 23 Nike EYBL games this spring
-Can make shots with feet set or off the dribble
-Converted 87% of his free throw attempts
-Good anticipation skills in passing lanes
-Business-like approach. Carries himself impressively for his age

Weaknesses
-Does not possess great physical tools in terms of size, frame or length
-May struggle to draw fouls and finish as effectively around the basket against taller, longer, stronger competition at next level
-Average defender. Conserves energy. Gambles. Does not put great effort in, usually by design due to the considerable offensive load he's expected to shoulder. Question marks persist about how he will fare guarding more physically gifted point guards

Outlook: Mature and intelligent point guard who can carry a team with his scoring ability as well as make others better. Has great potential on the pick and roll. Used to be a relatively poor shooter, but seems to have improved that part of his game. Average height and narrow frame are the biggest concerns revolving around just how high his ceiling is long-term.

[Read Full Article]

---
Tyus Jones Video Highlights and Interview
August 31, 2013
Tyus Jones out of Apple Valley High School in Minnesota talks about what he wants to accomplish at the Elite 24, the difficulty in making a college decision, and his goals for college when it comes to improving his game. From the 2013 Under Armour Elite 24.



Filmed and edited by: Farhod Family

Twitter: twitter.com/farhaaaad

Website: http://farhod.com

[Read Full Article]

---