K.J. McDaniels
Recent Tweets
All Tweets
DraftExpress: Top NBA Prospects in the ACC #20-24 http://t.co/jJ5l7h5Ntf K.J. McDaniels Justin Anderson Akil Mitchell Talib Zanna and Montay Brandon.
2013-09-13 11:30:51
Team: Clemson, Junior
Physicals
Positions
Rankings
Misc
H: 6' 6"
W: 198 lbs
Bday: 02/09/1993
(20 Years Old)

Current: SF
NBA: SF
Possible: SF

Pick: 34 in 2015 Mock Draft
Rank 11 in NCAA Juniors
Rank 79 in Top 100 Prospects

High School: Central Park Christian
Hometown: Birmingham, AL

Predraft Measurements
| Height w/o Shoes | Height w/shoes | Weight | Wingspan | Standing Reach | Body Fat | No Step Vert | Max Vert | Bench Press | Lane Agility | 3/4 Court Sprint | Class Rank |
| --- | --- | --- | --- | --- | --- | --- | --- | --- | --- | --- | --- |
| NA | 6' 6" | 198 | 6' 9.5" | NA | NA | NA | NA | NA | NA | NA | NA |



Basic Per Game Statistics

- Comprehensive Stats - Statistical Top 25s
| Year | League | Name | GP | Min | Pts | FG | FGA | FG% | 2Pt | 2PtA | 2P% | 3Pt | 3PtA | 3P% | FTM | FTA | FT% | Off | Def | TOT | Asts | Stls | Blks | TOs | PFs |
| --- | --- | --- | --- | --- | --- | --- | --- | --- | --- | --- | --- | --- | --- | --- | --- | --- | --- | --- | --- | --- | --- | --- | --- | --- | --- |
| 2013/14 | NCAA | K.J. McDaniels | 9 | 29.7 | 18.2 | 6.2 | 13.1 | 47.5 | 4.7 | 8.8 | 53.2 | 1.6 | 4.3 | 35.9 | 4.2 | 4.7 | 90.5 | 2.1 | 4.8 | 6.9 | 0.9 | 1.1 | 2.9 | 2.2 | 1.2 |

Player Page&nbsp&nbsp| Player Stats | Mock Draft History | Related Articles&nbsp&nbsp| Add to My Draft Express&nbsp
&nbsp
Top NBA Draft Prospects in the ACC, Part Eight (#20-24)
September 13, 2013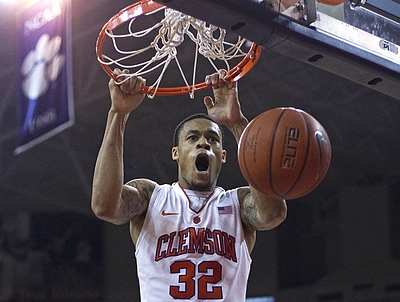 US Presswire



Derek Bodner

Standing 6'6" with a solid wingspan and tremendous athleticism, K.J. McDaniels became a much bigger part of the Clemson Tigers team during his sophomore season, as he saw his minutes increase from 10.1 minutes per game during his freshman season to over 27 per night last year and upped his scoring from a meager 3.9 points per game to 10.9.

Athleticism is the basis of McDaniels' intrigue as a prospect, as he possesses excellent open court speed and explosive leaping ability, making him a highlight waiting to happen. This gives McDaniels all kinds of advantages in the transition game, where he uses his speed to get out ahead of the break and finishes with spectacular displays of athleticism. It also presents itself off on the offensive glass, where you routinely see McDaniels soar in and throw a putback down with authority.

To build on top of this, McDaniels has worked hard to add a spot-up game to his repertoire, giving him a much more prominent role in the half-court. While McDaniels can be streaky at times, he has re-worked his release and now has a very quick and compact release, making him a threat in catch and shoot situations. According to Synergy Sports Technology, McDaniels made 39% of his attempts with his feet set, albeit on a fairly limited sample size. With more repetition, this looks like it could become a more prominent and consistent part of his arsenal, which would greatly enhance his draft stock.

Creating off the dribble is where McDaniels' deficiencies begin to show up. He is able to find some offense from simple straight line drives to the basket, particularly when his defender closes out a little bit too aggressively on him, but his ball-handling skills are relatively primitive for a wing player and he struggles to get all the way to the rim regardless of which direction he's driving. This is compounded by the fact that he doesn't have a reliable pull-up game—he made just 22% of his off the dribble jumpers last season--and struggles in general with his balance and footwork when shooting off the dribble, and hasn't yet developed much in terms of pull-ups or floaters in the lane.

While his half-court game is largely as a standstill, catch and shoot player, McDaniels' ability to draw fouls in transition, off of cuts and from offensive rebounds keeps his free throw rate respectable at 4.3 free throw attempts per 40 minutes pace adjusted, despite his struggles creating offense off the bounce.

Perhaps not surprising due to his lack of shot creation ability, McDaniels doesn't present much of an asset as a passer, generating only 1.2 assists per 40 minutes pace adjusted. He does do a good job of rotating the ball on the perimeter, with the ball not frequently getting "stuck" in his possession for very long.

On the defensive side of the ball, McDaniels' physical attributes once again shine. His 3.2 blocks per 40 minutes pace adjusted far outshines any other swingman in our database. In fact, you would have to go back to Dominic McGuire at Fresno State in 2006/2007 to find a wing prospect with a higher total. He also possesses good lateral quickness, a solid wingspan, and a strong upper body, making him a good defensive prospect. He does a good job of fighting through screens and giving effort on this side of the court, although he can at times get too upright on the perimeter and be prone to misdirection.

A relative unknown in high school who played a marginal role as a freshman, K.J. McDaniels' improvement last season combined with his physical profile presents a fair amount of intrigue as a prospect, and his development of a reliable catch and shoot game is the first (and very important) step in diversifying his skill set on the perimeter. With Clemson losing Devin Booker and Milton Jennings to graduation, McDaniels will have to shoulder a much heavier load in the half-court and will be relied upon to create more offense for both himself and his teammates. Continuing to improve his ball-handling, while showing further improvement in his shooting, will be important for McDaniels going forward. If he continues to show progress with his skill-set, he has a chance to draw some serious attention to himself as pro prospect moving forward.

[Read Full Article]

---