Kelly Olynyk
Recent Tweets
All Tweets
DraftExpress: Kelly Olynyk DeShaun Thomas Ray McCallum Tim Hardaway Reggie Bullock C.J. McCollum Victor Oladipo RT @Mr_TQ Top 2013 draft picks in PER?
2013-07-17 13:37:30
DraftExpress: 2013 Top Summer League PERs Luke Harangody Andrew Goudelock Markieff Morris Kelly Olynyk Josh Akognon Mike Scott Stefhon Hannah
2013-07-17 13:31:48
DraftExpress: Top Summer League PERS Kelly Olynyk Dwight Bucks A.J. Slaughter Chris Roberts Miles Plumlee Khalif Wyatt Jeremy Evans Robert Covington
2013-07-16 19:05:46
DraftExpress: RT @DraftExpress2 Kelly Olynyk scored 29.5 points per-40 in the Orlando SL putting together one of the most productive SL campaigns this \u2026
2013-07-13 14:11:34
DraftExpress: Kelly Olynyk scored 29.5 points per-40 in the Orlando SL putting together one of the most productive SL campaigns this decade.
2013-07-13 13:36:14
Team: Celtics
Physicals
Positions
Salary
Misc
H: 7' 0"
W: 234 lbs
Bday: 04/19/1991
(24 Years Old)

Current: C
NBA: C
Possible: C

Agent: Arn Tellem
Current Salary:$2,075,760

High School: Kamloops
Hometown: Scarborough, ON
Drafted: Pick 13 in 2013 by Celtics

Predraft Measurements
| Year | Source | Height w/o Shoes | Height w/shoes | Weight | Wingspan | Standing Reach | Body Fat | No Step Vert | Max Vert |
| --- | --- | --- | --- | --- | --- | --- | --- | --- | --- |
| 2013 | NBA Draft Combine | 6' 10.75" | 7' 0" | 234 | 6' 9.75" | 9' 0" | 6.7 | 24.5 | 29.5 |



Basic Per Game Statistics

- Comprehensive Stats - Statistical Top 25s
| Year | League | Name | GP | Min | Pts | FG | FGA | FG% | 2Pt | 2PtA | 2P% | 3Pt | 3PtA | 3P% | FTM | FTA | FT% | Off | Def | TOT | Asts | Stls | Blks | TOs | PFs |
| --- | --- | --- | --- | --- | --- | --- | --- | --- | --- | --- | --- | --- | --- | --- | --- | --- | --- | --- | --- | --- | --- | --- | --- | --- | --- |
| 2015/16 | NBA | Kelly Olynyk | 16 | 17.6 | 7.0 | 2.6 | 6.8 | 38.0 | 1.5 | 3.8 | 40.0 | 1.1 | 3.0 | 35.4 | 0.8 | 1.1 | 76.5 | 1.3 | 2.7 | 3.9 | 1.3 | 1.1 | 0.7 | 1.2 | 2.1 |

Player Page&nbsp&nbsp| Player Stats | Mock Draft History | Related Articles&nbsp&nbsp| Add to My Draft Express&nbsp
&nbsp
Situational Statistics: the 2013 Power Forward Crop
June 21, 2013
-Kelly Olynyk's breakout season definitely stands out on paper. His 1.13 points per-possession is the highest in this group while his 15 possessions per-game also place him in the top-five power forward prospects in usage.

Unlike Bennett and Zeller, Olynyk did his best work compared to the rest of the field in the half court, where his 1.10 PPP is one of the top marks among all players eligible for the 2013 draft. He ranks in the top two in scoring efficiency on cuts and as the roll man on the pick and roll, in addition to converting a top-ranked 58.3% of his shot attempts in the post and 70% as a finisher at the rim.

An exceptionally skilled player for his size, Olynyk's 1.6 jump shot attempts per-game doesn't jump off the page, and ranks below the average number of tries, but he scored a very respectable 0.96 PPP when he did fire away from the perimeter. Though he is not the athlete Bennett or Zeller are, his skill level allowed him to outperform them at the college level in terms of scoring efficiency. A fairly unique player, Olynyk will be one of the more interesting cases from this draft class to track on paper as a rookie given his rare and exceptional profile.

[Read Full Article]

---
Kelly Olynyk Workout Video and Interview
June 17, 2013
[Read Full Article]

---
NBA Combine Interviews: Zeller, Olynyk, Carmichael, Mbakwe
May 18, 2013
[Read Full Article]

---
Kelly Olynyk Video Scouting Report
January 30, 2013


Mike Schmitz is the video analyst for DraftExpress. Follow him on twitter and subscribe to his YouTube page. He will be breaking down the NBA draft in digital format all year long for us.

[Read Full Article]

---
Trending Prospects (1/7/2012)
January 6, 2013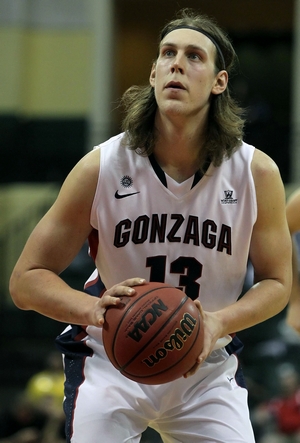 US Presswire



Mark Few's Gonzaga Bulldogs have gotten off to an exceptional start, earning a top-10 ranking and sporting a 15-1 record thus far. Though the program has gotten timely contributions from point guard Kevin Pangos and senior forward Elias Harris, redshirt junior Kelly Olynyk has quickly emerged as the team's leading scorer and most intriguing NBA prospect after sitting out the team's first three games for violating Gonzaga's student code of conduct.

Averaging just 12.9 minutes per-game playing behind L.A. Lakers second round pick Robert Sacre over his first two seasons in Spokane, patience has been a virtue for Olynyk. Catching the attention of scouts while gaining valuable international experience playing with Canada's junior national teams, the Kamloops native took a significant step forward when he debuted for Canada's senior national team in 2010 after his freshman year. Despite a disappointing 22nd place finish at the FIBA World Championships, Olynyk scored 33 points in 63 minutes against France and Spain, flashing intriguing potential as an inside-outside threat facing elite competition at just 19 years of age.

Seeing only a minor uptick in playing time upon returning to campus as a sophomore, Olynyk opted to sit out the 2011-2012 season, or what would have been his junior year, to retain a year of eligibility and prepare for the opportunities he'd see with Sacre out of the picture. Spending another two summers with the Canadian national team and Gonzaga's offseason program working tirelessly in the weight room, the 21 year old center is reaping the benefits of his decision this season.

The maturing Olynyk did away from the floor is evident on first glance. Redistributing the 240-pounds on his 7'0 frame and having significantly improved his conditioning, the once somewhat soft, gangly, oversized stretch-four now looks the part of a NBA center. He has gotten noticeably stronger, especially in his upper body, and while he still lacks great explosiveness, his bulked up frame hasn't had a negative impact on his excellent mobility.

Olynyk has matched his physical development with a dramatically different approach on the offensive end. Content to spot-up away from the rim and fire jump shots from the perimeter early in his career, the big man has embraced his role as post-scorer and finisher this season, doing a significant better job utilizing his size to his advantage in the paint.

What makes Olynyk unique is his versatility and skill level for a 7-footer. By no means a flashy scorer and far from a freak athlete, the inside-outside threat can use his size and soft touch to score in the post, finish his opportunities at the rim, and step out and make shots from the perimeter.

Wasting no time getting re-acclimated to a balanced Gonzaga attack that boasts terrific chemistry, Olynyk's efficiency has been nothing short of tremendous this season, as he ranks 3rd in the nation in two-point percentage at 71%. Showing a willingness to do the work before the catch and establish good position on the block, the fourth year junior doesn't have a go-to move per se, but has a knack for taking what defenders give him with his extremely high skill-level and is shooting 65% in the post (third amongst NBA prospects) according to Synergy Sports Technology, thanks in large part to his soft touch.

When he isn't operating one on one in the post, Olynyk earns himself some easy opportunities by virtue of his size and activity level off the ball. He moves well within Gonzaga's offense, cutting aggressively to the basket, plays exceptionally well off the penetration of his teammates, and provides a big target in the paint.

Away from the basket, Olynyk is still a reliable set shooter, even if he is taking jump shots at a significantly lower rate than he did early in his career. Shooting 4/12 from beyond the arc and 9/19 on jump shots overall this year, Olynyk does not leak out to the perimeter often, but is still a threat to hit from the outside. His shooting ability has been a big plus for him at the free throw line this season, where he's shooting 81%, and gives him some upside as a pick and pop threat at the next level.

When defenders give Olynyk driving lanes when he operates away from the rim, he shows unique ball handling ability for a big man. Always appearing in control when he puts in the ball on the floor, Olynyk lacks the quickness to blow by defenders in isolation situations, but he can use his dribble to set up his defender for a move in the mid-post, or dribble into a jump shot.

A versatile offensive talent, Olynyk is not without his faults. He ranks in the top 10 in turnovers amongst prospects in our top-100 per-40 minutes pace adjusted, being a bit too aggressive putting the ball on the floor when operating in the post.

With that said, scouts will have significantly more pressing questions about his rebounding ability and defensive presence. Lacking the explosiveness to rebound outside of his area or provide a presence blocking shots from the weakside, Olynyk does not make a sizeable contribution in either area relative to his peers, ranking last and fifth to last in blocks and defensive rebounds per-40 minutes pace adjusted respectively among the centers in our top-100. He does a solid job crashing the offensive glass, but must work to become a bigger factor on the defensive end.

Olynyk shows somewhat inconsistent intensity on the defensive end, though he does operate in a decent stance and moves his feet well for his size. His lack of lateral quickness and often poor awareness limit his impact on this end of the floor. He'll need to improve his intensity and show better focus to help make up for his shortcomings as best he can on this end of the floor.

One of the most pleasant surprises in the NCAA this season, Olynyk seems like a prime candidate to fill a complimentary role at the next level. His size and versatile offensive game allow him to exploit different match ups, spread the floor for his teammates, and gives him potential in the two-man game. He still has room to improve as a defender and rebounder, but players with Olynyk's profile are rare, making him someone who could easily factor into the 2013 or 2014 draft.

[Read Full Article]

---