In this of edition of our "Rookie Retrospectives" series, we'll be looking at our first European player from the 2008 draft class,
Marc Gasol
. After an impressive international stint playing for now-defunct Akasvayu Girona of his native Spain, Gasol decided to make the jump to the NBA. With his rights traded from the Lakers to the Grizzlies during the famous
Pau Gasol
deal, Marc was expected to bring frontcourt toughness and an inside scoring presence to Memphis' thin front line. Throughout his rookie campaign, Gasol proved his worth as an NBA starter and was named Second Team All-Rookie at season's end. Although he may not possess the star potential of some other rookies we've covered, the Grizzlies will expect Gasol to become a major cog during the next couple seasons as he continues to adapt to the NBA.
Rookie Retrospective: Courtney Lee
Rookie Retrospective: Eric Gordon
Rookie Retrospective, Kevin Love
Rookie Retrospective, Brook Lopez
Rookie Retrospective, Greg Oden
Rookie Retrospective, Russell Westbrook
Rookie Retrospective, D.J. Augustin
Rookie Retrospective, O.J. Mayo
Rookie Retrospective, Michael Beasley
Rookie Retrospective, Derrick Rose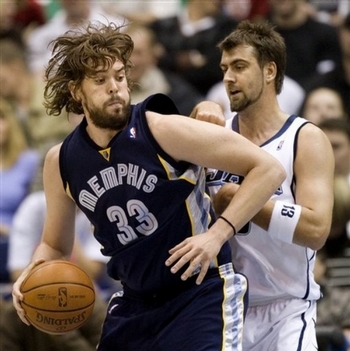 Rookie Retrospective: Marc Gasol
C 7'1" 265 Memphis Grizzlies
Part One: Inside Scoring & Post Skills
Then:
"The young Gasol is a rather skilled player and delivers some nice intensity. He can play in the low post, although he could take better advantage of his big body and improve his jump-hook, he has a decent mid-range jumper, can pass the ball, understands the game and can even put the ball on the floor, although it's not that much of a help considering his limited quickness."
-2007 Spanish King's Cup: NBA Draft Prospects - 2/13/07
"On the negative side, this Final Four again exposed that he could certainly use a better left hand. He loses space and effectiveness going for an orthodox right-handed short shot instead of a left-handed jump-hook whenever he attacks a rival from the left."
-Roundup:
Marc Gasol
, Substance Over Spectacle - 4/19/07
Now:
After a successful European career in which he was named MVP of the Spanish ACB and contributed during his country's Olympic run, Gasol was expected to provide the Memphis Grizzlies with some much needed frontcourt depth and toughness. Throughout his rookie season, he answered this call by developing into a reliable post presence, and was in serious consideration for the ROY award. According to Synergy Sports Technology, single covered post-ups accounted for 43% of his overall attempts, and Gasol has shown a surprising amount of finesse around the rim in these situations, although his statistics are relatively pedestrian (NBA - 49% FG%, 0.98 PPP).
Gasol received the ball on the left block about twice as often as he did on the right one, and he's proven to be more effective from the left side of the floor (NBA - 48% FGM, 0.98 PPP) than the right side (NBA - 40% FGM, 0.83 PPP). When comparing Gasol's NBA post preferences with his situational stats from his previous season with Akasvayu Girona, there are some notable differences. For one, he didn't seem to prefer one block over the other in Europe; however, he did prefer his baseline shoulder on both blocks and scored very effectively with a variety of hook shots and wheel moves. Perhaps since he faces fewer double teams in the NBA and has a very small physical advantage over most NBA defenders, the Grizzlies feel Gasol maximizes his scoring ability when turning to the middle of the floor and utilizing a sweeping hook rather than a baseline hook shot from a tough angle.
Regardless of which block Gasol makes the initial catch, he displays a sweeping hook shot across the lane that's extremely difficult to defend and really showcases his interior touch. If he shoots this hook shot going toward the rim, it's an effective play; however, sometimes he'll get knocked off balance and let it fly as he's fading away from about 12-15 feet. In these cases, the hook rarely falls, and Gasol's teammates are often left out of position to hit the offensive glass. When he senses a lot of defensive resistance when he dribbles to set up the sweeping hook, he needs to look to kick the ball to a teammate on the opposite wing. It will save the possession and give him a chance to repost and work against his man in a much more efficient way.
The one glaring weakness in Gasol's NBA post statistics is his inability to score when turning baseline from the right block. On the left block, Gasol utilizes a surprisingly quick wheel move to seal his man inside and get to the rim. If he developed this move for the right baseline, Gasol would have one solid "go-to" and counter move for each block, making him a more reliable inside offensive presence at the NBA level.
Part Two: Mid-Range Shooting
Then:
"Indeed his shooting range extends out to the [European] three-point line, while he greatly combines his scoring power with his passing game, not really looking for definitive passes, but feeding his team's offensive flow by distributing the ball from both the high and low post."
-Scouting the NBA Rights-Held Players at the 2008 Copa del Rey - 2/19/08
" Although we have dealt it before, it deserves to be stressed again the way he contributes to his team's offensive fluidity, showing a high basketball IQ and excellent court vision--always being aware of his teammates' position. That fluidity comes both in the set offense, particularly they way Gasol ships the ball quickly to the weak side, and in transition, as he's automatic sending the ball to a guard after a defensive rebound to ignite the offense."
-Roundup:
Marc Gasol
, Substance Over Spectacle - 4/19/07
Now:
Although Gasol has an impressive amount of finesse around the rim, it really does not translate into his midrange game. He ranks 3rd in true shooting percentage among rookies at an impressive 59%, but this comes mainly from his inside finishes and the fact that he's a relatively efficient free throw shooter at 73%. Through one NBA season, he's done a solid job of getting to the free throw line averaging 4.6 FTA/G - a number that will improve as his role increases within the Grizzlies offense. From outside the lane, Gasol is not yet a great mid-range shooter (41% FG between 17 feet and the NBA 3-point line, 0.88 PPP) and may have some issues with his mechanics.
In analyzing film, the problem which stands out most is his lack of knee bend and elevation on his jump shot. Given his size, Gasol doesn't need to elevate over defenders, but a little more knee bend and lift from his legs would provide him with a better shot trajectory and more fluidity on his jumper, since he's compensated for his lack of lift by cocking his wrist back a bit excessively, which hurts his consistency as well. Right now, his release point remains a bit low, which may be a direct result of this lack of lift. Individual work could improve Gasol's shooting numbers even more and allow the Grizzlies to space the floor very effectively next year, especially if they pick up another post presence this offseason.
Part Three: Decision-Making
Then:
"The current leader in efficiency rating in the ACB League, Marc Gasol has built a pretty mistake-free style of game that helps him to emerge as a statistical standout. He's long, very strong, nicely skilled, and very smart playing the game."
-Scouting the NBA Rights-Held Players at the 2008 Copa del Rey - 2/19/08
"Although we have dealt it before, it deserves to be stressed again the way he contributes to his team's offensive fluidity, showing a high basketball IQ and excellent court vision--always being aware of his teammates' position."
-Roundup:
Marc Gasol
, Substance Over Spectacle - 4/19/07
Now:
Watching Gasol operate in the half-court really showcases his decision-making ability and high basketball IQ. He's rarely impatient when he catches the ball on the block, and has the ability to set up his initial post move with a series of fakes or crab dribbles. He hasn't faced many double teams in the NBA, but Gasol showed solid post passing throughout his career in the Spanish ACB League. His turnover ratio is approximately the same as it was in Europe, but one would expect this ratio to be lower considering his diminished role in the Grizzlies offense. As his responsibilities increase in their halfcourt sets, Gasol will need to ensure that he protects the basketball and values each possession for a Memphis team that turns the ball over quite frequently compared to most of the League.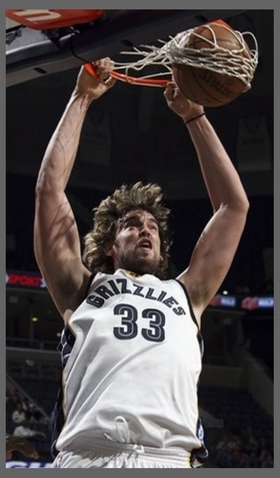 Part Four: Rebounding & Athleticism
Then:
"In short, we're talking about an absolute stud at this level. It's still not 100% clear that he's athletic enough to play substantial minutes in today's NBA, especially early on, but to land a player this big with this kind of skill level and basketball IQ is an absolute coup. He might be the best big man in the ACB these days, which is saying an awful lot."
-Blogging Through Europe (Part 2: Belgium) - 11/28/07
"How much will Gasol's lack of athleticism get exposed in the NBA? I guess that's the question every single decision maker will be asking himself when it comes to evaluating the big Spanish center. With much more individual oriented defenses, it's a very legit concern. In the ACB League, he relies on his excellent positioning to emerge as a very solid defensive presence. It's not going to be the same in the NBA."
-Roundup:
Marc Gasol
, Substance Over Spectacle - 4/19/07
Now:
Just finished with his rookie season,
Marc Gasol
has shown the ability to rebound at a decent rate on the NBA level. And although he possesses respectable numbers in terms of per game averages (7.4 RPG - 3rd among rookies), his 9.8 rebounds per-40 pace adjusted rate is rather mediocre for a gifted seven-footer seeing extensive minutes. His average production can be attributed to his lack of explosiveness and strength, as well as his physical conditioning. He has struggled against much more physical and athletic NBA post players, and because he's sometimes lazy in getting to the weakside block on shot opportunities, his defensive rebounding numbers are a little lower than the Grizzlies had hoped. By working to improve his conditioning to help his interior positioning just before shots are fired, Gasol should see his rebounding numbers increase next season, particularly if the Grizzlies can surround him with another interior scorer this offseason.
On the offensive glass, Gasol has been notably more effective than he was during his years with Akasvayu Girona. As a member of the Grizzlies, offensive rebounds account for 10% of Gasol's offensive possessions, compared to just 5% last season in Europe. This increased production is due to the fact that Gasol spends the majority of his time roaming the paint and plays a diminished role in the Grizzlies offense compared to what he was expected to do on the offensive end of the floor with Akasvayu Girona. Regardless, his willingness to crash the boards helped him immensely this season.
Part Five: Defense
Then:
"He wasn't really a go-to guy for Girona on the offensive end (mainly because of Real Madrid's double-teaming defense), but especially he doesn't make a great impact on the defensive end. His limited mobility gets exploited in pick-and-roll situations that the opponents throw at him; he's not a great intimidator, he allows smaller opponents to shoot over him; and given his superb size, he's not the best rebounder around."
-Scouting the NBA Rights-Held Players at the 2008 Copa del Rey - 2/19/08
Now:
Much of what we documented about Gasol during his European career has held true during his rookie season in the NBA. Given his lack of vertical explosiveness and lateral quickness, he actually creates a surprising number of defensive turnovers (1.0 STLPG, 1.5 BLKPG); however, he still struggles whenever forced to guard perimeter oriented big men or the pick-and-roll. When guarding ball screens, the Grizzlies seem to hedge most frequently, which often results in Gasol getting caught outside of the three point arc and failing to rotate successfully back to his man. Gasol must improve upon his conditioning to improve his lateral quickness and pick-and-roll defense to avoid becoming a defensive liability moving forward. If he fails in this department and/or the Grizzlies don't improve their interior defense this offseason by surrounding him with more talent, we can expect to see Memphis continue their defensive struggles through another season.
In instances where Gasol is defending the interior, he holds his ground well, although he rarely makes highlight-reel defensive stops. Since he's a step slow, he's a victim of quick-footed bigs possessing great wheel or seal moves which pin him on the backside of the offensive player. And although he'll never really be the type of intimidating, explosive defender the Grizzlies desperately need, Gasol still shows good fundamentals to counter the offensive skill sets of more talented NBA players and keep them out of the lane.
Help side defense is the area in which Gasol must improve his defensive game the most. As we previously wrote, he often allows smaller defenders to shoot over him and lacks lateral quickness - both of which usually equate to subpar defense. Gasol also tends to play lackadaisically off the ball, rarely knocking down cutters and looking to aggressively box out on when shots goo up. If he improves on his work ethic and hustle, we should see him develop into a respectable NBA defender - particularly if he increases his tenacity against more athletic players. Being a member of a struggling defensive system like Memphis' certainly hurts Gasol's numbers, but the addition of another interior presence this offseason should help the team's defensive play.
Part Six: Intangibles
Then:
"As usual, he didn't make much noise, nor did he capture the headlines in his team's victory in the FIBA EuroCup. But he was again an important foundation in Akasvayu's game. Gasol has emerged as a guy you can count on in every game, whether your routine regular season visit or a crucial appointment such as the EuroCup Final Four."
-Roundup:
Marc Gasol
, Substance Over Spectacle - 4/19/07
Now:
As we previously documented, Gasol was a steady staple of his European club and consistently produced on even the biggest stages. This consistency has translated to the NBA, where Gasol's per month averages remained relatively constant for the entire NBA season - something that's unheard of for most rookies adapting to an 82-game season. Throughout the course of his rookie campaign, it seemed like he earned his teammates' trust, as they began to feed him more in the low post. If he can continue to develop his game and lead by example for the Grizzlies' young nucleus, we might see a very exciting team out of Memphis in the next few seasons, especially when they get him some help down low to better utilize his skill set in their system as a complementary player.