Shawn Long
Recent Tweets
All Tweets
DraftExpress2: RT @Mike_Schmitz Watching a lot of film on 2015 #NBADraft prospects for our preseason video series. Interested to see how Shawn Long does \u2026
2014-08-11 20:15:26
DraftExpress2: Watching a lot of film on 2015 #NBADraft prospects for our preseason video series. Interested to see how Shawn Long does as ULL's #1 option.
2014-08-11 20:14:43
Team: La Lafayette, Senior
Physicals
Positions
Rankings
Misc
H: 6' 10"
W: 256 lbs
Bday: 01/29/1993
(22 Years Old)

Current: C
NBA: C
Possible: C

Rank 82 in Top 100 Prospects
Rank 21 in NCAA Seniors

High School: Morgan City
Hometown: Morgan City, LA

Predraft Measurements
| Year | Source | Height w/o Shoes | Height w/shoes | Weight | Wingspan | Standing Reach | Body Fat | No Step Vert | Max Vert |
| --- | --- | --- | --- | --- | --- | --- | --- | --- | --- |
| 2015 | USA Pan Am Team | 6' 9" | 6' 11" | 200 | 7' 1.5" | 8' 10" | NA | NA | NA |
| 2015 | Nike Skills Academy | NA | 6' 10.5" | 248 | 7' 1" | NA | NA | NA | NA |
| 2014 | Nike Skills Academy | NA | 6' 10" | 256 | 7' 0" | NA | NA | NA | NA |



Basic Per Game Statistics

- Comprehensive Stats - Statistical Top 25s
| Year | League | Name | GP | Min | Pts | FG | FGA | FG% | 2Pt | 2PtA | 2P% | 3Pt | 3PtA | 3P% | FTM | FTA | FT% | Off | Def | TOT | Asts | Stls | Blks | TOs | PFs |
| --- | --- | --- | --- | --- | --- | --- | --- | --- | --- | --- | --- | --- | --- | --- | --- | --- | --- | --- | --- | --- | --- | --- | --- | --- | --- |
| 2015/16 | NCAA | Shawn Long | 2 | 34.0 | 23.0 | 9.0 | 16.5 | 54.5 | 7.5 | 12.5 | 60.0 | 1.5 | 4.0 | 37.5 | 3.5 | 9.0 | 38.9 | 6.0 | 7.5 | 13.5 | 0.5 | 1.0 | 2.5 | 3.0 | 3.5 |

Player Page&nbsp&nbsp| Player Stats | Mock Draft History | Related Articles&nbsp&nbsp| Add to My Draft Express&nbsp
&nbsp
Top NBA Prospects in the Non-BCS Conferences, Part 7: Prospects #11-15
November 11, 2015
Josh Riddell

Originally a Mississippi State commit, Shawn Long transferred to Louisiana Lafayette after just one semester with the Bulldogs. After receiving a waiver to play the entire 2012-13 season, he was part of a formidable duo with eventual lottery pick Elfrid Payton for two seasons, and emerged as a player to watch over the rest of his collegiate career.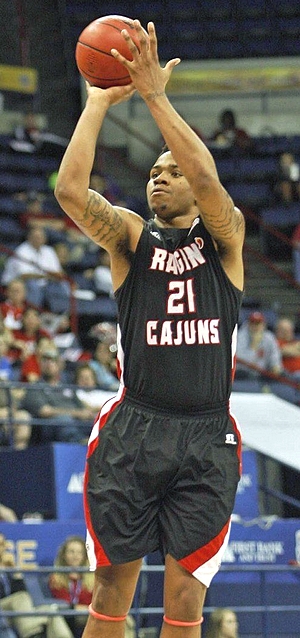 Peter G. Forest, Nola.com



Long spent his summer playing for the USA in the Pan Am games, where he was measured at 6-11. He has decent length for a big man as well at 7-1, although his wingspan is probably closer to that of a power forward's than a center.

Offensively, Long has terrific scoring instincts and can be considered a dual threat as an inside-out player, but he needs to improve in both aspects to be able to score consistently against better defenders. 25% of his offensive possessions were post-ups according to Synergy Sports Technology, but he is just an average scorer in these sets at 43.2%. Long doesn't have the one or two go-to moves that he can rely on regularly. Although he may never become a go-to post scorer without a big leap forward, Long can take advantage of his versatility to score on post-ups and in mid-range isolations in small spurts as a power forward operating against smaller big men.

He has a nice combination of quickness and strength that allows him to get to the rim by facing up or using quick spins to get past his defender or hook shots to shoot over the defense, and can be difficult to contain with his ability to utilize both skill and power. He was doubled a lot when he caught the ball in the post and had trouble with the pressure, which lead to a 19.6% turnover rate on post-ups according to Synergy Sports Technology. He won't be doubled as much against NBA teams, but he will need to improve his vision and willingness to pass when he does have open teammates, as he can be somewhat of a black hole at times.

As somewhat of a tweener big man, Long's ability to stick in the NBA long term could hinge on his ability to play on the perimeter, and he has already shown a willingness to shoot three pointers. He attempted 2.9 per 40 minutes pace adjusted last season and made 34.7% of these shots. This is a decrease from his sophomore season mark of 40%, but he's made a decent volume of 3-pointers in his college career (88, on 35% accuracy), so it will be interesting to see how he fares in this area as a senior and moving forward, as he doesn't have the prettiest shooting mechanics at the moment.

Despite not possessing elite length or explosiveness, Long has become one of the best rebounders in the country on both ends of the floor. He was the top defensive rebounder in our top 100 last season at 9.2 per 40 minutes pace adjusted and he also contributed [url=http://www.draftexpress.com/stats.php?year=2015&league=NCAA&per=per40pace&qual=top100&sort2=DESC&pos=all&stage=all&min=15&conference=All&sort=19]3.9 offensive rebounds per 40 minutes pace adjusted. Long has great instincts on the glass and is usually first to the ball off the rim. He has great hands to secure the ball and can finish put-backs on offensive rebounds. This is a key selling point for NBA teams as he could be a valuable rebounder at the next level as long as he continues to stay in shape and operate with maximum intensity at all times.

Long can also block shots around the rim as he averaged 2.1 per 40 minutes pace adjusted last season. He needs to rely on his timing and quick jumping ability to block shots rather than his length. Whether he has the athleticism to protect the rim at the next level and fill that role remains to be seen, but he does show nice instincts, even if his effort level can be mixed at times.

There are questions about which position Long guards, as he seems to be caught between the center and power forward position. Although he has nice size and strength to guard interior players, he doesn't have tremendous length or explosiveness and has struggled with conditioning in the past. Teams will want to get a better gauge on his ability to step out on pick and rolls and contain dribble penetration, as his lateral quickness is not the best compared with many power forwards.

Long will turn 23 in January and is one of the oldest players in our top 100. He will get draft attention due to his size and skill-set as he has the potential to fill a variety of roles and has intriguing potential as a stretch forward. There may be some question marks about his upside, as he didn't make huge strides from his sophomore to junior season, but with a productive senior year, Long should get plenty of opportunities to show he can contribute at the NBA level during the pre-draft process.

[Read Full Article]

---
Nike Academy Scouting Reports: College Power Forward/Center Prospects
July 6, 2015
Mike Schmitz

The Louisiana-Lafayette big man did exactly what he's done over the course of his three-year college career – show glimpses of offensive brilliance only to leave you wanting more in terms of defensive effort and his body/conditioning.

Long has the physical profile and offensive skill set of a potential first round pick. He has the size, strength, and length to play either big position in a pinch, and the shooting range and interior scoring to play inside or outside.

But as has been the case during his three years with the Rajun Cajuns, Long has never improved his body (fairly thin limbs with a heavy midsection), defensive effort or feel for the game.

Long didn't take over any of the scrimmages or dominate by any stretch, but his offensive talent was clear. He has nice touch from the perimeter, is very capable of dropping in jump hooks on the interior, can put it on the deck a little in a straight line, and is a load on the offensive glass, showcasing a fairly quick second jump despite not being a freak athlete from a vertical explosiveness perspective.

Long does have a tendency to be a bit wild when on the move or versus pressure, but he did a fairly nice job playing within himself over the course of the camp. On the defensive end, however, Long's usual bouts of inconsistency were clear. The Morgan City, LA native will have one or two possessions where he shows good effort, plays with toughness and finishes with a defensive rebound.

But for every solid defensive possession he has, Long gives you a lazy pick and roll hedge/plug or lackadaisical closeout, making you wonder if he'll ever have the fire and tenacity to take advantage of his solid physical tools on the defensive end.

Long also didn't provide much rim protection when he was at the five, an area where he took a step back last season. Long has put together back to back 28 PER seasons and is a versatile talent, but at age 22 with an inconsistent motor and minimal improvement during his college career, he'll really have to have a big senior campaign to hear his name called on draft night come June, 2016.

[Read Full Article]

---
Top NBA Prospects in the Non-BCS Conferences, Part Four
October 31, 2014

Mike Schmitz is the video analyst for DraftExpress. Follow him on twitter and check out the DraftExpress video section. He will be breaking down the NBA draft in digital format all year long for us.

[Read Full Article]

---