We continue our coverage of the top NBA Draft prospects in the non-BCS conferences with part seven, players ranked 11-15:
Patrick McCaw
,
Shawn Long
,
Maodo Lo
,
Paris Bass
and
Derrick Jones
.
---
More DX Conference Preseason Previews:
-The Top 20 NBA Draft Prospects in the Pac-12
-The Top 20 NBA Draft Prospects in the Big East
-The Top 15 NBA Draft Prospects in the Big 12
-The Top 20 NBA Draft Prospects in the SEC
-The Top 10 NBA Draft Prospects in the AAC
-The Top 30 NBA Draft Prospects in the ACC
-The Top 25 NBA Draft Prospects in the Big Ten
---
Top NBA Draft Prospects in the Non-BCS Conferences
-Top NBA Draft Prospects in the Non-BCS Conferences, Part One
(#1) Stephen Zimmerman (Scouting Video)
-Top NBA Draft Prospects in the Non-BCS Conferences, Part Two
(#2) Domantas Sabonis (Scouting Video)
-Top NBA Draft Prospects in the Non-BCS Conferences, Part Three
(#3) Malik Pope (Scouting Video)
-Top NBA Draft Prospects in the Non-BCS Conferences, Part Four
(#4) DeAndre Bembry (Scouting Video)
-Top NBA Draft Prospects in the Non-BCS Conferences, Part Five
(#5) Ron Baker (Scouting Video)
-Top NBA Draft Prospects in the Non-BCS Conferences, Part Six
(#6) James Webb III
(#7) Kyle Wiltjer
(#8) Joel Bolomboy
(#9) Fred VanVleet
(#10) E.C. Matthews
---
#11, Patrick McCaw, 6-7, Sophomore, Shooting Guard, UNLV
Jonathan Givony
Despite playing for a major AAU program in Mac Irvin Fire, and a national powerhouse high school in Montrose Christian, St. Louis native Patrick McCaw was considered a borderline high-major prospect and not someone anyone was particularly excited about going into his freshman season at UNLV.
That makes sense considering the fact that he reportedly grew around seven inches between the 8th grade and his final year of high school, and has thus always been extremely underdeveloped physically. The son of a high school coach, McCaw played a much bigger role than expected last season, averaging 30 minutes per game, and delivering some extremely impressive performances in the months of January and February.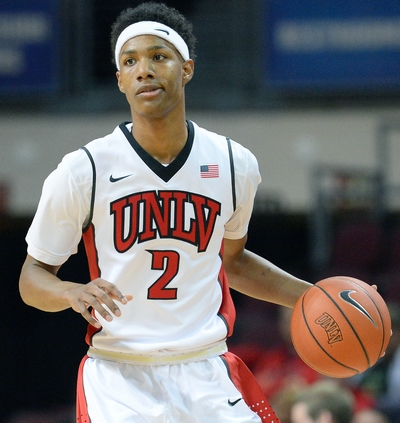 Now standing 6-7, McCaw still has a lanky frame, which looks to be several years away from physical maturation, but has impressive length and is an impressive athlete. The extent of which he's able to gain strength, particularly in the lower body, will likely play a major role in how he's perceived as a draft prospect and whether he's able to reach his full potential in the long term.
McCaw's offensive game is a work in progress, as he was not particularly prolific (13.2) or efficient (54% TS%) as a freshman, but shows flashes of potential in a few different areas that are intriguing from a player his size.
60% of McCaw's field goal attempts came from beyond the arc last season, and he made a solid 38% of his 3-point attempts. He gets great elevation on his jumper, springing up high off the floor and creating nice separation in turn, but still has excellent footwork, balance and follow-through, flailing his elbow somewhat, but showing a compact and consistent release point that bodes well for his development in this area. He was relatively effective shooting with his feet last season, but only converted on 20% of his off the dribble attempts, many of which were contested pull-ups in the mid-range area.
He has excellent speed in the open floor, making him a dynamic threat in transition, and can beat his man off the dribble explosively in the half-court in a straight line. Unfortunately McCaw's ball-handling skills have yet to catch up with his athleticism, as he does not yet possess the ability to change speeds, hands or directions with the ball, and really struggled to create shots for himself and others efficiently in the half-court last season in pick and roll or isolation situations.
McCaw shows flashes of being able to use a low and quick crossover to create space coupled with his, but he has a difficult time handling contact in the lane and often looks reluctant to drive all the way to the basket, usually preferring to pull up for long 2-pointers instead. He converted just 20 of his 55 attempts inside the paint last season in the half-court, and drew a very limited amount of free throws (just 52 attempts in 898 minutes), often appearing to shy away from physicality with his narrow frame.
Unselfish, and fairly instinctive, McCaw does do a nice job of facilitating for teammates, averaging 3.4 assists per-40 and posting a positive PPR, giving him some potential to play a multi-positional role as his skill-level and frame continue to develop. His excellent size allows him to see over the top of the defense and make some impressive passes at times, something that really stood out on a UNLV team that struggled badly with ball-movement at times last year.
Defensively, McCaw shows nice potential with his excellent combination of size, length, athleticism and anticipation skills, helping him get in the passing lanes nearly two times per-40 minutes last season. He can get low and move his feet effectively with nice lateral quickness, and has some impressive moments at times closing out on shooters on the perimeter.
With that said, he has a lot of room to improve here, as he has a tendency to fall asleep in his stance, get lost off the ball, and gamble excessively for steals. His narrow frame, and lack of physicality makes him a target for post ups, and he has a difficult time getting through screens or staying in front of stronger opponents who can seemingly drive right through him. McCaw will not only need to add bulk, but also improve his fundamentals, focus-level, intensity and discipline to hold his own against better competition.
With all three backcourt starters (Rashad Vaughn, Jelan Kendrick, and Cody Doolin—who started 78 of a potential 84 games they were available for between them) out of the program, quite a bit of room has opened up on the perimeter, and UNLV will need McCaw to take a major step forward as a sophomore. The coaching staff is clearly expecting big things from him, as he was named team captain. NBA teams will always be intrigued by 6'7 athletic guards who can pass and shoot, and while McCaw has a ways to go, there is a lot to like about his long term potential.
#12, Shawn Long, 6-9, Senior, PF/C, Louisiana Lafayette
Josh Riddell
Originally a Mississippi State commit, Shawn Long transferred to Louisiana Lafayette after just one semester with the Bulldogs. After receiving a waiver to play the entire 2012-13 season, he was part of a formidable duo with eventual lottery pick Elfrid Payton for two seasons, and emerged as a player to watch over the rest of his collegiate career.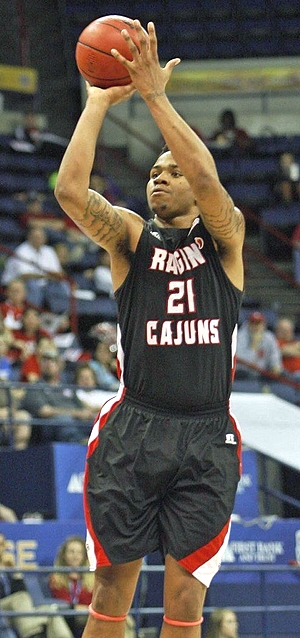 Long spent his summer playing for the USA in the Pan Am games, where he was measured at 6-11. He has decent length for a big man as well at 7-1, although his wingspan is probably closer to that of a power forward's than a center.
Offensively, Long has terrific scoring instincts and can be considered a dual threat as an inside-out player, but he needs to improve in both aspects to be able to score consistently against better defenders. 25% of his offensive possessions were post-ups according to Synergy Sports Technology, but he is just an average scorer in these sets at 43.2%. Long doesn't have the one or two go-to moves that he can rely on regularly. Although he may never become a go-to post scorer without a big leap forward, Long can take advantage of his versatility to score on post-ups and in mid-range isolations in small spurts as a power forward operating against smaller big men.
He has a nice combination of quickness and strength that allows him to get to the rim by facing up or using quick spins to get past his defender or hook shots to shoot over the defense, and can be difficult to contain with his ability to utilize both skill and power. He was doubled a lot when he caught the ball in the post and had trouble with the pressure, which lead to a 19.6% turnover rate on post-ups according to Synergy Sports Technology. He won't be doubled as much against NBA teams, but he will need to improve his vision and willingness to pass when he does have open teammates, as he can be somewhat of a black hole at times.
As somewhat of a tweener big man, Long's ability to stick in the NBA long term could hinge on his ability to play on the perimeter, and he has already shown a willingness to shoot three pointers. He attempted 2.9 per 40 minutes pace adjusted last season and made 34.7% of these shots. This is a decrease from his sophomore season mark of 40%, but he's made a decent volume of 3-pointers in his college career (88, on 35% accuracy), so it will be interesting to see how he fares in this area as a senior and moving forward, as he doesn't have the prettiest shooting mechanics at the moment.
Despite not possessing elite length or explosiveness, Long has become one of the best rebounders in the country on both ends of the floor. He was the top defensive rebounder in our top 100 last season at
9.2 per 40 minutes pace adjusted
and he also contributed 3.9 offensive rebounds per 40 minutes pace adjusted. Long has great instincts on the glass and is usually first to the ball off the rim. He has great hands to secure the ball and can finish put-backs on offensive rebounds. This is a key selling point for NBA teams as he could be a valuable rebounder at the next level as long as he continues to stay in shape and operate with maximum intensity at all times.
Long can also block shots around the rim as he averaged 2.1 per 40 minutes pace adjusted last season. He needs to rely on his timing and quick jumping ability to block shots rather than his length. Whether he has the athleticism to protect the rim at the next level and fill that role remains to be seen, but he does show nice instincts, even if his effort level can be mixed at times.
There are questions about which position Long guards, as he seems to be caught between the center and power forward position. Although he has nice size and strength to guard interior players, he doesn't have tremendous length or explosiveness and has struggled with conditioning in the past. Teams will want to get a better gauge on his ability to step out on pick and rolls and contain dribble penetration, as his lateral quickness is not the best compared with many power forwards.
Long will turn 23 in January and is one of the oldest players in our top 100. He will get draft attention due to his size and skill-set as he has the potential to fill a variety of roles and has intriguing potential as a stretch forward. There may be some question marks about his upside, as he didn't make huge strides from his sophomore to junior season, but with a productive senior year, Long should get plenty of opportunities to show he can contribute at the NBA level during the pre-draft process.
#13, Maodo Lo, 6'3", Senior, Point Guard, Columbia
Derek Bodner
When Columbia found out that upcoming senior Alex Rosenberg, their leading scorer, would miss the entire 2014-15 season with a fractured foot, they needed Maodo Lo, their dynamic scoring guard, to handle a big portion of the Lions' offense.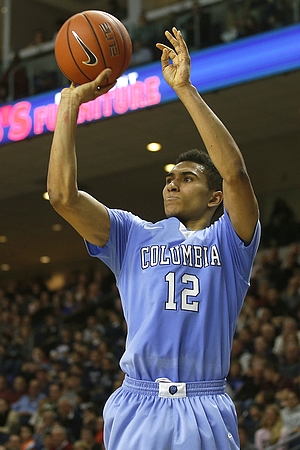 Lo responded about as well as one could have hoped for, considering his increase in usage. He increased his scoring from 19.1 points per 40 minutes, pace adjusted, to 22.9, and he did so while seeing a slight uptick in minutes played and maintaining his excellent efficiency, with a 61% true shooting percentage.
Lo's offensive game begins with his jump shot, which is an excellent weapon for the German-born combo guard and opens up much of the rest of his game. Lo shows proficiency in virtually every respect as a jump shooter, with an ability to shoot in catch and shoot situations (42.3%, good for 1.269 points per possessions, which ranks just outside of the top-10%), off the dribble (1.074 points per possession), and when coming off of screens. Overall, Synergy Sports Technology has Lo shooting 41.7% on all jump shots, with which he generates 1.171 points per possession from, which places him in the top-10 percentile.
From a form perspective, Lo gets excellent elevation on his jump shot and has a quick, repeatable shooting motion. He does a good job preparing himself before receiving the pass, and gets his shot off very quickly, and requires very little space to do so. He has excellent footwork and balance when shooting coming off of a screen, and shows the ability to shoot off the dribble as well, with comfort using one or two dribbles, primarily to his left, to setup a pull-up jump shot that he gets excellent elevation on and which is tough to guard, and he's also comfortable using a step-back to generate extra space if necessary.
This threat as a jump shooter opens up other areas of his game, primarily creating off the dribble in pick and roll sets or using the attention he receives to attack defenders closing out. Lo is a good, not great athlete, but he is quick with the ball in his hands and has a number of misdirection moves with either hand to help him get into the lane. When he gets into the paint, he has solid touch around the hoop and can contort his body to withstand contact despite his thin frame, but a lack of elite burst or explosiveness around the hoop does hold him back some in that regard.
Lo played largely off the ball for Columbia, but he could still stand to improve as a passer and a shot creator for others. Standing 6'3", Lo will have to play some point guard in the NBA, but is still working on his vision and creativity to really create regularly for his teammates. His decision making can be suspect at times, as he can frequently find himself trapped coming off the pick and roll, be too far deep in the teeth of a defense without an outlet, or just take risky passes that have a low probability of working.
With only 2.3 assists and 2.5 turnovers per game, his pure passer rating of -2.88 ranks as the second worst rating among any guard in our top-100 database, but to his credit, he fared much better as a point guard this summer with the German national team, at both the World University Games and European Championships. His ball-handling ability, feel for the game, and ability to operate at different speeds gives him nice potential in this area, particularly when surrounded by better teammates in a pick and roll heavy offense.
Defensively, Lo gives good effort, moves his feet relatively well, closes out well on the perimeter, and is mostly engaged on this side of the court. His frame does present some problems for him at the next level, however. While his lateral mobility isn't bad, he would be at a disadvantage against some of the elite NBA athletes he'd be faced up against if asked to defend the point of attack. If asked to defend the two, his short stature and thin frame would be at a serious disadvantage. He also struggles at times fighting through picks, both because of his size and strength, but also because the decisions on how to play who he is matched up against and whether to go over or under the screen are not always correct.
Lo competed with Germany in the EuroBasket 2015 championships, seeing regular time on a team that featured NBA veterans Dirk Nowitzki and Dennis Schröder. Lo struggled from the perimeter, making only four of his twelve three point attempts, but was able to get quality looks at the basket from inside the arc and did a good job playing within himself in a more limited role, which bodes well for his future when he's not as much of a focal point as he is now on an undermanned Columbia squad.
Lo has some intriguing skill sets for a potential point guard, most notable his proficiency, and diversity, as a jump shooter. Being such a threat pulling up off the dribble could really open things up for Lo, especially if he's able to show better decision making and more of an ability to run an offense. Columbia will get Rosenberg – who had to withdraw, then re-enroll, at Columbia, because the Ivy league does not allow redshirt seasons – back for his senior season, which should allow Lo to play more of a facilitator role, and his success in that role could have a big impact on his draft stock.
#14, Paris Bass, 6'8, Sophomore, Small Forward, Detroit
Matt Williams
Arriving at Detroit at age 17, Paris Bass was forced to redshirt his first year on campus because of issues with his transcripts and the NCAA Clearinghouse. Viewed as somewhat of a tweener who didn't frequently face elite competition in high school or AAU play, Bass wasn't heavily recruited, selecting Detroit over Kent State, Rhode Island, Louisiana Tech, Eastern Michigan, and Rhode Island out of Seaholm HS (MI).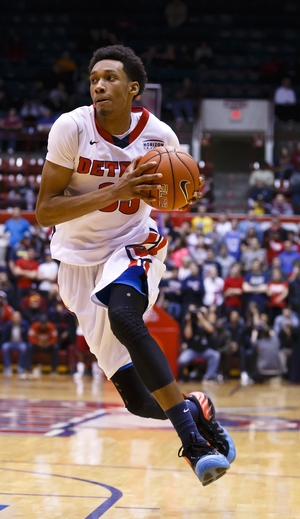 Despite his humble beginnings, Bass made a splash as a redshirt freshman, during which he averaged 12.3 points and 5.6 rebounds per game, and received an invitation to participate at the 2015 Nike Academy. Making the most of his opportunity to shine in front of the scouts in attendance, Bass earned some buzz in NBA circles with his performance. With the Titans' only other double-figure scorer, Juwan Howard Jr., graduating last spring, Bass figures to have every opportunity to plant himself firmly on the NBA radar with a productive sophomore year.
Measured at 6'8 in shoes with a 6'11.5 wingspan, Bass has impressive size for a small forward and the athleticism to match. More fluid than explosive, Bass shows the ability to play above the rim in space, dunk tip-in opportunities, and finish lobs, but lacks blow by quickness and freakish leaping ability. He's very skinny at this stage, tipping the scales at a little under 200 pounds, and will need to continue adding muscle to his frame in the coming seasons.
Spending much of the season sliding over to the power forward spot to make room for Howard at the three, Bass was granted tremendous freedom offensively and did a little bit of everything for Ray McCallum Sr.'s squad. Emerging as a starter just before Christmas after providing a valuable spark off the bench for the Titans throughout the early part of the season, Bass was ultimately named the Horizon League Newcomer of the Year, thanks in large part to his versatility.
Bass saw 20.1% of his possessions in transition, handling the ball on almost half of those opportunities, where he given the green light to push and create for himself in the open floor. A capable ball handler for his size with terrific speed and fluidity, Bass plays a little too fast for his own good at times, but thrived when the Titans went up-tempo a year ago, shooting 70% on the break.
In the half court, Bass was not quite as effective, shooting just 41%. Seeing considerable opportunities to create off the bounce for a freshman forward, Bass saw a steady diet of pick and roll and isolation possessions to go along with a significant number of spot ups and put backs as well. Playing a fairly unique role, Bass's ability to use herky-jerky hesitation moves and changes of pace to turn the corner is one the most impressive elements of his game at this stage. He settles for some low percentage floaters and midrange attempts attacking the rim in the half court, and lacks the strength to score through contact consistently, but makes some impressive plays using his long strides to weave through traffic, draws fouls at a decent rate, and still manages to shoot a solid 57% at the rim in the half court overall.
Away from the basket, Bass has a lot of room to grow. Taking just as many shots from the perimeter as he does around the rim, Bass wasn't shy about trying to exploit slower forwards who didn't want to guard him away from the rim. Making just 29% of his pull ups and 36% of his catch and shoot jump shots, Bass shoots the ball with a long, slow release, and gets very little elevation. Shooting 36% from beyond the arc a year ago, Bass is a threat from deep, but has yet to reach his potential as a perimeter threat and must improve on his 65% shooting from the line.
Outside of his ability to score, Bass is a decent passer, but not a natural facilitator, appearing most comfortable looking for his own offense. A bit turnover prone at times, he isn't particularly selfish either, though it will be interesting to see how he handles what figures to be a much larger role as a sophomore. A solid rebounder as well, Bass does a nice job crashing the glass on the offensive end especially, and pulls down a very respectable 8.3 rebounds per-40 minutes pace adjusted overall.
Defensively, Bass's length and quickness made him a fairly productive player on paper. Averaging over 1 block and 1 steal per game for the Titans, Bass played a role in Detroit's success forcing turnovers, but nonetheless has plenty of work to do to develop as a defender. Moving his feet well defending the ball one-on-one some possessions, Bass struggles at times on this end of the floor too, as his fundamentals leave a bit to be desired. Not always finishing possessions by getting a hand up and losing his man defending off the ball, Bass nonetheless has some impressive flashes contesting shots and keeping guards out of the paint, and could grow into a very good defender in time.
Playing for a 15-18 Detroit team, Paris Bass received little national attention a year ago. A candidate to play a huge role this season, there's a good chance that the Titans' fortunes will rest heavily on Bass's shoulders. If he can show improvement as a defender and shooter and shows well in early season matchups with Vanderbilt and Pittsburgh, Bass could begin building his resume and emerge as a legitimate prospect down the road.
#15, Derrick Jones, 6-7, Freshman, Small Forward, UNLV
Without the benefit of extensive high school footage, we prefer to wait and see how Jones performs as a freshman before adding to his DraftExpress profile.