Solomon Hill
Recent Tweets
All Tweets
DraftExpress2: RT @WalkerBeeken As I tweeted last night I thought Solomon Hill was 1st rounder. Love him as SF ready to step into rotation and accept hi\u2026
2013-06-27 22:10:40
DraftExpress2: As I tweeted last night I thought Solomon Hill was 1st rounder. Love him as SF ready to step into rotation and accept his role
2013-06-27 22:09:17
DraftExpress: With the #23 pick Indiana selects Solomon Hill. GM Kevin Pritchard really didn't sound too enthusiastic about this draft the past few weeks
2013-06-27 22:04:57
DraftExpress2: RT @Mike_Schmitz Solomon Hill being a 1st rounder a testament to how much he's improved especially as a shooter. Does a lot of things wel\u2026
2013-06-27 22:03:40
DraftExpress2: Solomon Hill being a 1st rounder a testament to how much he's improved especially as a shooter. Does a lot of things well on the floor.
2013-06-27 22:02:30
Top 25s - Full List
Team: Pacers
Physicals
Positions
Rankings
Salary
Misc
H: 6' 7"
W: 226 lbs
Bday: 03/18/1991
(24 Years Old)

Current: SF
NBA: SF
Possible: SF

RSCI: 48

Agent: Chris Emens
Current Salary:$1,302,840

High School: Fairfax
Hometown: Los Angeles, CA
Drafted: Pick 23 in 2013 by Pacers

Predraft Measurements
| Year | Source | Height w/o Shoes | Height w/shoes | Weight | Wingspan | Standing Reach | Body Fat | No Step Vert | Max Vert |
| --- | --- | --- | --- | --- | --- | --- | --- | --- | --- |
| 2013 | NBA Draft Combine | 6' 5.5" | 6' 7" | 226 | 6' 9" | 8' 7" | 7.6 | 29.5 | 37.5 |
| 2013 | Nets Workout | 6' 5.5" | 6' 7" | 226 | 6' 9" | 8' 7" | 7.6 | 29.5 | 37.5 |
| 2012 | LeBron James Camp | NA | 6' 6.5" | 229 | 6' 9.5" | NA | NA | NA | NA |
| 2012 | Kevin Durant Camp | NA | 6' 6.5" | 229 | 6' 9.5" | NA | NA | NA | NA |



Basic Per Game Statistics

- Comprehensive Stats - Statistical Top 25s
| Year | League | Name | GP | Min | Pts | FG | FGA | FG% | 2Pt | 2PtA | 2P% | 3Pt | 3PtA | 3P% | FTM | FTA | FT% | Off | Def | TOT | Asts | Stls | Blks | TOs | PFs |
| --- | --- | --- | --- | --- | --- | --- | --- | --- | --- | --- | --- | --- | --- | --- | --- | --- | --- | --- | --- | --- | --- | --- | --- | --- | --- |
| 2015/16 | NBA | Solomon Hill | 6 | 7.2 | 1.8 | 0.8 | 2.0 | 41.7 | 0.7 | 1.2 | 57.1 | 0.2 | 0.8 | 20.0 | 0.0 | 0.0 | &nbsp | 0.2 | 1.3 | 1.5 | 0.7 | 0.3 | 0.0 | 0.5 | 0.2 |

Player Page&nbsp&nbsp| Player Stats | Mock Draft History | Related Articles&nbsp&nbsp| Add to My Draft Express&nbsp
&nbsp
NBA Combine Interviews: Leslie, Hill, Ledo
May 20, 2013
[Read Full Article]

---
Trending Prospects: Solomon Hill
January 28, 2013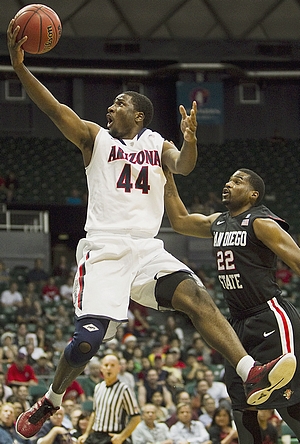 US Presswire



Matt Kamalsky

Bridging the gap between Arizona's explosive, sometimes erratic backcourt and its stable of highly touted young big men, Solomon Hill has provided maturity, leadership, and consistent production for the Wildcats. A versatile forward who has played a variety of roles over his four year collegiate career, Hill has settled in as the team's starting small forward, establishing himself as arguably their most valuable player, while showing improvement in a number of areas with implications on his NBA draft stock.

Standing 6'6 with a strong, 220-pound frame, Hill worked diligently in the summer to improve his body, and has reaped the benefits this season. Coming into the season in the best shape of his career, Hill looks quicker and leaner than he did as an underclassman. The California native still lacks elite athleticism, but when you couple his improved physique with the development of his offensive game, it is fair to say that Hill has made considerable headway in removing the tweener label he earned earlier in his career.

After playing the power forward position for long stretches of his junior season, the arrival of Arizona's heralded crop of freshman big men (Brandon Ashely, Kaleb Tarczewski and Grant Jerrett) seemed to lend itself to Hill spending more time at the small forward position as a senior. The Fairfax High School product has relished that opportunity. He's always done a little bit of everything for the Wildcats, and that hasn't changed, but he's now doing so at the position he'll be asked to play at the next level thanks in large part to the work he put into developing his perimeter game and physique.

A liability from the perimeter as a freshman, making just 4 of his 18 attempts from beyond the arc, Hill has improved his range in each of his seasons in Tucson. Shooting the three at a 42% clip this year, on nearly four attempts per game, the senior has turned a weakness into a strength by incrementally improving his footwork, mechanics, and confidence year-by-year. Hill's set shot has become his most prominent weapon on the offensive end and a significant part of his value proposition from a NBA perspective.

In addition to his ability to knock down shots from the perimeter, Hill also possesses a sound floor game. He lacks the dynamic ball-handling ability and speed to consistently create shots from the perimeter and is not the type of player who can dominate games with his ability to consistently get to the rim in isolation or pick and roll situations, but he is an opportunistic slasher who can take what defenders give him both in the half court and transition with powerful straight-line drives. With his superior strength and maturity, he can often overpower weaker opponents en route to the basket, which is a big reason he's able to get to the free throw line at the rate he does.

Doing a good job using his body to protect the ball and getting to the line on a respectable 37% of his possessions, Hill is not a great finisher in a crowd, but he picks and chooses his spots well, especially when pushing the break himself. He uses long strides, spins, reverse pivots, and step through moves effectively when his defender gets out of position off the bounce and a reliable turnaround jump shot spinning over his right shoulder when posting up on the left side to exploit mismatches.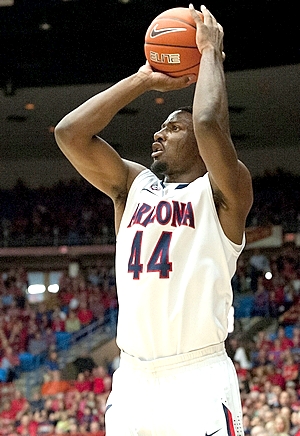 US Presswire



Hill also shows good court vision as a passer. He lacks the quickness and ball-handling ability to be prolific at getting into the paint creating shots for others, but he's very unselfish and adept at finding the open man within the flow of Arizona's offense, often passing ahead intelligently in transition to get his teammates easy looks in the early offense. His high basketball IQ and ability to do a bit of everything, coupled with his improved perimeter shooting, give him ideal role-player potential at the next level.

Spending more time on the perimeter, Hill has seen his rebounding numbers dip to 6.7 rebounds per-40 minutes pace adjusted this season (down from 9.7 per-40 pace adjusted last year), thanks in large part to the presence of Arizona's freshmen big men. He remains a very solid rebounder, however, showing a willingness to box out and scrap for loose balls in the paint.

Defensively, Hill does a good job helping his teammates and playing within Arizona's team concept, but struggles to deny dribble penetration and close out shooters effectively. Lacking a degree of lateral quickness, he'll need to find ways to overcome his physical limitations on the defensive end to hold his own at the next level. His strong frame, high basketball IQ and 6-9 1/2 wingspan helps his cause, but this might be the biggest thing NBA teams will want to study more closely in private workouts during the pre-draft process.

Hill may not be a flashy prospect for the next level, but he's a mature player who has consistently improved his game throughout his college career and offers some intriguing value as a role-player. A candidate to fill the type of role Wesley Matthews or Jared Dudley did early in their careers, Hill's play this season will earn him plenty of looks from teams looking for depth and immediate production at the small forward position.

[Read Full Article]

---
Top NBA Draft Prospects in the Pac-12, Part Three
October 9, 2012


Mike Schmitz is the video analyst for DraftExpress. Follow him on twitter and subscribe to his YouTube page. He will be breaking down the NBA draft in digital format all year long for us.

[Read Full Article]

---
Top NBA Draft Prospects in the Pac-12, Part Three (#11-15)
October 10, 2011
Icon SMI



Joseph Treutlein

The 48th ranked high school senior by RSCI in 2009, Solomon Hill has had a relatively underwhelming first two seasons in Tucson, averaging just 8.0 points in 25.2 minutes per game as a sophomore. Hill is an extremely aggressive player with some intriguing physical abilities, and he should have some opportunities to fill the hole left by Derrick Williams this year if he isn't quickly overshadowed by Arizona's impressive recruiting class.

Standing 6-6 with a strong, thick frame and solid length, Hill is a bruising, attacking small forward of the Ron Artest variety, relying predominantly on his dribble-drive and short post game to contribute offensively. Hill shows very high levels of explosiveness, coordination, and mobility, though his thick build seems to hold him back in terms of leaping ability, where his athletic abilities are much less impressive in comparison.

Looking at Hill's offensive game, he does most of his damage attacking off the dribble, where he has a well-developed set of skills and a natural feel for breaking down a defense. He doesn't have typical advanced ball-handling skills, but he is excellent at utilizing spin moves, hop steps, up fakes, and other subtle change of direction to maneuver around his defender. He is extremely rangy in covering ground with his moves, showing a very good first step and excellent ability to create separation.

While Hill shows some excellent abilities in getting past his man and breaking down the defense, there are some concerns as he gets closer to the basket with the ball. Hill's leaping ability is not on par with his ability to get past his man, as he struggles to get up for power finishes at the basket, often relying on below-the-rim, contested lay-ups. He shows solid creativity in getting off shots, but his touch is lacking at times, especially when he has to resort to runners and floaters in the 5-10 foot range. Hill's attacking style also leads to problems with turnovers, as he's averaging 1.7 turnovers per game compared to just 5.6 field-goal attempts.

Looking at the rest of Hill's offensive game, he is attempting 1.3 three-point attempts per game and hit a respectable 35.4% of his attempts. His 78% free-throw shooting is also an encouraging sign, but he will need to put in the work to make this a more reliable and consistent aspect of his game. His shooting form is adequate enough, but further refinement and practice will be necessary to maximize his abilities.

Hill also does a good job utilizing his aggressiveness on the offensive glass, where his good second bounce and excellent strength lead to a lot of put-back opportunities. Cutting down some of his excess weight would allow him to leap higher for these finishes and do a better job converting them consistently.

Hill also shows some interesting potential with his passing game, where he's dishing out a solid 1.7 assists per game despite his low number of possessions. He actually was billed as somewhat of a point-forward later in his high school career, and this is something he could expand upon if he earns the opportunity, though now it is just an ancillary part of his skill set.

On the defensive end, Hill shows solid promise, having an aggressive and fundamental perimeter defensive stance, playing up into his man and constantly moving his feet and hands. He shows good focus and doesn't bite often for fakes, though his lateral quickness is just adequate, leading him to get beaten on occasion. In the post, Hill doesn't show a similar grasp of fundamentals as on the perimeter, showing very little use of good leverage and being beaten at a very high rate. With a better fundamental understanding of post defense, Hill could fare much better here given his physical attributes.

Looking forward, Hill has some intriguing skills and physical abilities, namely his explosive dribble-drive game, but developing into a more well-rounded prospect and losing some excess weight will likely be critical to his long-term prospects. NBA teams often look for both strong defense and off-the-ball offensive abilities from potential role players, and these are both areas where Hill could stand to improve.

[Read Full Article]

---