Theo Pinson
Recent Tweets
All Tweets
DraftExpress: Jabari Bird fouls Theo Pinson as the buzzer expires, up 55-52. Three shots here. Wow. #eybl
2012-07-22 11:41:25
DraftExpress: Theo Pinson knocks down 1st free throw, misses 2nd. Ledo grabs rebound, but steps out of bounds. Purvis ices game at line. CP3 wins #EYBL
2011-04-09 10:48:06
DraftExpress: Ricarcd Ledo looks off DaJuan Coleman, goes one on one in last possession, doesn't draw iron. Theo Pinson at the free throw line now. #EYBL
2011-04-09 10:46:21
DraftExpress: Theo Pinson took over 2nd half for CP3, kept them in the game. Scored in transition, just canned a 3. This game will go down to wire. #EYBL
2011-04-09 10:39:58
DraftExpress: Can see why people are talking about 2014 wing Theo Pinson. Very raw dude, but definitely has some stuff to work with. Talented. #EYBL
2011-04-09 10:36:57
Predraft Measurements
| Year | Source | Height w/o Shoes | Height w/shoes | Weight | Wingspan | Standing Reach | Body Fat | No Step Vert | Max Vert |
| --- | --- | --- | --- | --- | --- | --- | --- | --- | --- |
| 2014 | Hoop Summit | NA | 6' 6" | 188 | 6' 11" | 8' 7.5" | NA | NA | NA |
| 2013 | USA Basketball | NA | 6' 6.5" | 190 | 6' 11" | 8' 8.5" | NA | NA | NA |
| 2013 | Kevin Durant Camp | NA | 6' 6.5" | 182 | 6' 10" | NA | NA | NA | NA |
| 2012 | Kevin Durant Camp | NA | 6' 5.5" | 181 | 6' 10" | NA | NA | NA | NA |



Basic Per Game Statistics

- Comprehensive Stats - Statistical Top 25s
| Year | League | Name | GP | Min | Pts | FG | FGA | FG% | 2Pt | 2PtA | 2P% | 3Pt | 3PtA | 3P% | FTM | FTA | FT% | Off | Def | TOT | Asts | Stls | Blks | TOs | PFs |
| --- | --- | --- | --- | --- | --- | --- | --- | --- | --- | --- | --- | --- | --- | --- | --- | --- | --- | --- | --- | --- | --- | --- | --- | --- | --- |
| 2015/16 | NCAA | Theo Pinson | 6 | 28.5 | 7.2 | 2.0 | 5.3 | 37.5 | 0.5 | 1.8 | 27.3 | 1.5 | 3.5 | 42.9 | 1.7 | 3.0 | 55.6 | 0.7 | 4.5 | 5.2 | 5.3 | 0.5 | 1.0 | 2.3 | 2.2 |

Player Page&nbsp&nbsp| Player Stats | Mock Draft History | Related Articles&nbsp&nbsp| Add to My Draft Express&nbsp
&nbsp
Top NBA Prospects in the ACC, Part Six: Prospects #6-10
October 12, 2015
Matt Kamalsky

A consensus top-15 recruit in the high school class of 2014, Theo Pinson's freshman season got off to a slow start before being derailed by a foot injury that kept him out of action from mid-January until early March. Averaging just 2.8 points, 3 rebounds, and 1.5 assists over 12.5 minutes per game, Pinson flashed his versatility in spurts, but didn't play a particularly significant role for the Tar Heels.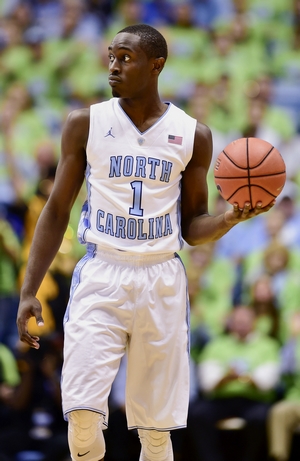 US Presswire



Standing 6'6 with a 6'10 wingspan, Pinson has a lanky frame that developed slowly early in his career. Tipping the scales at 188 pounds at the 2014 Hoop Summit a few months before his graduation from Wesleyan Christian Academy (NC), but currently listed at 205-pounds, Pinson seems to have added some amount of weight to his lean frame since arriving in Chapel Hill, but still would benefit from continuing to get stronger. Possessing outstanding speed and quickness as well as very good leaping ability as well, Pinson has prototypical physical tools for the wing position at the next level.

Skill-wise, there's a few things to like about Pinson, but perhaps no aspect of his game that truly stood out a year ago offensively, and a number of areas he'll need to make considerable strides in to reach his significant potential long-term. Pinson struggled to score consistently as a freshman last season, shooting only 37% from the field and failing to crack double-figures as he attempted no more than six shots in any game. Appearing to have improved a bit as a ball-handler, but still having room for additional growth, Pinson did his best work with the ball in his hands a year ago. A solid passer for a big guard with a nice feel for the game, Pinson averaged 4.6 assists per-40 minutes and only 2.1 turnovers, as he did a nice job finding the open man, especially on the interior.

The challenge for Pinson playing alongside a number of ball-handlers, but few shooters, was making his presence felt in the scoring column while operating off the ball. Lacking the mechanics to make shots consistently, but finding himself in heavy traffic when trying to make plays as a slasher, Pinson shot a mediocre 31% in the half court as a freshman. He was a bit more successful in transition, where he scored well running the wing and pushing the ball himself, but he appears early in his development as a scoring threat. It will be interesting to see what kind of role Pinson is asked to play this season as J.P. Tokoto's departure opens up some opportunities on the wing on UNC's stacked roster.

Defensively, Pinson was tremendous at times a year ago, as he played with a greater sense of urgency that he did at the high school level. His foot speed is outstanding, allowing him to harass ball-handlers in the half court, deny dribble penetration when he's dialed in, and make an impact in the passing lanes. Playing with impressive energy for stretches and pulling down 6.4 defensive rebounds per-40 minutes in the limited action he saw a year ago, Pinson has the making of a very solid all-around defender. His biggest weaknesses at this point are his occasional struggles fighting through screens in a timely manner, and periodic lapses in judgement giving up driving angles in the half court, or taking himself out of the play by being too aggressive or getting out of position.

Given how little he played a year ago, now isn't the time to draw any conclusions about Theo Pinson's short-term NBA outlook, even if it's fair to be cautiously optimistic. This season should prove to be a key one in the young wing's development, as he figures to play a fairly prominent role on what could be a very formidable UNC roster.

[Read Full Article]

---
2014 Nike Hoop Summit Video Interview: Theo Pinson, Mykhailiuk
April 20, 2014
[Read Full Article]

---
2014 Nike Hoop Summit: USA Measurements
April 12, 2014
Theo Pinson
Weight: 188 lbs.
Height (w/ shoes): 6'6"
Wingspan: 6'11"
Standing Reach: 8'7.5"

[Read Full Article]

---
High School Class of 2014 Scouting Reports, Part Three- the Wings
September 5, 2013
US Presswire



Jonathan Givony

Recruiting Rankings: 247: #22, ESPN: #13, Scout: #32, Rivals: #20
Committed to North Carolina

Strengths:
-Good size for a shooting guard a 6-6 ½ with shoes
-Very long arms. 6-10 wingspan
-Versatile player who can do a little bit of everything
-Excellent feel for the game. Sees the floor and does a great job of getting teammates involved. Averaged 4.2 assists per-40 in 23 Nike EYBL games. Creative player with very good vision
-Good athlete. Can play above the rim with ease. Quick first step
-Gets to the free throw line at an excellent rate
-Very good lateral quickness. Gets in the passing lanes regularly thanks to length, quickness and anticipation skills

Weaknesses:
-Possesses a very frail frame. Only weighed 182 pounds this past July, up from 181 pounds the year before. Can he add more weight?
-Average ball-handler in the half-court. Struggles to get by opponents if forced to execute more complicated sequences than simply blowing past his man
-Not a great finisher around the basket. Lacks the strength to take hits around the rim and finish
-Possesses inconsistent shooting mechanics. Elbow flails out badly on catch and shoot attempts. Brings ball around the world, slows down his release
-Effort defensively is inconsistent

Outlook: Highly rated wing prospect going to North Carolina. Was very highly regarded early on in his high school career, but has fallen off somewhat as his body hasn't developed and his outside shot remains extremely inconsistent. Still a fairly talented and versatile player.

[Read Full Article]

---
High School Class of 2014: Elite Prospect Scouting Reports, Part One
September 27, 2012
Jonathan Givony

Recruiting Rankings: ESPN: #9, Scout: #13, Rivals: #14, 24/7: #12

Strengths:
-Measured 6-5 ½ in shoes, but has a very long 6-10 wingspan
-Very good feel for the game. Unselfish player who passes the ball well
-Very good scoring instincts. Shows nice body control. Uses glass well. Knows how to draw fouls
-Rebounds out of his area.
-Can defend a bit thanks to his length and smarts
-Can get up for offensive rebounds
-Can make tough shots. Has the makings of a very good shooter

Weaknesses:
-Has a very skinny frame that doesn't show huge potential. Just 181 pounds
-Not a great ball-handler, particularly in the half-court
-Needs to get stronger finishing around the rim.
-Struggled against the physical wings we saw him match up with

Outlook:

[Read Full Article]

---