We continue our coverage on the top NBA draft prospects in the ACC with part six, players ranked 6-10:
Derryck Thornton
,
Kennedy Meeks
,
Theo Pinson
,
Chase Jeter
and
Luke Kennard
.
---
More DX Conference Preseason Previews:
-The Top 20 NBA Draft Prospects in the Pac-12
-The Top 20 NBA Draft Prospects in the Big East
-The Top 15 NBA Draft Prospects in the Big 12
-The Top 20 NBA Draft Prospects in the SEC
-The Top 10 NBA Draft Prospects in the AAC
---
Top NBA Draft Prospects in the ACC
-
Top NBA Prospects in the ACC, Part One
(#1) Brandon Ingram (Scouting Video)
Top NBA Prospects in the ACC, Part Two
(#2) Demetrius Jackson (Scouting Video)
Top NBA Prospects in the ACC, Part Three
(#3) Justin Jackson (Scouting Video)
Top NBA Prospects in the ACC, Part Four
(#4) Chinanu Onuaku (Scouting Video)
Top NBA Prospects in the ACC, Part Five
(#5) Grayson Allen (Scouting Video)
---
#6, Derryck Thornton, Freshman, Point Guard, Duke
Without the benefit of extensive high school footage, we prefer to wait and see how Thornton performs as a freshman before adding to his
DraftExpress profile
.
#7, Kennedy Meeks, 6'9, Center, North Carolina, Junior
Kyle Nelson
Kennedy Meeks arrived in Chapel Hill as a McDonald's All-American, but weighed 317-pounds and struggled to stay on the court, seeing just 16 minutes per game. By his sophomore year, Meeks shed 40 pounds and posted an improved, albeit inconsistent season that culminated in a Sweet 16 loss to Wisconsin. While the talented big man showed flashes of dominance early in the season, he faded mightily down the stretch, struggling with knee injuries and scoring a mere 7.3 points per game on 49% true shooting percentage over his last 10 games. With his junior season right around the corner, scouts will be watching to see if Kennedy Meeks is finally ready for a breakout campaign.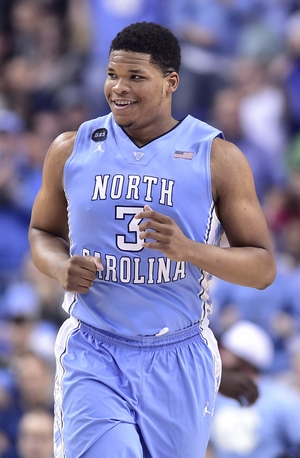 At 6'9 with a 7'0 wingspan and reportedly down to 265-pounds, Meeks is undersized for the center position in the NBA, even if this rarely seems to affect him at the collegiate level. This is due to his unique combination of strength, mobility, and high skill-level as Meeks has no problem powering through defenders of all sizes as a sophomore. On the other hand and though he has strength and talent to spare, he does not possess prototypical NBA-caliber athleticism for his position, as he is very much a below the rim player. For this reason, scouts will be watching to see if his improved frame and a healthy offseason afford him an athletic boost as a junior.
On the offensive end of the floor, Meeks saw over 90% of his possession around the basket and averaged an impressive 18.5 points per 40 minutes pace adjusted while utilizing 23% of North Carolina's possessions.
On the block, Meeks demonstrates soft hands with the ability to carve out space in the post and a willingness to bully his way to the basket. He had no problem backing down collegiate big men, even if he at times struggles to finish over players that he could not simply power through. He has very good shooting touch and nice footwork on the block, but due to his average length and explosiveness, isn't the most efficient threat with his back to the basket, converting under 40% of his field goal attempts in these situations last season. Meeks is just an average passer as well, generating an assist on just 8.7% of his possessions, even though he does not turn the ball over very frequently.
Considering Meeks' lack of size and average athleticism, it seems like he will have to find other ways to score against NBA level competition than strictly with his back to the basket, even though post-ups make up a significant portion of his touches at the college level.
Where Meeks shows real promise is as an offensive rebounder. He is averaging a career 4.7 offensive rebounds per-40 at North Carolina thus far, as he has terrific hands and great instincts for pursuing loose balls, being a little bit quicker off his feet than you might suspect. His soft touch around the basket helps him significantly as a finisher here as well, as he converts nearly 65% of his non-post up attempts around the basket in the half-court overall, which is a terrific rate. These same attributes make him very effective as a cutter, running the floor in transition (which he does surprisingly well), and finishing on pick and rolls. He sets excellent screens, and has very nice timing rolling to the basket, where his soft hands and touch allow him to finish the job effectively, despite his lack of length and explosiveness.
At 6'9, it's very likely that Meeks will be asked to spend quite a few minutes at power forward in the NBA, something he rarely does at UNC. While bruising big men in his mold where once very much en vogue in the past, Meeks will likely need to expand his shooting range significantly to make the transition to power forward realistic. He hasn't shown much of a jump-shot in college yet, hitting just 5 of his 15 attempts from mid-range last year, and 62% of his career free throw attempts. His touch and form shows some promise, though, even if his release is quite slow, so it's possible he may be able to develop this part of his game in time, something he'll likely need to do.
Defensively is where NBA scouts will likely have the most question marks regarding Meeks' pro potential. His limited physical attributes make him best suited to guarding power forwards, but there are real questions about whether his lateral quickness is sufficient to step outside of the paint on a consistent basis, particularly in pick and roll situations. As a center, he is decidedly undersized and lacks the length and explosiveness to be much of a shot-blocking presence.
With that said, inside the paint, Meeks does a solid job of defending the post. He is difficult to move off of the block due to his wide base and is active enough to stay with most players around the basket. Likewise and though he is not a great athlete, his timing, wingspan, and nose for the ball allow him to block 2.0 shots per 40 minutes pace adjusted and grab a very solid 7.1 defensive rebounds.
Scouts will want to see how his improved conditioning affects his play on the defensive end, as showing the potential to guard power forward style players in the NBA could be a huge boon for his draft stock.
Playing for one of the projected top teams in college basketball this season, in a featured role, Meeks has a major opportunity to show what type of NBA prospect he is. He not only must prove that he can dominate at the collegiate level, but he will also have to show that he is capable of contributing against NBA athletes on both ends of the floor on a nightly basis. Thus, scouts will be watching to see if Meeks is better conditioned and more consistent as a junior. Early season matchups against Maryland, Texas, and UCLA will be particularly revealing, therefore, as Meeks not only has a lot to prove as a prospect, but also to a team that needs major production from its talented junior center in order to make a NCAA Tournament Final Four run.
#8, Theo Pinson, 6'6, Sophomore, Small Forward, North Carolina
Matt Williams
A consensus top-15 recruit in the high school class of 2014, Theo Pinson's freshman season got off to a slow start before being derailed by a foot injury that kept him out of action from mid-January until early March. Averaging just 2.8 points, 3 rebounds, and 1.5 assists over 12.5 minutes per game, Pinson flashed his versatility in spurts, but didn't play a particularly significant role for the Tar Heels.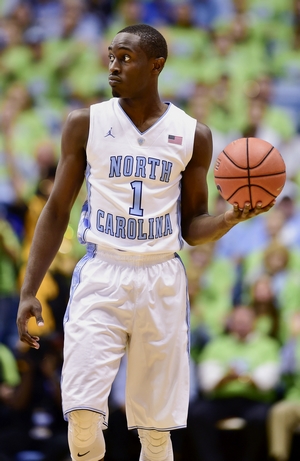 Standing 6'6 with a 6'10 wingspan, Pinson has a lanky frame that developed slowly early in his career. Tipping the scales at 188 pounds at the 2014 Hoop Summit a few months before his graduation from Wesleyan Christian Academy (NC), but currently listed at 205-pounds, Pinson seems to have added some amount of weight to his lean frame since arriving in Chapel Hill, but still would benefit from continuing to get stronger. Possessing outstanding speed and quickness as well as very good leaping ability as well, Pinson has prototypical physical tools for the wing position at the next level.
Skill-wise, there's a few things to like about Pinson, but perhaps no aspect of his game that truly stood out a year ago offensively, and a number of areas he'll need to make considerable strides in to reach his significant potential long-term. Pinson struggled to score consistently as a freshman last season, shooting only 37% from the field and failing to crack double-figures as he attempted no more than six shots in any game. Appearing to have improved a bit as a ball-handler, but still having room for additional growth, Pinson did his best work with the ball in his hands a year ago. A solid passer for a big guard with a nice feel for the game, Pinson averaged 4.6 assists per-40 minutes and only 2.1 turnovers, as he did a nice job finding the open man, especially on the interior.
The challenge for Pinson playing alongside a number of ball-handlers, but few shooters, was making his presence felt in the scoring column while operating off the ball. Lacking the mechanics to make shots consistently, but finding himself in heavy traffic when trying to make plays as a slasher, Pinson shot a mediocre 31% in the half court as a freshman. He was a bit more successful in transition, where he scored well running the wing and pushing the ball himself, but he appears early in his development as a scoring threat. It will be interesting to see what kind of role Pinson is asked to play this season as J.P. Tokoto's departure opens up some opportunities on the wing on UNC's stacked roster.
Defensively, Pinson was tremendous at times a year ago, as he played with a greater sense of urgency that he did at the high school level. His foot speed is outstanding, allowing him to harass ball-handlers in the half court, deny dribble penetration when he's dialed in, and make an impact in the passing lanes. Playing with impressive energy for stretches and pulling down 6.4 defensive rebounds per-40 minutes in the limited action he saw a year ago, Pinson has the making of a very solid all-around defender. His biggest weaknesses at this point are his occasional struggles fighting through screens in a timely manner, and periodic lapses in judgement giving up driving angles in the half court, or taking himself out of the play by being too aggressive or getting out of position.
Given how little he played a year ago, now isn't the time to draw any conclusions about Theo Pinson's short-term NBA outlook, even if it's fair to be cautiously optimistic. This season should prove to be a key one in the young wing's development, as he figures to play a fairly prominent role on what could be a very formidable UNC roster.
#9, Chase Jeter, Freshman, PF/C, Duke
Without the benefit of extensive high school footage, we prefer to wait and see how Jeter performs as a freshman before adding to his DraftExpress profile.
#10, Luke Kennard, Freshman, Shooting Guard, Duke
Without the benefit of extensive high school footage, we prefer to wait and see how Kennard performs as a freshman before adding to his
DraftExpress profile
.