We continue our coverage of the top NBA Draft prospects in the ACC with scouting reports on prospects 24-27:
Isaiah Hicks
,
Luke Kennard
,
Theo Pinson
,
John Collins
.
---
More DX Conference Previews
-The Top NBA Draft Prospects in the Big East
-The Top NBA Draft Prospects in the Pac-12
-The Top NBA Draft Prospects in the Big 12
-The Top NBA Draft Prospects in the SEC
-The Top NBA Draft Prospects in the Big Ten
---
Top NBA Draft Prospects in the ACC
Part One
(#1) Dennis Smith
Part Two
(#2) Jayson Tatum
Part Three
(#3) Harry Giles
Part Four
(#4) Jonathan Isaac
Part Five
(#5) Marques Bolden
Part Six
(#6) Tyler Lydon
Part Seven
(#7) Omer Yurtseven
Part Eight
(#8) Jaron Blossomgame
Part Nine
(#9) Grayson Allen
Part Ten
(#10) Dwayne Bacon
Part Eleven
(#11) V.J. Beachem
Part Twelve
(#12) Frank Jackson
(#13) Tony Bradley
(#14) Donovan Mitchell
(#15) Justin Jackson
Part Thirteen
(#16) Deng Adel
(#17) Andrew White
(#18) Raymond Spalding
(#19) V.J. King
Part Fourteen
(#20) Tyus Battle
(#21) Donte Grantham
(#22) Bruce Brown
(#23) Kennedy Meeks
---
#24, Isaiah Hicks, 6'9, Senior, Power Forward, North Carolina
Jonathan Givony
A consensus top-20 recruit in the 2013 high school class, Isaiah Hicks had very little impact in his first two seasons at North Carolina, playing just 11 minutes per game on average. Hicks was able to break out as a junior, winning ACC Sixth Man of the Year honors, after posting a solid 20 points and 10 rebounds per-40 minutes in his 18 minutes per game, on a highly efficient 66% true shooting percentage. Carolina lost in heartbreaking fashion in the NCAA Tournament Championship game, but is still expected to contend for the Final Four this season, with Hicks likely finally becoming a full-time starter in his last year of eligibility.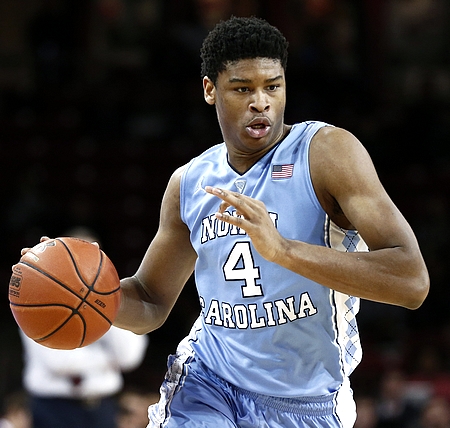 Hicks' physical tools are largely the reason he was considered such a highly regard recruit coming out of JF Webb high school, and remain a significant part of his intrigue as a NBA prospect. He has solid size for a power forward at 6'9, with a chiseled 242 pound frame that he's really maximized since arriving in Chapel Hill, and a 7'0 wingspan. He's a very good athlete on top of that, covering ground well, being quick off his feet, a rangy jumper and capable of explosive finishes off two feet from a stand-still.
Hicks has a compact offensive game, mostly revolving around running the floor, crashing the offensive glass, cutting off the ball, with the occasional post-up mixed in.
He was extremely effective with his back to the basket last season, showing a high-level of aggressiveness using his strong frame to carve out space and back down opponents. He has soft touch around the rim to help him finish plays if he can't bully opponents and then jump over them, showing good footwork and body control on his spin-moves.
Hicks' overall skill-level isn't especially high, as he noticeably avoids his left hand and will struggle if forced to spin to his right shoulder. He was able to take advantage of having the weaker big man matchup playing alongside two offensive post-up powerhouses in Brice Johnson and Kennedy Meeks last season, something most college teams simply aren't equipped to handle.
Hicks is also very effective as a straight-line driver from the mid to high post, using his quick first step and strong frame to bounce off opponents and create space to finish with his soft touch. Decisive, physical and aggressive with his moves, Hicks gets to the free throw line at a very nice rate in turn.
Hicks' overall versatility offensively is still a work in progress, as he's not much of a threat to score outside of 15 feet, which is something most NBA teams want their power forward to be able to do these days. He almost never looked at the basket even when left wide open on the perimeter last season, only taking one jumper outside of 17 feet according to Synergy Sports Technology. His shooting stroke doesn't look convincing at all, with a long and mechanical release, which helps explain his reluctance to fire away even when teams are purposefully not guarding him. With that said, he did improve his free throw percentage from 62 to 76% between his sophomore and junior seasons, and demonstrates fairly soft touch overall, so it's possible that this might be something he can continue to develop outside of college.
Generally speaking, Hicks doesn't appear to be someone you want making a ton of decisions with the ball in his hands, as he can get a little bit out of control when asked to go outside his comfort level. He generates almost nothing for teammates (career 5% assist percentage) and coughs the ball up a little more frequently than you might hope considering his role-player status (career 15.8% turnover percentage).
Hicks' calling card as a NBA prospect revolves around his energy-level and overall versatility he offers on defense. He can switch onto any position on the floor and stay in front of players much smaller than him thanks to his quick feet. His ability to get in a low stance, cover ground and contest shots on the perimeter at 6'9, 240 pounds is very intriguing in today's NBA. On top of that, he's strong enough to hold his ground against most big men, as well as rotate over from the weakside, block shots or take charges. He racked up rebounds, steals and blocks at a nice rate. His toughness and intensity was a difference maker on a UNC team that had quite a few mouths to feed offensively, and not enough role-players at times.
Hicks has the physical tools and motor to be an excellent defender at the next level as well, but is still working on his discipline, technique, consistency and experience to truly become elite in the college game. He loses his focus off the ball, takes poor angles in pick and roll coverages, and is susceptible to biting on fakes, being extremely foul prone at times last year.
Unlike many seniors, NBA scouts might still feel like they have a lot to learn about Isaiah Hicks going into his last season of college basketball, as he hasn't gotten a huge amount of playing time throughout his career, and seems to be on an upwards trajectory still. There is very much a place in today's NBA for versatile big men who can guard all over the floor and be difference makers with their energy level, and it will be interesting to see what kind of progress Hicks is able to make in his last year while finally playing a more featured role.
#25, Luke Kennard, 6'6, Sophomore, Shooting Guard, Duke
Matt Williams
A consensus top-25 high school recruit, Luke Kennard's freshman campaign was a productive one, as the young guard's basketball IQ and shooting ability allowed him to make an immediate impact in one of the college basketball's best conferences. Averaging 11.8 points, 3.6 rebounds, and 1.5 assists over 26.7 minutes per game, Kennard figures to play a prominent role for Mike Krzyzewski's program for the foreseeable future, and ultimately find his way onto the NBA radar.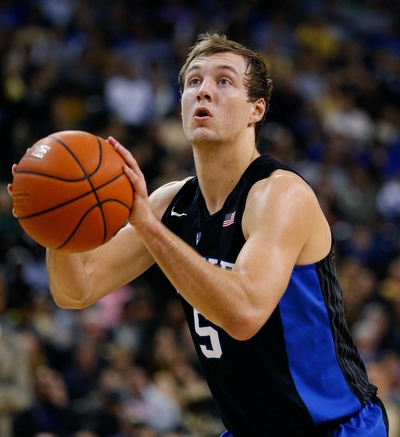 Perhaps the biggest thing holding the two-time Ohio Mr. Basketball back from solidifying himself as an NBA prospect at this stage is that he is a mixed bag from a physical perspective. Measured around 6'6 in shoes with a mediocre 6'5 wingspan and 187-pound frame at the 2015 Nike Hoop Summit, Kennard has average tools for a shooting guard. To his credit, the 20-year-old had made noticeable strides adding muscle to his frame by the end of last season and comes into the 2016 season listed at 202 pounds. Lacking a degree of quickness defensively and the explosiveness to play above the rim without significant room to operate, Kennard's poor length and average athleticism are the biggest concerns regarding his NBA potential.
What Kennard lacks in physical tools he makes up for with tremendous instincts and polish, playing with a maturity beyond his years. Operating mostly off the ball last season, with almost half of his possessions coming on spot up or off-screen opportunities, Kennard's role revolved principally around his ability to make shots from the perimeter. Despite that, he contributed in a variety of ways offensively, as his scoring instincts and skill level frequently allowed him to exploit what defenders gave him in pick and roll and isolation situations. Averaging a terrific 1.03 points per possession as a freshman according to Synergy Sports Technology, Kennard was exceptionally efficient as his smart, low-mistake style of play translated extremely well to the college game.
As good as Kennard's season looked on paper, it wasn't without its difficult stretches. Shooting just 29% from beyond the arc in the month of November and 28% in March, the Franklin, Ohio native suffered through a number of cold streaks from deep, problematic given over half of his attempts came from downtown. Nonetheless, he looked like the high-level shot maker his pedigree suggested he would be in spurts, making right around 40% of his 3-pointers from the wings and an improvable 32% overall for the season.
Shooting the ball with a very quick, but low, release, Kennard has deep range and the ability to make shots from beyond the arc both off the catch and off the dribble. Adept at moving without the ball, Kennard was particularly effective making shots on the move, getting himself open running off of baseline screens, displaying a knack for getting his feet set and shot off before the defense could recover. A tremendous free throw shooter (89%) who also drilled a number of contested jumpers in isolation situations, Kennard has all the makings of an exceptional shooter down the road, perhaps the most appealing element of his game in projecting him to the NBA level.
Aside from his ability to make jump shots, its Kennard's instincts that really shined last season. Lacking a degree of quickness, but very smooth with the ball in his hands, Kennard is an opportunistic slasher who uses quick jabs, savvy footwork, and timely fakes to create space for himself to score inside. Shooting an average 51% around the rim in the half court in finishing situations, but tossing in 54% of his floaters flashing good touch scoring with both hands, Kennard isn't very shifty with the ball and plays mostly below the rim, making it difficult for him to finish in traffic, but still finds ways to contribute attacking off the dribble.
Aside from his ability to score the ball, Kennard's ability to read the game allows him to find the open man as a passer, exploit lazy defenders sneaking in to crash the glass, and simply make good decisions. Turning the ball over on just 7% of his total possessions last year, Kennard seldom tries to do too much off the dribble. As his game matures at the college level, it will be interesting to see what kind of playmaking responsibilities Kennard takes on, as becoming a more capable facilitator in the pick and roll seems like the next logical step in his development.
As much as there is to like about Kennard's offensive game, there are considerable concerns about his defensive ability. Consistently targeted by opposing coaches, Kennard's lack of length and lateral speed overshadowed his quick hands and the solid energy level he played with last season. Struggling to keep the ball in front of him at times and lacking the ability to bother shooters, Kennard has plenty to prove on the defensive end in the coming years. His improved frame should be an asset, but whether it will help compensate for his poor tools at the next level remains to be seen.
One of the most mature freshman in the country, Luke Kennard will be a key piece for one of the nation's best teams as a sophomore. Surrounded by a number of elite freshman, Kennard could be a major difference maker for the Blue Devils if he has a strong year shooting the ball and begins to take some of the pressure off of Grayson Allen at the point guard spot by emerging as a viable facilitator. Impressing scouts in practices and playing well in Duke's exhibition games, Kennard seems like a lock to emerge as a standout college player, but it's a little early to make definitive statements about where he stands as a NBA prospect.
#26, Theo Pinson, 6'6, Junior, Shooting Guard, North Carolina
Ryan Thomson
Widely regarded as one of the top high school recruits in the class of 2014, Pinson stayed relatively close to home committing to the University of North Carolina and coach Roy Williams at the end of his junior year in May of 2013. Pinson grew up in Greensboro, North Carolina, but played his high school basketball at Wesleyan Christian Academy in High Point, North Carolina. While at Wesleyan, Pinson was recognized with numerous honors including being named to the McDonald's All-American game, the Jordan Brand Classic, as well as participating in the Nike Hoop Summit after being named Mr. Basketball for North Carolina in 2014.
After two inconsistent seasons in Chapel Hill, Pinson is looking to put his stamp on the Tar Heels season as a junior. After a broken foot derailed his freshman season, Pinson returned as a sophomore with an increased role, playing 18 minutes per game mostly off the bench, but faced many of the same struggles that plagued him as a freshman. Unfortunately for Pinson, he suffered a setback last month in the form of yet another broken fifth metatarsal, this time in his right foot, which may derail most of his season.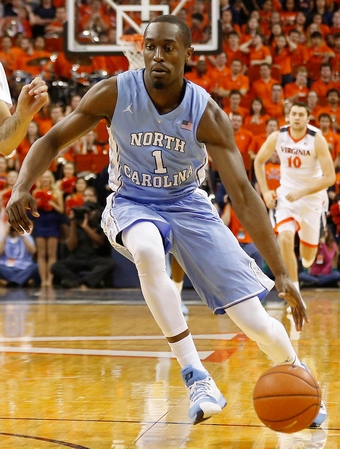 Pinson certainly looks the part of an NBA wing, standing 6'6' with a solid 6'11" wingspan. He has a slight frame, but has gained significant weight since setting foot on campus, now being listed at a solid 211 pounds. Pinson has good quickness and has shown the ability to finish above the rim.
Pinson is a versatile offensive threat, which is both a blessing and a curse. He currently lacks elite ability of any one specific translatable skill- rather being a bit of a jack of all trades. As a sophomore Pinson continued to struggle as a reliable scoring threat, scoring a paltry 9.7 points per-40. Pinson struggles to create offense for himself, though he does finish around the rim at a high rate, where he shot 62.5% on all attempts per Synergy Sports Technology. He also does a terrific job on effort plays and 50-50 balls, evidenced by his solid 2.3 offensive rebounds per-40.
Arguably Pinson's greatest value is as a playmaker, where he ranked among the top wing players in the country in assists per-40 at 6.2. He has a natural feel for the game and is able to anticipate angles and open lanes to make difficult passes. With that said, he does have a tendency to get a bit out of control, particularly when trying to make plays off the bounce, evidenced by his 2.6 turnovers per-40. It will be interesting to see if Pinson placed an emphasis on tightening his handle in the offseason, in which case his playmaking responsibilities could certainly increase for the Tar Heels.
Pinson is dangerous in transition thanks to his playmaking and athletic tools, but in the half-court his game suffers because of his inability to consistently make shots from the perimeter, shooting only 29% on 1.6 three-point attempts per game as a sophomore. He has a significant amount of extra movement on his jumper, leaning far back and often landing far in front of where he elevated from, in addition to having a relatively inconsistent release point. While 1.6 isn't a high rate of attempts, his percentage from behind the arc combined with his poor free-throw shooting is certainly a cause for concern as he shot only 67.2% from the line as a sophomore.
While Pinson's lack of an elite offensive translatable skills may be worrisome, his versatility on the defensive end is very intriguing. His physical tools are terrific, and help him in being able to guard a variety of players. During the course of North Carolina's run to the national title game, Pinson was tasked with guarding players with very different skill sets such as Josh Hart of Villanova and Tyler Lydon of Syracuse.
Pinson's lateral quickness, coupled with his length, allows him to be a disruptive on ball defender, evidenced by his 1.3 steals per-40 as a sophomore. His engagement level off the ball is a concern however. Often times Pinson gets lost off the ball, watching action that he is not engaged in, allowing offensive players to back cut him or being late on close-outs. Playing with two traditional bigs, Pinson wasn't required to be much of a defensive rebounder, though he did so adequately with 4.6 defensive rebounds per-40. It will be interesting to see whether or not Pinson can remain an engaged off ball defender as a junior, which could lead to him carving out a solid role as a defensive stopper and secondary playmaker on the offensive end.
With Paige having graduated, there could have been an opportunity for Pinson to step into a larger playmaking role as a junior for North Carolina. Unfortunately his broken foot puts a damper on things, which scouts will have to monitor considering it's not his first injury of this nature. Once Pinson is cleared to return, it will be key for him to continue to improve his efficiency and shooting percentages from both the three-point and free-throw line, while also proving that he can remain engaged as an off-ball defender.
#27 John Collins, 6'10, Sophomore, Power Forward/Center, Wake Forest
Josh Riddell
John Collins was not the most heavily recruited big man coming out of Florida, ranked 134th by RSCI, before signing with Wake Forest. He had a productive freshman season in limited minutes, averaging 20.4 points and 11.3 rebounds per 40 minutes on 55% from the field while playing just over 14 minutes per game.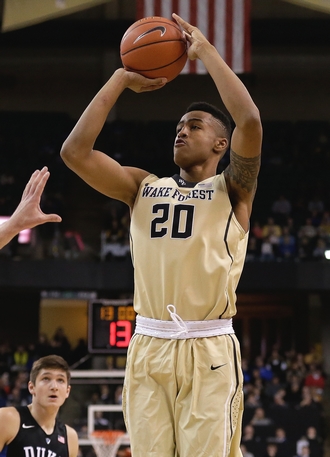 Listed at 6'10", 225 pounds with a long wingspan, Collins played primarily the center position as a freshman. He does have the mobility and quickness to play a power forward role going forward if he can expand his offensive skill set and be able to contribute outside the restricted area. He has an excellent frame that he'll need to continue to add muscle to in order to compete against NBA big men, but he's a very fluid athlete and was extremely active in his limited minutes, showing off a high motor and always looking to make a play on both sides of the court.
The biggest area that Collins needs to improve upon as a sophomore is his ability to stay on the court. Committing over seven fouls per 40 minutes, Collins had trouble controlling his energy and struggled with his defensive fundamentals, which limited his minutes and his ability to contribute. He needs to adjust to the speed of the game and become more disciplined so he can play a larger role in a frontcourt that lost a ton of production with Devin Thomas graduating.
Offensively, Collins looks to dunk everything inside the paint and has a high level of explosiveness and a quick second jump to be able to play above the rim. He finished 56% of his attempts around the rim last season according to Synergy Sports Technology and is a useful complementary scorer with his ability to finish off of offensive rebounds (4.7 offensive rebounds per 40), cuts and rolls out of ball screens.
He has good hands and an ability to get to the line, which only helps to improve his offensive efficiency. He attempted a very high 8.4 free throw attempts per 40 minutes last season, but does need to get better at finishing through contact which should hopefully come as his frame matures. He also converted only 69% of his attempts, and will need to improve his shooting form to capitalize on his ability to draw fouls.
Although he took just a handful of jump shots last year, his mechanics looked passable which does give him a nice foundation moving forward. He will need to get more comfortable playing on the perimeter as his range ended at the free throw line as a freshman. Improving his shot mechanics would give him the ability to score outside the paint in the flow of play while also increasing his prowess from the free throw line, raising his ceiling as a prospect.
Collins did use a high percentage of his offensive possessions with his back to the basket and showed some flashes of skill that he can build on to help him score in the post. He will need to improve his lower body strength to hold position on the block, but has displayed some impressive skills for a freshman. He likes to face up and attack his defender off one dribble, or look to shoot a short jumper, but has also shown some strong footwork with his back to the basket. He will be able to get separation from his defender, but he's often out of control or not in a good position to finish his shot after his post move. He also gets tunnel vision around the basket, and recorded a paltry seven assists in 446 minutes on the season, posting an awful 3.5% assist percentage.
Defensively, the game was clearly moving a little too fast for Collins, which contributed to his high foul rate. He played with a high level of energy, but was often a beat slow to react to the play around him, which left him vulnerable to cheap fouls. He's a confident defender who likes to switch everything, but he struggles to move his feet against quicker guards and doesn't get into a good stance to help his cause.
Collins pulled down 6.6 defensive rebounds per 40 minutes and he uses his body well to box out before exploding to meet the ball coming off the rim. He could become improve in this area if he adds strength to hold off his opponent on the glass, as he can get pushed under the rim even when holding a box out. He also contributed 2.1 blocks per 40 minutes and flies around the paint looking to block every shot. While this does help him protect the rim, he will have to pick his spots better to stay out of foul trouble. Learning to play under control while maintaining his motor defensively will be key for Collins as a sophomore to make him more effective as a defender and to keep him on the court and out of foul trouble.
One of the youngest players in the country last season after just recently turning 19 in September, Collins has a huge amount of room for growth as a sophomore and beyond. Being able to stay out of foul trouble will be his biggest area of improvement to allow him to stay on the court and impress NBA scouts as his career progresses. With his size and athletic ability, he'll certainly be a player to watch to see how his skills develop over the next few seasons.