Josh Riddell
Tim Quarterman
returned to LSU for his junior season hoping to build on a NCAA Tournament appearance and improve his draft stock. While Quarterman posted modest upticks in his production by averaging 14.5 points, 6.7 rebounds and 4.7 assists per 40 minutes pace adjusted, the Tigers did not have much success as a team as they looked dysfunctional for most of the year, failing to make the NCAA Tournament and subsequently passing on any postseason appearance. Quarterman hopes to put the disappointment of this season behind him and move to the next phase of his basketball career.
His draft potential starts with his impressive size for the point guard position, measured at 6'6" with a 6'10" wingspan at LSU's preseason combine. This gives him the vision to see the floor as a point guard, even if the rest of his athletic tools won't wow you but do provide a nice complement to his size. One area of his physical profile he will need to address is his strength as he hasn't changed his body all that much over the past three seasons and still weighs in at 190 pounds. He has a thin frame and will have to get stronger to compete professionally on a nightly basis.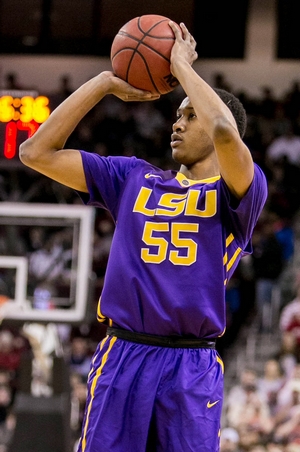 Quarterman became a much more efficient passer as a junior by raising his pure point rating from 0.73 to 2.67. He can see over the defense with his height and prefers to create for his teammates in transition or off pick and rolls. He can make accurate passes to put his teammates in scoring position, either on lobs, post entry or cross court passes. He will get in some trouble and turn the ball over when he tries to thread the needle too much and make a spectacular pass. His
2.1 turnovers per 40 minutes pace adjusted
is a good mark for point guards in our top 100 and he could probably even shave a few off by not forcing highlight reel passes.
Quarterman hasn't been able to become a reliable and efficient scorer, posting a 53.7% true shooting percentage alongside his modest 14.6 points per 40 minutes pace adjusted. He has yet to establish a reliable way to score in the halfcourt, which has hurt his ability to create offensively from the perimeter with defenses sagging off him to clog his driving lanes and limit his effectiveness.
He has some nice shake to his game off the dribble but that hasn't translated into efficient scoring opportunities. He can create space from his defender in the midrange with a variety of moves but converted just 34% of his jumpers off the dribbles. These jumpers are usually heavily contested because he doesn't have an elite first step to get past his defender and when he does create space with a stepback or sideways jump stop, he struggles to get on balance before rising into his shot. His form leaves a lot to be desired, as he gets no lift on his jumpers and his lower body is not under control after coming to a stop. This could become a nice weapon for him but his inability to finish these drives with a good attempt just make them empty possessions.
Quarterman's average explosiveness and strength causes him to get off balance on many of his forays to the rim. At the same time, many of his moves take him sideways rather than straight ahead which leads to him being a below average rim finisher. He converted only 53% of his opportunities according to Synergy Sports Technology with many of his attempts too wild to have a chance to go in. He isn't going to seek out contact with his thin frame, attempting only 5.3 free throw attempts per 40 minutes pace adjusted, an issue compounded by him being a 66% career free throw shooter.
When he is working off the ball, he doesn't always move crisply around the floor into open spaces to put himself in scoring position and he isn't always ready to attack off the catch. He can be caught standing straight up and flat-footed when making the catch and isn't able to make a quick move to catch the defense off-guard. With his average first step and already slow release on his jump shot, he will need to make decisions quicker off the catch to create offense against NBA defenses with quick closing gaps.
He is an improved catch and shoot player and finished his junior season shooting 40% on 65 opportunities logged by Synergy Sports Technology, up from 31%. There are some concerns about his ability to stretch this to the NBA three point line as the same question marks on his form are present on these shot attempts as well so he will have to prove that he is a capable shooter and that this wasn't just a one season increase in efficiency but a sustainable improvement.
Quarterman's size gives him some clear defensive potential and he wasn't afraid to accept some of the tougher defensive assignments. He does provide some energy and a willingness to compete, but will need an increase in his strength to not be outmuscled by NBA guard and give him more flexibility to switch onto multiple positions.
He does have some improvements to make before he will become an impact defender against any wing position. He can press into the chest of the ball-handler and bother his opponent with his length but he will sag off the ball at times to help him cut off dribble penetration and rely on that length to contest jump shots. He has a tendency to drop back a step too far, both on and off the ball, which leaves him too much space to cover and contest. If he can become better with his footwork and on his position awareness, he has the tools to become a useful player on this end.
To solidify himself as a potential NBA player, the 21 year old Quarterman will have to demonstrate how he will score on a regular basis. He's a capable passer and has some defensive potential, but without a reliable offensive weapon, it will be hard for him to crack a rotation. If he can develop that scoring ability in the D-League or in Europe, he could play himself into the NBA down the road.