Team: NON-NBA College Team: Partizan
Physicals
Positions
Salary
Misc
H: 6' 5"
W: 160 lbs
Bday: 09/17/1986
(29 Years Old)

Current: SG
NBA: SG
Possible: PG/SG

Agent: Rade Filipovich

High School:
Hometown: Cacak, Serbia
Best Case: Poor Man's Ray Allen
Worst Case: Jiri Welsch




Basic Per Game Statistics

- Comprehensive Stats - Statistical Top 25s
| Year | League | Name | GP | Min | Pts | FG | FGA | FG% | 2Pt | 2PtA | 2P% | 3Pt | 3PtA | 3P% | FTM | FTA | FT% | Off | Def | TOT | Asts | Stls | Blks | TOs | PFs |
| --- | --- | --- | --- | --- | --- | --- | --- | --- | --- | --- | --- | --- | --- | --- | --- | --- | --- | --- | --- | --- | --- | --- | --- | --- | --- |
| 2013/14 | Italian | Uros Tripkovic | 6 | 17.3 | 6.7 | 1.8 | 5.3 | 34.4 | 0.2 | 1.3 | 12.5 | 1.7 | 4.0 | 41.7 | 1.3 | 1.3 | 100.0 | 0.0 | 2.2 | 2.2 | 0.8 | 0.2 | 0.0 | 1.7 | 2.5 |

Player Page&nbsp&nbsp| Player Stats | Mock Draft History | Related Articles&nbsp&nbsp| Add to My Draft Express&nbsp
&nbsp
Roundup: Tripkovic Strikes Back
March 26, 2008
We didnít see this coming. After going scoreless in the Euroleague, Uros Tripkovic unexpectedly exploded this weekend for consecutive 20+ point performances in the Adriatic League. He hit first in a delayed game against the archrival Cibona, knocking down 22 points, and then improved to 28 versus Split, both easy victories for Partizan. Heís starting to feel comfortable in the domestic competition, where he averages 16.6 points over the last seven games. Not by coincidence, his perimeter stroke seems to be back, as heís hit 46% of his three-point attempts in that very same span (9/20 in this weekendís games combined).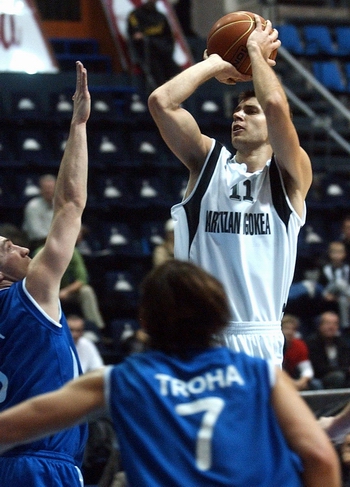 Photo: ABA League


After all, Uros looks every day more and more like a pure sniper, and his game heavily depends on his shooting accuracy. From standstill positions, coming off cuts, off the dribble, Tripkovic tries in almost every possible fashion, sometimes even overdoing himself with difficult attempts. On the other hand, heís lacking some aggressiveness attacking the basket and struggles getting anything done going off the dribble against his match-ups. Besides, the presence of point guard Milt Palacio and the emergence of Milenko Tepic as a creative force, are pushing his game towards off-the-ball duties.

In the end, his season averages are still below past seasons, and neither is he particularly standing out with great defense. Too often he just goes unnoticed, and seems to lack a certain bit of fire in his game. At this point, we shouldnít expect to hear his name called on draft day. That is unless he really heats up for the remainder of the season.

[Read Full Article]

---
Roundup: Pekovic, Euroleague Week One MVP
October 31, 2007
Uros Tripkovic has looked more disappointing with every season that goes on, and the current one is not any exception. He goes unnoticed on the court, doesnít show any kind of fire in his game, and he struggles with his best weapon, his perimeter stroke. His inconsistent shooting might very well have something to do with some lack of mental strength and self-confidence. His early run in the Adriatic League shows a surprising evolution. After scoring 8 points in his first appearance facing Zagreb, he has managed to reduce his scoring production in every single game, going scoreless this past weekend against Hemofarm, despite spending 20 minutes on the court. Almost a perfect countdown.

[Read Full Article]

---
Roundup: Serbian Bomber Uros Tripkovic in a Massacring Performance
March 19, 2007
It was a matter of life and death for both teams. Odds were, and still are, against either Partizan or Joventut making the quarterfinal round in the Euroleague, but Uros Tripkovic gave his team a last thread of hope by leading Partizan with a Euroleague career-high 26 points in a superb performance. Tripkovic, more in a shooting specialist role than ever, was splendid from the floor netting 6 of his 8 three-point attempts, and gifting the viewer with his usual picture-perfect mechanics that are just a delight for the senses. He did most of the damage from the perimeter, but still had time to capture 4 rebounds.

It has been one of the few bright moments he has delivered this season. Actually, his development in the last three years canít be considered anything but disappointing. His production has even regressed from what he had delivered in past years. Heís still a double-digit scorer in the Euroleague, but his point per game production has slightly and constantly decreased in the last three seasons (from 10.7 to 10.1 ppg), which is not what you expect from a 20 year old player. That regression is even more evident in the Adriatic League, going from 13.3 ppg in the 2004/05 season to the 10.5 ppg heís currently averaging, while also involving shooting percentages (from 47% to 43%). On the contrary, his accuracy has slightly improved in the Euroleague during these years, although always trapped in mediocrity (from 36% to 38%). Meanwhile, his assists are again down after peaking in the 2005/06 season and his turnovers have steadily decreased in both competitions.





So what is this all about? Is there any reason to explain these statistical trends that Uros has delivered these years? Well, it probably has a lot to do with his role on the team, how he seems to have evolved from a creative guard to almost a shooting specialist.

Whenever you see Tripkovic, just as had happened to us for the first time at the 2004 U-18 European Championships, his shooting mechanics stand above the rest of his game. Heís so elegant, so balanced and orthodox in the release, elevating so high with his jumper, that you always get the impression that heís on the verge of becoming a deadly shooter, even if his percentages tell another story for the moment (he combines for an average 36% this season). He can go for a simple spot-up jumper, come off a cut to receive and instantaneously elevate for the jump shot, put the ball on the floor and step back to gain space for the release, use a crossover to unbalance his rival and just shoot over him, etc. His body is always under control in the air, no matter how complicated the previous move was. Actually, heís not a player that gains so much accuracy with a wide open shot.

But Tripkovic game can go well beyond that shooting role (and actually does, although to a limited degree). Heís a fairly smart player, a guy who usually makes good decisions, is a nice passer, and a team player. He has the ability to split defenses with a solid first step and nice ball- handling skills, although he perhaps lacks some aggressiveness attacking the hoop. We can consider him athletic, particularly by European standards; heís quick, reactive, and a decent leaper, although he rarely plays above the rim. On defense, heís a solid player, but doesn't always succeed against elite wings. Actually, in the last Euroleague game he had a hard time keeping up with Rudy FernŠndez, even if the Spanish player had a poor day from the field. He has also gained some strength that helps him to operate on the court, even if thereís still work to do in this department.





Something we miss about Urosí game is more aggressiveness and activity taking decisions with the ball. Heís a guy who can virtually disappear from the court in certain stretches. He was supposed to take over the offensive load of Partizan sometime during the last two seasons, and it just hasnít happened. His scoring outburst against Joventut was a matter of getting good shooting looks and finaly seeing his long-range bombs falling, but nothing he aggressively looked for. He seems comfortable deferring to others and keeping a secondary role, which is not a bad thing by itself, but still disappointing for the kind of player we thought he could become, an effective go-to guy, at least for Partizan.

So even after flirting with the point guard position, Tripkovic is now a full-time shooting guard. The arrival of the very solid Vonteego Cummings mid-way last season not only has stuck him on the wings, but has taken a lot of creative pressure off his shoulders. So that would explain why he dishes out less assists, and why his turnovers have decreased, as he handles the ball less than he did in previous seasons. Not enjoying as much of the ball, it also would explain why his scoring has gone down, as heís not a player who aggressively looks for his shots. Regarding percentages, the obvious level differential between the Euroleague and the Adriatic League might explain the different trends. In the Euroleague, his accuracy is likely benefited lately from the better shots he takes with a more secondary role in the team, while it wouldnít be so far-fetched to think that the superior confidence he enjoyed in past seasons would make up for the worse shot selection he used to show as a combo-guard in the Adriatic League. Perhaps weíre reading too much into stats, but it makes some sense.

Anyway, Tripkovic is still a solid prospect for the second round, a talented guy with some very useful skills. Besides, we shouldnít rule out the possibility that he blossoms sometime in the future. Again, heís only 20 years old.

[Read Full Article]

---
Euroleague Prospects (Part 3, Stock Down)
February 22, 2007
In what canít be considered anything less than a wasted opportunity considering the situation heís been in playing for Partizan in the Euroleague over the past two seasons, the once extremely highly regarded Serbian talent of Uros Tripkovic is still yet to manifest itself on the court on a regular basis, besides limited occasional glimpses from time to time. Although heís still only 20 years old, itís hard not to get a sense that he will have a hard time living up to the lofty expectations that were created from the tremendous potential he showed very early on his career.

Last season, he was expected to be Partizan's second option on offense, following Dejan Milojevic. He never reached any kind of stability, struggling to insert himself on a consistent basis and only having three regular season games with 15 points or more, while finishing with a 2-12 record. This season, it got even worse. Partizan surprisingly made the top-16 round, but mainly thanks to its strong frontline. Tripkovic was passive again, struggling to emerge in any kind of go to role, at least as a solid compliment to all the attention that his frontcourt players received after pulling off a few early wins. Uros is talented, with a great shooting touch, solid athleticism, and excellent scoring instincts. He slashes particularly well and passes the ball when he has to.

However, the issue here is that all these things existed two years ago already, when Tripkovic was really a promising Euroleague youngster. Now that he is considered more experienced after two years as a full-time starter, it is very surprising that he is still at the same level mentally. His shot selection can be extremely poor, his concentration level questionable and his frame is still yet to fill out. He doesn't put much focus on defense and is too weak to be a steady factor, despite his solid lateral quickness. The shp surely hasnít sailed for him yet, as you can still see quite a bit of talent even through the maddening inconsistency, but at some point he will have to produce the kind of results youíd expect from a starting Euroleague guard. Partizan is still in the top 16, and Tripkovic has another year before becoming draft eligible, but it will take quite a bit of improvement to erase the many poor performances heís had in front of countless scouts over the past two seasons.

[Read Full Article]

---
Euroleague Preview: NBA Draft Prospects (The Veterans)
October 25, 2006
Uros Tripkovic seems to finally be settling into better shape after a disappointing season last year coupled with an unimpressive performance at World Championships for Serbia. He is averaging 15 points per contest in the Adriatic league and is finally showing more aggression and willingness in driving towards the basket. Tripkovic will have to show that he can be the lethal and consistent scoring threat his potential says he can be in the Euroleague if he wants to redeem his status of a legit first round pick.

The good thing is that Urosís body has matured, and while still being a relatively weak player, you can see that he will pan out just properly in that department. Tripkovic also seems to have grown an inch over the last 12 months and is now a legit 6-foot-6 shooting guard. This is important for him, since his size has been proclaimed as one of his more viable weaknesses in the past.

When speaking about Tripkovic we always must mention his jumper, which is one of most beautiful in all of Europe. A high and quick release, great lift and superb body control are all characteristics of his most powerful weapon. Still, his accuracy isnít world-class, probably the result of poor shot selection at times. At the start of this season, Uros changed his game plan to a certain extent, and has started to make his way into the lane more often. While, he is not a good finisher there yet, Tripkovic will earn a lot of free throws by beating his man with his first step and by faking a shot. Being such a stylish shooter it is surprising not to see him using a pull-up jumper from 12-15 feet more often, since he has serious problems finishing close to the basket against opposing big men.

Defensively, he is making a progress, but still lacks the focus and willingness to defend periodically. He has good enough tools to became a decent defender at any level, but it is up to him if he will use them. Given the quickness, ball-handling and court vision he posseses, one would assume that Tripkovic would take more responsibility in creating shots in the half-court.

After the departure of the teamís superstar Dejan Milojevic, Uros will be counted on as a primary scoring option for Partizan. How will he fare in that role against highest European competition will go a long ways in determining his draft stock.

[Read Full Article]

---
FIBA World Championship Preview: Group A, Part Two
August 9, 2006
Although he might not have enjoyed the type of season everyone hoped he would, Uros Tripkovic still received Dragan Sakotaís call for the senior National team, more because of his potential than his current skill level.

Since Sakota still has to make two more cuts before finalizing Serbiaís roster for Japan (fellow youngster Milenko Tepic was just let go), it is not sure if Tripkovic will be on it, since he didnít exactly overwhelm the coaching staff during the preparation period so far. Bojan Popovic, Vule Avdalovic, Igor Rakocevic, Marko Marinovic and Branko Jorovic all seems to be in front of Uros on Sakotaís depth chart currently.

Having evaluated his game here on Draftexpress numerous times, there is no need to repeat ourselves once again, so check the link above for more information about his progress this past season.

For this Serbian team, Tripkovic is coming off the bench as a "shooting specialist." He doesnít create much off the dribble, waiting on the perimeter for a shot opportunity or moving the ball around with his nifty passing. Uros has put a lot of energy in defending, but with mixed results. He has improved his body strength, but lost some of his lateral quickness in the process, and still doesnít show enough toughness, aggressiveness and focus on the defensive side off the ball. The biggest concern is his regressed slashing; once known for ability to create his own shot, Uros now doesnít get into the lane quite as often as before. His first step is very average, and he suffers finishing around the rim since he isnít very creative with his layups.

Tripkovic has a shot at getting consistent minutes at the World Championship, which is quite a big deal for a 19-year old, thanks to his one particular strength - shooting. He has a lot to gain and nothing to lose at this tournament, since nobody is expecting anything from him outside of knocking down couple of jumpers. A good performance could solidify his stock as a first round pick, and he should attract even more attention from top European clubs than already has this summer, as he is currently being pursued heavily by Greek club Panathinaikos amongst others.

[Read Full Article]

---
Adriatic League 2005/2006 Recap
April 26, 2006
This was an up and down season for talented Uros Tripkovic. Averaging over 12 points per game on a Euroleague team and eventual Adriatic League Finalists isnít bad for a 19 year old player, but after a terrific rookie season, Uros didnít make the step forward that everyone seemed to expect of him. This was why it was surprising to see Tripkovic selected for the Adriatic leagueís 1st team this year. He is scoring less than last season (13.3), but the biggest hit he took was in his FG%; after shooting 47.4% from the field last year, Uros is now converting just 41.2% of his shots this time around.

The fact that, on average, 3 of his 5 shot attempts come from behind the arc should tell you that he relies on his outside shot too much. Adding weight to his frame, Uros lost some of his speed, and itís now a little harder for him to get into the lane, which puts more pressure on him to score from the perimeter. At his current stage, Tripkovic is sub-par at attacking the rim, as he doesnít have the strength to finish in traffic and his first step isnít off the charts. We might say that offensively he is pretty one-dimensional as around 70% of his points come from jumpers.

Tripkovic has good ball-handling skills and sees the court very well, which should help him establish more offensive versatility in the future. On defense Uros improved some, mostly regarding his attitude, but still gets beaten off the dribble quite a bit. This was especially evident during the Final 8, when he quickly picked up cheap fouls where he was unable to stay in front of his man.

After concentrating mostly on his weaknesses so far, we might say something about his strengths. When heís not forcing the issue, Uros is an excellent shooter from anywhere on the floor. He has one of the sweetest strokes in Europe and looks great executing it, being highly effective in catch and shoot situations since he has good coordination and a very fast release. Uros moves off the ball very well, using the screens his teammates give him to get his shot off. As already mentioned, he is a nice passer in half-court sets and in transition, but his inability to play off the dribble greatly limits his assist numbers.

It seems that Tripkovic grew an inch this past year, and now standing at 6-6 he has very good size for an NBA shooting guard.

After connecting on 5 treys during the Adriatic League Finals against FMP, Uros was a tragic figure in the last 2 minutes of the game, as he missed 2 crucial free-throws that sealed the win for FMP. Tripkovic seems to be content with his current situation as the cornerstone of Partizanís future and doesnít seem too intent on testing his stock in this yearís draft, although he could probably get a spot in the late first round with solid showings at private workouts. The fact that all of his personal and private matters are conducted strictly by his team Partizan, without the help or influence of any European or American agent, is likely a deciding factor in this.

Currently he appears to have enough athleticism and size to complement his shooting ability and will likely get drafted somewhere in the 20-40 range when he does decide to enter the draft. If he wants to solidify his status as a first round pick, Uros will need to show more visible improvement in his all-around game next year.

[Read Full Article]

---
Euroleague Regular Seasonís Best of the Rest
February 20, 2006

Tripkovic shoot the ball poorly, hitting less than 40% of his FG attempts and committing more turnovers than assists. With the departure of Gerald Brown, Partizan was without a pure playmaker for a long stretch, so coach Dusko Vujosevic was forced to use Tripkovic as the point guard. He showed good court vision and passing ability, but it was clear that this isnít his natural position and Partizan didnít enjoy much success with him running the offense. Uros certainly can play PG for some stretches, but has more potential as a shooting guard thanks to his impressive scoring potential.

The Serbian exhibited his lighting quick release, but surprisingly almost nothing went in for him. Besides his bad shooting streak, the reason for his poor percentages mostly lie in his shot selection. Tripkovic didnít hesitate to fire in up in almost impossible situations and didnít show enough patience to wait for good opportunities. A player with his combination of speed and ball-handling skills should drive to the hoop more often.

On defense Uros was somewhat better than last season, but was still inconsistent. Itís not his athletic ability that limits him in this department, but his attitude and effort which is not always good enough. Tripkovic certainly belongs with the group of most talented European guards, but this season he didnít show the improvement that many expected. He would be best served to wait at least one more year before applying to the draft, but if he decides to put his name in this year Tripkovic still has a pretty good chance to be selected in the first round regardless. He has a lot to learn before going overseas if he wants to make an impact, though. Moving to a stronger Euroleague club this summer might be the best thing to do.


[Read Full Article]

---
International Scene: Turning Points
January 22, 2006
Uros Tripkovic was meant to have a very prominent role in Partizan this season. With guards Vule Avdalovic and Blake Stepp out of the picture, he was expected to take over the go-to role in his teamís backcourt. It didnít work out as planned, though, as Uros failed to provide the offensive power that his team needed out of him. His shot wasnít falling and his confidence was faltering. Besides, some nagging injury problems were bothering him, causing him to miss a few games in the process.





However, since returning from the last injury about a month ago, Tripkovic looks like a completely different player. He is averaging 15.2 points and 2.4 assists in the last 8 games he has played in both the Adriatic League and Euroleague. His shooting touch is back, even exhibiting his excellent skills netting complicated jumpers lately. Heís firing against opposition in difficult situations, fading away or with a man in his face off the dribble, while always looking very reliable whenever heís open for the catch and shoot. Itís clear that his confidence is back.

Perhaps part of the reason for this is due to his new role in the team. With the departure of point guard Gerald Brown, heís not only the main guy in the backcourt, but also heís spending heavy minutes at the point guard position.

Tripkovic belongs to an excellent European shooting guard crop that also includes Rudy FernŠndez and Marco Belinelli, characterized by being slightly undersized both bulk and size wise as far as the NBA is concerned, with nice athleticism, a good shooting touch, remarkable passing abilities and a high basketball IQ. Many NBA people would probably like to see these guys become point guards, and indeed they are sometimes listed this way regardless of how are they looking right now, as they likely feature the basics to be able to make that transition with some chances of success.

While Marco Belinelli and Rudy FernŠndez developed strictly at the off-guard position, where they still feature excellent potential, Uros Tripkovic might be going in a different direction. He had previously flirted with the playmaking spot whenever his team needed him to, but currently heís the main point guard of the team.

It remains to be seen whether this is a temporary situation (perhaps until Partizan signs another PG) or a real bet on Tripkovicís future at that position. Right now, heís learning the ropes of playmaking. For example, he still looks uncomfortable taking the ball up-court even against minimal defensive pressure from his match-up, making it difficult for him to keep good sight of the entire court. Still, he doesnít lose the ball too often in these situations, but he tends to act hastily as soon as he get rids of that pressure, committing unnecessary mistakes. Also, he sometimes picks up his dribble without having established a clear passing angle, which can get him and his team in trouble. Being a nice ball-handler for a shooting guard, he could use some improvement for the point guard position. He certainly lacks that rhythm and feel of having everything under control that the good playmakers display.

This is why despite the possibility of delivering an excellent scoring run from now until the end of the season, it could be really interesting for Uros to wait another season before declaring for the draft if Partizan is serious about playing and developing him at the point. If he manages to properly learn how to play there (he will obviously need more than half a season), and he certainly has some nice skills to do it, he could see his draft stock skyrocketing.

[Read Full Article]

---
Euroleague Stock Watch Part 1 (Stock Down, Neutral)
December 21, 2005
Tripkovic has easily been the biggest disappointment of the season so far when talking about the Euroleague prospects. Averaging under 5 points per game while playing for the worst team in the Euroleague doesnít cut it to make it in the first round anymore, but thatís exactly how Tripkovic has been performing so far.

Unlike last season when he was an unknown to most defenders, Tripkovic is now better scouted and more carefully guarded. The fact that he has been shooting under 30% on the season isnít all about just being ice-cold, it has a lot to do with the fact that he is being forced to take many bad shots. Since Tripkovic isnít a consistent enough slashing threat at this point, opponents guard him closely and instead of driving to the basket he instead forces up bad shot after bad shot. It remains a mystery why he doesnít penetrate better when he has good quickness and his ball-handling skills donít appear to be too bad.

On defense he hasnít shown any progress from last season, often being beat off the dribble and suffering trying to fight through screens due to his still very thin body.

Prior to a light injury which kept Tripkovic out of the last few games, coach Vujosevic lost his patience with him and finally removed him from the starting five while reducing his playing time significantly. Once he recovers, Tripkovic will need to get his head back in the game and try to bounce back as quickly as he can, as Partizan has virtually no chance of making the next round with a 1-6 record in the competition so far.

Tripkovic certainly has talent and surely still has a bright future ahead of him, but he seems to be losing ground on other European shooting guard talents like Rudy Fernandez and Marco Belinelli. His play this season has hurt his stock to the point that declaring this year might not be a realistic option for him, although he still has enough time to improve his stock if he can bounce back. Six months ago it looked like Tripkovic was a lock for the first round whenever he declared, but now thatís not a sure thing anymore.

[Read Full Article]

---
An American Perspective on Europe...the Guards
May 16, 2005
One of the most pleasant surprises from this European marathon was the very young Serbian combo guard Uros Tripkovic. Watching him play in the Euroleague (against good teams like Climamio for example) and the Adriatic league, you would never guess that he is only 18 years old. He's already extremely skilled, and his talent is pretty much undeniable given the things he does with the ball in his hands. He is very athletic, with a nice first step and the extremely important ability to create his own shot for himself and for others. A finesse player, he finishes around the basket in the most difficult of situations, or finds the open man. He looks humble, mature, unselfish, intelligent and he just oozes with NBA potential. His court vision is good and he looks okay in spurts handling the point. His ability to make tough passes look easy is one of the biggest indicators of his talent and excellent feel for the game. His outside stroke is excellent right now, with perfect mechanics, a quick release and surprisingly good shot selection for a player his age, although I've been told that this hasn't always been the case this year, as his role on Partizan has fluctuated.

Offensively, he is a fairly complete player at this point, although he could always stand to improve in the usual areas, especially his ball-handling. Defensively, his lateral quickness is good, maybe not good enough to guard NBA PG's, but a lot better than you would expect. He projects as a shooting guard who can log some minutes at the point if needed anyway. His biggest weakness right now is his body. He looks like a European teenager and struggles to defend stronger player and finish around the basket because of this. He is also maybe an inch undersized at 6-5. If Tripkovic continues to improve and is given the playing time he needs to fully develop, there is no reason to believe that he won't land in the lottery whenever he decides to declare. He's a very special talent.

[Read Full Article]

---
The Adriatic League's Final Eight
May 3, 2005
Tripkovic played so well in his first senior season that this performance was somewhat of a disappointment. In the absence of Nemanja Aleksandrov, he was the top draft prospect at this tournament. He showed his remarkable shooting ability and was moving well without the ball. In the first two games Tripkovic was unusually passive offensively, but in the finals he took responsibility late in the 4th period when Partizan was trying to make a comeback. During that game he hit two huge three-pointes plus a foul. Defensively, he suffered a few times fighting through screens, because of his very thin body. He has nice footwork, so when he becomes stronger, he shouldn't be a defensive liability here nor in the NBA. His game looked pretty one-dimensional now that Partizan's more experienced players are back from injuries, he was rarely trying to take his man off the dribble and when doing so he was having trouble scoring or making a good pass in traffic. It seems like Tripkovic is not going to declare for this year's draft, which is the right decision since he is still a few years away from being ready for the NBA. However, he is one of the most talented European guards at the moment and should be a surefire 1st round pick whenever he declares. If he shows development over the next few years, he could be the next big thing from Europe, but this time in a rather small package.

[Read Full Article]

---
Top NBA Prospects in the Adriatic League
April 11, 2005
This was a great season for Uros, his first as a part of his team's regular rotation, and he was just great despite his age. Tripkovic is a natural born scorer with great shooting mechanics. He's full of self-confidence and is probably the best shooter of all the European prospects. He also showed good penetration ability and very good court vision. He has a killer instinct that hasn't been seen in this part of the world from such a young player since Drazen Petrovic. He is a good athlete, but a bit undersized for the 2 spot and very skinny, which is his biggest weakness. His shot selection is rather bad, but that is normal for such a young player. His defense will need a lot of work, but he has good footwork and a solid wingspan to become a good defender. He will probably not declare for this year's draft and that's a smart decision. As it looks right now, he's a lock for the first round whenever he declares, and has the potential to be a lottery pick.

[Read Full Article]

---
Uros Tripkovic NBA Draft Scouting Report
March 17, 2005


Strengths


Really a promising player, Uros Tripkovic is a very solid prospect who should emerge soon as one of the best guards in all of in Europe. He's very skilled, smart, athletic and a good competitor. He displays almost the entire package.

Uros is quite an athletic kid. He enjoys very good legs that make him quick and even explosive, showing a good vertical leap.

When it comes to scoring, Tripkovic likes to use his jumper. He's an excellent shooter, using his strong legs to fire away from high in the air, with beautiful mechanics and a quick release. He's very consistent from static positions, but he can make them off the dribble too, showing the ability to create his own shots. He's pretty skilled translating his horizontal quickness into a balanced leap to deliver the jumper. Besides, he enjoys great range, even out to the NBA three-point line.

Almost as good as his shooting is his ability to slash to the hoop. You would expect no less, as we're talking about a player with great handles, a good first step, the quickness and the fearlessness to be effective. He can attack both sides of his defender, but many times he doesn't finish the action himself, whether it's because he pulls up to deliver a jumper at some point of the way, or because he sees a better option and feeds an open teammate. And that's because he's a fine passer as well, enjoying remarkable court vision for a wing player. He's also pretty good at playing pick & roll situations as well as in transition.

Tripkovic has the versatility to play some point guard. He has the handles, the quickness, the court vision and the passing skills. He has good enough legs to defend both guard positions, showing very good lateral movement. He played the point on a regular basis when he was younger, although right now he's pretty much focusing on the off-guard position, even if he sporadically is in charge of directing his team because of teammate Vule Avdalovic's injury.

Anyway, with Tripkovic's skills and basketball IQ, the possibilities are multiplied. He really feels and knows the game. You will find very few people doubting his bright future. He's a very special player, even from an esthetical point of view. His game, his movements--all show a particular elegance that makes the experience of watching him even more enjoyable.



Weaknesses


There's not too much to talk about the weak points of Tripkovic at this point. He's quite a complete player. But, perhaps, what hurts Uros the most is his size. While at 6-5 he isn't undersized, it's only average for a shooting guard. Where he might suffer the most playing at the next level would be finishing penetrations against the big guys. He has the athleticism to make up for it, but he will have to fully use all his skills to succeed in the NBA. He's capable, though. No doubt about it.

Another issue right now is his strength. It's the same old story: a European teenager, therefore a skinny guy. It affects his defense mostly, having troubles to fight through screens. But it isn't something that can't be solved with time and the proper work.

Regarding his PG skills, he's not a pure playmaker. He can carry the ball, he's a good passer, but he's not a true organizer. He doesn't show a significant ability to control the court and the tempo of game. While being able to spend time there, I don't think it will be his main duty anywhere he plays, especially considering that there won't likely be any need for him to play there, as everything leads to believe that he will become a very good shooting guard.

Finally, as fine a gunner as Tripkovic is, he's still inconsistent with some of his off the dribble jumpers, especially the most unbalanced ones requiring the most strength and range. So right now, although being able to create his own shots, he's not as effective as would be desired, but I think he will end up being able to pretty soon.



Competition


Tripkovic is another product of the seemingly endless pool of talent coming from Partizan Belgrade. He started to play some games with the senior team in the 2002/03 season, including a few meaningless appearances in the Euroleague, when he was barely 16 years old. But he hadn't started to get real action with grown men until this season.

Before that, in the summer of 2004, he was a member of the very talented Serbian National Team that played in the European Junior Championship in Zaragoza (Spain) and disappointed big time, only being able to finish in fifth position (see links). Not being particularly brilliant there, he had a solid tournament while insinuating a much better future. He averaged 13.4 points, 1.9 rebounds, 2.9 assists and 1.3 steals.

This season he benefited immensely from the injury plague that has been decimating Partizan all year, enjoying a lot of playing time. While we don't know whether the opportunities he received is more a result of luck or merits, his performance level has been excellent, even to the point that he has surpassed some veteran teammates in the rotation. In the Adriatic League, where the Serbian team has all the options open, he's averaging 12.9 points, 1 rebound, 1.5 assists and 1.5 steals in over 27 minutes of playing time. In the Euroleague, where Partizan could only win 2 out of the 14 games of the regular season, his numbers were 10.7 points, 1.2 rebounds, 1.3 assists and 1 steal in 26 minutes per game (see links for in-depth article).

Given the level of competitiveness showed by Partizan in the Euroleague, we can't talk about top international competition regarding Tripkovic experience. But for an 18 year old player in Europe, those are quite good credentials.



Outlook


Whenever Uros decides to declare, he should be a first round pick, but this year's draft seems a little early for him. He's still very young, too young to play in a league as physical as the NBA. One or two years more in Europe, getting bigger and refining his skills, can make wonders for a player that likely won't need to speculate with hype and potential to get himself a guaranteed contract in America. With enough patience, a place in the lottery awaits him down the road. He should be able to hold is own in the NBA as a rookie by that point as well, instead of rotting on someone's bench.

This doesn't mean that people won't try to push him out sooner, though. Almost every agent who works with European NBA players and thinks anything of himself is fighting for his services right now. It will be interesting to see who he ends up signing with and how quickly that agent will try to capitalize on his vast potential.



Comments


I have little doubt in my mind that Tripkovic will become a very good player. How good, it remains to be seen. He's no seven footer, and it will be a difficult task for him to succeed in the NBA. But I think he's capable, I feel he has what it takes to achieve it: the talent and skills, enough physical and athletic gifts, and the right character.

While the Ray Allen comparison might seem a little over the top, and that's something we prefer to stay away from here at DraftExpress, this reflects more in his outstanding feel for the game, his class, the talent he shows, and the fact that he appears to have the complete package in terms of basketball skills.



[Read Full Article]

---
Euroleague: Youngsters Fighting for a Place Under the Sun
February 18, 2005
After some unconvincing performances with Serbia and Montenegro's junior team at the European under-18 championship, no one expected Uros Tripkovic to become such an important part of Partizan's game this season already. Constant problems with injured players forced the coach to put him in the starting lineup eventually, and Uros surprised everyone with the flashes of brilliance that will eventually make him one of the most talented European shooting guards around.

Tripkovic faced more responsibility in a decimated Partizan club than most normal 18 year old talents can handle on the Euroleague level, which would partially explain his poor field goal percentages and 2 turnovers per game. The addition of Blake Stepp and other players recovering from injuries lately (Milojevic, Bozic) didn't make Tripkovic disappear and lose his playing time, quite the opposite actually as he started to play even more impressively next to them, utilizing the fact that the opponents' defense was finally concentrating on his teammates and not him.

The first game after Partizan's best player Dejan Milojevic got injured, Tripkovic emerged with 15 points against Efes Pilsen. Shortly after when Partizan's second best player Vule Avdalovic went down, Tripkovic had a jaw dropping performance against last year's Euroleague finalist Climamio Bologna. Tripkovic scored 24 points (7/11 FG, 3/5 3P, 7/7 FT) and together with fellow Partizan talent Luka Bogdanovic, kept Partizan in the game until the last seconds, when he missed a three pointer that would have sent the game to overtime.

Partizan's 2-12 record certainly isn't in Tripkovic's favor, but I also believe his game suffered from it a bit. Many of his team's committed turnovers are partially due to the fact that Partizan was at the time a team where the average player on the court is only 20 years old, completely unheard of in the Euroleague before. Uros showed that he has good ball-handling even at this level, and due to playing a good amount of PG a lot in younger competitions he also possesses good court awareness to go along with the excellent athletic ability which he uses as a great advantage to create his own shots. Never mind his relatively low field goal percentages (37.2% F2, 35.5% 3P), his shooting mechanics are great and will be a constant threat from long-range in the future.

[Read Full Article]

---
Zaragoza, The Best of the Rest: Guards
August 20, 2004
Tripkovic was perhaps the most elegant player at Zaragoza. In every situation on the court, no matter how difficult a play might look, he seems balanced. But beyond style, Uros is a very complete shooting guard. Another inch wouldn't hurt with his 6'5 size (maybe 6'6 in shoes), but he possesses fine athleticism, showing quickness and great leaping ability.

The most obvious skill he demonstrates is his picture perfect jumper. It is a pleasure for the eyes. Like Belinelli, he can make it static, coming off the dribble, or off a screen to catch and shoot. When he's in motion, he has the body control to use his horizontal momentum to create a marvelous vertical jump shot in one fluid movement. He is completely balanced in the air when he releases his shot, generally from very high point. All this is executed very quickly, and it gives Uros the tremendous advantage to take any shot comfortably. In Zaragoza, he was streaky, hitting only 32.6% from behind the arc, but with his mechanics I'm sure he will become a most reliable gunner in the future.

His skills are not limited to shooting. Tripkovic has some aptitude to play point guard as well, including a great handle and nice court vision. He is especially good at driving and dishing. With his quickness, first step, and dribbling ability, he penetrates with ease. He works very well without the ball, always cutting to find open looks. On defense he benefits from his strong lower body, although he was no stopper at the tournament. But he has the tools, to be sure.

Uros is a very nice prospect with a chance at the NBA. Consistency on his shot and defense are needed areas of improvement, but I think he will become a very good shooting guard. You can't rule out him playing point guard, either, but he looked to me like a full-time off guard. If Zaragoza was any indication, he seems comfortable at the two. It was not so easy to tell considering how difficult it was for the Serbian players to shine individually on a team so obsessed with systems and team ball.

[Read Full Article]

---