We break down the third and final day of the adidas Eurocamp.
More adidas EuroCamp Content
Preview and Roster Breakdown
Day One Recap
Day Two Recap
Day Three Activities
The third day of the Eurocamp included a three-point contest, another high quality scrimmage by the adidas Next Generation teams, and four games.
As was the case yesterday, scouts were buzzing about the group assembled for the Next Generation portion of this event. Following up a strong showing on day two with yet another surprisingly polished showing on day three, this group inspired quite a bit of optimism about their collective futures with the way they handled themselves here. This is the first truly high profile camp some of these players have ever attended, but the unselfishness and competitiveness of the top Next Generation players really lifted up the level of play across the board with a dozen or so youngsters emerging as players to track closely moving forwards.
Six players from the Next Generation group were selected to go to Los Angeles next month to participate in in
The Path
Training Camp. An experience that will emphasize skill development, media training, and even brand creation among other subjects, the event will also feature players from The Path Team and presents some unique learning opportunities to some of the game's top young domestic and international talents. The six players selected to attend from this Next Generation Group were
Tom Digbeu
,
Killian Hayes
,
Modestas Kancleris
,
Kay Bruhnke
,
Pavel Zakharov
, and
Luc Van Slooten
.
After struggling a bit in the competitive portion of the Eurocamp,
Arnoldas Kulboka
went 10/10 from the top of the key to eventually win the event's three-point contest. At 6'10 with a smooth stroke, it isn't hard to see what makes Kulboka intriguing in a skills competition like this one, but his ability to apply his talent on the floor shined far more brightly in the German 2nd Division than it did here at the Eurocamp.
Ognjen Jaramaz
Despite missing day one of the 2017 adidas Eurocamp,
Ognjen Jaramaz
helped himself with a strong showing on days two and three. Automatically eligible for the 2017 NBA Draft as a 1995-born international prospect, the oversized Serbian point guard looked like the best player on the loaded All-Star team that blew out The Path Team today. Scoring 24 points on 10-14 shooting from the field to go along with 4 assists and 0 turnovers, the 21 year old Krusevac native made a strong final impression on the NBA decision-makers in attendance.
Attacking the rim aggressively against what amounts to a who's who of 2018 high school prospects (who are important to note, 3-4 years younger than him), Jaramaz scored at a strong rate inside and found a rhythm from the midrange. Getting into a groove as a scorer and a facilitator, the 6'4 Jaramaz gave The Path Team's smaller, younger guards some problems as his combination of size and terrific explosiveness really shined.
That being said, Jaramaz remains a bit limited as floor general getting tunnel vision to the rim looking for his own offense and not always picking and choosing his spots to get others involved. His jump shot is also an area of interest, as he shot only 28% from beyond the arc on 4.4 attempts per game over 53 games with Mega Leks this season, but he had a number of nice stretches shooting the ball from beyond the arc and from the midrange in competitive action and drills today.
Several NBA teams interviewed Jaramaz after his performance this evening, and with the lack of depth outside of the top-handful of players in this year's crop of automatically eligible European prospects, it isn't out of the question that he hears his name called in the later part of the second round on draft night depending on how many international players withdraw at the upcoming deadline. Possessing good explosiveness and size for his position, Jaramaz may not have the most advanced feel for the game, but his ability to utilize his physical tools on both ends make him seem perhaps better suited for the NBA game than many of his international peers.
Other Camp Notes
Bulgaria forward
Yordan Minchev
, who made his Euroleague debut with Fenerbahce this season but played the majority of the year on loan with Vrsac in the Serbian 1st Division, had some strong moments this week. Measured at 6'8 without shoes with an unimpressive 6'8 wingspan but a strong 218-pound frame, the leading scorer from last summer's FIBA U18 Division B European Championship flashed fluid athleticism and a smooth shooting stroke. Possessing a solid feel for the game, Minchev isn't overly dynamic with the ball, but finds ways to get involved offensively. Struggling a bit this season scoring only 4 points and pulling down just 2.7 rebounds over 12.3 minutes per game in his first taste of professional basketball outside of his native Bulgaria, Minchev is a player to keep an eye on in the coming years. Not turning 19 until next season, he still has three more full seasons before he'd become automatically eligible for the NBA Draft in 2020.
French forward
Cyrille Eliezer-Vanerot
, who we mentioned yesterday for his impressive measurements, went down with an ankle sprain today. Nonetheless, the 6'7.5 forward had some terrific moments at this camp on the defensive end prior to that point, bodying up on players inside and getting in a low stance and using his quickness on the perimeter. A capable, but often inconsistent shooter, the 20 year old can spread the floor a bit, and combined with his defense, offers intriguing roleplayer potential if he can develop his shooting ability and toughness. Eliezer-Vanerot declared for the 2017 NBA Draft, but has the ability to withdraw before becoming automatically eligible a year from now.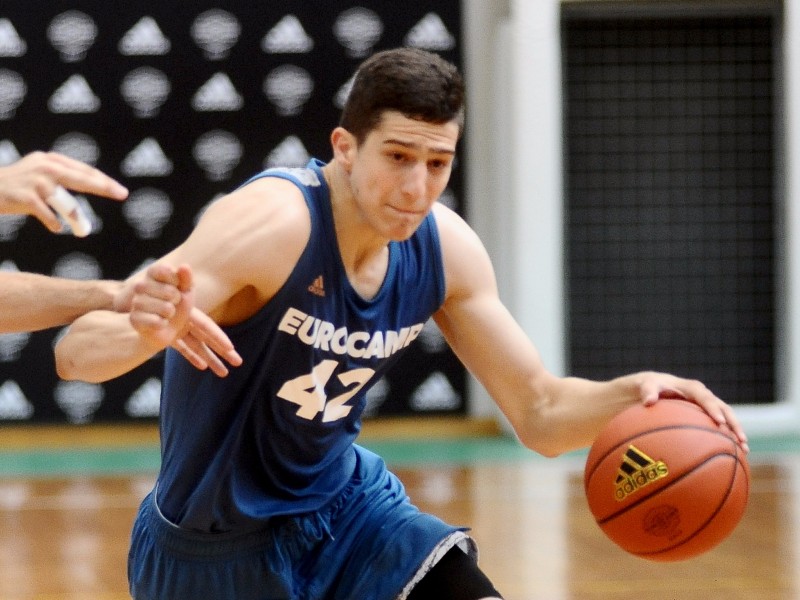 Another young player who stood out this week was
Amar Gegic
. The Bosnian guard who measured 6'7 in shoes with a 6'7.5 wingspan and a 203-pound frame showed nice passing instincts finding teammates out of the pick and roll. Playing quite a bit of point guard here and during the season with Bayern Munich's 2nd team in the German 3rd Division, Gegic is a solid athlete who can be a bit wild at times, but has some upside as a facilitator long-term, especially if he can improve on his erratic perimeter shooting. Among the more versatile young guards in Europe, Gegic's ability to keep the defense honest from the perimeter will go a long way towards opening up the rest of his game moving forward.
Among the top performers on the final day of games was ACB prospect
Santiago Yusta
. Playing steady minutes with Obradoiro this season averaging 5 points and 2 rebounds per game coming off the bench, Yusta is known for his flashy passing, defensive instincts, toughness, and craftiness off the dribble, but made perimeter shots at a strong rate today, a nice change of pace from his struggles during the regular season. His release appears to have improved a bit, and coupled with his slashing ability, make him a player to watch next season. Lacking the most polished decision-making ability attacking the rim on the move, Yusta could raise his profile considerably if he can become a more consistent decision maker and a reliable threat from beyond the arc given his size, athleticism, and instincts. He has some interesting tools to build off long term, and the experience he's garnered seeing steady playing time in the ACB the past two years make him someone to track next season.
After two sub-par days,
Isaac Bonga
got back on track to some extent on day three. Tossing in some floaters and scoring one memorable and-one taking contact at the rim, Bonga seemed to gain confidence as the day wore on. Playing almost exclusively on the ball, he showed an ability to find teammates out of the pick and roll thanks to his tremendous size, timing, and vision. At his best when he can grab and go in transition, Bonga's limitations as a shooter and ability to get into the paint against high level competition are still a point of interest, but he looked far more comfortable making things happen with the ball in his hands today.
Kay Bruhnke had a solid showing at the Next Generation portion of this year's Eurocamp. Standing 6'7.25 in shoes with a 6'8 wingspan and 200-pound frame, the 15 year old Germany wing got hurt yesterday in a big collision that earned him a black eye, but showed impressive versatility on the offensive end playing on and off the ball, making shots from the perimeter, and moving the ball intellegently in the half court. Averaging 20.8 points, 9.2 rebounds, and 4 assists per game for Regnitztal Baskets in the JBBL and standing out in a number of junior events with Brose Baskets Bamberg's junior teams, Bruhnke ranks among the most intruiging young players in Germany at the moment. He looked quite a bit more comfortable here in Treviso than he did at the Jordan Brand International Game, a promising sign for his future.
More Shooting Drill Videos
Verners Kohs Shooting Drill


Kostja Mushidi Shooting Drill